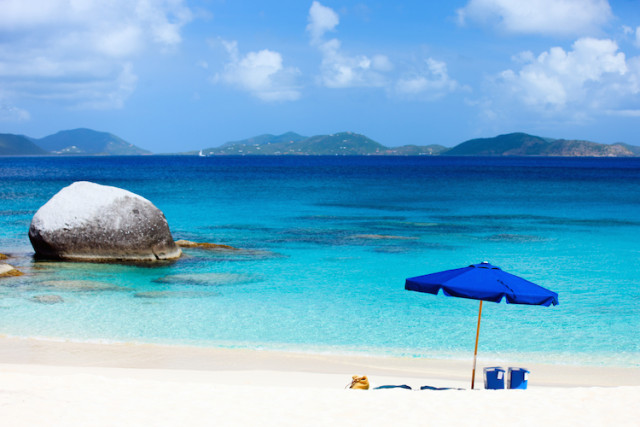 Picnic on beach photo via Shutterstock
By Meghan Black
Picnic—just the word alone is joyfully buoyant, a bounce of syllables that signifies savoring the moment.
Somehow, the idea of doing away with convention and enjoying a meal out there, really out there, surrounded by nothing but the sky and the land makes life feel decadent and simple all at once. For these very reasons, life's greatest journeys often include a picnic. Think back to your childhood, summer Saturdays with family and friends, and memorable travels. Chances are a few choice picnics are suspended amongst those memories.
For this week's installment of The Image Project, a biweekly post that focuses on the power of the image to inspire (learn more about The Image Project), we have compiled snapshots of the world's ultimate picnic spots. Just imagine if your next meal looked a little more like one of these:
1. Kunfunadhoo Island, Maldives
The uninhabited island of Kunfunadhoo is one of 75 islands that comprise Baa Atoll. Accessible only by boat, picnicking on its shores is sure to feel a bit like living out a Robinson Crusoe fantasy.
2. Amanbagh, India
There are few places on earth more alive with the spirit of romance than Rajasthan. The region's vast Thar Desert and palace hallways are the setting for many a fated love story. A picnic feels all the more surreal when set in a maharajah's pavilion beneath a dusk sky at Amanbagh.
3. Great Plains Conservation, Kenya
Safari life has perfected the art of the picnic. Setting-up beneath the canopy of a lone Serengeti tree, or along the twisted banks of a riverbed, to disappear without a trace when your meal is complete will bring the majesty of nature into focus. Great Plains Conservation operates safaris with a no trace left behind approach – their stunning picnics are transitory and all the more memorable for it.
4. Cameron Highlands, Malaysia
Established in the 1930s as a hill station by British in search of temperate climates during Malaysia's hot season, the Cameron Highlands continue to draw current day visitors with its reputation for rejuvenation. And what could be more rejuvenating than a late lunch amongst pillows of tea bushes? A picturesque picnic 1,500 meters above sea level at the Cameron Highlands Resort will leave you feeling brand new.
5. Oualidia, Morocco
Morocco's Oualidia is a sleepy village built alongside a coastal lagoon. A sandy nook amongst the crags on the lagoon's beach seems designed to enjoy a good read and fresh fruit between dips.
6. Soneva Kiri, Thailand
Enjoy the slow life suspended from a treetop at Soneva Kiri in Koh Kood, Thailand. Soneva Kiri's philosophy is "Sustainable-Local-Organic-Wellness-Learning-Helping-Fun-Experiences." It seems picnicking fits in nicely.
7. Al Hajar Mountains, Oman
The Al Hajar Mountains are often described as the backbone of Oman as they appear to carve like a spine through the country. Picnicking perched on one of their plateaus is surely an exhilarating experience.
8. St. Regis, Bora Bora
The St. Regis Bora Bora Resort's interpretation of the picnic redefines the meaning of dining en plein air by submerging the experience waist deep in crystal clear waters.
9. Sausage Tree Camp, Zambia
Home to Victoria Falls, the rustic and remote territory of Zambia is a picnicking poet's paradise. Whilst picnicking in Zambia with Sausage Tree Camp you may find yourself amongst the still of a lake's glassy shallows, floating on a boat deck, or sharing your view with a passing elephant.
10. Sabi Sand Game Reserve, South Africa
With a focus on sustainable wildlife tourism, Lion Sands in Sabi Sands, a private game park bordering Krueger National Park, knows how to create an experience that embraces the natural surroundings.
This post was originally published on Absolute Travel