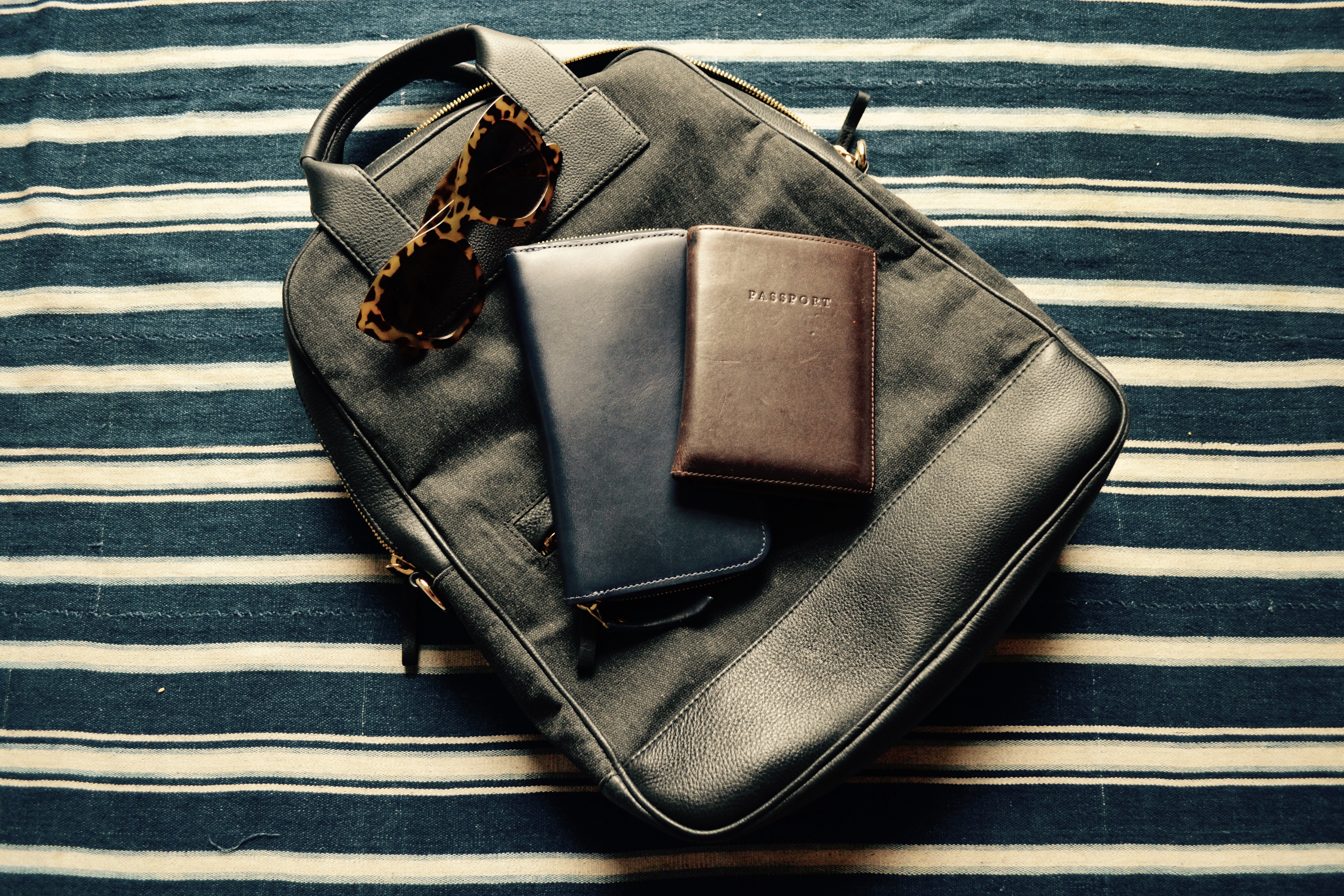 For me, the hardest part of traveling isn't adjusting to a new time zone, navigating my way through unknown streets, or attempting to learn a few key phrases in other languages, it's packing. I just can't seem to do and I never get better. Somehow I always wind up packing way too much or too little or not appropriately at all. (I have one floor length orange polyester dress from the 1970s that has been with me to three continents yet has never been worn. You should always be prepared, right?) As someone who yearns to pack and travel more effectively, and for an amateur photographer who wraps her camera in a scarf and then shoves it in a very crowded bag, I set out on a journey to find new and classic brands that are making packing just a little bit easier.
Away
If you live anywhere near New York City, you have probably seen their ads everywhere, from bus shelters to the subways, and for good reason—Away is a new brand of sleek, simplified, and affordable travel pieces. I tried their smallest carry-on bag and it both forced me to pack lightly but was roomy enough for a five day trip. The bag has a built-in phone charger which is amazing especially for last minute airport charging, a built-in lock, and hard sides which protects everything inside. It's also very light weight which is always a plus.
Bartaile
Bartaile is an emerging brand (currently in pre-order only) with a single product designed to do it all. Part laptop bag, part backpack, part carry-all, the Bartaile bag had removable straps that transform it from a hand-held, to cross-body, to backpack. It's definitely a great carry-on when you have to bring your laptop on your travels, and it's roomy enough to hold everything you need for a day exploring, while also being sleek enough to double as an office bag. Bartaille is the brain child of two young women who met in school and bemoaned the lack of a do-everything bag. The company is named for after the bird, the bar-tailed godwit, which flies 7,000 miles in 8 days, from Alaska to New Zealand. That's what I call a long-haul flight.
Dagne Dover
One thing that sets the bags from Dagne Dover apart from others on the market is their use of alternate materials like neoprene that can withstand hard wear and tear that comes with traveling. I tried Dagne Dover's large Landon Carryall which has a sophisticated, modern look and holds a surprising amount. Interior pockets and additional small interior, removable pouches, as well an exterior phone pocket make it one of the most multi-functional weekenders out there. I also tried Dagne Dover's Essential Clutch Wallet which is large enough for a passport. I love that the wallet is made from coated canvas which is a friendly alternative to leather and a durable material for traveling.
Genius Pack
Like Away, Genius Pack also makes very modern carry-on pieces that are elegant while being discreet.  I tried their Aerial Hardside Carry On Spinner which was perfect for someone like me because the interior includes a sewn-in packing list, compartments for socks, underwear, chargers and even a hidden laundry pouch. Pretty genius if I may say so myself! Although very similar to Away, the Genius Pack felt studier and like it would have a longer life.
Horizn Studios
This company makes truly beautiful travel items that are seriously functional. Their laptop cases have built-in document and card holders so you could, in theory, use the laptop case as your bag around town. Also great for packing all valuables together in one safe place.
Johansen
Beloved by those in the photography industry, Johansen is one company that has really revolutionized the camera-bag market. I tried their Siena camera bag and love that its structured design is very protective of your camera and also allows room for your every days things. The strap is removable to you could use it as a mini-briefcase or a cross-body bag. It's also a totally timeless style.
J. W. Hulme Co.
J. W. Hulme Co's gorgeous travel products are all made in America by talented craftsmen in Saint Paul, Minnesota. Although the company has been around since the beginning of the 20th century, there is nothing stuffy or outdated about them. Their large zip wallet perfectly fit a passport and their travel accessory pouches make for easy and safe packing of valuable items. While definitely on the higher end of the price spectrum, J. W. Hulme Co's products are the best quality you can find and they're built to last for a life well traveled.
Kelly Moore
Kelly Moore is an awesome woman-owned business that was started by a Louisiana-based photographer. For me, carrying around a camera bag as well as an everyday beg never seemed practical so I love that their pieces are really functional and have room for everything you need for a day out exploring. I tried the Collins which has a removable camera holder so you can  adjust to the size of your camera or remove completely. But, if you want to load the Collins with camera gear only, there is a special outside compartment for credit cards, cash, and ID so you don't event need to pack a wallet. It's also really sturdy, durable, and, best of all, unisex.
Lo & Sons
Started by a mother and her two adult sons who witnessed their mom's quest for the perfect, comfortable travel bag, Lo & Sons also makes strikingly fashionable camera bags that looks more like purses, and other innovative products. I tried their Waverly bag which is gorgeous and so functional. It's perfect for a day traveling when all you need is your wallet, phone, and passport. Best of all, you can wear it three ways—as a cross-body, over the shoulder, or even around the waist as a belt bag which is extremely practical when you're on the go and don't want to be bothered with anything else. Lo & Sons's Catalina duffle is a brilliantly designed weekender with a special compartment for shoes and a zippered sleeve that fits snugly over and luggage handle to make for effortless transport.
ONA
ONA makes very hip, handsome camera bags that could function totally as non-camera bags too. I tried their Bowery bay which is the perfect size for an average size camera, phone, and wallet. It's a great option for city travel and it's small enough that it would pack away easily in a suitcase. The camera protective padding is removable so you could use the bag just as a purse for days when you don't want to lug your camera around.
Happy Packing!