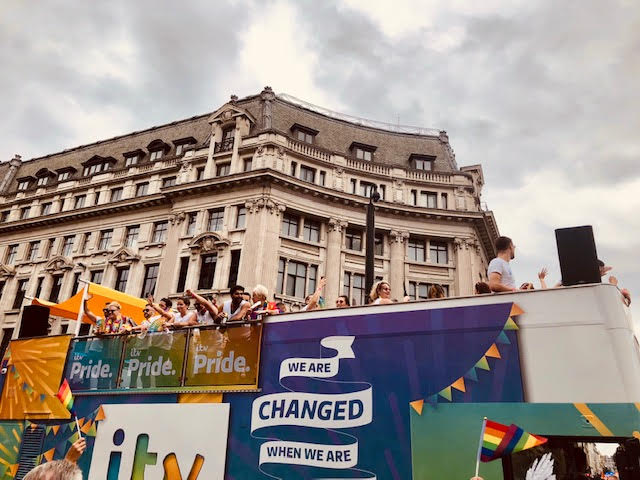 By : Varsha Patel
Travel is not without its risks—we all know this. When that flight lifts off and you can't quite shake the uncertainty of the rocky ascent into the air, you find yourself praying to a god you rarely call on in your daily life. Or if you pack your day-to-day bag and wear it across your body for fear of pickpockets. Or when you meet an attractive and mysterious stranger at that beach bar heaving with locals, you ensure not to give too much information about yourself, and keep your friends close. There are so many more obvious additional risks, ranging from lost luggage to cancelled flights, to making sure your insurance covers winter sports. Travel is risky for everybody and anybody. But what about LGBTQ travelers? Sadly, as a LGBTQ traveler, losing your passport is often the least of your worries.
Homosexuality is punishable by the death penalty in four countries in Africa. Russia is known for being violently homophobic towards LGBTQ people. A lesbian couple were beaten on a bus for refusing to kiss—in London, nonetheless. What's more, a whopping 72 countries criminalize LGBTQ people.
While the ability to travel should be a somewhat carefree choice, accessible to all, these discriminatory and hateful laws make travel tricky for LGBTQ travelers. This means that on top of the usual travel worries of insurance and converting currency, LGBTQ travellers have to consider other factors before they travel abroad. Will I be accepted when trying to integrate into a new area? Can I hold hands with my partner here? Will we be safe or will we be harassed, arrested, or worse? These are just some of the thoughts that may or may not be at the forefront of an LGBTQ traveler's mind.
But this isn't to say that LGBTQ travelers should be reluctant to travel. In fact, President and CEO of the International Gay and Lesbian Travel Association (IGLTA), John Tanzella, says "Don't stay home, but do your homework!"
And by homework, we mean that additional factors need to be considered during the pre-travel planning phase of booking a holiday. Tanzella continues by saying travel safety is "Critical' for LGBT people:
"Even in countries with progressive policies, that doesn't mean acceptance has spread throughout the population—acts of homophobia and transphobia occur everywhere, so we have to be informed and aware of our surroundings."
Therefore Tanzella advises finding hotels, tour operators and travel advisors that are "known to be LGBTQ+ friendly," adding that for LGBTQ+ families, "custody and parentage documents should always be packed."
Paula Gerber, deputy director for the Castan Centre for Human Rights and the law faculty at Monash University, Australia, and who assisted with drafting the section of the Australian Government's Smart Traveller section for LGBTIQ travelers, agrees with the importance of research, adding that it "pays to research the situation for LGBTIQ people in the countries you intend to visit and to potentially avoid traveling to countries where the risk of harm outweighs the upsides of visiting a new place:"
"72 countries still criminalise homosexuality. Other countries have decriminalized but are still violently homophobic towards LGBTIQ people."
Gerber adds that although same-sex couples may enjoy public displays of affection with their partner in their home country, continuing such behavior in a destination which is "intolerant of diverse sexual orientations and gender identities will make them vulnerable to attacks and discrimination."
So what should an LGBTQ traveler do if they find themselves in such a situation? Gerber says that authorities "may not only be unwilling to assist them, but may even harass or persecute them further." In this case, Gerber advises seeking assistance from the consular staff from your home country.
But with all your research into how to behave with your partner with regards to public displays of affection, there may be other things that will need to be avoided. As Gerber points out, travelers may need to "modify the way they dress and be wary of new 'friends' they might meet, particularly through online forums or dating apps' as it is possible that criminals "may seek to exploit or cause harm" while police 'may seek to entrap'.
Ed Salvato, Chief Content Officer for ManAboutWorld—the world's number one digital gay travel magazine for smart phones and tablets— certainly agrees that research is key as "many tourism brands market themselves as gay welcoming or gay friendly…but very few know what it is about LGBTQ travelers that's different in order to treat them with the equal welcome that they deserve."
Salvato continues by encouraging a quick phone call to your intended travel supplier:
"Whether it's a hotel or a tour company, ask if they have had experience welcoming a same-sex couple, or a gender non-conforming traveler— you can gauge a lot from their answer.
"Are they defensive? Or do they lean into it and ask you questions and ask you what your concern is? That is the mark of a truly queer welcoming brand."
Sometimes it's not just travel to be concerned with, but also a permanent move. If you're being/have been relocated by work to jurisdictions where homosexuality (or gender identity) are marginalised or criminalised, then you should read ManAbout World's guide to LGBTQ travel safety.
The FCO and other similar organization around the world have Lesbian, Gay, Bisexual and Transgender foreign travel advice, which can be found here.
Remember, it pays to be #travelaware. Follow FCO Travel on Facebook and Twitter, and check their website for live updates about your travel destination.
About the author: Varsha Patel is a London-based journalist currently working as a senior editor at LexisNexis. Varsha tweets at @pretendjourno