In a world marked by chaos, overstimulation, and an overwhelming sense of loneliness, finding true moments of tranquility and connection can seem almost impossible. Amidst this backdrop, Angelica Olstad's "Music for Healing" program emerges as a sanctuary of serenity. Going beyond mere sound, it weaves a holistic tapestry that stimulates all senses — from aural to visual to olfactory. This multi-sensory experience offers individuals a refuge, not only reconnecting them with their inner selves but also providing an opportunity for shared solace and understanding in an increasingly fragmented world. The program's intricate design harmoniously blends elements like lighting, color therapy, and scents with music, creating a meticulously curated environment that resonates deeply with our present-day need for genuine connection and healing.
I interviewed Olstad to learn more about her journey leading up to the creation of Music for Healing and she offered quite an incredible backstory on the process of building this unique and sensual experience.

Your Music for Healing program aims to create a holistic experience that stimulates all senses, from sound to sight to smell. Could you explain more about the process of curating the different components, such as the lighting design, color therapy, and scents, and how they interplay with the music you create?
I first entered the world of experience in design back in 2017. I was living in Melbourne, Australia for a year and I worked as a producer for a shop called, Sandpit, an experience design studio that creates interactive storytelling environments for museums, state libraries and cultural institutions. Australia, amongst other developed countries, has the advantage of significant funding for culture and arts revitalization initiatives which allowed shops like Sandpit to focus exclusively on interactive storytelling for cultural institutions.
What I loved about Sandpit's work was how nuanced and subtle their experiences were. One of my favorite projects was a work called Story of Lamp. It featured a lamp named, "Lamp", that when touched by its companion book, brought the lamp to life. "Lamp" would direct visitors to different areas of the center and when she spoke, the light flickered with the intensity and cadence of her voice. Although I never experienced the installation myself (it was before my time at the studio), the idea of repurposing seemingly innate objects and bringing them to life in a thoughtful and whimsical way really resonated with me.
After moving back to the U.S. I found that experience design, due to a competitive market and limited public funding in the arts, is generally built in either corporate settings (think interactive sales centers for high-end real estate or small installations at large tech companies) or driven by KPIs and other metrics focused generating profitability for a large consumer base (eg. Instagram moments such as Museum of Ice Cream and the Immersive Van Gogh installation). I've since moved on to other types of work in my other career as a producer but I've always been interested in ways I can use emerging technology to create authentic, impactful, and interactive storytelling experiences in my own art practice.
Music for Healing comes shortly after my last project, American, a full-length album that chronicles different pivotal moments of my childhood growing up as a mixed-race person in Colorado in the 90s. While the project was rewarding and yielded some rich work that I'm really proud of, reliving the trauma of racism and discrimination, while cathartic and helpful to internalize, also left me feeling emotionally depleted. I wanted my next project to feel universally uplifting, calming, and minimal by nature. I knew I wanted to create a unique healing environment – something that's not quite a soundbath and not a traditional music performance either.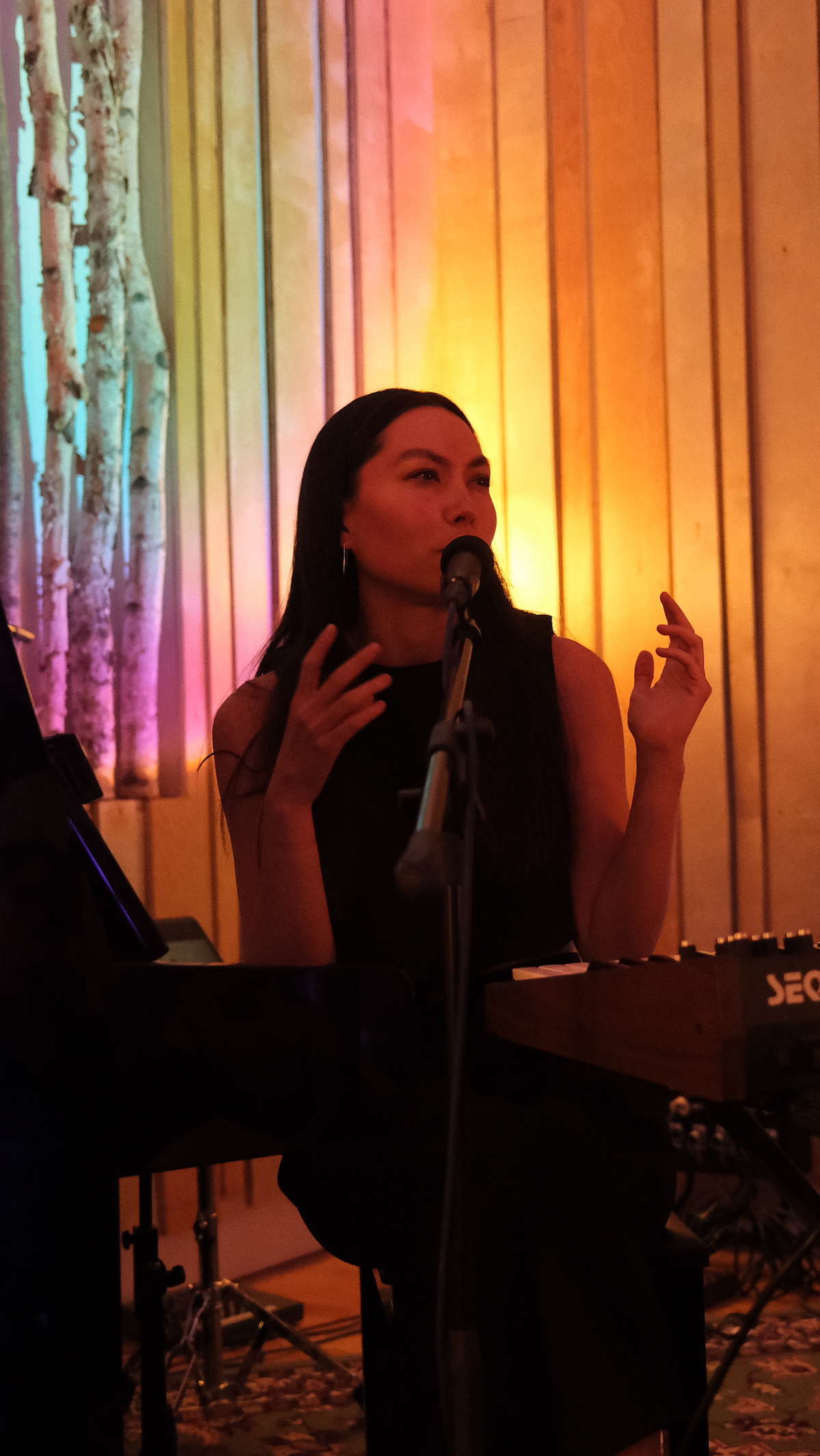 Credit: Jack Filkoff
I was inspired to employ all five senses in a performance and meditation setting after reading Gretchen Rubin's newest book, Life in Five Senses. In it, she talks about learning to identify our forward-heavy senses that we rely on, how to bring more attention to the senses we neglect, and finding ways to enrich our lives by engaging in all of our senses. This particularly struck a chord for me because about 5 years ago, my dad lost his sight due to a stroke. It's been an eye-opening experience navigating the challenges that one goes through becoming blind later in life. My experience with my dad has given me a new license to appreciate what I have in life because we never really know what we have until it's gone.
I knew wanted to create an experience that gave participants a safe space to explore all five senses and thus practice an appreciation and gratitude for life through smell, touch, sight, taste, and sight.
I spent a lot of time researching different modalities of healing through different senses and I also worked with experts in their field to create a harmonious environment. The experience features color therapy that changes with the music, tea or cacao to sip on during the music, comfy floor seating with pillows and blankets along with soft fabrics or crystals to hold and touch, a customized clean sent created by Liberated Ascent released through diffusers and an "audio apothecary" of nature sounds, beta and theta waves that weave in and out of undulating synth music followed by acoustic piano in an intimate setting. It's an experience designed to facilitate calm and to find introspection, but it also encourages participants to actively engage in music listening with a heightened awareness by using all their senses.
Music for Healing seeks to not only facilitate introspection but also to strengthen empathetic social bonds among participants. Can you elaborate on how the design of the program and the experiences within it help foster such connections?
This program has gone through a handful of iterations in the creative concepting phase as a podcast and permanent installation (which I'd love to continue exploring) but for this first installment, I landed on a live music performance approach. As an artist, I'm always interested in challenging traditional performance practices. One of my major initiatives is taking classically inspired music off the stage and putting it in unassuming spaces that are more akin to salon performances – intimate, comfortable, and outside the box of traditional classical music performances.
I also wanted to create something in a post-pandemic world that focuses on bringing people together IRL in a way that facilitates not only connection to the music and the self, but also with other people. I encourage my participants to introduce themselves to a new person and usually end with a Q&A that allows people to share their experiences.
In my research, I also found that live music experiences are proven to create stronger bonds by impacting brain circuits in empathy, trust, and coordination which perhaps explains why it's survived every culture in every part of the world and continues to play a central role in all of our lives.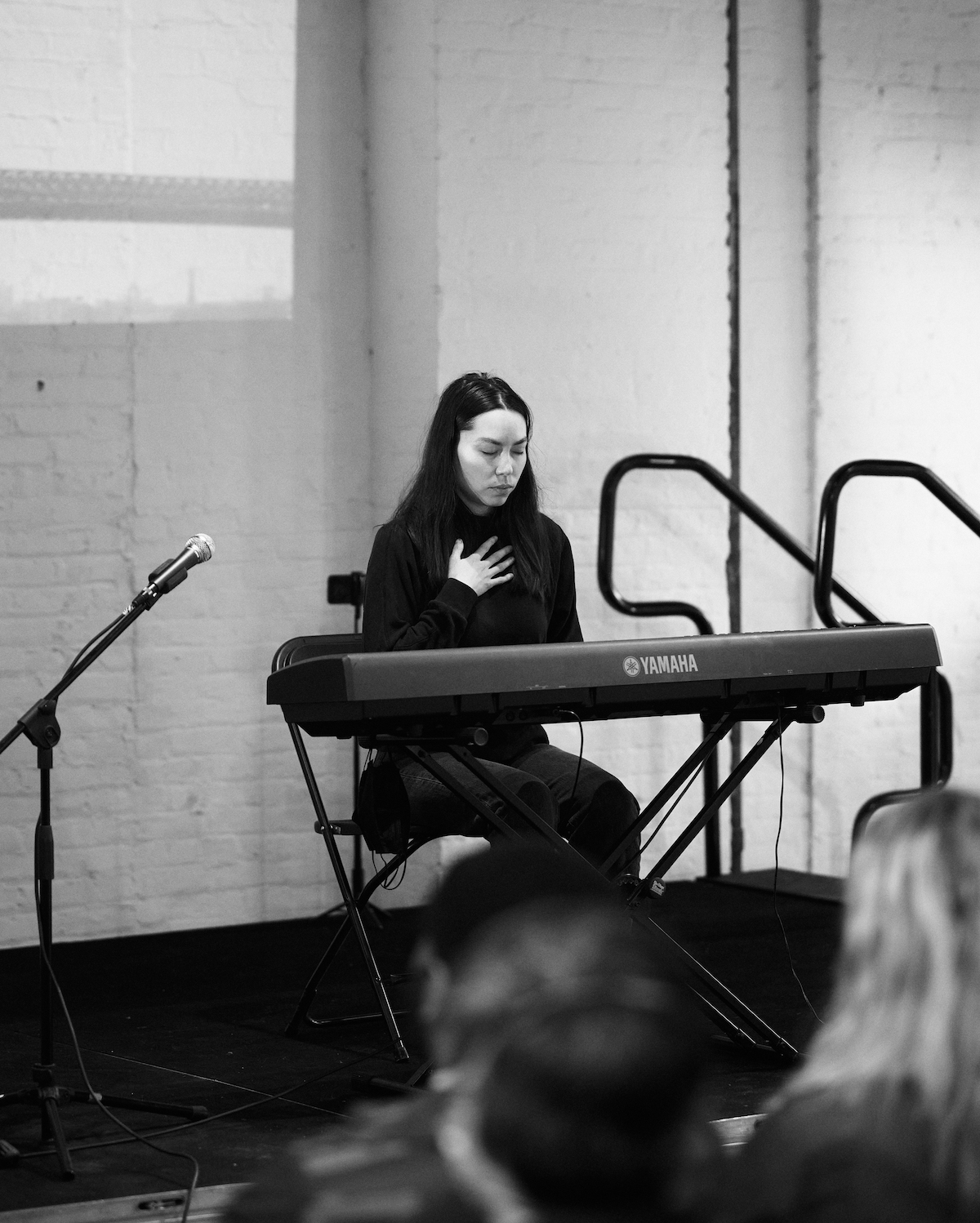 Credit: Creative Mornings NYC
The program also features a guided meditation. Including meditations as part of live music performances is a concept I've been doing since 2019. For me, as both a meditation teacher and musician, I find the two practices are interlinked, both require a dedicated practice that results in enrichment in life. I wanted to share this perspective with audiences by creating an opportunity to meditate in a novel setting and also set the tone for listening to music in a relaxed yet engaged state. Music for Healing takes all these learnings from past projects and brings all my personal passions of wellness and music together in one communal experience.
In creating immersive storytelling experiences, you've often merged classical music with new technologies and forms of media. How do these seemingly contrasting elements intersect in Music for Healing? And in what ways do these combinations facilitate a deeper healing process?
I've been exploring new ways to recontextualize classically inspired music since 2010 when I was finishing up a grad program studying music in Illinois. Since then, I've been focused on finding ways to capture the timelessness and beauty of classical music by making it more accessible to a wider audience through storytelling, video, soundscapes, and now more recently, in Music for Healing.
It's a bit of a balancing act using technology for live performances and I wanted this particular experience to bring participants on a journey where sometimes they're focused on listening, other times sight or touch, or take a moment to sip on a beautiful locally sourced tea that's designed for heart opening and try to savor all the flavors of it. I knew I wanted to create something that was simple but impactful so I made sure that every element of the experience was researched and expertly selected or vetted by someone who could provide a strong point of view related to their subject. It's really been a group effort to put this together and it's brought me closer to some inspirational like-minded people who are also interested in creating healing environments. I really think there is a need for more of these types of experiences right now!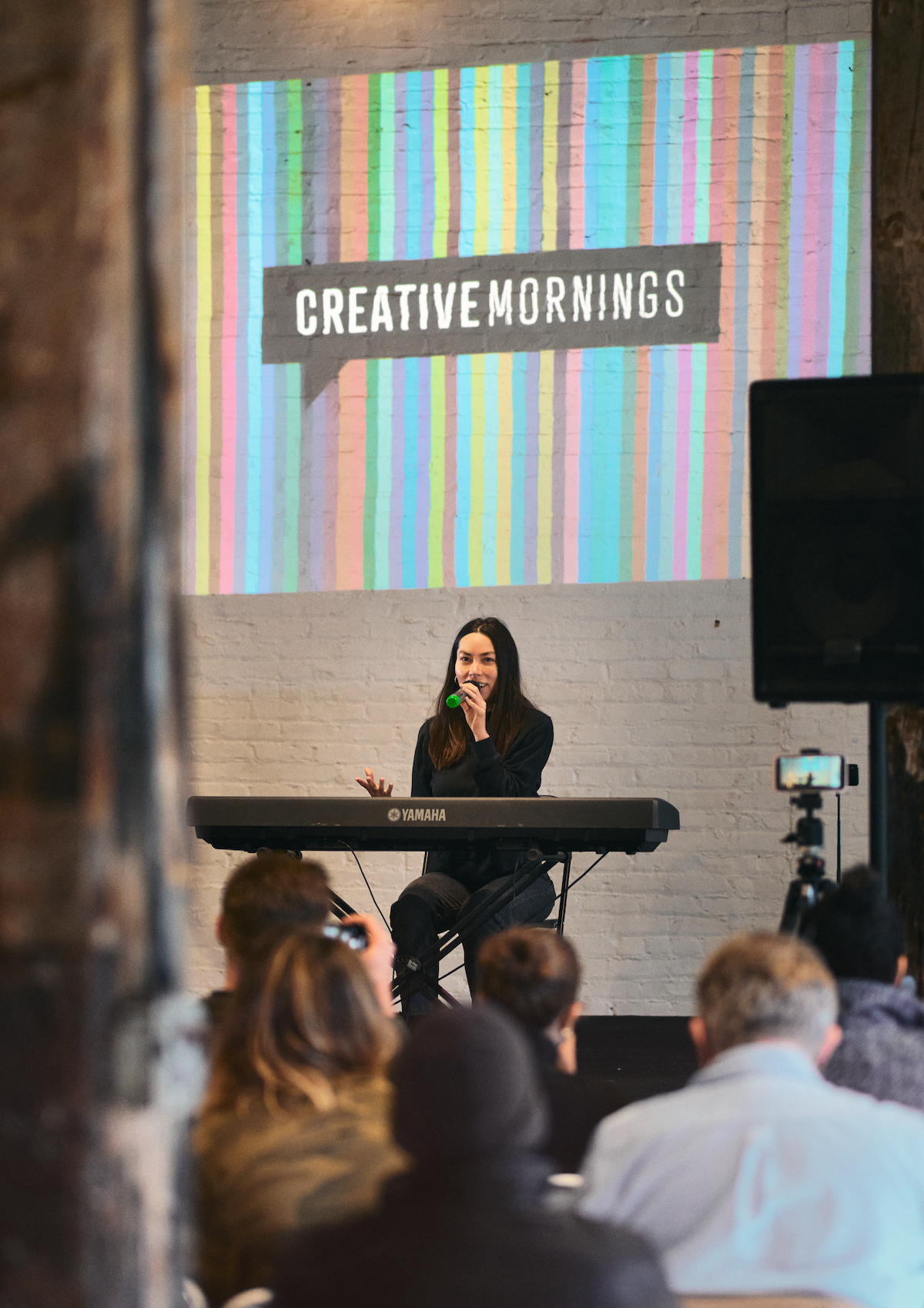 Credit: Creative Mornings NYC
The concept of 'deconstructing' that you developed during your studies seems to have a significant influence on your work. Can you tell us more about this technique, and how it is applied in Music for Healing?
I came upon this idea of deconstructing classical pieces when I was studying in school. I used to spend up to 8 hours a day in a practice room laboriously perfecting small motivic ideas in large pieces. There came a point where I was really getting into dissecting a chord progression in a Beethoven sonata and thought, wow, this sounds like a Radiohead song! Once I started playing with this technique of deconstructing and remixing (which was also influenced by a brief stint as a club DJ) I realized that there was a wealth of material that could be explored.
For Music for Healing, I wanted to focus on a very minimal and sparse aesthetic both in form and in harmonic structure. The idea is that these pieces could be extended, shortened, or played on repeat for hours at a time, an idea that ties into the simplicity that is sought after in meditation. I wanted to facilitate an environment where folks can turn to this music for an opportunity to go inward, reflect, and find space to slow down their breath. It's my hope that folks will find a sense of peace and comfort in these pieces.
As the founder of Pop Up Yoga NYC and a proponent of wellness and self-care, how does your understanding of physical well-being influence your approach to creating music and soundscapes for healing? What are some parallels you've discovered between the disciplines of yoga and music?
I've been teaching yoga and meditation for 13 years and have been playing piano off and on for 20-plus years now. Once I got out of my twenties, I started to grasp the concepts of wisdom, slowing down, perseverance, patience, and being gentle with myself with both of these practices in a more sustainable way. That's why I think it's so important to have teachers and mentors to guide folks on paths like this – music, yoga, and meditation are ancient oral traditions passed down from one generation to the next. To me, they are very similar. They require guidance and nurturing from a mentor or a teacher and a regular practice to grow in skill and mastery. They both require a deep commitment to self-analysis and introspection. And the final output is a deeper appreciation for the beauty found in everyday moments and connecting with ourselves and others in a more authentic way.
I find the connection between meditation, yoga and piano to be quite interconnected and circular in how it's played out in my life. Meditation and yoga have made me a better musician with my physical capabilities and have made me learn to be more self-accepting. It's helped me manage the unrealistic tendencies of perfectionism that many classically trained musicians have. Music has made me see the world through the lens of magic and emotion. Meditation has also helped me do the work of defining my core values and learning to accept my gifts as a musician as a role to play in this world. It's helped me realize that it's ok to share this gift with the world no matter how hard it is to do because it's a gift I received and it's my purpose in this world to share this part of myself with others. That was a particularly hard lesson to learn as I've been a very reluctant artist my whole life.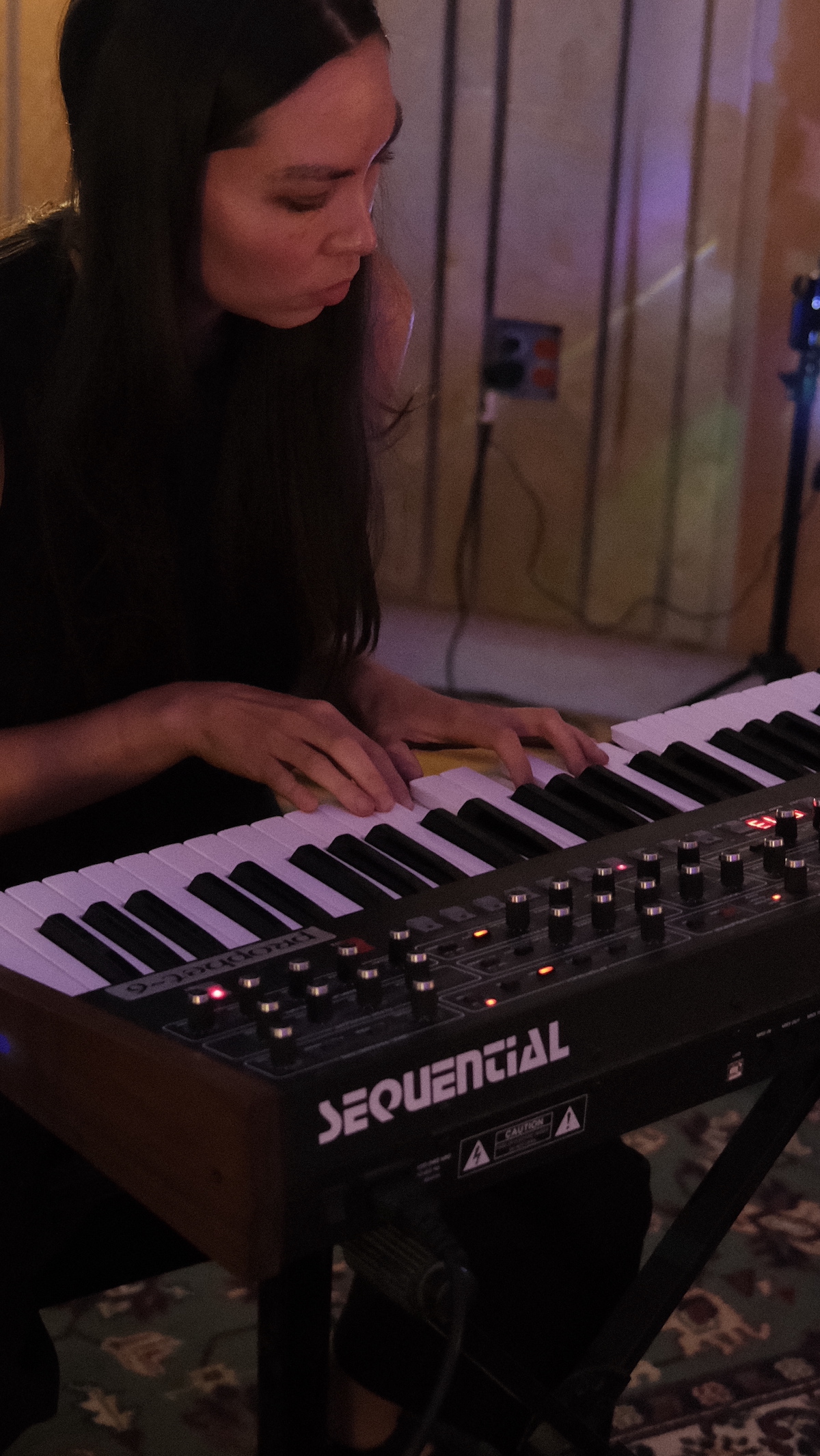 Credit: Jack Filkoff
I founded Pop Up Yoga NYC when I was 25. I was just out of grad school with a degree in piano and had no clue what I wanted to do with my life. While I didn't know it then, becoming a yoga teacher and creating community through low-cost yoga and meditation events all over NYC ended up being one of the greatest gifts I ever received. It taught me about business and how to navigate a capitalistic society (something I struggled with as an artist), how to employ yogic techniques for effective communication in fast-paced corporate settings, and it also taught me how to make impactful communities centered around accessibility and marginalized populations in the health and wellness space.
Music for Healing also represents this chapter in my own path of healing. Healing as a mixed-race person living in this country, healing from family trauma from childhood, and healing from the collective trauma of surviving a global pandemic. It's been a significant undertaking in the last few years through talk therapy, meditation, spiritual studies, and focusing on building a like-minded community. It's been a lot of work but I'm starting to feel the impacts of what healing can look like and how it can shape my future.
While it's been a winding road, Music for Healing is an arrival point that represents the culmination of my experiences as an interdisciplinary artist and wellness practitioner coming together in a natural way. It's one that feels particularly authentic to me as a person and my journey in this world, one that I think provides a service to my community. I'm excited to keep growing and sharing this project with others.