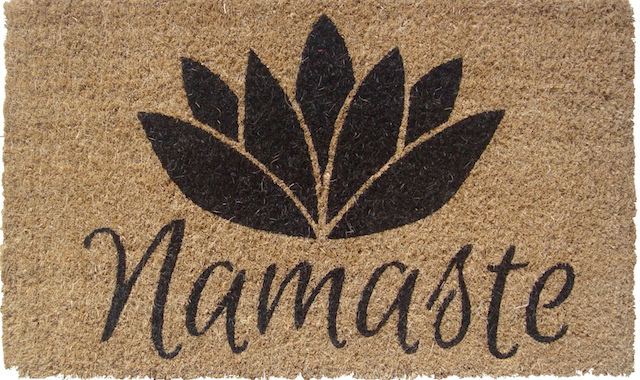 By Maria Russo
We just moved into a new home. It was a disaster. Well the moving and the ripping apart of almost every existing element of the pre-renovated house was anyway. The whole thing was a blur: I vaguely remember a lot of dust, a plethora of workers and more dust. Dust was everywhere, including the disgusting welcome mat that sat outside our new home. It took the ultimate beating during the renovation and just couldn't hold one more foot swiping or stamping its messed-up face — it was essentially — dead.
We laid the mat to rest and thanked it for three great years of cleaning our shoes and protecting our foyer from any snirt, dirt and NYC residue. So it was time to move on — new house, new welcome. We (with the help of many) turned the bare walls and stripped floors into a place where my husband and I lie in bed for hours on precious weekend mornings soaking up the streams of sunlight that pour through our bedroom ; where I sit and ponder the possibilities for the site through a large glass door showcasing a view of trees, grass and birds ; and where my little dog snuggles his tiny head below a sea of blankets during these cold winter months.
It's now our home and we wanted the new mat to let visitors know that there is a mutual love and respect for anyone that we welcome over. So we decided on an eco mat made from coconut fibers that says: Namaste, or "the divinity of my soul honors the divinity of yours." Deep, I know, but so representative of how my husband and I see all our loved ones. It just seemed to fit the type of home we want to foster and the kind of atmosphere we hope to create once our friends and family slide, swipe or stamp their way into our home.
WHERE TO GET this PRODUCT FOR A BETTER WORLD:
The Namaste Welcome Mat is available here
WHAT WE LOVE
The beautiful wording and lotus symbol pops on a bed of sturdy coconut fibers.
WHY YOU SHOULD SUPPORT THE LINE
The mat is hand woven, hand stenciled and made from coconut fibers.
OTHER PRODUCTS WE LOVE: