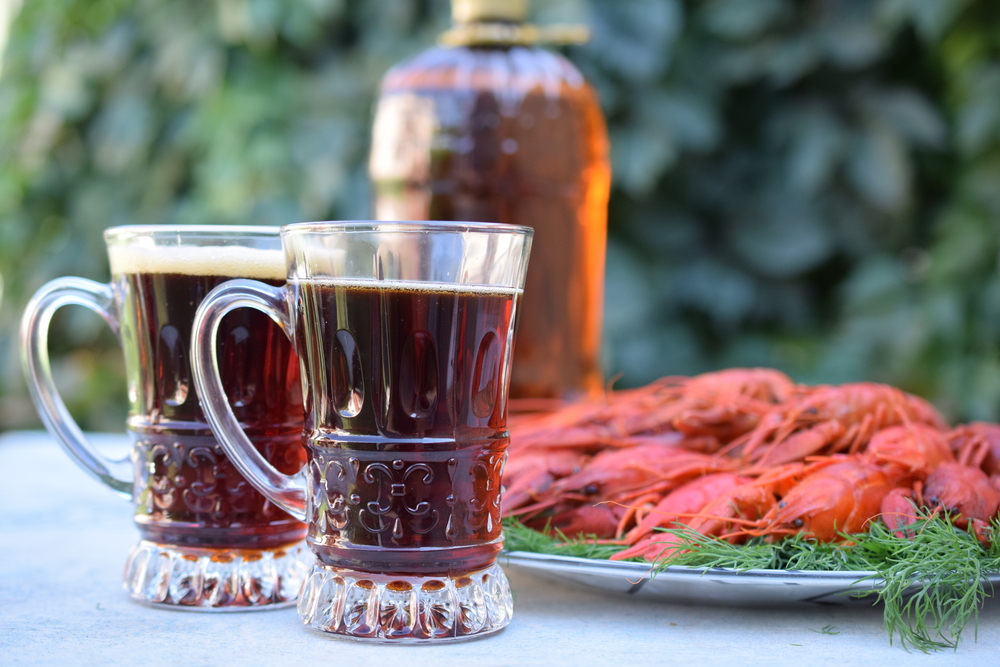 Beer glasses and crayfish via Shutterstock
By Diana Smith
When it comes to great American beer cities, we're all familiar with the major ones.  Milwaukee, San Diego, Boston, Denver, Portland, Ore. and so on, these sizable hubs undoubtedly have the brewing thing down. But they're not the only ones.
In addition to laying claim to some of America's iconic scenery, many of these small cities listed (none of which crack a population of more than 90,000) also boast more breweries per-capita than their big-city neighbors, not to mention titles like Beertown, USA and Beer City USA.
ASHEVILLE, NORTH CAROLINA
With stunning scenery and more breweries per-capita than any other US city, Asheville has been referred to as the "Napa Valley of Beer." In a single day, beer drinkers can enjoy up to 50 different local beers in Asheville. They can also find brew in more than just their pint glasses. From cakes to condiments to shampoos to dog treats, beer isn't hard to find in this small city. Oktoberfest festivities kick off October 11.
BEND, OREGON
Historically known as a logging town, beautiful Bend is now known as a beer town. Beating out Portland for the most breweries per-capita in the state, beer fans can tour the Bend Ale Trail, where participants receive a beer passport and a stamp from each brewery they visit. After 10 stamps, prizes start flowing. That's, of course, on top of the prize for drinking some of the best beer around, like Abyss from Deschutes Brewery, which in 2012 was voted the tenth best beer in the world! Celebrate Oktoberfest here September 19-20.
BURLINGTON, VERMONT
When it comes to pints, Burlington knows what's up. And we're not just referring to its pints of Ben & Jerry's. The city also represents when it comes to beer. Magic Hat, the Vermont Pub and Brewery–the state's oldest craft brewery– and several others reside in this college town. The city also plays host to the Vermont Brewers Festival, which features approximately 50 brewers from around the state each summer.
KALAMAZOO, MICHIGAN
Michigan is already fifth in the nation in its number of breweries and microbreweries, and Kalamazoo certainly has something to do with that. The state's first commercial brewery opened Kalamazoo in 1837 and the city has been brewing strong ever since. It added six breweries in 2013 alone, and Bell's Brewery–Michigan's oldest microbrewery–is still crafting some of the world's top ranked beers. Oktoberfest here is October 3-4.
 PORTLAND, MAINE
That's right–the original Portland. Visitors can find more than their share of fine seafood here. Over a dozen breweries can be found in this idyllic seaside New England city, including Allagash, Shipyard, and Sebago. And down at the harbor, Portland's In'finiti Fermentation and Distillation has also been crafting its way to greatness with its assortment of beers and distilled liquors. Celebrate good beer and good food at Portland's Harvest on the Harbor October 22-25. Or mark your calendar for next year's annual Portland Brew Festival.
SANTA FE, NEW MEXICO
Even though it lies just 60 miles from Albuquerque, Santa Fe has made sure to distinguish itself when it comes to beer. The Blue Corn Brewery is also among the city's most notable breweries for its award-winning beer, as is the Santa Fe Brewing Company, which is not only New Mexico's oldest microbrewery, but is where the Chicken Killer Barley Wine is brewed– a beer that has an alcohol content of more than 10 percent.
About the Writer
Diana Smith is a Brooklyn-based writer and photographer originally from the San Francisco Bay Area. In addition to her travels in Europe, she has also explored the US, adventuring from coast to coast and back again by way of the road. When Diana isn't road-tripping she volunteers with a non-profit AIDS organization in New York City. Diana holds a BA in film and media studies from the University of California-Irvine and an MFA in creative writing from Emerson College. To view more excerpts from her travels visit RoadsAmerica.com or find her on Twitter @Roads_America.
Feature photo of  beer and crayfish via Shutterstock