Sonoma vineyard photo via Shutterstock
Most of us know that San Francisco is one of the coolest cities in the U.S., but during the summer it's always fun to jet off for a weekend and enjoy the laid-back vibe of the open countryside, beaches and  parks that surround the city. During the month of August, we are working with Enterprise Rent-A-Car for the #EnterpriseEverywhere campaign, which seeks to encourage people to cruise around their favorite summer destinations right here in the U.S.  With more than 5,500 offices located within 15 miles of 90 percent of the U.S. population, Enterprise Rent-A-Car offers a wide variety of car leasing, vanpooling, car sharing and hourly rental programs – and local car rental customers are picked up at no extra cost. They call it "The Enterprise Way," and it has been the foundation for the company's growth and success for more than five decades.
These day trips from San Francisco offer awesome ways to experience the region during the last weeks of summer:
Sonoma
A short hour drive from San Francisco, Sonoma is wine country at its finest. The smaller, less expensive version of Napa, Sonoma boasts excellent wine, rolling hills, and lots of things to do.  If it's a beautiful day, rent a bike downtown and bike your way around the local wineries. The town square in Sonoma is licensed, so grab a bottle from your new favorite winery, grab some local cheese and charcuterie from the square deli, and enjoy a sophisticated, impromptu picnic in Sonoma square. (EscapeHere)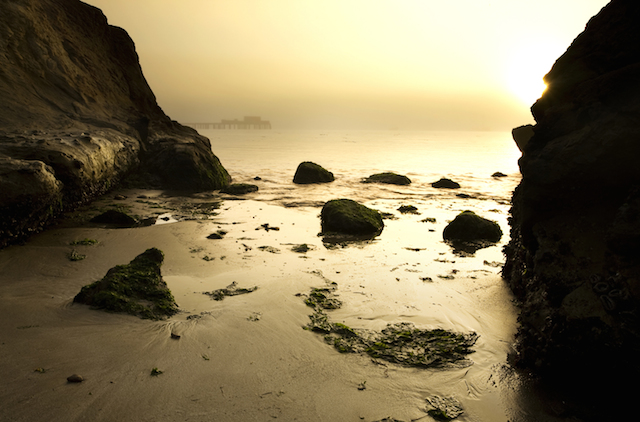 Photo Half Moon Bay via Shutterstock
PACIFICA AND HALF MOON BAY
30-40 minute drive from San Francisco; if you have the time, take scenic Highway 1 along the coast
The Pacific may be a little chilly up around these parts, that doesn't mean San Francisco doesn't have its beach towns. Cruise down to Pacifica and hit the waves (wetsuit strongly suggested) at Linda Mar Beach, or opt for for a stimulating land-bound activity with a hike to the top of Montara Mountain through San Pedro National Park. The 7-mile loop is a great hike no matter the weather, but if you do get clear skies, you'll be rewarded with a 360-degree view of the Bay Area.
Pacifica has some great eateries, as well. Gorilla Barbecue is a smoked-meat lovers' dream—the bright orange boxcar was even featured on Diners, Drive-Ins, and Dives, but has been a local-loved establishment for a while now. The new kid in town is The Surf Spot, featuring outdoor fire pits, a beach volleyball court, and a stage for live music. The menu features small plates from the owners' favorite surf spots around the world.
Just south you'll find Half Moon Bay, with beautiful beaches, charming inns, and the world-famous Mavericks surf spot (seriously, experts only). Class it up with a game of golf at one of two jaw-droppingly beautiful courses at the Ritz-Carlton, Half Moon Bay; you're likely to catch a glimpse at a wedding or two going on. Head to the Half Moon Bay Brewing Co. for local beers, tasty seafood, and ever-necessary outdoor fire pits. (Fodor's)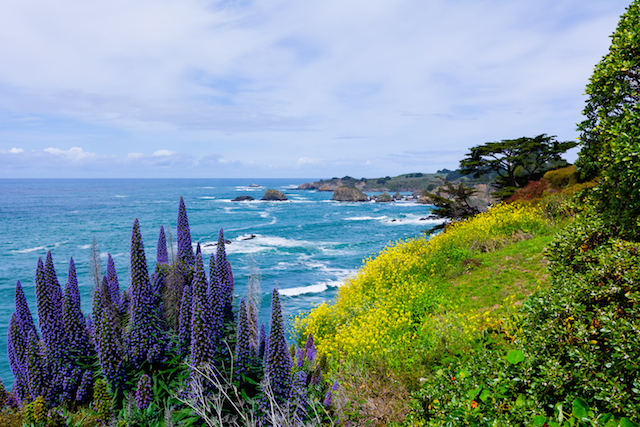 Mendocino coast photo via Shutterstock
Highway 1 through Mendocino County (Scenic Drive)
What Mendocino County has that these other drives doesn't is vineyards. While most of Mendocino County's vineyards are further inland along Highway 128, it's just a short, but curvy, drive to Highway 1 and the Pacific Coast from these vineyards. Coming from San Francisco, most visitors would likely take 128 at Cloverdale and drive through the hills and valleys before hitting Navarro River Redwoods State Park, which sits on the banks of the Navarro River and empties into the Pacific Ocean. The drive then continues north to the town of Mendocino. Fort Bragg is just a 10-mile drive from Mendocino and is worth the extra drive, if for no other reason then a visit to the famous Glass Beach. (7x7SF).
Yacht Harbor photo via Shutterstock
Sausalito
Sausalito takes its name for the "little willow" trees (Saucelito) which 18th century Spanish explorers found growing along its streams. Sausalito is a small town of only 7,500 residents, best known for its spectacular waterfront views. It's a quiet, charming town that some say reminds them of the Mediterranean. Art galleries and souvenir shops along Bridgewayare Sausalito's most-visited attraction. Views from there across the bay toward San Francisco are so captivating that a friend once remarked: "It's like a dream." To get a different point of view, take a walk north along the waterfront, past the yacht harbor. Along the way, you'll find the Bay Model, a three-dimensional hydraulic model of the San Francisco and Delta covering more than 1.5 acres. Sausalito's floating houses are one of its least-known and most fascinating points of interest. In fact, performer Otis Redding wrote his hit song The Dock of the Bay in this area of Sausalito, where he had rented a houseboat in late 1967 to get some peace and quiet. Use the Floating Homes guide to find out where to see them, when you can get inside and how you can rent one for a few days or more. (About.com)
TRAVEL GIVEAWAY
During the month of August, we've teamed up with Enterprise to offer you a chance to win a prize pack of items to bring on your next weekend getaway. The contest ends on August 22, 2014 at 11:59pm PST. Prizes can only be sent to a United States address.
We will randomly choose one reader to win all of the following items:
$75 AMEX Gift Card: Use this on your upcoming weekend away with Enterprise
Sharper Image Telescoping Selfie Arm: Take awesome selfie photos or video on your upcoming weekend away with Enterprise, and share them, tagging @Enterprise and #EnterpriseEverywhere
$50 Snapfish Gift Certificate: Turn the photos you take into souvenirs
Enterprise Carry-Me Everywhere Duffle: Use on your upcoming weekend away with Enterprise
HOW TO ENTER
You must do the following in order to be entered into the #EnterpriseEverywhere contest:
1. Follow @Enterprise on Twitter.
2. Comment on this blog post and share where you would go for a weekend getaway. If you're interested in checking out Enterprise's rental options visit the Enterprise website.
*For a second chance to win, be sure to join our #EnterpriseEverywhere Twitter chat taking place on August 18! (More details to follow)
Disclosure: This post is sponsored by Enterprise Rent-A-Car.