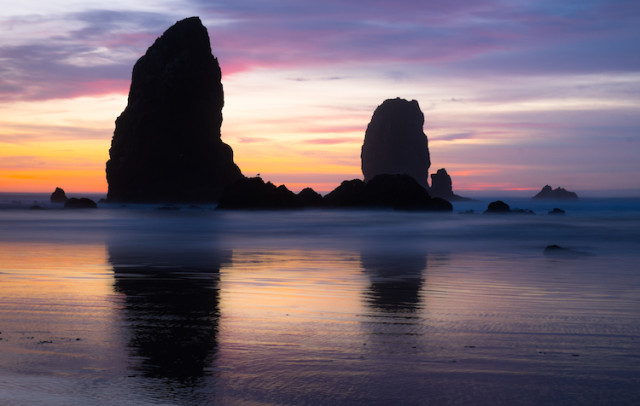 Cannon Beach photo via Shutterstock
Portland is one of the coolest, most laid back cities (you can take your dog into pubs – enough said) offering a multitude of attractions for the artistic coffee-loving, conscious traveler. While visiting the city, we suggest you work in some time for a few day trips to surrounding areas that offer a variety of eye candy activities. You can easily rent a car and drive an hour or two to scenic vineyards, farms and beaches.
 The Oregon Coast
Lined by All-American Highway 101 to the east and the wild Pacific Ocean to the west, the Oregon Coast is 363 miles of rugged shoreline, where tide pools and hiking trails share sunsets with beach towns and lighthouses, and where visitors can connect with a frontier that promises to never fade away. That assurance comes from Oregon state law, which stipulates that from the surf to the brush, "the public has free and uninterrupted use of the beaches."
Whale watching
Twice a year, approximately 18,000 whales can be seen migrating in both directions along the length of the Oregon Coast. The Whale Watching Spoken Here program stations volunteers at prime viewing spots along the coast for a week in December and in March. Visit the Whale Watching Center in Depoe Bay for whale info and spotting tips year-round.
Hiking and camping
All along the coast, dozens of Oregon state parks offer great spots for hikers and campers. Favorite parks for camping include Fort Stevens, Oswald West and Nehalem Bay (all on the north coast), and Honeyman on the central coast.
For hiking, the north coast's Ecola, Neahkahnie Mountain, Cape Lookout and Cape Perpetua all offer trails that pay off with gorgeous views. On the central coast, check out the Umpqua Dunes Area, where you'll find the state's highest dunes and widest beach — and no off-road vehicles.
Storm watching
Find out why locals love to visit the coast in the winter, too: Storm watching at one of Oregon's many beachfront resorts is an exciting and romantic off-season pastime. —  Travel Portland
Oregon vineyard photo via Shutterstock
Wine Country
Oregon's wine country stretches nearly across the state, comprising more than 350 wineries, but the richest, most concentrated area is the red hills of Dundee. While pinot noir continues to be Oregon's signature wine, many varietals are grown throughout the region and are available for sampling at the wineries that welcome road-tripping visitors.
Some of my favorite wineries with tasting rooms in the area include Sokol Blosser, Eyrie, Erath and the Ponzi wine bar, which has a great little gift shop. In nearby Newberg, four more are worth a visit: Adelsheim, Rex Hill, Montinore and Oak Knoll. Next door to the Ponzi wine bar is the Dundee Bistro, featuring Ponzi wines – my favorite place for lunch. I love their fresh and inventive salads, but the menu has something for everyone.
If you've never taken a hot air balloon ride, this is a great place to give it a try; Vista Balloon Adventures is one of the best known operators. Of course, if you would rather have someone plan your tour – and even do the driving — many tour companies are awaiting your call. — RoadTrip America
Mt Hood photo via Shutterstock
Tour the Farm Circuit
No culinary road map to the Pacific Northwest would be complete without a tour of Oregon's legendary farm circuit. Spend a day cruising the Hood River Fruit Loop, a 35-mile stretch that begins about an hour outside of Portland and encompasses over 30 farm stands, wineries, alpaca farms, and pick-your-own orchards. Now is the perfect time to check out the fall harvest at Nella's Chestnut Farm, which is open only on weekends in October and November; to see the floral fields at Hood River Lavender Farms; and to get your fill of red and green Anjou pears at Draper Girls Country Farm. Along the way, stop for a glass of cold-pressed hard cider at the Gorge White House, a 1908-era working farm listed on the National Register of Historic Places.
The streets of Portland are lined with farm-to-fork restaurants, but try Ned Ludd in Northeast's historic King district for superlative seasonal fare. Menus change regularly and highlight local purveyors. Start with killer crostini like whipped lardo with apple and a drizzle of local rosemary-infused honey, then hunker down for hearty chanterelle, bean, and pork ragout, accompanied by green tomato relish. Agricultural awareness never tasted so good. — Fodor'sTravel
TRAVEL GIVEAWAY
During the month of August, we've teamed up with Enterprise to offer you a chance to win a prize pack of items to bring on your next weekend getaway. The contest ends on August 22, 2014 at 11:59pm PST. Prizes can only be sent to a United States address.
We will randomly choose one reader to win all of the following items:
$75 AMEX Gift Card: Use this on your upcoming weekend away with Enterprise
Sharper Image Telescoping Selfie Arm: Take awesome selfie photos or video on your upcoming weekend away with Enterprise, and share them, tagging @Enterprise and #EnterpriseEverywhere
$50 Snapfish Gift Certificate: Turn the photos you take into souvenirs
Enterprise Carry-Me Everywhere Duffle: Use on your upcoming weekend away with Enterprise
How to Enter
You must do the following in order to be entered into the #EnterpriseEverywhere contest:
1. Follow @Enterprise on Twitter.
2. Comment on this blog post and share where you would go for a weekend getaway. If you're interested in checking out Enterprise's rental options visit the Enterprise website.
*For a second chance to win, be sure to join our #EnterpriseEverywhere Twitter chat taking place on August 18! (More details to follow)
Disclosure: This post is sponsored by Enterprise Rent-A-Car.