When love, luxury and long languid days collide, it's the perfect cocktail for a blissful escape at one of these exotic hotels. All the properties offer something special, from fragrant spice plantations, to stunning eco architecture, to glass villas nestled in a South African forest.
No matter the time of year or reason to celebrate, these boutique hotels offer the ultimate romantic experience.
Alila Villas Uluwatu, Bali
Perched on an elevated plateau adjoined with soaring limestone cliffs, Alila Villas Uluwatu, a stunning eco-chic boutique resort with picturesque views of the cerulean Indian ocean, is an exquisite model of eco-modern design. Located on the parched savannah landscape of the Bukit Peninsula, the resort integrates dramatic design elements of the surrounding natural landscape using locally-sourced materials…Continue reading
Serenity at Kanam Estate, Kerala
On the windy way up to the mountainous landscapes of Kerala's Cardamom Hills, a stay at Serenity at Kanam Estate is a must. This glorious redesigned 1920s bungalow is nestled deep in a belt of rubber plantations and fragrant spice gardens. Each of the six eclectically-designed rooms is fixed with period furniture, Indian artwork and spacious verandahs. Admire the lush sea of cocoa and rubber trees that envelop the property while lazing by the pool, or request a personal tour of the expansive spice gardens and rubber plantation. The innovative Indian cuisine here is healthful and overwhelmingly delicious. Most dishes are prepared with coconut milk, local fruits and vegetables, and spices grown on the plantation. Try the prawn curry — it will have you wishing you could take the chef back home.
Adrère Amellal, Egypt
Photo via Adere Amellal
There are many eco-lodges across the world, but few like Adrère Amellal. Situated in Siwa, one of the most remote desert locations on Earth, guests can expect to feel uncomfortable and possibly even out-of-sorts after the long nine-hour drive from the bustling city of Cairo as they journey into a sea of nothingness. But soon the stark land mesmerizes and captures the spirit, unfolding into a picturesque desertscape speckled with ancient olive and palm groves, great dunes and the glossy reflection of swirling sands bouncing from the massive salt lake…Continue reading
Phinda Forest Lodge, South Africa
Photo via &Beyond
The 16 minimalist "glass" villas are situated in the heart of a rare sand forest, offering guests an intimate encounter with wildlife. Floor to ceiling windows reveal a mythical world of bird life, antelope, vervet monkeys and exotic flora. Zulu-Zen décor creates a peaceful respite for relaxation after a long day of cruising about the rugged terrain. Each villa has an outdoor viewing deck with minibar and furniture crafted from fallen timber, and lavish stone bathrooms with dual sinks, a large stand-up shower and egg-shell soaking tub….Continue Reading
The SPA Retreat, Negril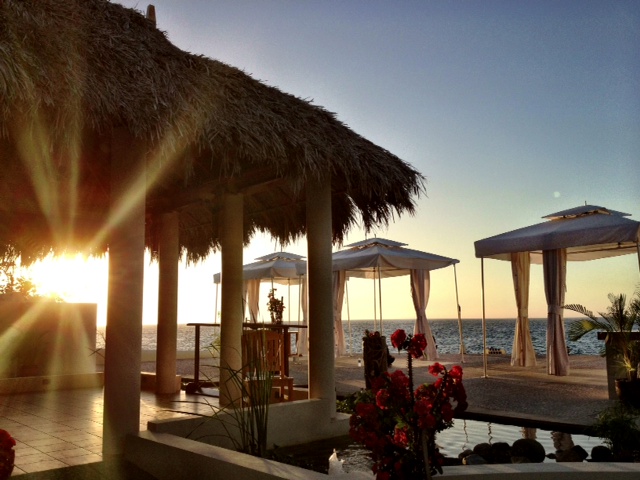 Beyond the chaos and crowds of Seven Mile Beach lies a dreamy retreat situated along the crags of Negril's emerald coastline. The boutique resort, suitably named The SPA Retreat, is an intimate escape for yogis and spa lovers alike. Serpentine lines, minimalist gardens and cool white stone make the property an architectural gem among the ubiquitous mega-resorts that inundate Negril… Continue Reading
The Fullerton Bay Hotel, Singapore
Photo via Fullerton Bay Hotel
This exquisite boutique hotel has one of the best locations in the city. The impeccable design fuses old world charm with sleek modern accents paying homage to Singapore's rich colonial history. The hotel is located beside the precinct's new Customs House, the area's hot new dining and nightspot zone, and is in close proximity to Boat Quay, Clarke Quay, Chinatown, the Singapore Art Museum, Asian Civilizations Museum, Garden's by the Bay and the Victoria Theater and Concert Hall… Continue Reading
Ka'ana Resort, Belize
Photo via Ka'ana Resort
Perfectly located in the midst of everything a Central American vacation could possibly offer, Ka'ana is a haven of understated luxury with a considered design style, distinguished culinary experiences and an extensive wine cellar, adjacent to pristine jungle. 17 private accommodations, each tucked away in its own space amidst lush gardens, outdoor showers and even private pools (in some), creates a very serene, personal and romantic experience. A true luxury vacation just steps from the many ancient Mayan ruins of Belize's jungle…More from Ka'ana
Tribe Hotel, Nairobi
Photo via Tribe Hotel
This ultra-modern property is located in the city's up-market diplomatic district with all the facilities you could ever need. Remember to set your alarm here as you could quite easily sleep all day.  Tribe blends a New York aesthetic with the warmth of Africa through its design with over 900 pieces of original African art throughout the hotel.