By : Heide Lindgren
The dirt pull-off was halfway up Bouillon Mountain. I squeezed our Escalade into it, and my now ex-husband Willie and I walked down the steep drop-off to a giant boulder: Turkey Plucker. Its name comes from Ben Groger, the climber who first scaled it.  (I'm told his family name translated in German is a fowl phrase.) Weaving around clusters of poison oak, we made our way to the foot of the boulder, the setting sun flashing tangerines across the sky. Turkey Plucker stood 25 feet high and climbing holds were dusted with chalk where previous climbers had gone before us. Moss grew on its sides, and Bouillon Mountain rose up behind it—a mix of oak trees and dried-up pasture grass. In the opposite direction, hills rolled into mountains dotted with stands of pine and oak, then leveled out into the endless beige of Bear Valley. I'd never climbed a real boulder before, but Chris was there to teach me.
Chris is 5'8", with short, dark hair growing in multiple directions and a wide smile that rarely leaves his face.  He arrived with green and orange crash pads, folded on his shoulders like a backpack, and a bright orange, insulated bucket bag full of snacks, wine coolers, and climbing gear. "It's like water over rock," he said. "You have to be like water over rock." He approached the boulder, shirtless, wrapping his calloused fingers around holds I could hardly see. Somehow, gravity turned off. Water over rock. He flowed upwards, moving across the boulder, muscles rippling through his arms and back. He talked me through his moves like he was playing checkers. Chris writes professionally about climbing and climbers and has been scaling rocks since he was 18, even living in the caves of Yosemite for a time.
Eight feet up, he pushed off the rock, jumping onto the crash pads and smacking his hands together to knock off the dirt. "We Built This City" played from a speaker he'd hung in a tree ten feet away. The cooling air brushing against my skin, I approached the boulder, trying to remember where Chris had placed his hands and feet. My right hand reached up to grab the hold. Grip. Explode up. Reach. No luck. I landed back on the crash pads with a few swear words and set myself up to try again. Grip. Explode up. Reach. Success. I went a little higher. The crash pads below would keep me from landing on the rocks and shattering bones, but they certainly wouldn't save me from everything. Chris told me about a friend who broke her leg with him in Vermont, another who broke her back in California and others who had smashed ankles and feet. He once broke his own ribs against his knees, jumping down from a boulder that he'd climbed hundreds of times onto crash pads below.
I thought about what it must feel like 3,000 feet up, free soloing El Capitan like Yosemite's famous Alex Honnold. One mistake results in a free fall – no ropes to catch you.
I never thought that I would be a climber, or that I would move to a town on the outskirts of the most famous climbing area in the world. I was content living the life of a student and model in New York City, but when Willie took on a project developing a rally park and resort in Mariposa, just 39 miles southwest of Yosemite National Park, I packed up our apartment and hopped a plane to the Golden State. I knew that I would find a new world out there vastly different from the one I called home for so many years, but I had no idea how transformative climbing and living in the risk-taking capital of the world would be, nor could I have imagined the impact the people would have on me. Add to that a pandemic that broke out just weeks before my flight, I also didn't know if I would ever go home.
Every middle seat was empty on the flight from Newark to San Francisco and face masks were mandatory. Coronavirus had people fleeing New York City, so the plane was packed, with overhead bins running out of space. I had the window all to myself, my six-pound Chihuahua at my feet, slid under the seat in front of me.  The plane took off to the north and banked right, giving me a chance to wave goodbye to Lady Liberty. After 13 years in the city, I was leaving my entire life, packed in a 16-foot storage container, to head out west. I regularly opened my window shade to watch the landscape change: concrete spaghetti highways and cookie-cutter houses dissolved into rural towns. Towns gave way to farms – rust-brown squares – as far as the eye could see, and farms became mountains, breaking the monotony of the flyover states and introducing snowy peaks even as summer approached. We pulled our eight suitcases off the belt at SFO and drove the two hours east – through golden hills and wind farms – to Mariposa.
One Rite Aid, two grocery stores (one for the health nuts), no stoplights, and 300 days of sunshine a year. Mariposa sits at just under 2000 feet of elevation and is home to just as many residents. It carries pioneer charm and you quickly learn that everyone knows everyone else. Among the first hits that appear when googling "Mariposa News" is the Sherriff's daily booking report, consisting more of missing pigs and reports of loose cows or trapped cats than of any significant crimes. Downtown Airbnb's have names like "Adair House," "Kish Camp," and "Becky's Condo," and the Mariposa Mining Museum sits in the middle of downtown – vintage mining gear littering the property. In capital letters, each a foot tall, "Erected 1854"  is painted above the doorway of the courthouse. A wood sign posted outside shares that it is California's oldest seat of justice still in use, its clock tower chiming at every hour since 1866. It's easy to feel like everything here is about the Gold Rush. Yet just beyond the city limits, the town is literally surrounded by the world's greatest recreation and, somehow, unlike world-famous – and overrun – gateway towns like Telluride and Jackson Hole, no one has heard of Mariposa.
Employees of the soon-to-be rally park picked us up three at a time at the switchback just below Turkey Plucker. The Can-Ams they drove were the only vehicles that could get us up and over the rocky terrain to where enough earth had been cleared for us to watch the sunset. Much of the town had been invited to our carved-out spot on Mount Bullion to celebrate two birthdays. An old wooden headboard was set across two thrift store nightstands – a makeshift tabletop for all the pizza, booze, and birthday cake. Solar-powered lights were stuck in the ground surrounding the party and corn hole boards with "Skydive Yosemite" painted on their faces were set up to the side.
We were a thousand feet higher in elevation from downtown Mariposa. It was fifty degrees and wind gusts would lift up dirt and toss it across the guests, but the party continued as planned. The climbing boys set up a slackline to play on and Nate, whose dreadlocks fell to his knees, told me how he lost his cell phone out of a plane while jumping the day before. He shared how neighbors had climbed up onto their roofs to look for it when he told them what happened, but no luck. When it came time to sing happy birthday, I fought the wind to light the birthday candles. My lighter was no match for the gusts, so Derek – one of the climbing crew – ran to his truck to grab his blow torch. Naturally. We used our bodies to build a wall against the wind, torched the candles, and eked out the birthday song. The cakes were cut, the drinks flowed, and the party carried on into the moonlight, folks who'd been in Mariposa for generations mingling with the 20-somethings who had flocked here to fuel their adrenaline addictions.
Named Las Mariposas in 1806 due to the large number of butterflies seen in the region – Mariposa was accidentally purchased from Mexico by American John Fremont. This turned out to be a happy accident as gold was discovered in the region just one year later. It sits at the southernmost tip of the Mother Lode, which, during the 1850s and 1860s was overrun with individual Americans – more risk-takers – seeking the opportunity to become rich. (They quickly were replaced by large companies and hard rock quartz mining.) These days the old-mining-town feel and visitor centers outshine and hide why people now flock to the area: a new kind of risk – people seeking world-class climbing.
The intensity of the town's pioneer heritage seems to be part of what helps keep it a secret as a gateway to Yosemite, but the real adventure seekers have seen through the cracks. They come here for the park that has always set the worldwide standard for climbing. They come here to pack parachutes for tourist skydivers, jumping out of planes themselves at night, their landings leading them straight into all-night benders and up onto the rocks the next day. They come here for the community, the people that envelope you into their fold without question, offering you their cars, gifting you their climbing shoes, feeding you, and showing you which holds to place your chalky hands on. They come here to connect. They come here to risk death. They come here to live.
Modern climbing has gear that makes the sport both easier and safer, but adventurers started flocking here far before those inventions ever came around – about 20 years after the Gold Rush. In 1868, John Muir's wanderlust led him west, where he confronted Cathedral Peak and risked his life to climb straight up the smooth granite. Muir discovered such a deep love for the area, it had him penning articles that led to the development of Yosemite National Park. He then founded The Sierra Club, ensuring that everyone down the line could seek his same religion.
Wanderers like Muir continued to be pulled west by Yosemite's beauty and danger – as they had once been lured by gold – and arrivals like John Salathé, who made his appearance in 1945, changed the sport forever. Salathé pioneered several famous climbs – The Lost Arrow Spire, The Southwest Face of Half Dome, and the Northwest Face of Sentinel rock – but he is also frozen in history for inventing the modern piton (purportedly from the hard steel of the axel of a Model A Ford). Salathé's pitons allowed for climbs that were once impossible, and first ascents exploded. The Golden Years of climbing began with the free spirit of the 1970's being echoed both in the Valley and on the rocks. The Stonemasters, as they came to be known, brought rock and roll and LSD to climbing and, with it, new levels of expertise and attention to the sport. El Cap done in a day. El Cap conquered by the first all-female crew. Aid climbing turned to free climbing, which turned to free soloing and unimaginable record-setting. Big Walls once seen as untouchable were being free climbed within a single day.
Forty-five minutes from the Big Walls, downtown Mariposa, with its original stone, brick, and adobe buildings from the 1850s, feels like a Gold Rush relic. A week after arriving, Willie and I walked with some friends through downtown to a bar called The Gold Coin. We passed stores selling hiking boots, gem collections, olive oil tastings, and cowboy hats. Downtown runs from 3rd street to 13th street – "Historic Old Town" specifically nestled between 5th and 6th streets – with highways fleeing off into emptiness on either end. The town welcomed a Subway warmly, since it melted into the historical architecture loved by the community. Burger King, however, remains rejected. It sits as a complete eyesore – fat and modern against the charm of the pioneer days. While alternative gateways to Yosemite, such as Oakhurst and Merced, offer strip malls, nail salons, and Walmarts, downtown Mariposa has somehow maintained its charm.
The Gold Coin wasn't really open due to coronavirus, but we knew the owners, so they unbolted the doors and welcomed us in. It was difficult to imagine what a "normal" night would have been like there. The lights were shining, fluorescent and intense, over the rectangular, wooden bar in the middle of the room. A pool table and digital dartboard games sat to the right. The walls were covered in NFL memorabilia from all different teams, and in the back left was a glass refrigerator full of beer with a piece of paper taped to the sliding door stating, "Employees Only Please." We reached into the fridge, grabbed what we wanted, and told someone, somewhere, who maybe wrote it down.
Within five minutes of us arriving, Chris rolled in with his crew. They'd been climbing Coup D'état and getting high all day and had just come from a bar down the street. Chris was flanked by Max, whose blue jay eyes never moved away when we were speaking, and Derek, with his shoulder-length brown hair, puppy dog eyes, and red-lensed sunglasses. We laughed all night, climbing and adventure stories spattered with immature boy jokes. Chris probably told us six times about the route he climbed that day, his eyes squinting from the joy of reliving it. I asked Chris what had happened to Quinn Brett, a friend of his who fell 120 feet while climbing El Cap and now travels the country giving talks from her wheelchair. She is paralyzed from the waist down. "She removed her cam," he told me. Her cam was her only protection against falling, but she wasn't thinking clearly that day and rushed through her last block. "I'll never let that happen to you." Chris is often called the "mom" of the group and it became immediately clear how much he cared for his community. He's lost over thirty friends to adventure accidents here, so this amount of love comes with a heavy risk. He came out here right out of high school, middle fingers up, to get away from a lot of what he was mad at and to do the thing he loved with people who loved it too – he came to climb.
Chris began climbing regularly in his teens, moving to Yosemite at the age of 18 and picking up writing as a way to fund his passion. At 43 years old, he has made a commitment to write an article a day, pushing out award-winning pieces for the likes of Outside, Alpinist Magazine, Men's Journal, the Guardian and more. He's even published two Yosemite guidebooks. Chris's general routine is to spend the morning in his bungalow, nestled fifteen minutes up into the mountains in Mariposa, get a little high and write with his 90-pound boxer snuggled up nearby. The rest of the time, he climbs.
His simple home is divided into three rooms that flow from front to back – the first dedicated to writing, with a 27" curved monitor and some free weights sitting in the corner, the middle room filled with his bed, and the back with a small kitchen. A door to the right in the kitchen opens up to the backyard with a campfire pit and woven hammock chair hanging from the trees. It's clear that Chris's priorities lie within the walls of Yosemite – whether ascending them or writing about them, and it occurs to me that this might be why Mariposa feels so untouched by climbers – their hands are too busy scaling big rocks.
Chris' moniker of "mom" comes with good reason. Looking at a boulder, trying to figure out just how you might make it up, he'll appear at your side suddenly with a chocolate protein shake or a package of seaweed snacks. He plans out climbing itineraries, welcoming everyone and sharing his knowledge of the park and of how to flow across rock. I quickly saw that this mentality is not limited to Chris. New friends offered me their cars until I could get one of my own. Acquaintances offered us their paddleboards, so we could cruise the Merced River. Beautiful meals were prepared on the fly out of avocado, eggs, and leftover potatoes. It was as if he could tell how surprised I was by the giving nature of the community when Chris told me one morning as we chatted over hash browns and coffee, "When you give from the heart, life is just better."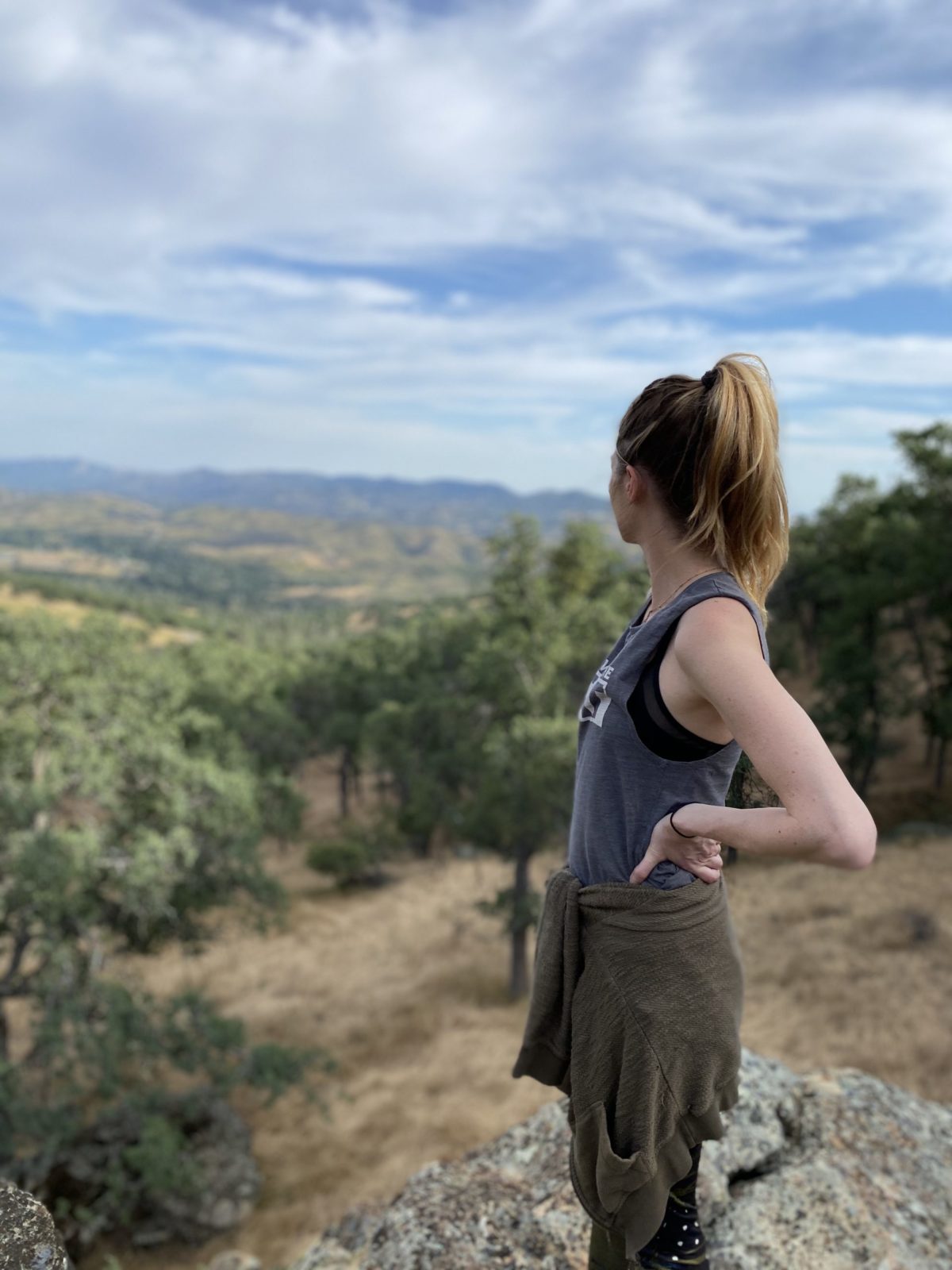 A few weeks into my new life in Mariposa, Yosemite had started to open back up. A special permit was required to enter the park, but we had a friend who lived in Yosemite West. He housesits and cleans for someone in exchange for being able to live close to and climb the Big Walls and visiting him got us into the park. It was summer solstice and the temperature was 70 degrees. A group of us loaded the car up with crash pads and made our way from Chris's house toward Yosemite. We drove past Bridal Veil Falls and the Cathedrals and El Cap with Half Dome exploding into the sky up ahead as we made our way to the first boulder of the day.
Crash pads laid out below the rock, I watched the boys scale their way to the top with zero hesitation. After my struggles with Turkey Plucker, I didn't have much confidence, but the crew encouraged me, shouting out my proximity to different holds, reminding me to find my balance and distribute my weight evenly. Rock climbing seems like it would be all arms, but it requires every bit of you – especially your breath. Ten feet up the boulder, I exhaled and pushed through my right leg up to the next hold. It felt incredible – every part of my body in alignment, propelling me straight up against the pull of gravity. I started to understand the rush when I topped out and looked down at what I had just conquered.
Chris led us through a circuit of boulders with increasing levels of difficulty until the rock started to sweat under the sun, making it too slick to climb. We grabbed beers and snacks from the Village Store and found a spot by the emerald Merced River, shaded by pines and just thirty feet downriver from The El Capitan Drive bridge, where we took turns diving off of into the frigid water, dwarfed by Middle Cathedral and The Dawn Wall on either side. Throughout the afternoon, we ran into familiar face after familiar face, several of whom I had seen on my first day in Mariposa. I'd met them only once, but they greeted me like an old friend. One group was leaving early so they could wake up at two in the morning for a full-day climb. I started to wonder if that's the secret of Mariposa, adrenaline and risk just at the border, comfort and kinship within the city walls. It's an addicting combination.
Six o'clock rolled around, the sun still high. We made our way to the car but paused mid-route when we saw a group of people staring up at the Big Walls. The Nose of El Cap split the monolith the down middle, each rock face angling back from it like two sides of a ship. By now, The Dawn Wall on the right of The Nose was already in the shade, but we could see two almost imperceptible dots making their way to its summit. They would have to sleep on the wall that night, and perhaps for a few more, carrying food and water with them, securing themselves into cracks and crevices to avoid falling to their death while they slept. We shared a set of binoculars to track them for a few minutes, and then piled back into the car, happy, tired, and a little bit drunk. El Portal Road wound us through the mountains, alongside the Merced River that was slowly drying up with the arrival of summer. I thought about something Max said that night at the Gold Coin. "You have to know what it's like to be grateful to have not died. That's really living." The Big Walls disappeared behind us and we drove southwest toward home – the evening clouds turning to bubblegum against the Mariposa sky.
About the author: Heide Morris is an adventure and faith seeker who lives in Idaho with her six-pound Chihuahua, Mae West. She is recovering from 14 years in Manhattan and 20 years in the fashion industry. Follow her adventures on Instagram @heidekmorris.