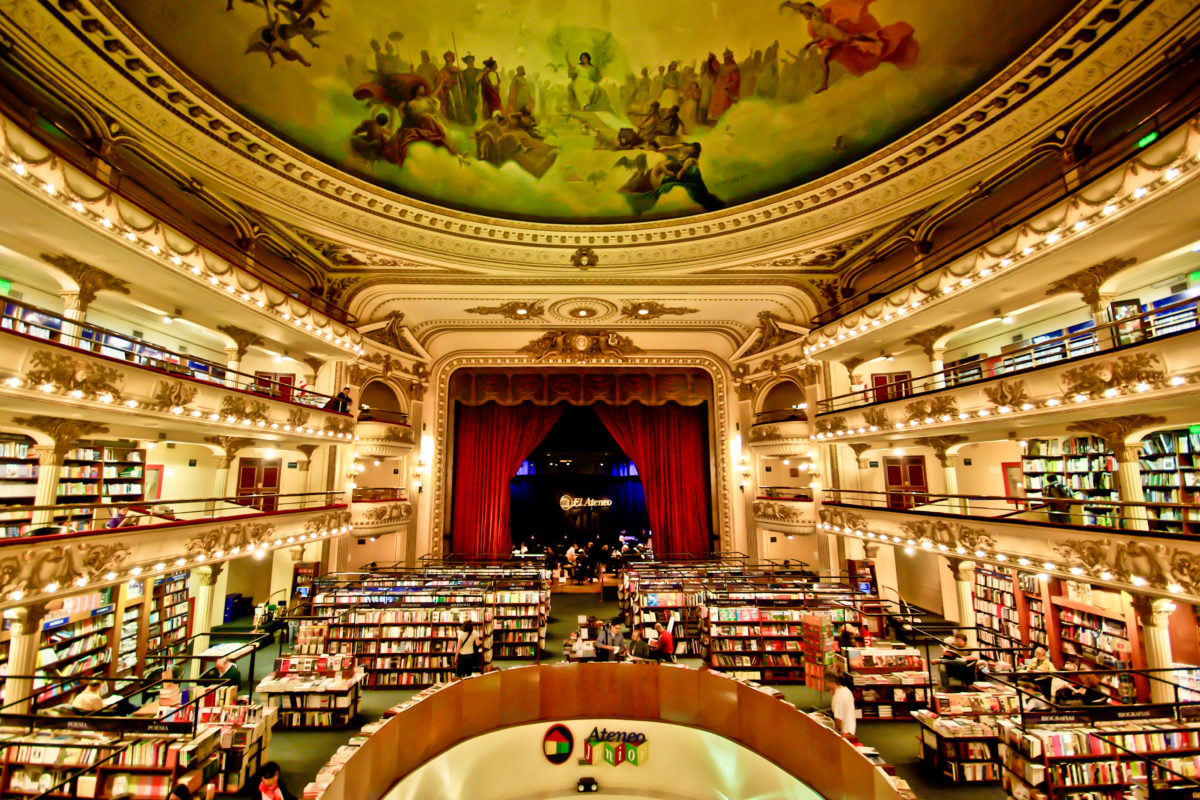 By : Deanna Altomara
Buenos Aires isn't just a world capital: it is also a world capital of books. Named as the UNESCO World Book Capital 2011, Bunos Aires is the city with the most bookstores per capita in the world. This fact alone would have enough for me to fall in love with the city, but as my study abroad month unfolded, I found endless stories hidden not only between the bookshelves, but woven into the fabric of the city itself.
My classmates and I filled our weeks with fascinating classes about the city's history, identity, and health issues, punctuated by commutes on a crowded subway and lunchtime trips to open fruit stands. We spent our weekends exploring the long stretch of parks bordering the city, navigating a labyrinth of sunset-colored roses and paddle-boating lakes ringed with palm trees and flowers. We wove through avenues of worn marble tombs in Buenos Aires' city of the dead, where thousands of people, largely military politicians and the social elite, have laid their own stories to rest. We celebrated merienda, the Argentine tea time, with alfajores, irresistible sandwiches made of two shortbread-like cookies and dulce de leche, all wrapped in a cloak of chocolate. And of course, merienda isn't complete without a book to read while you waited for your alfajores.
After dinner (usually an 11pm dish of breaded beef milanesas and potatoes or a steaming stack of empanadas) the city comes alive. People flock to milongas, tango studios with the lights turned down low and dramatic violin music that fills the veins of the dancers. With all the sparkle, stilettos, and roses, I was convinced that this was only a dance for high society, the type of people whose graves we visited in the cemetery. But the origin story of the tango is much less imposing, and intertwined with the history of Spanish colonization of this valuable port city. The dance was developed in the nineteenth century by former African slaves and Spanish and Italian immigrants living in the poor, working-class suburbs of the city. The tango has since spread around the world, and become emblematic of the city of Buenos Aires.
On the weekends, the people of Buenos Aires dance until breakfast (literally—our curfew was 6am)! But I often spent my nights wandering among the shelves of the endless bookstores.
The most breathtaking of these was El Ateneo, a bookstore housed in a 1919 theater once beloved for its Italian opera and dramatic tango performances. Converted from one form of storytelling to another, the space stretches across cream-colored balconies, supported by ornate columns beneath the gaze of frescoed angels. Thousands of books are neatly stacked between polished wood and intricate gilded flourishes. Crimson curtains cloak the former stage area, where a small cafe hosts merienda. Luckily, this booklover's heaven is in walking distance of Avenida Corrientes, a thoroughfare known for small bookstores open into the early hours of morning.
I also frequented Libros del Pasaje, a cozy shop shelving books from floor to ceiling and nooks where you can work or (as I did) curl up with a copy of Harry Potter y La Piedra Filosofal. Reading is a part of daily life—everywhere you go, there are used bookstores, people toting bestsellers on the subway, and even murals that let you download free classical titles straight to your phone!

Buenos Aires also hosts La Feria del Libro, an international book fair that draws more than a million visitors each year. Swapping favorite books or browsing shelves brings the generations together to celebrate intellectual curiosity, freedom, and imagination. But one of the reasons that these values are so treasured is because Argentines had to fight for them—and paid a great cost.
While metropolitan "fun" dominates the night, the city is active with human rights campaigns during the day. This is, in part, a legacy of the military dictatorship that terrorized the country in the 1970s. During this time, 30,000 young activists were "disappeared"—kidnapped without a trace, tortured, drugged, and thrown into the ocean from airplanes in "the flights of death." Handmade plaques to the disappeared—the desaparecidos—remain scattered throughout the city, and every Thursday, the mothers and grandmothers of the disappeared continue to congregate in Plaza de Mayo—in front of the president's house—looking for answers about their loved ones. Efforts like the citywide plaques, tours through a facility where victims were tortured, and memorials to the desaparecidos (like this one) are established in the hopes of truth, justice, and memory.
By refusing to forget their loved ones and their heart-wrenching stories, Argentines fight for a better and fairer future for all. Today, Argentines are vocal about their political opinions and rights, regularly protesting for a wide variety of causes at the Plaza de Mayo. Colorful bandanas symbolizing support for various causes (green for legal abortion, purple for women's rights, and so on), are tied onto backpacks and sold at crowded intersections and prolific events like the Feria del Libro. Provocative art, journalism, and political discourse can be found on every street corner. I am in awe of the bravery Argentines have to fight for what they believe in. I can only hope that I can emulate that bravery, to use storytelling to make the world a better place, little by little.
About the author: Deanna Altomara grew up in New Jersey, where she first fell in love with words and storytelling. She has been honored on a national and international stage through several organizations, including Future Problem Solving, the Ayn Rand Foundation, the Outdoor Writers Association of America, the Coalition of Texans with Disabilities, and the National Federation of State Poetry Societies. An avid dreamer, she is the author of two middle-grade fantasy books, Ageless and Pi. Deanna now attends Emory University, where she is majoring in Creative Writing and Human Health. When she's not writing, she can usually be found with a book, hiking shoes, or a good meal!