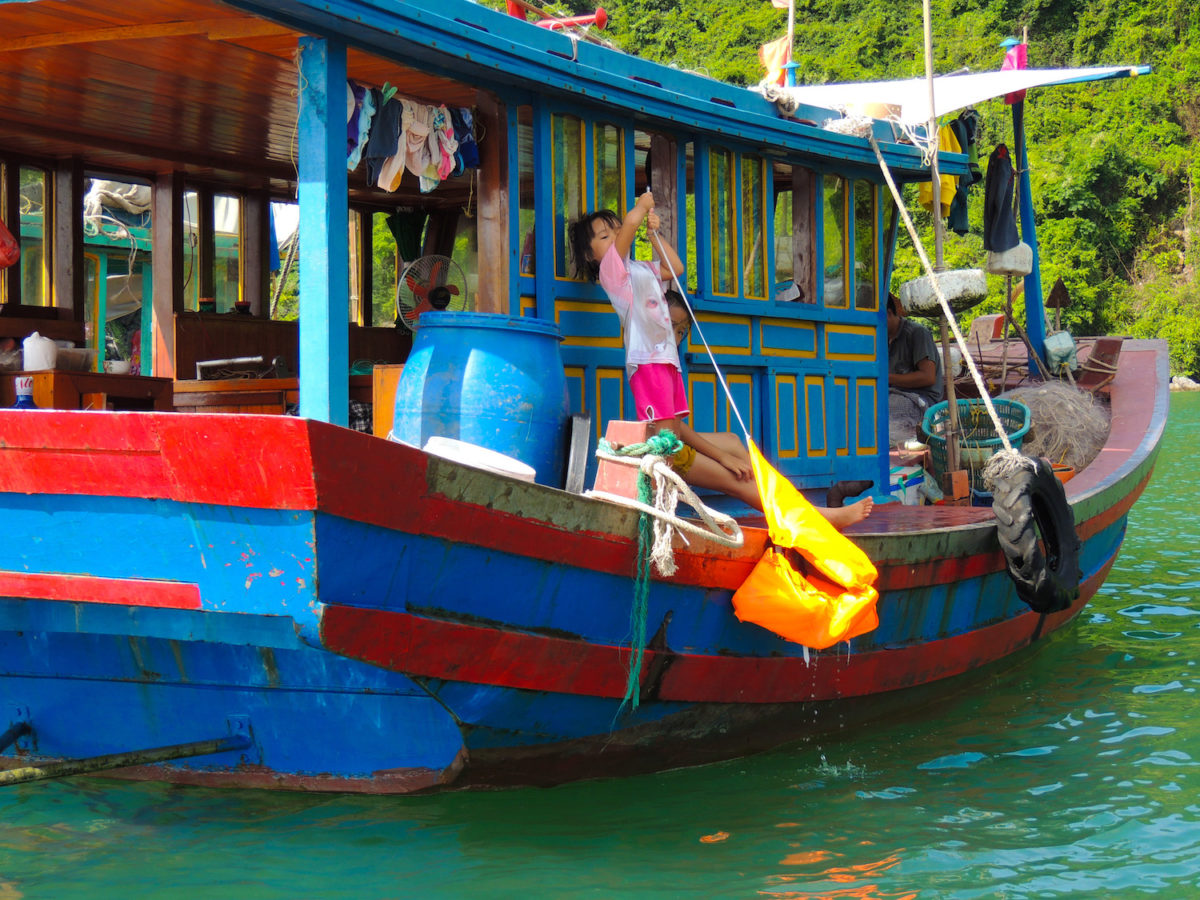 By : Abigail Faires
"Great narrative journalism is about making sense of the universal truths of the world. It requires us to dig in deep, to root big ideas in the stories of real people."
I'll never forget when I first heard these words. I was sitting in a giant lecture hall on the pristine University of Colorado at Boulder campus, surrounded by 100 other half-awake freshmen, clad in sweatpants and over-sized hoodies. And when my professor's blue expo marker hit the board to punctuate that second sentence, he paused for what seemed like an eternity, allowing the room to absorb as much weight as it was willing to take on.
Naturally, his words stayed with me. But it wasn't until I escaped the confines of an American newsroom to spend three years living, teaching, and writing in central Vietnam, while slowly traveling throughout Southeast Asia, that I finally began to understand them. That is when I began to see—truly see—the environmental, economic, and social havoc that global tourism is wreaking on much of the developing world; that is when I began to understand this phenomenon, which pulsates through the entire Indochina region, as a universal truth; and that is when I began to know that it would be up to us—up to all of us—to start digging in deep.
A brief history
The term "Indochina" was coined in the late 19th century to encompass the French territories of the Indochinese Peninsula: present-day Cambodia, Laos, and Vietnam. Today's definition, however, often includes the bordering countries of Thailand and Myanmar and typically gets replaced by the broader geographical term "Southeast Asia."
Semantics aside, there's no denying that within the last 50 years—since the end of the Vietnam War—this part of the world has seen mounting political stability and accessibility, marked by a tremendous influx of foreign visitors.
In fact, it was during the late 1970's that adventurous hippies began flocking to region, eventually blazing the famous Banana Pancake trail—a still popular backpacking route which starts in northern Thailand, laps its way through Laos and northern Vietnam, down south and back west through Cambodia, before ending in Bangkok.
Fast-forward to today, and adventure still abounds in the region, while costs remain relatively low, and access continues to grow. Frugal backpackers, curious gap year students, wealthy Chinese tourists, resort-bound families, and even Western cruise goers are now being lured by the ancient treasures and natural wonders of the Southeast.
Just picture the iconic temples of Angkor Wat, the towering pillars of Ha Long Bay, the postcard-perfect shores of southern Thailand, plus the exotic wildlife that permeates the region, and it's easy to see why Thailand welcomed a record-breaking 35 million tourists last year ; Cambodia's international tourist arrivals have more than doubled in the last five years; and Vietnam's 2018 summer tourism numbers were up by 25 percent when compared to the same period in 2017.
The truth is, burgeoning tourism numbers—namely from a rapidly expanding global middle class—are putting massive strains on developing economies and precious natural resources around the world. Yet as Nithin Coca recently wrote for Yale Environment 360, "nowhere is the problem more acute than in Southeast Asia, famed for its beaches, tropical forests, and far-flung islands. Not only are the economies of Southeast Asian nations heavily geared to, and dependent on, foreign tourism, but the region's vacation destinations are also close to China, whose citizens made an estimated 150 million trips abroad last year — a 15-fold increase from 2000."
So, the million-dollar question remains: what happens to a place when local development gets buried alive by the ticking tourism time bomb?
Environmental impacts
A rapid influx of tourists means a surge in tourism dollars for the host country. And once that glittery money-ball starts rolling, profiteers want to do everything in their power to keep it going. Essentially, fast cash gets met with swift action, and near-sighted practices become the norm. The end result for our Mother Earth: soil degradation, ecosystem destruction, and the endangerment of wildlife, for starters.
For the last decade, conservationists have been expressing concerns about the detrimental effects of tourism in places like Siem Reap, where unprecedented development has put a massive strain on Cambodia's water supply and irrigation systems. Groundwater from the famous temple complex Angkor Wat has long been pumped out, often illegally, to support the millions of tourists who arrive each year. And if water consumption doesn't dramatically decrease soon, conservationists have warned that the temples at Angkor Wat could potentially destabilize.
'There's just so much building going on without any concern about the long term. Things are moving so fast in Siem Reap today that it's going to chew itself up very quickly and become unsustainable,' Mitch Hendrickson, an archaeologist from the University of Sydney was quoted in an article by the Associated Press.
But environmental impacts don't start or stop in Cambodia. Take Vietnam's Ha Long Bay, for example. More than 5 million tourists flock to the emerald waters of this UNESCO World Heritage Site each year. Here, pollution from tour boats and waste dumping from the region's floating villages have killed off so much marine life and disrupted so much of the ecosystem that fishing and aquaculture—the only livelihoods that these floating fishing communities have ever known—are no longer possible.
This destruction of precious marine life is something that the Thai government knows all too well. Last year, Thailand's national parks department announced that more than 50 percent of Maya Bay's—the once tranquil lagoon made famous by Leonardo DiCaprio's 2000 blockbuster film, The Beach—coral reefs had been damaged. This discovery prompted the parks department to completely (and indefinitely) close the region.
Meanwhile, throughout Thailand—one of the most popular tourist destinations in all of Asia—animals are being taken from the wild, or bred in captivity, to be used in the tourism entertainment industry. According to the Wildlife Friends Foundation Thailand [WFFT], "most of the wild animals exploited for tourists are poached from ever-decreasing wild populations. If this continues then there will be none left."
Economic impacts
Shortsighted tourism practices are the eyes of the storm in the developing world. And in places like Siem Reap, Ha Long Bay, and throughout Thailand, where big tourism bucks get furiously funneled into the deep pockets of a select few, detrimental economic impacts come just as fast, if not faster, as the environmental issues.
The WFFT's website says one of the biggest myths regarding wildlife tourism in Thailand is the belief that "[t]he owners are very poor people that would not be able to make a living without the animals." WFFT's response:
This is nonsense. They are actually people who are usually well off and have the right connections to continue this illegal business. Their profits on Phuket and Samui amount to over 200 dollars a night, a small fortune in Thailand.
In Cambodia, more money from tourism goes to private foreign companies than to the national budget or local economy, according to a research paper published by Dr. Vannarith Chheang for Asia Pacific University. Chheang goes on to quote a 2006 article published by the Phnom Penh Post:
[Tourists] usually come and visit two or three countries on the same trip, and usually only stay two or three days [in one place]. They stay in Korean-owned hotels and eat at Korean restaurants, so it's not desirable from the point of view of Cambodian people.
According to Chheang, the average salary of hotel and restaurant staff in Siem Reap falls around $60 USD per month, while top-grossing managers earn around $600 USD per month. By contrast, foreign managers earn more than $2,000 USD per month, while local construction workers earn about $3 USD per day, saving $1.50 USD for their families. In order to set aside half of their daily wages, these workers pack their own lunches and commute by bicycle from their villages to the city every day.
Chheang's study illustrates not only what is happening across Cambodia, but among tourism-driven economies across the developing world: the rich are getting richer, while the poor are getting poorer.
Social impacts
So what happens when local people—predominantly indigenous people—have little control over tourism development; when they get little benefit from it; or due to lack of education and exploitation, fare even worse?
In places such as Siem Reap, unbalanced income distribution from tourism revenue is widening the development gap between the inner city and the surrounding villages of Angkor Park, while simultaneously driving major social injustices.
Chheang's paper quotes an Angkor Park resident as follows:
We are still poor…our kids are still small so they could not get jobs to get money. We don't have [the] knowledge to get jobs. I grow rice and vegetables then sell them to the market. Sometimes we don't have food to eat so I ask my kids to get some money from the tourists.
It should come as no surprise then, that begging children and milk-mothers—women with babies who lead tourists into corner shops to purchase powdered milk, only to return the milk later and split the profit with the owner—have become the norm in Siem Reap.
But developing countries that open themselves up to the tourism boom must also face challenges brought on by the interaction with and demonstration of western ideals, styles, and behaviors.
As put by a Siem Reap resident featured in Chheang's paper:
Now our community is different to before. We are busy now doing business, so we don't have time to socialize and communicate with each[other]. Another issue is the influence of the sexy international tourists on local culture. We are shy to see that.
Hear the word "sexy," and it's not hard to make the leap across Cambodia's northern border, into Thailand—where sex tourism has become one of the country's most lucrative industries. It's estimated that approximately four million men visit Thailand each year for sex tourism alone.
Although prostitution has been present in Thai culture for hundreds of years, the country's burgeoning sex industry wasn't born until the Vietnam War—when the Thai government made a deal with the United States to provide rest and relaxation services for American troops. Naturally, the entertainment sector went on to play a pivotal role in the rapid industrialization of Thailand's economy throughout the 1970s, and when the international tourism boom hit in the late 20th century, the sex tourism bomb exploded right alongside it. In its wake, today's Thailand is faced with the gruesome task of combatting child prostitution and human trafficking, not to mention a widespread loss of culture and religion.
Of course these challenges—namely the loss of culture and tradition—are not unique to Thailand or Cambodia.
Since 2014, more than 300 families of Ha Long Bay's Vung Vieng floating village have been forcibly relocated to mainland Vietnam. Established in the early 19th century, Ha Long Bay's floating villages have thrived on aquaculture for more than 200 years. Indeed, life on the water is all they have ever known—or was, until just a few years ago. Benefits of government's relocation initiatives included subsidized housing and better schools for the children. But at what cost?
The following excerpts from an interview with 55-year-old "boatman" Nguyen Van Vinh were published on the Viet Nam News website in 2015. Vinh was one of the Vung Vieng residents forced to partake in the government's relocation initiatives.
I love the sea like fish need water. My parents raised me and my brothers with the fish of this sea. It was my childhood. I have an unexplainable spiritual connection with the sea.
I know it sounds strange but sometimes I think I hear the call of the sea and also of past generations of my family. I did not feel I was living my life when I was separated from the sea…That is why I sometimes stealthily went offshore to catch fish.
…We faced difficulties finding a job as we have not completed our education. That meant we had to compete with other relocated residents to find manual jobs. We did not know what to do on the land. Our family was desperate at that time, everything was uncertain.
Today, Vinh earns a living by rowing small boats of tourists to his former village, where pictures of bygone residents and old fishing equipment are displayed alongside a shiny, new tourist-friendly pearl farm. For Vinh and the other relocated "boatmen" of Vung Vieng, glimpsing these pictures and rusted tools is a haunting experience. These objects are like ghosts of memories past—reminders of a life that once was, but will never be again.
A call to action
As global tourism continues to grow, so too will the push to explore more exotic locales, like the "Far East." And as accessibility continues to grow, these issues will too. But the truth is, the situation in Southeast Asia, and across the developing world, is not all doom and gloom—far from it in fact! We are in a unique position, at a perfect time, to spread attention and awareness and to strengthen the positive impacts of tourism. There are incredibly simple steps we can take to travel these destinations more responsibly—starting this summer. What's more, Southeast Asia is home to a tremendous number of local tour operators and organizations working to be environmentally, economically, and socially sustainable. (See the sidebar for a list of locally based organizations committed to sustainable practices.)
Put simply, sustainability—minimizing the impact of tourism on the environment and local culture so that it will be available for future generations—is the goal. And it's a goal that can only be achieved if we take responsibility.
Achieving sustainable tourism is a continuous process, which requires the constant monitoring of impacts and the introduction of preventive or corrective measures whenever necessary. Responsible tourism is the monitoring of those impacts and the introduction of those measures. It is the pathway to sustainability.
As put by Harold Goodwin, Founder and Director of the International Centre for Responsible Tourism, "Responsible tourism is about making better places for people to live in and better places for people to visit, in that order." And it involves all of us, now.
About the author: Abigail Faires is the future CEO of Learn2Link: a global learning network for sustainable community development and 501(c)(3) organization. As a freelance grant writer, an entrepreneur, a teacher, and a slow traveler, Abby has continuously followed a path rooted by her commitments to youth development, cross-cultural understanding, and international engagement. After spending three years freelancing and teaching English in central Vietnam, she is now working as a grant writer based in the States. Up next: a nine-month journey through South America, where she will be launching micro-educational development projects. Learn more by following Abby on Twitter or by visiting abbyfaires.com.
Sources:
Thakral, Suphanida & Sriring, Orathai, Thailand plans for even more visitors as numbers top 35 million , Reuters, World News (Online: 2018)
Trading Economics, Cambodia Tourist Arrivals 2012-2018, (Online: 2018)
Vietnam Tourism, International visitors to Viet Nam in June and 6 months of 2018, Tourism Statistics (Online: 2018)
Coca, Nithin, The Toll of Tourism: Can Southeast Asia Save Its Prized Natural Areas?, Yale Enviornment 360 (Online: 2019)
Tourism of Cambodia, City's Thirst for Groundwater Threatens Ancient Temples, (Online: 2010)
Sok, Chamroeun, Unesco, Angkor Water Crisis, (Online: 2018)
Associated Press, Development pressures threaten Angkor Wat ruins, (Online: 2008)
Kraus, Nils, Tourism Review News, Ha Long Bay Threatened By Mass Tourism, (Online: 2012)
Viet Nam News, Ha Long Bay's Relocated Start Anew as Boatmen, (Online: 2015)
Viet Nam Net, Environment, Ha Long Bay's Waterways Under Threats, (Online: 2018)
Bangkok Post News, Environment, Maya Bay's Coral Reefs 50% Destroyed, (Online: 2018)
Wildlife Friends Foundation of Thailand, Wildlife in Tourism Campaign, (Online: 2018)Wildlife Friends Foundation of Thailand, Wildlife in Tourism Campaign, (Online: 2018)
Chheang, Vannarith, Tourism and Local Community Development in Siem Reap, Asia Pacific University (Online: 2018)
World Outreach UK, Rahab International, Prostitution in Thailand (Online: 2018)
Viet Nam News, Ha Long Bay's Relocated Start Anew as Boatmen, (Online: 2015)
Viet Nam News, Ha Long Bay's Relocated Start Anew as Boatmen, (Online: 2015)
UNWTO, Sustainable Development of Tourism, Definition (Online: 2018)
Harold Goodwin, Taking Responsibility for Tourism (Online: 2018)