By: Lawrence Wells
A bit out of breath from climbing Author's Ridge, my wife Dean and I stop at the grave of Henry David Thoreau and pay our respects. Here lie Thoreau, Ralph Waldo Emerson, Nathaniel Hawthorne, Louisa May Alcott and her father Bronson. It's a Transcendental walk of fame reminiscent of Poet's Corner in Westminster Abbey, though birch and pine boughs frame the ceiling of this cathedral, and birds sing the cantata.
Sleepy Hollow Cemetery in Concord, Massachusetts, the most literary of American graveyards, wasn't named for Washington Irving's fictional setting, but for a local farm. After Thoreau's death in 1862, Louisa May Alcott, author of Little Women, organized Concord's posthumous walk of fame. Alcott talked authorities into moving his body from the Thoreau family plot to this tree-shaded ridge. At the base of the modest tombstone simply and appropriately inscribed "Henry," visitors have left shiny pebbles and pine boughs. "Time," Thoreau wrote, "is but the stream I go a-fishing in."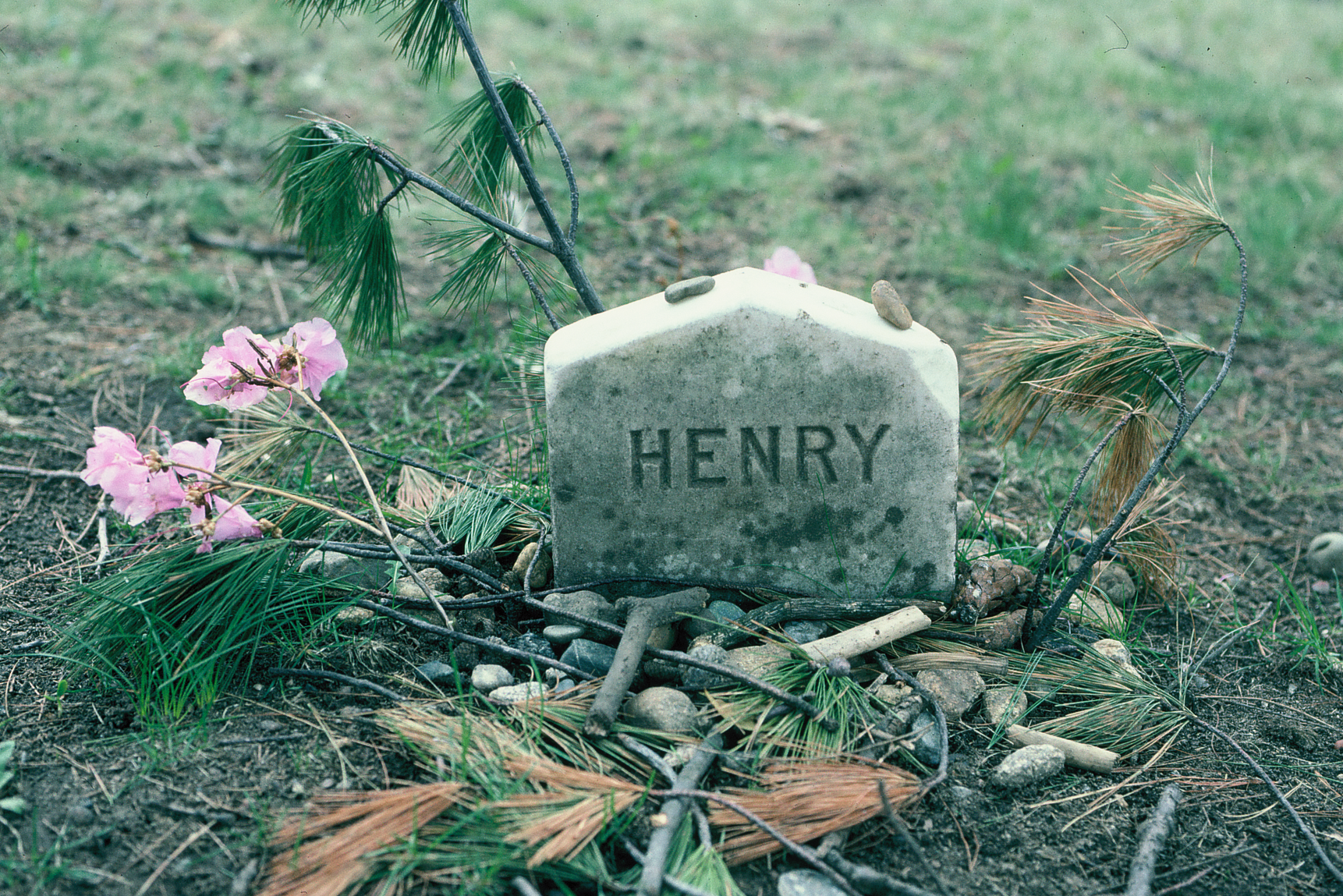 A stone's throw from Thoreau's grave is that of Sam Staples, the town jailer who arrested him for not paying his poll taxes. "If the law is of such a nature," wrote Thoreau, "that it requires you to be an agent of injustice to another, then I say, break the law." The author of Civil Disobedience spent a "pleasantly instructive" night in the lockup, likening it to a medieval castle.
According to legend one of Thoreau's fervent admirers, Mahatma Ghandi, planned to visit his mentor's grave but died before he could complete the journey. One November afternoon, an 84-year-old man wearing a white robe, steel-rimmed glasses and bearing a staff, was seen kneeling at Thoreau's grave. He told a groundskeeper he was completing a pilgrimage in behalf of his friend, Ghandi.
Directly opposite the Thoreau plot are two markers engraved "Hawthorne." The author of The Scarlet Letter and The House of Seven Gables walked these hills before there was a cemetery. One summer afternoon Nathaniel Hawthorne (1804-1864) bumped into Margaret Fuller, the transcendentalist. "We talked about Autumn," he wrote, "and about the pleasures of getting lost in the woods." Ralph Waldo Emerson happened to be coming down the next path, and one can't help imagining this strolling brain-trust debating issues of the day. "There were muses in the woods to-day," wrote Emerson, "and whispers to be heard in the breezes."
The path on Authors Ridge leads to the grave of Louisa May Alcott (1832-1888), who died two days after the death of her father, Bronson Alcott, a progressive educator and member of the American reform movement, co-founder in 1843 of the Utopian community, "Fruitlands." Buried here are the prototypes of the "March" family—together in death as in Little Women—father, mother and daughters, headstones inscribed with their initials. Louisa's grave includes a "U.S." marker honoring military veterans. She served as a nurse during the Civil War.
The town of Concord was home to two revolutions: American independence from England, and religious and philosophical freedom. The "shot heard round the world" was fired at Concord's North Bridge and memorialized in "Concord Hymn" by Emerson (1803-1882), who later started his own revolution. In the essay "Nature" (1836) he observed that each individual should look for truth in nature and within himself: "Why should we grope among the dry bones of the past….The sun shines today also….There are new lands, new men, new thoughts. Let us demand our own works and laws and worship." Emerson rests under a boulder of rose quartz with a bronze plague bearing his name.
"The Old Manse" was home to Emerson's grandfather, of William Emerson, who exhorted the Minutemen to stand firm against the Redcoats at North Bridge, a short walk from his back door. In 1842 Nathaniel Hawthorne, who lived here with his bride, Sophia Peabody, described Concord's early patriots as having "the energy and impetus of a mountain torrent…as was proved by the blood with which they stained their River of Peace." A memorial next to the restored wooden bridge celebrates one of the first major engagements of the Revolutionary War. On the third Monday of April, the anniversary of the North Bridge battle, Minuteman companies march to fife and drum on the hill overlooking the Concord River while British regulars in scarlet coats kneel and take aim with Brown Bess muskets.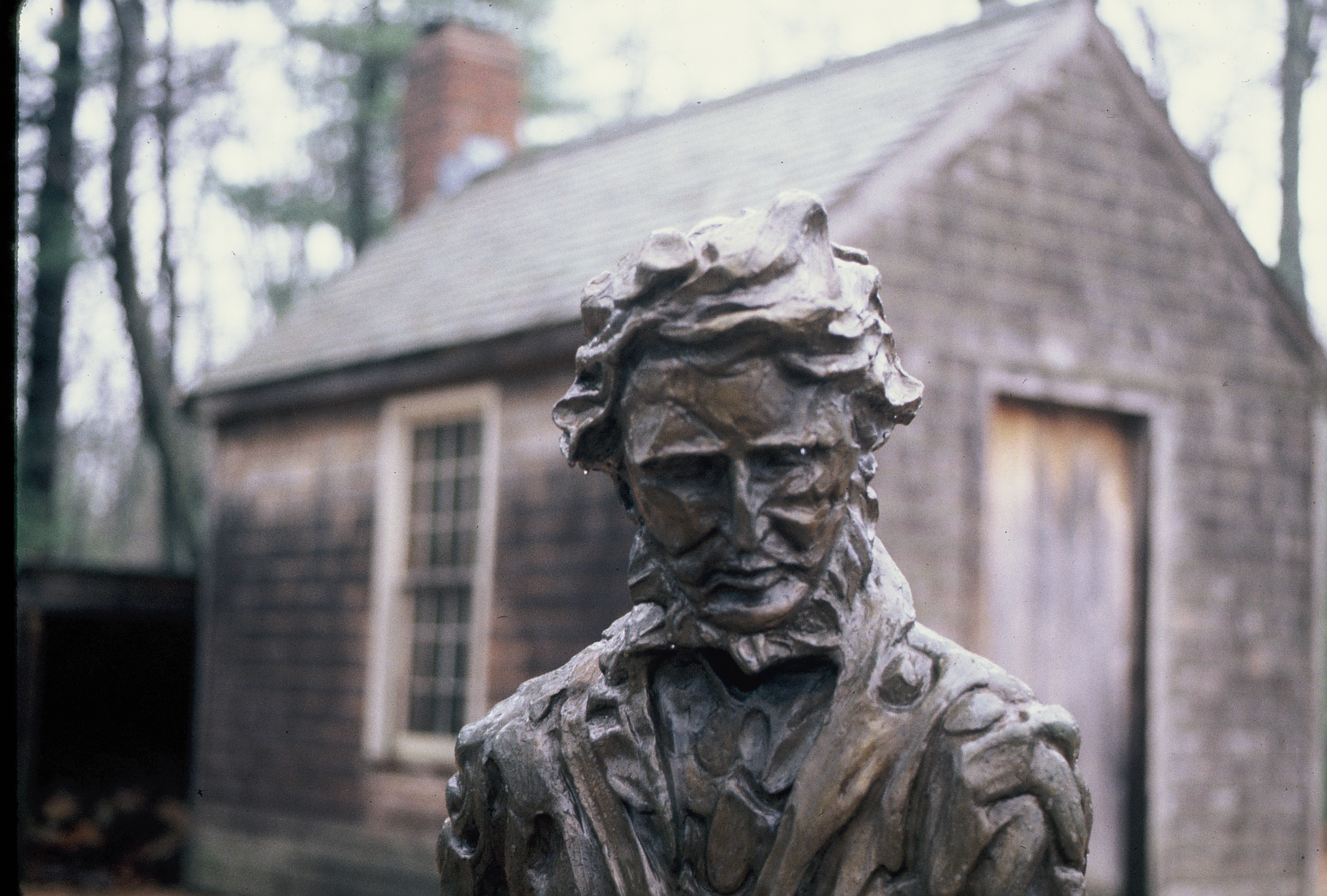 Less than two miles from the Old Manse is Walden Pond State Reservation, where a replica of Thoreau's 10 x 15-foot cabin is furnished with the barest of necessities—a wood-burning stove, cot, chair, writing table. "I went to the woods," the writer/builder explained, "because I wished to live deliberately, to front only the essential facts of life, and see if I could not learn what it had to teach, and not, when I came to die, discover that I had not lived."
The original site of Thoreau's cabin is across the pond, which the state of Massachusetts maintains for fishing and recreation. A quarter-mile hiking trail leads to the site. The pond belonged to the Emersons, who allowed Thoreau to build the cabin and live blissfully alone for two years, two months and two days (1845-47). Sitting on his stoop he stopped playing his flute long enough to write: "And now tonight my flute has waked the echoes over that very water." The Concord Museum houses some original furnishings of Thoreau's cabin along with 200 personal artifacts.
Hawthorne's house, "The Wayside," later the home of Margaret Sidney, author of Five Little Peppers, is located not far from Concord. Sidney was instrumental in preserving The Wayside along with Emerson House and Orchard House, home of the Alcotts, where a brown and white checked dress draped across Louisa May Alcott's bed evokes her presence—quiet, plain-spoken and fun-loving. Thoreau and Emerson were among the guests in the front parlor where Anna Alcott, the eldest daughter, was married in 1860. Emerson kissed the bride, causing Louisa to remark, "…that honor would make even matrimony endurable." Yet she remained resolutely and independently unwed, declaring, "I'd rather be a free spinster and paddle my own canoe."
At the opening of Sleepy Hollow Cemetery in 1855, Louisa asked her friend Emerson to give the ceremonial address. "Shadows haunt these groves," he addressed the gathering. "All that ever lived about them clings to them…And when these acorns that are falling at our feet are oaks over-shadowing our children in a remote century, this mute green bank will be full of history."
Together on Authors' Ridge in the thrall of a woody silence broken only by birdsong I remark, "Listen to the quiet." Dean, the only niece of William Faulkner, takes exception. "These woods," she replies with quiet assurance, "are filled with words."
About the author: Lawrence Wells is the author of two historical novels (Doubleday & Co.) and six non-fiction books. In 2014 he was awarded the Faulkner-Wisdom gold medal for narrative non-fiction in the Words and Music Festival, New Orleans. Wells is a contributor of travel stories to the New York Times Syndicate and lives in Oxford, Mississippi