Jakarta, with its mess of traffic confusion, remnants of Dutch colonial buildings, and strong echoes of the robust coffee trade, can be an assault on the senses. This is a city of immense contradictions—where high end restaurants brush against food stalls and the call to prayer competes with the sound of car horns and house music pours out from cafes.
Most visitors to Indonesia skip over the mega-city entirely, in favor of the allure of Bali and the other islands beyond, but Jakarta is absolutely worth a night or two. From a visit to Asia's largest mosque, to indulging in the city's abundant spa culture, to wandering the Dutch colonial neighborhood of Kota and the over-flowing alleyways of bustling Chinatown, Jakarta is a city best seem with inquisitive eyes.
What to See
Jakarta's web is seemingly endless and its riches can easily be lost in its confusion. For something forthcoming in its charm, start in Kota, the postcard stamp sized old Dutch neighborhood once known as Batavia. Kota's glory stretches back to the 17th century when served at the center of Dutch colonial rule. Now a mix of well preserved and crumbling European style buildings, the neighborhood feeds off of Fatahillah Square, an essentially Dutch plaza transplanted to Asia, complete with organized colorful facades bordering a bustling mix of tourists and local school children out to practice their English. Come here to admire the architecture and to take in the remnants of the complicated past and to piece it together in your mind.
The crowds dramatically thin out once you leave Fatahillah Square so you're likely to have Chicken Market Bridge—just a short walk away—to yourself. This 17th century structure is a still functioning drawbridge that connects roads of crumbling but beautiful Dutch colonial buildings. Stop along the way to observe the myriad number of local photo shoots happening along this popular walkway.
Wander further from Kota until you reach Jakarta's sizable Chinatown and wind your way through the overflowing alleys, stopping at the stalls that sell everything from bananas to paintings. Sample pastries and some fruit or make conversation with any of the more than friendly locals who aren't used to seeing tourists in this part of town.
Hop in a taxi (Bluebird taxis are considered the safest) and make your way to Pusat Barang Antik a long stretch of an antiques market in the neighborhood of Menteng. If you're lucky you can find authentic Balinese puppets and Javanese marriage figures, although discerning the real from the fake requires more than meets the eye. You can easily pass several hours here diving into the mix of junk and treasures.
A visit to Jakarta would not be complete without a stop at Istiqlal Mosque (or Independence Mosque) which is the largest mosque in Southeast Asia. Guided tours are mandatory for visitors and offer brief but informative overviews on the history of the building and notable visitors including Barak and Michelle Obama in 2010. The Mosque is impressively large and can hold up to 200,000 worshippers.
Tucked away in South Jakarta, about 45 minutes from downtown, is Jamu Traditionl Spa. A favorite among the expat set, they specialize in the use of natural ingredients in all of their treatments, whether it be tropical nuts in the facials or crushed hibiscus in the massages.
Where to Eat and Drink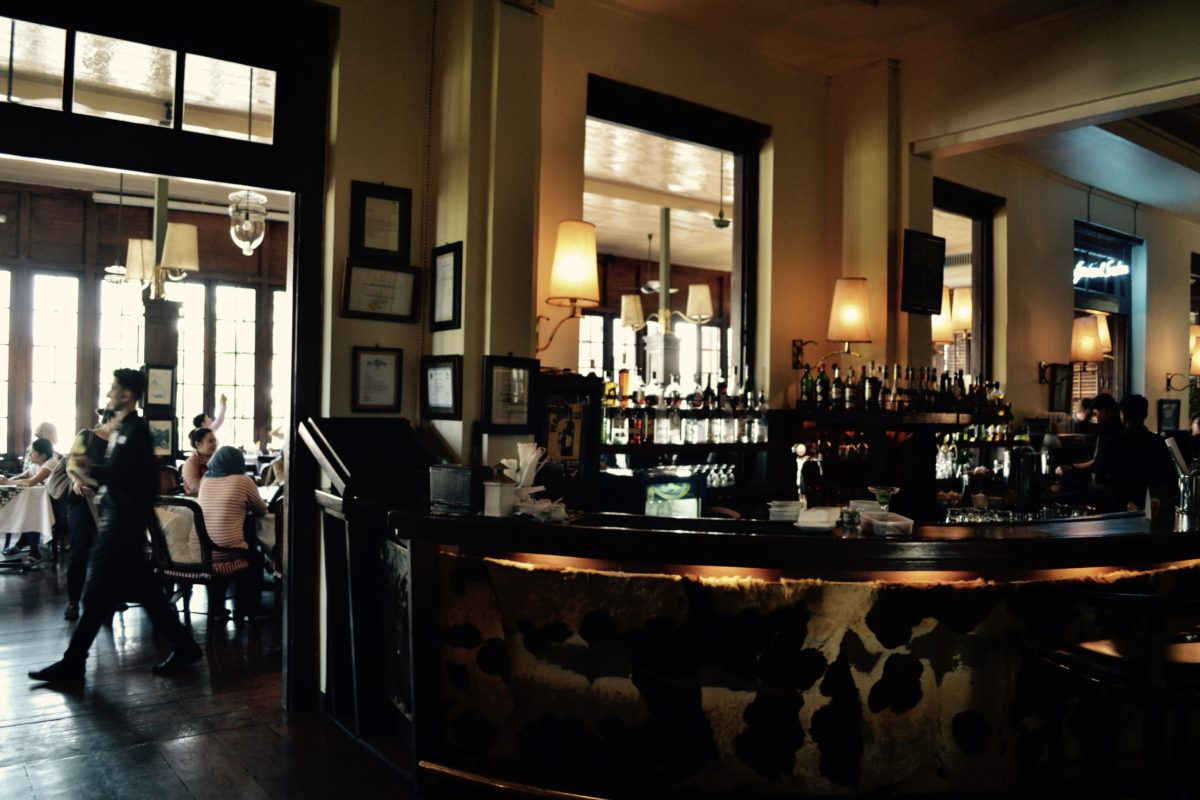 There are a few Bakoel Koffie shops around the city but that doesn't mean they aren't one of the best places for a wonderful cup of one of Java's best beans and a sampling of Indonesian pastries, and fried bananas.
Standing sentry in a corner of the square is the infamous Cafe Batavia, an essential stopping point for an overpriced cocktail. This restaurant has watched over the square since the 1920s and has welcomed all numbers of artists, politicians, and royals. It's worth a visit for the view and brief look into another era and time long forgotten.
Modern and traditional Jakarta meet at Awan Lounge located on the 9th floor of the hip, boutique Kosenda Hotel. Here the call to prayer is only mildly drowned out by a clubby mix that plays low on the rooftop bar's speakers. The rooftop is donned in lush orchids and ferns with peek-a-boo views of the city beyond. They offer mostly Australian wine and beer menu (all excellent) as well as Indonesia's signature fresh fruit juices and some light snacks. Like many bars and restaurants in Jakarta, there are no cocktails on the menu, a nod to this majority Muslim nation's heavy liquor import taxes.
Shanghai Blue 1920 is the kind of restaurant that makes you think you woke up in a dream or at least on a movie set. The brainchild of hotelier and antiques collector, Anhar Setjadibrata who has made it his personal mission to celebrate, preserve, and display the legends, art, and beauty of Indonesia through his hotels and restaurants, Shaghai Blue 1920 is a must for cocktails or dinner in Jakarta. Like all Setjadibrata's properties, the restaurant dives into the soul of another time—this being, as the name describes, Shaghai in the 1920s. Concoctions like the Babylon Lemonade: bourbon, lemon juice, soda, cherry  or the Jawna Dahab with golden rum, blue curacoa, lime, bitters, bring you there.  Add a side of Shanghai street dumplings and you'll ask for the full dinner menu.
Another of Setjadibrata's properties is nearby and perhaps more alluring in its setting. Lara Djonggrang is like stepping into a secret temple in the midst of the frantic pace of Jakarta. The menu serves up "Imperial Indonesian Cuisine" and the towering ceiling and cavernous web of antique-filled rooms are designed to match. Try Sate Cumi Bakar Manado, squid stewed in coconut milk and grilled with the recipe from Mando in the northern Celebes with a side of Nast Gurih (coconut rice), or Oseng Petai Dan, a stir-fry of young papaya leaves, clusters of bean pods and baby shrimps. Do not even think about skipping dessert and go straight for Dongkal Lapsi Pisang Bakr Kuah Durian from Sukabumi, in West Java. Made from steamed rice flour mixed with palm sugar, filled with grilled banana and served with durian sauced. Leave full and happy, but not before asking one of the managers to show you around the antiques and point out some key pieces and photographs. The collection, like the cuisine, is truly priceless.
Where to Stay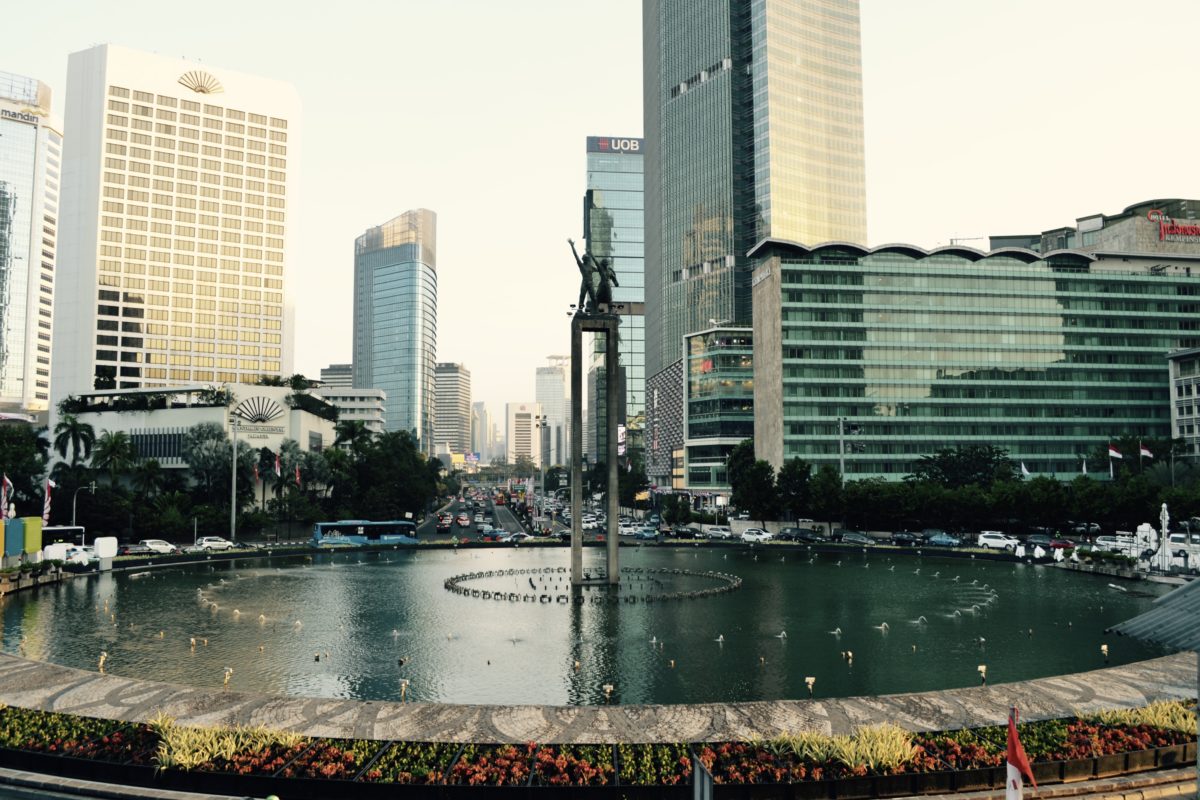 Jakarta offers no shortage of places to stay but a surprisingly limited supply of intriguing options. There are a number of standard luxury chains and a series of dismal mid-range places (and hardly any budget-friendly places). Safety remains a serious concern for hotels and taxis are checked before entering hotel properties and metal detectors are employed. All that being said, visiting Jakarta feels remarkably safe.
Jakarta's size makes choosing where to stay an added worry. Centrally located near the Monumen Selamat Datang, Hotel Indonesia Kempsinki is Jakarta's original luxury hotel. Built in the 1960s, the hotel maintains the glamour of a golden age of travel. Pictures of President John F. Kennedy's iconic 1961's visit to the city adorn the walls. Staying here is a study of the city's recent history—of new Asia in an old land. The hotel's rooftop pool with views of the city, its pan-Asian dinner buffet, and its spa which offers traditional Bali and Lombok massage is worth a visit in itself.
Madeline Weinfield is a writer, traveler, and nonprofit professional based in New York City. Follow her adventures on instagram @madolionw.