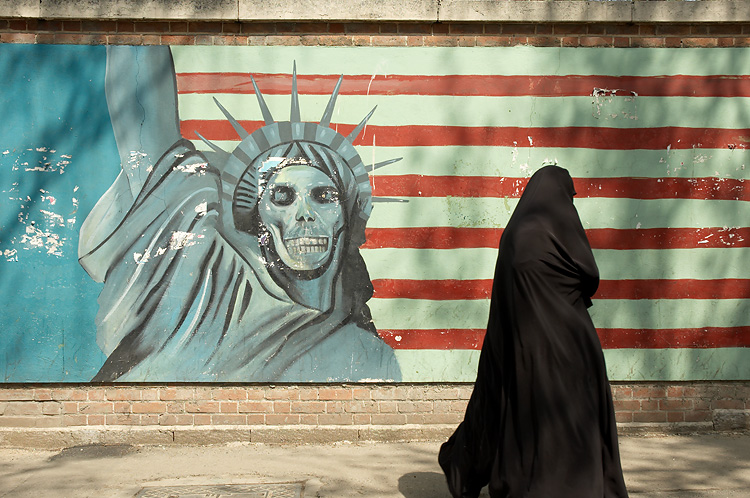 Photography of sensitive images (like this one) and government buildings is not allowed / encourgaged in Iran. This is one of the murals outside the former US Embassy… accounts differ on whether photography is allowed or not – I figured better to err on the safe side and source an existing photo rather than risk having my camera confiscated. Equally, many seem to have photographed it without problems. If you decide to take pictures, be subtle. All of the following images are my own.
By: Ellie Cleary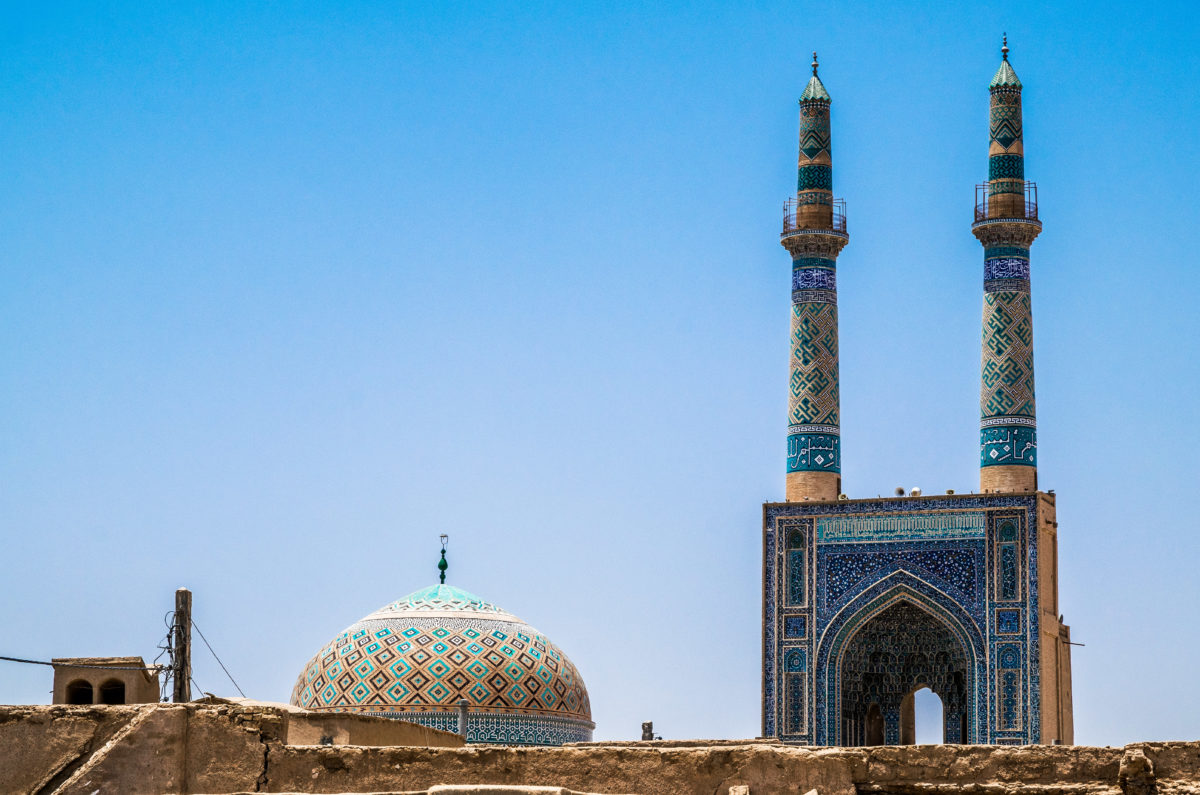 Why Travel to Iran? 
That was the question that I was met with in the days, weeks and months prior to my trip to Iran.
"I hope you're not becoming a militant" one friend half joked. Others reminded me over and again not to engage in any suspicious activity that might identify me as a spy (let alone a travel blogger…), and my parents anxiously instructed me not to go off the beaten track or take photos of anything that might be government related.
If I hadn't been apprehensive about my trip to start with, five minutes spent listening to the warnings of others was enough to put a dampener on the whole plan.
Why Wouldn't you Travel to Iran?
Perhaps it's better to start with this question.
Iran is infamous for its Revolution of 1979, which within a couple of years saw the country transform from one undergoing "liberal reforms," as well as highly lucrative (for some) commercial deals with America, Britain and others under the last Shah of Iran. The Shah's excesses and lavishness in the end were his come-uppance, and in 1979 he was overthrown by Ruhollah Khomeini, who would become the Supreme Leader of Iran.
Khomeini, supported by many, took over, and for better of worse, things started to change. In came Sharia Law. The wearing of Hejab did not become mandatory until roughly two years later however, and many of his (former) supporters did not see it coming. Hejab dress is modest islamic dress and involves wearing a headscarf and loose clothing or a chador for women. Compulsory Hejab is still in force today and all visitors to Iran are required to wear it.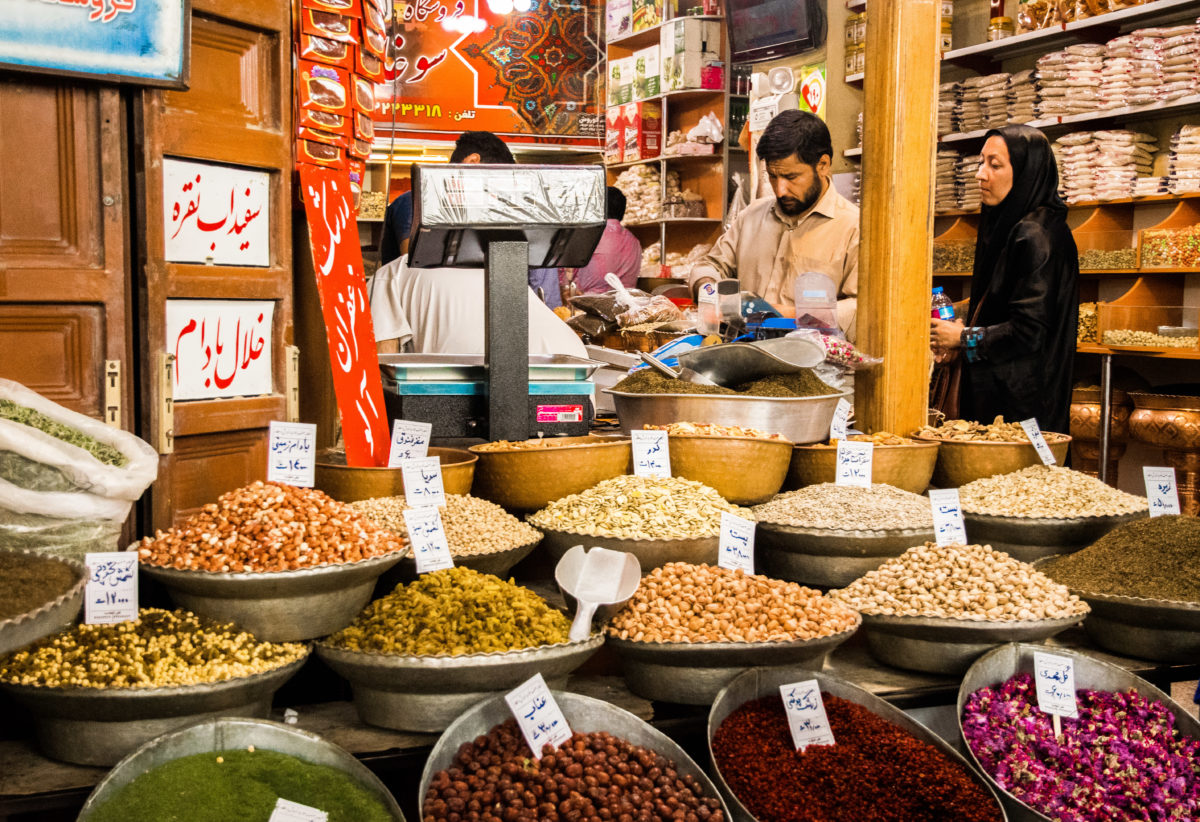 Following the revolution of 1979 the US imposed sanctions, which were strengthened in 1985, cutting Iran off from the economy of the outside world, with crippling effect on Iran. Iran's uranium enrichment program has been at center stage. In 2016, after four years of talks over Iran's nuclear development program, some sanctions were lifted, allowing American and other foreign companies to invest in Iran and for Iran to trade with the outside world.
In many respects though, Iran remains isolated. As a traveller visiting the network of ATM's is pointless, as Iranian banking networks are cut off internationally. It's strictly a cash economy.
Still today, Iran is a country that is well known for being cut off from the rest of the world by sanctions, infamous for its suspicion of the West, its morality police, its fundamentalist interpretation of Sharia Law where homosexuality is still an offence punishable (in theory) by death.
In short, Iran gets a pretty bad rep on the human rights and freedom of speech front.
For that reason—combined with an unpredictable and challenging visa process for would-be-visitors from the UK and North America—Iran has been left off the bucket list for all but the most intrepid travellers for the last decades.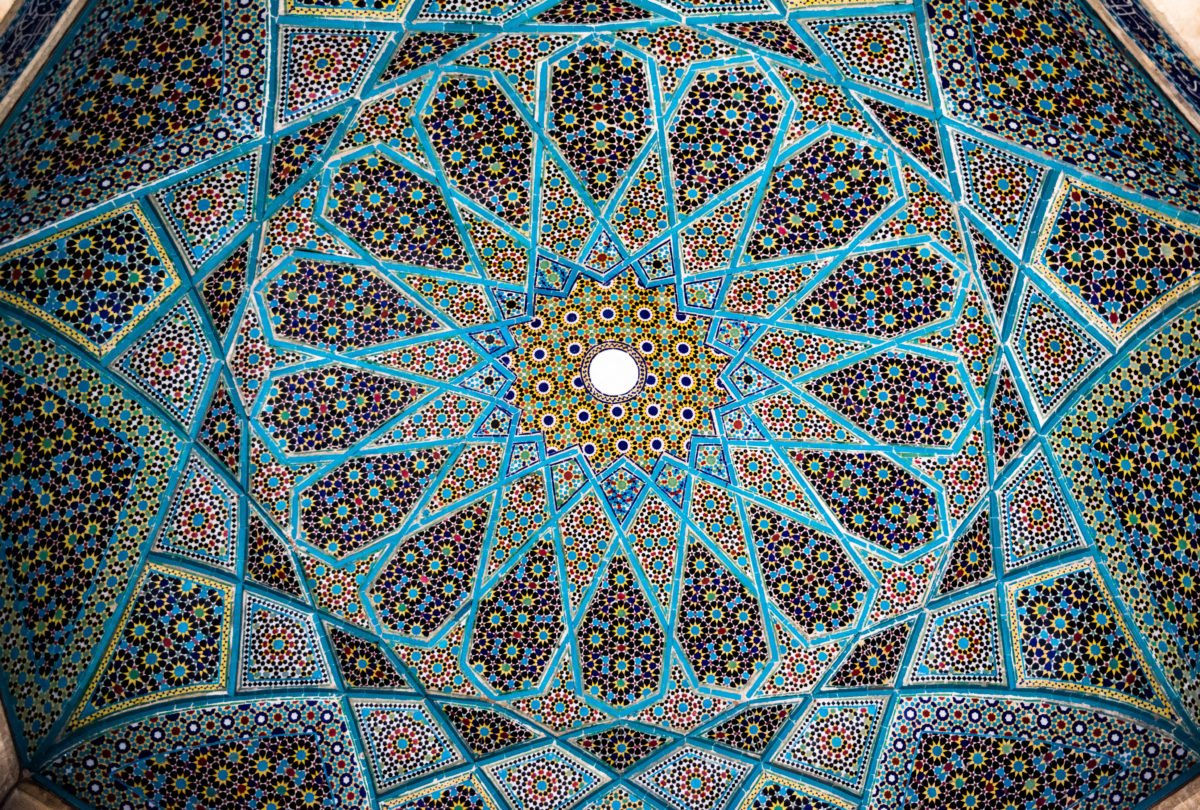 Times are Changing.
Since the easing of sanctions in 2016, Iran's doors to the outside world have started to edge open.
Somewhere that was once as mysterious as it was absent from travel Instagram feeds, things in Iran have already started to dramatically shift. I can name more than a few handfuls of people in my travel circles who have visited Iran in the last year. And that number is increasing.
Iran is now opening for tourism. For a country crippled by the West and the resulting inflation inside the country, travellers may just be its golden ticket.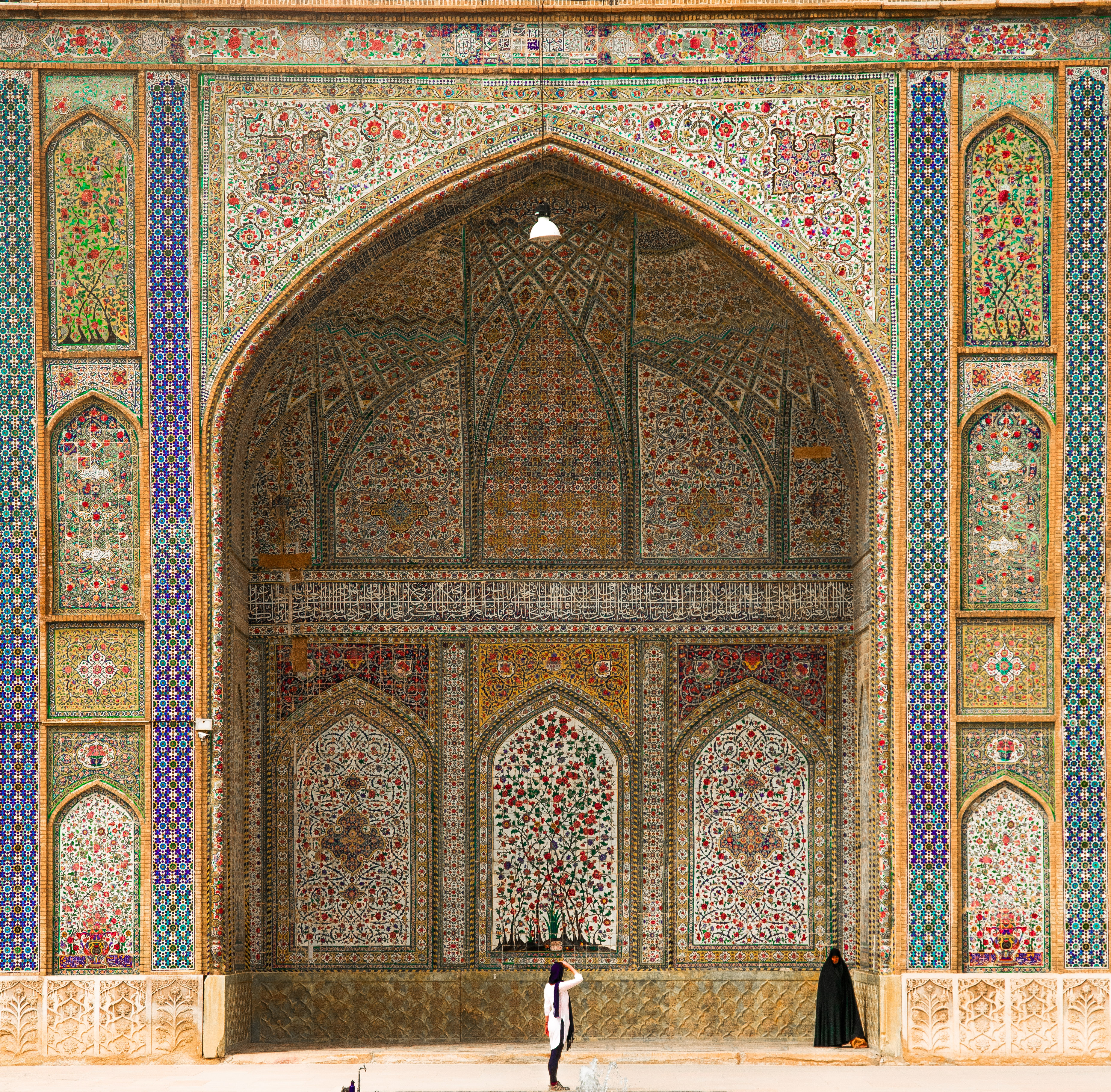 Things are changing on the political spectrum too. The progressive government was re-elected just prior to my visit in June 2017. Although strict sharia law, including death-by-stoning and mandatory hijab still remain in theory, the reality (as I was told) is rather different.
Iran is not a country where all women are obliged to drape themselves in black sheets or chadors and have no voice.
On the contrary, ladies in Tehran and beyond are every bit as feisty as their counterparts in Paris, New York or Rome. White and bright color clothes are seen particularly outside of the religious centers, and everyday the hejab is pushed a little further backwards on the head. Women are well educated, and make up many of those working in tourism.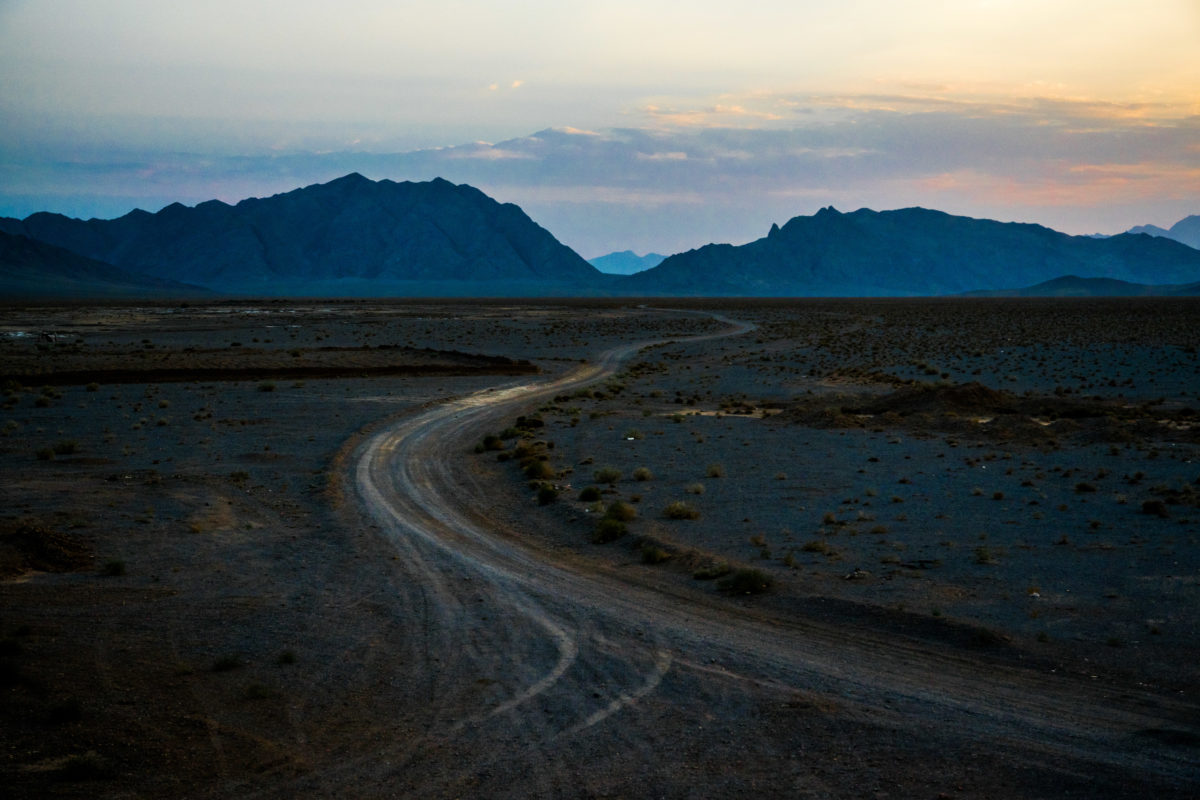 Travel to Iran to push beyond the Stereotypes
"If travel is most rewarding when it surprises, then Iran might just be the most rewarding destination on earth" – Lonely Planet
The media has done a great job of branding Iran as, at best, a cauldron of suspicion and conservatism.
As humans we're great at judging from the outside. But what happens when we go somewhere and find that the stereotypes could not be further from the truth?
That's what happened in Iran.
If travel is fatal to prejudice, a visit to Iran is a nail in its coffin.
Instead of religious fundamentalists, secret police and a land of suspicion I found some of the friendliest people I've ever met.
I found a land of eye-wateringly beautiful minarets and shrines, bustling bazaars and tea houses. People who were as curious as they are friendly as they are polite and highly educated. Iran boasts some of the best universities in the world. While some women choose to wear the black chador, no country could be further (in my opinion) from any Islamic Fundamentalist stereotype.
It's only through seeing Iran through my own eyes that I know the stereotypes are not true.
Travel to Iran to see some of the Richest Culture to be found.
Iran has one of the oldest and richest cultures of anywhere in the world. The ancient city of Persepolis, seat of the Persian Empire, was founded hundreds of years before Rome.
Sophistication is not a new thing for Persians. Throughout the cafes of Tehran, the gardens of Kerman and the shrines of the Sufi poets in Shiraz, Iran oozes culture. The Mosques alone will leave you in awe of their beauty.
But perhaps the best surprise of all is how happy people are to see you there. Tales of Iranian hospitality are legendary from travellers, but I found them to be absolutely true. Even travelling as part of a group, I must have collected over a dozen invitations to houses or for tea during my trip, countless selfies, and chats with people who were just curious or wanted to improve their English.
And isn't that what the best of travel is about?
About the author: Former hotelier turned travel blogger, Ellie Cleary is the founder of Soul Travel Blog, a blog that looks to turn travel in to a win-win equation: benefiting the destination as well as the traveller. Ellie is always on the lookout for the next sustainable or responsible hotel, tour company or destination to share with her readers.
This article originally appeared on Soul Travel Blog. Ellie traveled with G Adventures during her trip to Iran and was given a discount for her trip. All views expressed here are her own and represent the views of Soul Travel Blog.