*Updated August 2017
Sri Lanka is one of the most beautifully raw places on earth, so staying at eco-chic boutique properties only adds to an otherwise special experience.
These boutiques offer a unique experience in some of Sri Lanka's most incredible destinations. The order in which they are listed can serve as a guide to Sri Lanka as the basis of an itinerary that covers the country's must-see regions and natural attractions.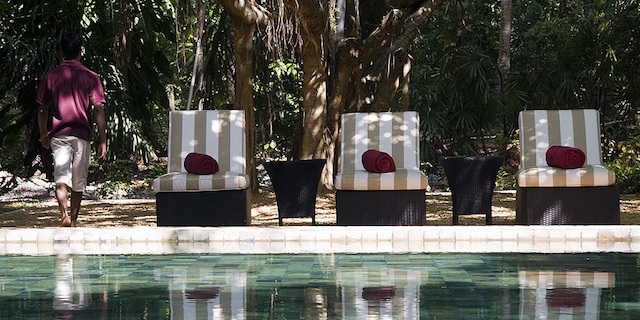 Just 15 minutes from the Colombo Airport, The Wallawwa qualifies as an airport hotel, but bears none of the typical qualities of its counterparts. The grounds are lush, serene and give guests the sense they are in a tropical paradise far from the crowds and blaring horns of the city. A stay here removes all symptoms of jet lag after one dinner (try any of the curries) and a night's rest in the sumptuous Balinese-inspired poster beds. Rooms are beautifully appointed with large, airy bathrooms that offer luxurious rainshowers and natural bath products. The Wallawwa sits on five acres of tropical landscaped gardens with a pool and expansive organic garden that supplies many of the ingredients used in making the exquisite dishes on the menu.
Nearby Attractions
Colombo City Center
Beaches and fish markets of Negombo
Millennium Elephant Foundation at Pinnawela
If you've ever wondered what it might be like to live in a glass house among a pristine nature reserve, Ulagalla will give you a pretty good sense of such an experience. Twenty private ecologically-built chalets are peppered across 58 acres of land, providing guests with the opportunity to unplug and reconnect with nature. The chalets are airy and luxurious with plush king-sized beds, wooden floors, glass walls and views of verdant paddy fields, lush forest or a nearby lake. Guests are provided with bicycles so they can explore the expansive property during the quiet hours of dawn when all of nature's magnificence is stirring, or at their leisure throughout the day.  Once the ancestral estate of local Anuradhapura nobility, the hotel features a 150-year-old mansion at its center, which houses its excellent restaurant. Ulagalla's sustainable initiatives include organic farming, reverse osmosis water management and a solar farm that generates half of its own energy requirements.
Nearby Attractions:
Upon entering the art deco styled great room of the BV Retreat, any uncomfortable moments during hours of travel melt away: you feel like you are home. The manager will welcome you over a refreshing pressed juice and ask about everything from dietary needs to booking personalized tours of the surrounding area. After this brief introduction, the property is yours to indulge. Rooms are beautifully appointed, clean and have free wifi (just in case you need to download a new book on your e-reader). Meals are often a surprise, incorporating delicious local ingredients that are either grown on site or sourced daily from local farms and fishermen. Perhaps the most stunning aspect of the property is the view of the Knuckles Mountain Range and Victoria Lake. In the evenings, sensual music is switched on as the sun dips behind the mountains spewing a magnificent warm glow that envelops the property. Built in 2002 by Ea Lind and Erik Logstrup, the Tuscan style villa was created with the utmost respect for the surrounding landscape: the garden paths twist past tamarind and palm trees and the infinity pool fuses with the rocky outcrops of the land while butterflies flicker between the bougainvilleas and spider lilies.
Nearby Attractions:
Victoria Golf and Country Resort
From here you can do a day trip to Tea Country or stay a few nights in this enchanting region. 
Situated on Sri Lanka's southern coast, Amanwella rests among a wild and pristine seascape of coconut groves and unspoiled beach. The stylish contemporary resort offers 30 suites, each with its own private plunge pool and terrace. The spacious bathrooms include a freestanding soaking tub with sensual bath salts and twin vanities for an added ounce of luxury (chic feature: the bathroom can be separated from the rest of the room with wall-to-wall sliding panels). Views of the restless cerulean ocean greet you on the terrace, appropriately adorned with long, plush loungers, perfect for staring at the sea for hours on end. The most attractive aspect of the hotel is its clean-lined open architecture. Ocean views are abounding from almost every corner of the property including the restaurant, which combines Asian and Mediterranean influences with an emphasis on fresh local seafood. Try any of the curry dishes and you'll be thankful for the experience. Staff is kind, attentive and helpful; if there is something you need they are happy to find a solution. An early morning or evening stroll along the Wella Wathuara Village paths (a nearby village) that wind through the jungle provides interesting insight into daily village life. There's a strong chance you might encounter some local wildlife including monkeys, birds, mouse deer, monitor lizards, hares and mongooses.
Nearby Attractions: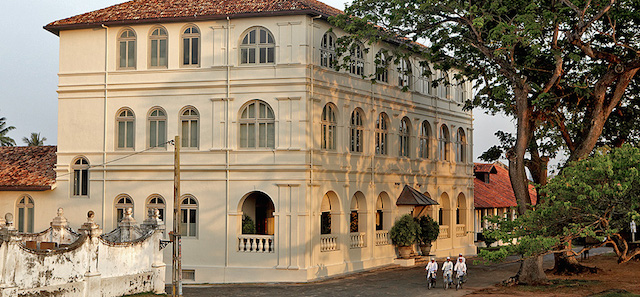 As you drive through the Galle Fort and arrive at Amangalla, a glorious old-world charm meets you as you enter The Great Hall or 'Zaal' as it was known in colonial Dutch times. Laughter and cordial chatter echo from guests enjoying stiff cocktails, high tea and small bites as the sound of jazz from the Roaring Twenties plays in the background. Due to the age and nature of this historic colonial building, five categories of accommodation are offered. Each room is appointed with a four-poster king-size bed, dining table, wardrobe and pettagama chest, all set on the original 300-year-old polished teak or jack wood floors. Most pieces of furniture are either original antiques from the original New Oriental Hotel or careful reproductions. All rooms have lovely views of either the lush property and 200-year-old gardens, the nearby historic Groote Kerk (Great Church) or views through the ancient Para rubber trees, over the Fort and out to sea. Bathrooms feature a freestanding tub, twin vanities and a separate shower and toilet. The stylish modern pool is situated at the center of the gardens and is flanked with five private rest pavilions and sun loungers for lazing away the sultry afternoon. The Dining Room is beautifully appointed with Period furniture and serves breakfast, lunch and dinner, and provides a choice of Sri Lankan curries and home-cooked dishes.
Nearby Attractions:
Galle Fort (Amangalla is situated within the walls of the fort).
Hiyare Bio-Diversity Reserve
Rhummasala Trek
Best boutique hotels in Sri Lanka feature photo via Ulagalla
All accommodations were sponsored on our nine-day trip to Sri Lanka. Opinions are my own.