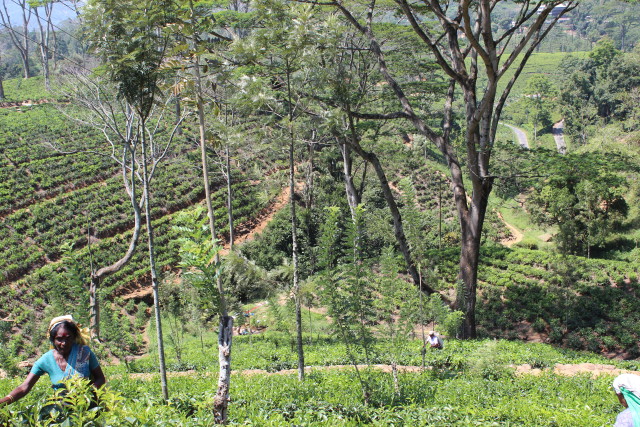 By Maria Russo
The history of tea in Sri Lanka dates back to 1852 when a Scotsman by the name of James Taylor began cultivating the crop on the 19-acre Loolecondera Estate near Kandy. Today the country's central highlands are brimming with tea bushes; the sweet scent of fermented leaves wafts through the temperate humid air, creating ideal growing conditions.
It goes without saying that this region of the country is exquisite in  beauty, putting it high at the top of most itineraries. During my visit to Nuwara Eliya, Sri Lanka's most renown tea region, I was fortunate enough to sip tea at an actual estate (one of the largest in the area) and enjoy a cup of Ceylon orange pekoe (the highest grade) right at the source. Sri Lankan people always take their tea with milk and sugar, so when I opted to imbibe it clean — for the simple fact of wanting to taste the true flavor — I received some confused looks.
Although the bigger estates get most tourists' attention, there are a multitude of smaller, organic single-estates throughout the country. If I were to return to Sri Lanka, I would certainly seek out a visit to one of these plantations.
The Harrington Tea Estate focuses exclusively on organic practices and traditional harvesting and processing. The company strives to elevate working and living conditions for laborers, and meet their needs for health, education, shelter and fair wages. Workers are trained in the traditional methods of green and black tea production.
Greenfield Bio Plantation is an organic tea estate set in the beautiful Uva highlands of Sri Lanka. The cool climate, mountain soil and the famous trade winds which sweep across from the Indian Ocean give this tea its unique flavour. Organic Life Teas come from the Greenfield Estate which produces some of the finest high grown teas in Sri Lanka, but maintains two other priorities besides exceptional tea; the people and the environment.
Iddalgashinne Estate, Uva
Sri Lanka's first organic tea estate located in the UVA highlands. Sought after for its black and green teas embodying  grassy aroma, bright color with a hint of citrus flavor. A fair trade estate, owned by the local community, demonstrating the best of Sri Lankan style social responsibility. Certified bio-dynamic cultivation.
Located in the cool, misty mountains of Sri Lanka's Uva District, the Koslanda estate has been producing tea since the mid-twentieth century and began selling to the Fair Trade market in 1998.
In 1992, Koslanda transitioned to 100 percent organic and biodynamic production. The estate promotes the recycling of resources through the use of cover crops, inter-cropping, and animal and plant waste recycling. Koslanda not only implements environmentally sustainable methods of production, but also encourages bio-diversity by re-introducing indigenous flora and planting a variety of native products such as spices, coffee, and nuts.
The Koslanda Tea Estate is also committed to building a clean and healthy community for its 596 workers. The plantation has provided transportation to the hospital, new latrines, re-roofing, and scholarships for higher education. With the premium received from Fair Trade tea sales, Koslanda has continued its community development goals. Koslanda's revenue from Fair Trade sales has been used for the creation of a microlending program, which gave workers loans with 5 percent interest annually (as opposed to 15 percent from local banks) in order to purchase 20 gas cookers for the community.
Finlays' Nahavila estate in Hali Ela group, is dedicated to producing organic tea. The "Nahavilla Organic Orthodox Black Tea" and "Nahavila Organic Green Tea" is accredited by National Organic Program of United States Department  of Agriculture. (USDA-NOP), Japanese Agriculture Standards (JAS), European Economic Community (EEC 2092 / 91) certifications (EU). The Nahavila estate is also certified by Fairtrade and Rainforest Alliance for sustainable management.
Organic Tea Plantations Sri Lanka. Photos by Anthony Russo