Montauk, or "The End," as it's affectionately known, is the easternmost town on the end of Long Island's south fork. Long known as a wild, untamed spot, a far cry from the glitz of the neighboring Hamptons, Montauk has maintained a reputation as a retreat for artists and city dwellers looking for something a bit more rugged and untouched.
Those days are now no more than a memory as Montauk floods with summer weekenders claiming a spot on one of the welcoming beaches. Summer Fridays through Sundays, the population swells as impossibly bronzed surfers mix with polo-clad city slickers and old seafood shacks brush against Soul Cycle and the like. An old guard of simple beach houses stands in contrast with new and renovated hotels with staggering rates.
Montauk is a spot of alluring contradictions, and for those who want to find it, Montauk's beauty is there for the taking. After all, although the beaches are crowded, they're still lined with wild roses and honeysuckle.
What To Do:
Deep Hollow Ranch
You probably would not have guessed that Montauk is home to the country's oldest cattle ranch, and to believe it, you may have to see it. The ranch first opened in the 1650's and has been in continual operation ever since. The barn is lined with photographs of famous visitors including Teddy Roosevelt and his gang of Rough Riders who set up camp nearby after their victory in the Spanish-American War. The ranch now offers guided beach and trail rides through some of Montauk's most scenic areas.
Camp Hero State Park
You're unlikely to run into many others in this beautiful, wild-feeling state park at the edge of the Old Montauk Highway. You can reach the park by a scenic six mile bike ride from the downtown. The hills are worth it (although made harder if you happen to rent a beach bike) and the views are the reward. Leafy paths lead to breathtaking ocean vantage points and dramatic cliff faces.
Montauk Point Light & Montauk Point State Park
The idyllic Montauk Point Light is best viewed from the comfort of your picnic blanket anywhere in Montauk Point State Park (just across Route 27 from Camp Hero State Park). Built in 1797 and commissioned by George Washington himself, the Montauk Point Light is the oldest lighthouse in New York State and the fourth oldest in America. The lighthouse is now a privately run museum and worth a visit for a view into Montauk's lengthy maritime history. While the park is slightly more visited than Camp Hero, running into a crowd is highly unlikely.
Ditch Plains Beach

Ditch Plains is the heart and soul of Montauk. Loved by surfers and sunbathers alike, Ditch Plains proves that Montauk is the east coast's answer to Malibu.
Montauk Indian Museum
This tiny place near the beach and downtown sheds light on the Montauk Indian tribe that used the call the tip of Long Island home. The museum is a new addition in Montauk and a brief but fascinating glimpse into the original stewards of the land and sea.
What To Eat:
Bliss Kitchen
This order-at-the-counter establishments offers hearty breakfast and and lunch options. Although casual, Bliss does not scrimp on quality and anything on the menu, from smoothies to the eggs Benedict, is thoughtfully created. The patio outside is an ideal place to start the day before heading to beach.
Montauk Brewing Company
It's come as you are here and Montauk Brewing Company is a gathering place for just about everyone in Montauk—locals and first-time visitors alike. Not only does the famous brewing company offers some seriously good pours, it's a totally unpretentious spot that is a far cry from other downtown establishments. They close early, so come in for an afternoon libation.
St. Peter's Catch
Right next door to Montauk Brewing Company, St. Peter's Catch is part seafood market, part lunch shack, pick anything on the menu from lobster to fish and chips and enjoy it on one of the picnic tables outside.
Tauk at Trail's End
Originally Trail's End, Tauk is the oldest restaurant in Montauk. Built in 1927, the original Trail's End was located on the bay, but the building was moved to its present spot after a destructive hurricane in 1938. Present-day Tauk is a top-notch restaurant housed in the art deco beach style building, just steps from the main downtown. Come for some local live music and stay for a sumptuous summer cocktail or a whole meal. This is Montauk at its best—authentic and modern rolled into one.
Where To Stay: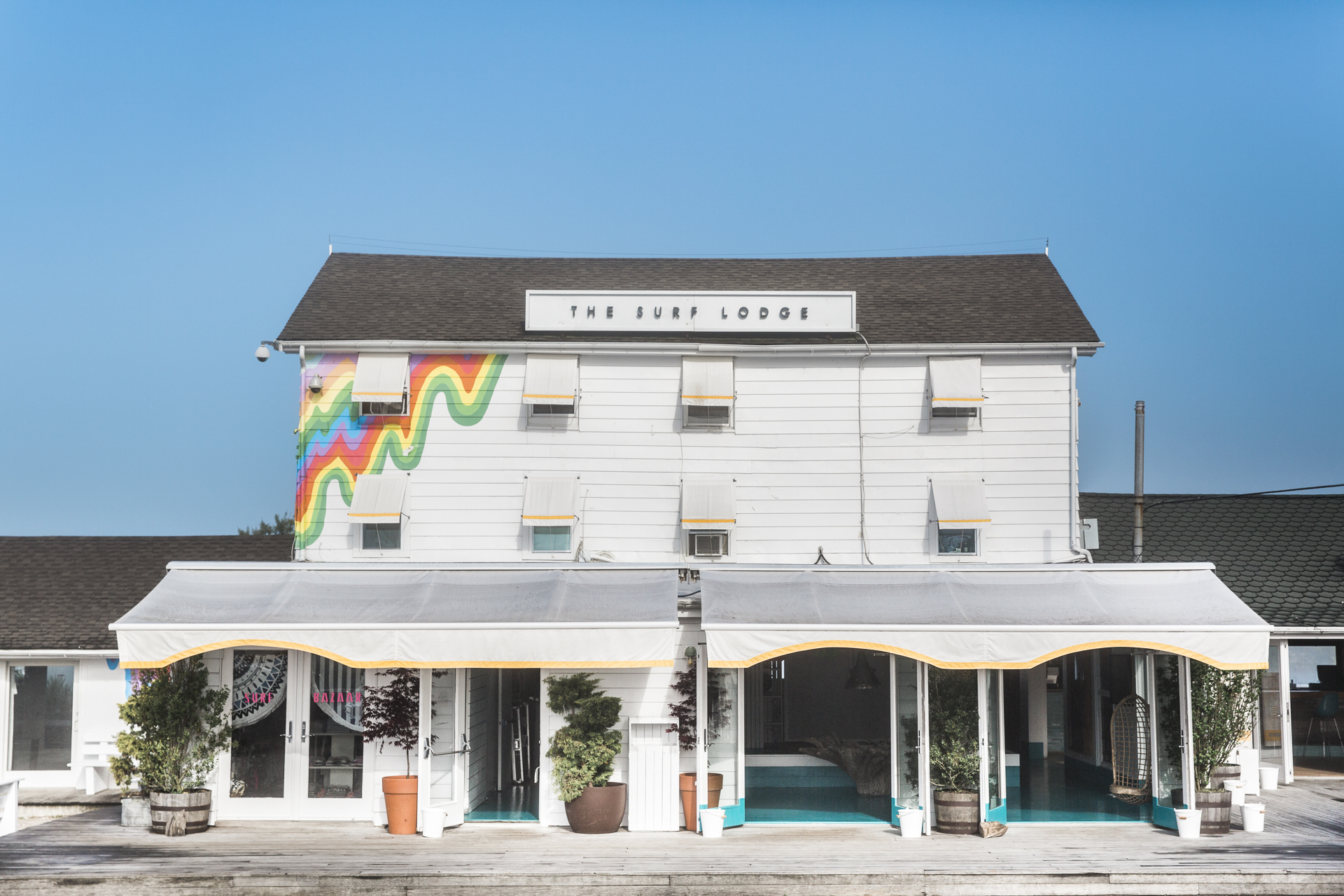 If you're looking for a quiet, relaxed beach spot, the Surf Lodge may not be for you, but if you're craving a glimpse into the new Montauk—younger visitors, world class music, and an eclectic party atmosphere—The Surf Lodge is your spot. This is a hip, modern take on a 1970s-era Hawaiian surf lodge and the interiors are brilliantly designed with a mix of retro and bohemian furnishings. Many of the rooms come with record players and balcony hammocks.

A much more low key option, Solé East has two locations in Montauk, one right on the beach and one in a residential neighborhood. Solé East is a peaceful place to lay your head after a day at the beach and its proximity beach location gives you all the more reason to wake up to catch the sun rise. The inland property has a lush garden, welcoming restaurant, and pool.