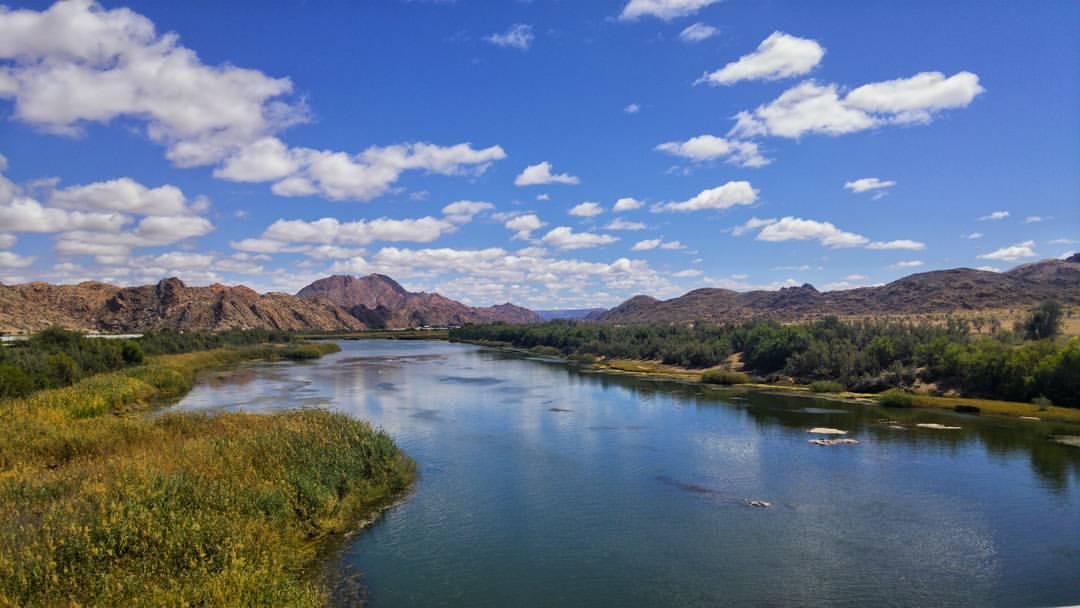 By : Sophie Baker
Often overshadowed by its Western and Eastern siblings, the Northern Cape–South Africa's largest province–is rugged, untouched and wild, and an incredible destination for exploration and discovery. The vast open landscapes are unlike any other part of South Africa, from Mars-like National Parks to the magnificently surprising "Green Kalahari," a lush area of the notoriously arid landscape that is permanently tinged a vibrant shade of green thanks to the presence of the Orange River.
As someone who has travelled South Africa extensively, or so I thought, a recent trip to the Northern Cape turned out to be a special kind of magical. The eight-hour journey started out with what looked like any road trip in South Africa. Long distances, landscapes slowly shifting from city to farmland to full-blown bushveld. The recent drought had been catastrophic and left everything from trees to tarmac a dusty brown color, begging for relief from the heat which relentlessly beat down across the Karoo.
Yet it's here, in South Africa's famously dry, semi-desert that you'll find the unexpectedly fruitful Kokerboom Food and Wine Route, home to some of the Northern Cape's finest restaurants, farm stalls and wineries. Named after the strange, alien-like quiver tree, this is a largely undiscovered food and wine route just begging to be explored.
Of course, the hidden gems of the Kokerboom food and wine route receive far less attention than South Africa's popular tourist destinations, but therein lies the charm. Along this uniquely scenic self-drive route, visitors can sample traditional delicacies along with some unexpected gastronomic discoveries. What are your options? Wine, brandy, dried fruits, gourmet milkshakes, karoo meats, homemade cheese and sushi, to name but a few.
Arriving exhausted after a long drive from the noise and bustle of Gauteng, African Vineyard Guesthouse on Kanoneiland should be your first stop on the Kokerboom route. It is a suitably relaxing base for the trip and a welcome change from the long, flat, monotonous roads of the past eight hours. From the time you first set eyes upon the guesthouse you're immediately transported to a mystical Garden of Eden brimming with interlaced green vines, the sights and sounds of water twisting paths through the cool, leafy surrounds, and beautifully kept barn-style suites complete with the finest cotton. In the evenings, the heavy aroma of home cooked food fills the air, intermingling with a faint scent of mint and lavender. A quick wander to the dining area uncovers Chef Bryce cooking up a traditional storm with the freshest ingredients including herbs from the garden–lamb tails, freshly baked chicken pie still hot from the oven, malva pudding brimming with custard, and freshly baked roosterkoek laden with butter to name but a few. The gauntlet had been laid down and the South Africa's largest inland island was more than ready to impress.
As you traverse the Kokerboom route, you could be forgiven for thinking you've somehow stumbled into the Western Cape. The sun shines relentlessly and vineyards sprawl out across the landscape, stretching for miles. A little bit of research reveals that the Orange River Cellars, based in five locations across the Northern Cape, is the second largest producer of wine in the world and the largest in South Africa. Although a lot of it is exported, there's still a few wine tastings to be had locally. The Orange River Cellars tasting room in Upington offers patrons the chance to sample their extensive range of wine. Though there's not much in the way of Merlot or Pinotage, they do have a good Ruby Cabernet, Shiraz and Chardonnay. Their straw wine is unusual and surprisingly good–perfect served ice cold at a hot afternoon braai (which is like a barbecue, but better).
In terms of food stops, you're spoiled for choice in this unlikely haven of gourmet treats. Padstals, directly translated as "road stalls," are traditional farm stalls found along many rural roads in South Africa, where you'll find homemade food, baked treats and a variety of strange little trinkets. Padstals are abundant along the route and sell everything from homemade rusks and jams to local honey and dried fruit. Die Pienk Padstal in Kakamas is a wonderfully zany place. Pink metal donkeys pulling a cart draw in passers-by like a roadside beacon, and the collection of witty saying plastered across the walls give you some light reading material as you browse. Don't leave without some of their homemade chutney!
For something more substantial, Vergelegen is the absolute must-do of the Kokerboom food route. Just outside Kakamas, this is hands down one of the best restaurants in the province. The meat is top notch straight from the Karoo, and favourites include the special beef schnitzel in biltong and port sauce, as well as the kudu pie. The food is traditionally South African with a fine dining twist, and comes highly recommended from just about everyone. Vergelegen's outdoor dining area looks over the swimming pool where the resident ducks and ducklings appear enthusiastically at around noon each day, rounding the corner and making a wild and noisy dash into the pool for their daily swim, where they'll happily remain for half an hour before climbing out and sunning themselves on the hot bricks.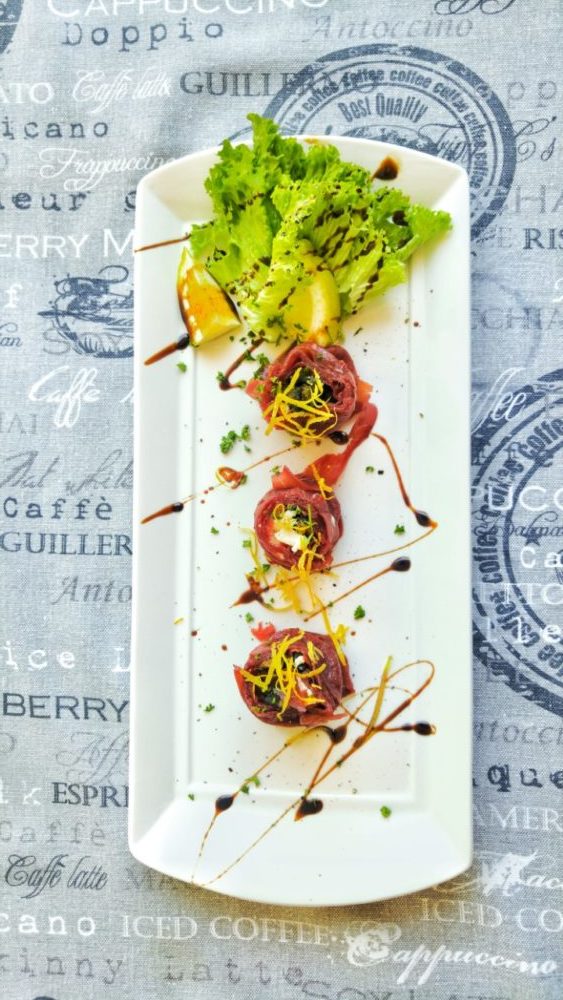 If the food, wine and beautiful weather don't tempt you to take a leisurely afternoon nap, then Bezalel and Die Mas wine and brandy cellars both offer further tastings and treats, and they're within easy driving distance of each other. Good thing too, because nobody in the history of South African tourism has ever been satisfied with just one wine tasting.
Bezalel is one of the area's top choices for weddings, and is set inside a castle-inspired building spilling out into tropical gardens. The Colombard is their most popular wine and worth a try, though their brandy is the star of the show. In fact, the brandy at both Bezalel and Die Mas were great quality…good enough for a non-brandy drinker to consider drinking them without coke. Die Mas offers a more rustic experience, as a camping ground and lodge set amongst the vineyards and right along the Orange River. It can be found just outside Kakamas, and offers a lovely Cape Ruby port and a picturesque view with which to enjoy it. Visit in summer, and the roof of the viewing deck is adorned with vines which provide welcome respite from the heat.
To finish off a perfect day in the Green Kalahari, opt for sundowners with a seriously African view. They say that an African sunset is unlike any other, and I'm inclined to agree. Until you've seen the intense shades of burnt orange, pink and purple lighting up the sky before the darkness takes over, you truly haven't experienced magic. For the sunset, you have two main choices. The first is drinks on the deck at Oranjerus, which looks right over the river and is the stereotypical African sunset, minus an elephant or two. Your other option involves a drive out to Augrabies during the day, where you can have dinner at the restaurant and bask in the last golden rays of the day as you watch the sun sink slowly behind the spare, rocky, other-worldly canyon of South Africa's largest waterfall. Not a typical African scene, but one that will take your breath away.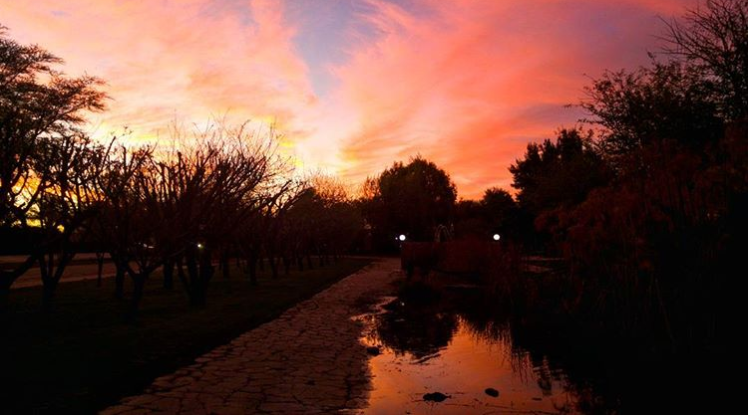 Perhaps the most enticing feature of the Kokerboom route, even beating out the Karoo lamb, is the locals' unparalleled enthusiasm for their town and province. Their joy at the prospect of visitors exploring their unassuming establishments, and their willingness to share insider knowledge with anyone who asks, is palpable. For the Kokerboom route offers an unparalleled abundance of rewards for those who make the effort to visit South Africa's most underexplored province.
Sophie is a Johannesburg-based freelance writer whose life revolves around four things: food, horses, writing and travel. She's lived in four countries, visited many more, and is notorious for her continual love affair with carbs, particularly sushi and burgers.