The Sacred Valley by Julia Zaremba
By Julia Zaremba
Aptly named, el Valle Sagrado (the Sacred Valley) is nestled between Cusco and Machu Picchu, forming the heart of the Inca Empire. Characterized by fertile lands and impressive Incan archaeological ruins, this region is rich in history, culture, sights and adventure. For those wishing to explore the magic of the Andes Mountains without hordes of tourists and for a fraction of the price, the Sacred Valley is a great alternative to the Gringo Trail of Peru.
The first to impress will be the scale of nature, infinite and unbridled. Mountain tops peaking at over 5,000 meters, fields that stretch on forever, constellations you didn't even know existed and a maze of rivers weave together to create a landscape generous in extremes.
Protected from the ruthless Andean wind, corn and coco leaves were grown in abundance and became staples of the valley. This combination of favorable geographic characteristics inspired the Incas to build several centers of power, which can be seen today through archaeological site visits and sojourns in nearby towns. Though overshadowed by Cuzco on one side and Peru's Wonder of the World on the other, these gems are worth much more than a mere transportation stop or day trip.
Ruins that rival Machu Picchu's archaeological wonders (maybe not in scale, but certainly in ingenuity), are scatted throughout the valley. The precise stonework, water engineering, military strategies and ceremonial grounds associated with the valley's ruins certainly provoke a sense of amazement. There's also the chance to see partially-surviving intihuatanas (ritual stones similar to sun dials) that resemble the one at Machu Picchu… but don't require climbing 1,700 steps to reach them.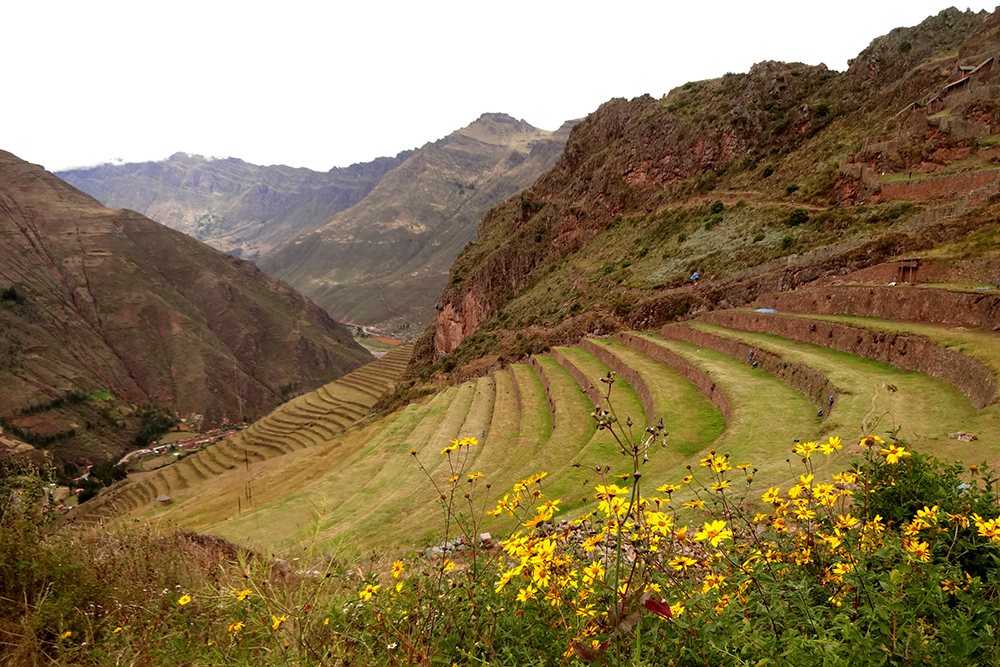 Pisac ruins by Julia Zaremba
The ruins at Pisac and Ollantaytambo are great examples of how the Incans used forms found in nature to build their constructions. Mirroring the surrounding mountaintops, agricultural terraces were carved into the land to maximize its use and bring crop production closer to the gods. The ruins make for great half-day activities, and come shrouded in their own mysteries, romantic histories, bloody interludes and unexplained mysteries.
At the base of these ruins are small towns filled with healing energies, organic cafes, yoga studios, and quaint accommodations. The Sacred Valley is home to several notable towns, recognized for their colorful charm and presence of local businesses.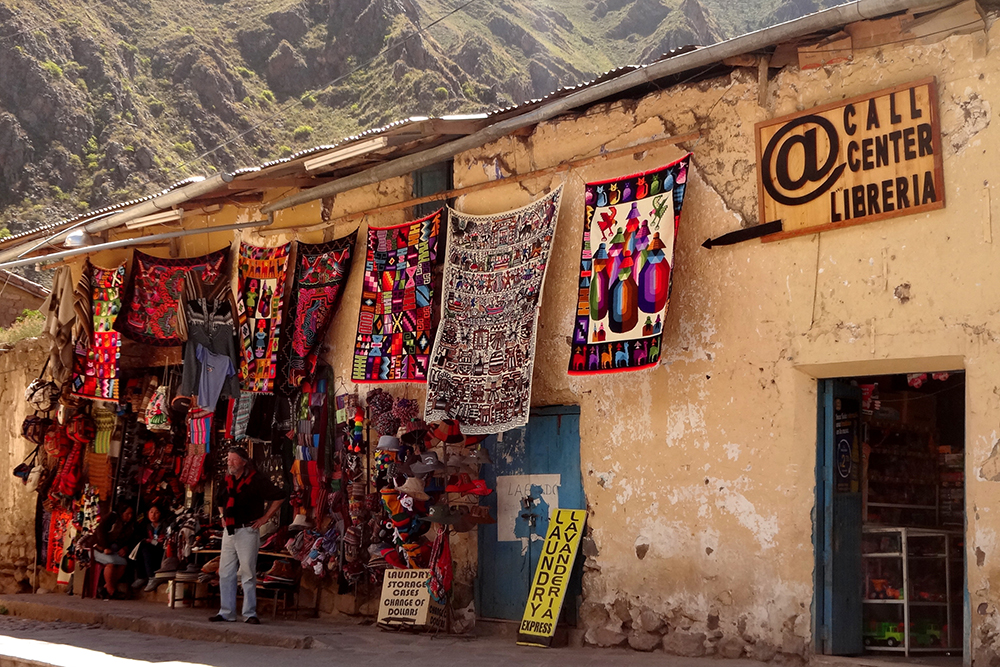 Street display in Pisac by Julia Zaremba
Closest to Cuzco lies Pisac, known for its colorful market brimming with woven fabrics and handicrafts. While the main market day is Sunday, the marketplace is open daily and always stocked with treasures. After the shopping spree, refuel in one of Pisac's many vegan cafes, where all sorts of delicious treats are prepared with local ingredients. When not munching or sipping, health freaks can indulge in daily yoga classes and massages offered on almost every street corner. Spiritual seekers can cleanse their soul with a longer meditation retreat, artists can find inspiration while staying at an art house in the foothills, and textile fans can admire weaving demonstrations set up in the back of shops.
At the other end of the valley lies Ollantaytambo, with a small plaza that becomes the meeting place for all reunions and original Inca canals lining almost every street. Festivities with fireworks are common, there's miles of hiking trails leading to secret graveyards and fabled treasures, and the spirit of the Peruvian trinity (the condor, the puma, and the snake) is very much present in all of the craft stalls.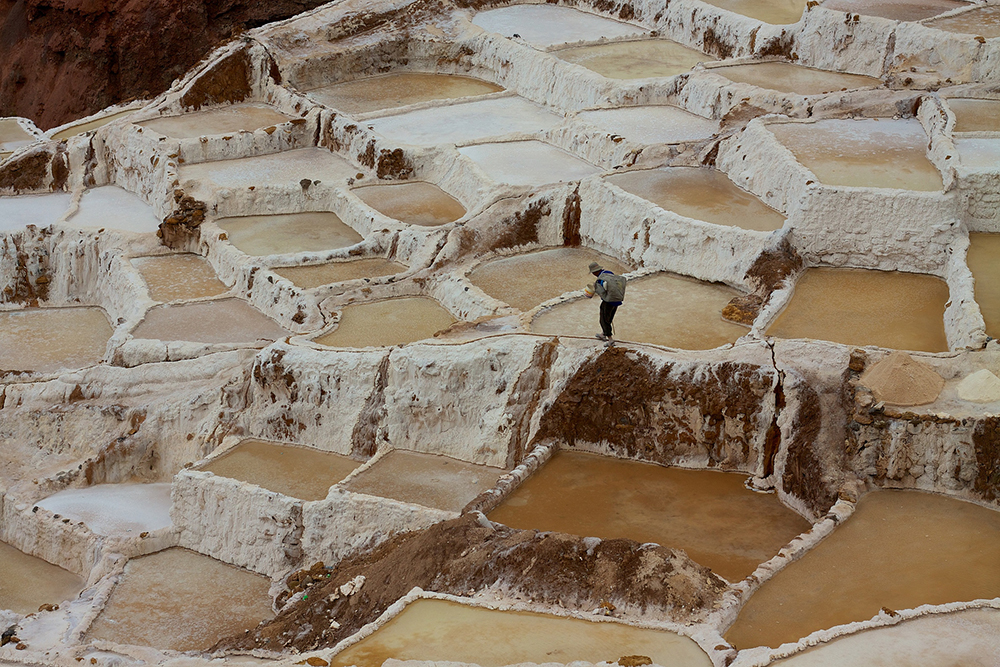 Salineras salt fields via McKay Savage
Calca, with its thermal sulfurous springs, is worth a peek, but don't mandate unpacking luggage. Urubamba, the transportation hub between most of the towns, is noisier and busier, with crowded streets and luxurious retreat hotels on its outskirts. Maras is known for its circular terraces at Moray and its impressive salt fields at Salineras. Saksaywaman, with its large stones fit together more precisely than puzzle pieces, has been puzzling geologists for centuries. There's treasures behind every sign post, and detours rarely disappoint.
Transportation between towns is frequent and cheap. Taxis are cost-efficient for larger groups and individuals that don't mind squeezing in next to schoolchildren, bags of grain, and domestic animals can opt for the white vans (collectivos) that zoom between towns from dawn to dusk.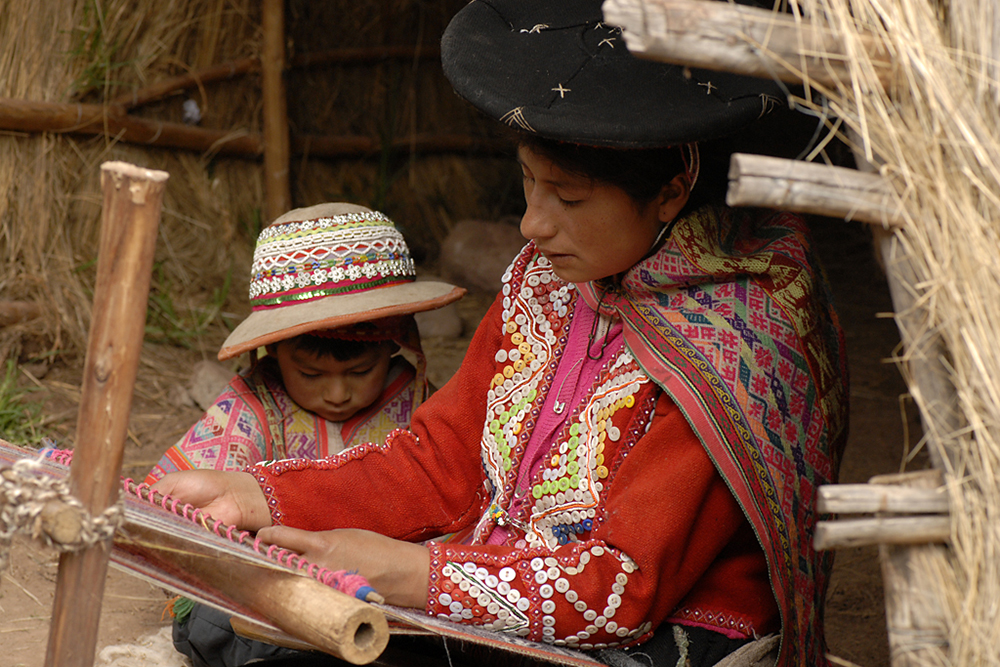 Quechua woman and child via Mike LaBarbera
Settle in for a week for full benefits to kick in. Not only will this grant enough time to listen to local legends, explore archaeological sites, taste all of the regional treats, and go on a few scenic hikes, but it offers the possibility to adapt your breathing to the heartbeat of this sacred region. Slow down, gaze at the night sky, and enjoy a few cups of mate de coca (or bottles of cerveza) with the locals. People here are rooted deep to their land, full of interesting facts and happy to share stories with new friends.
ABOUT THE AUTHOR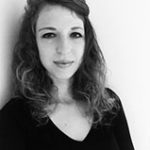 Julia is an artist, avid traveler, theater geek, future bestselling author, and language teacher. Born in Germany to a Polish family, she grew up in Texas and has spent the last six years living out of her suitcase. Most of her travels revolve around Europe and the Americas, chasing the next adventure. Follow her @jgzaremba.