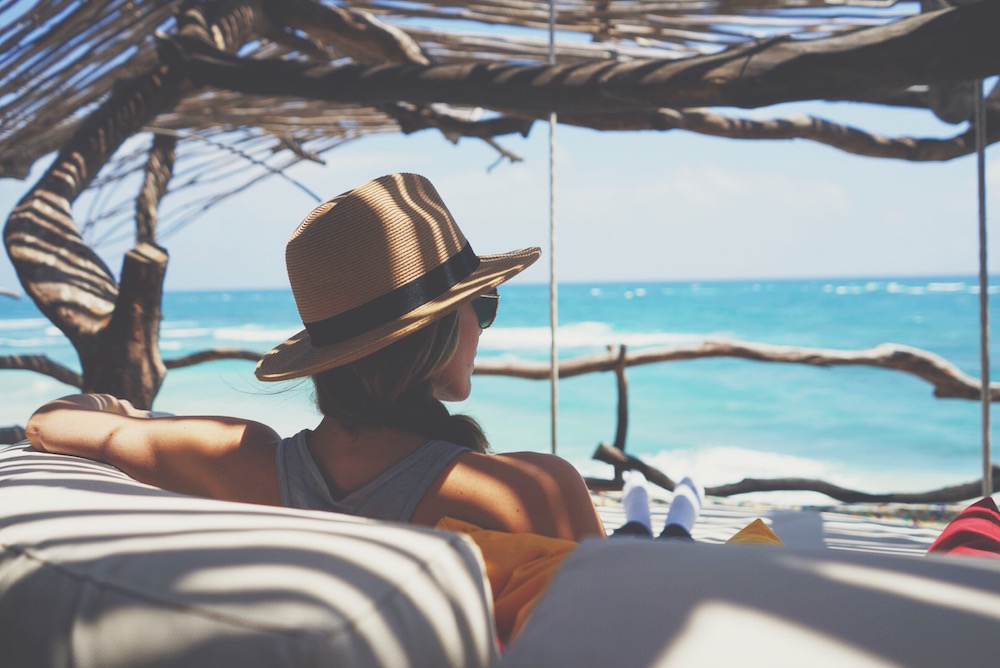 Tulum has a beautiful vibe all its own. If you are like me, you'll appreciate the laid-back centered feeling that flows through this slice of the Riviera Maya. Most people here are open, free-spirited and casual, embracing more of a simple lifestyle that relies on the pleasures offered by Mother Nature. Yet, in all its simplicities, there is a sense of incredible abundance here; from the warmth of the sun to the glimmer of the stars and sea to the availability of fresh nutrient-dense food.
During our short six-day visit, Anthony and I stayed at Azulik, a beautiful eco property situated above the turquoise sea located 3 km south of the Tulum Archaeological Zone and 4 km from the center of Tulum town.
Azulik's deep commitment to the preservation of the environment is one of the hotel's greatest draws. Rooms are solely lit by candlelight – there is no electricity, no TV and no phones – Wi-Fi is restricted to the small lobby area, rooms are built using local, natural materials and water used by guests is recycled to irrigate the trees and plant life throughout the property (not a single tree was cut down during the hotel's construction).
Staying at Azulik is a special experience. It forces you to connect with the beauty and simplicity of an eco lifestyle. The 39 wooden Tree Houses, made from Mexican Royal Ebony (Khatalosh), stand high above the jungle floor with spacious interiors, floor to ceiling windows offering plenty of natural daylight, super king size beds with mosquito nets, and custom titled tubes. To bathe you must use a coconut shell for rinsing, which was tricky for me because I have long, thick hair. The first couple of days took a bit getting used to, but by the third day, I got a groove going and bathing was actually quite nice. We asked one of the staff members why there are no showers and his response was that they want guests to bathe mindfully. What a lovely concept.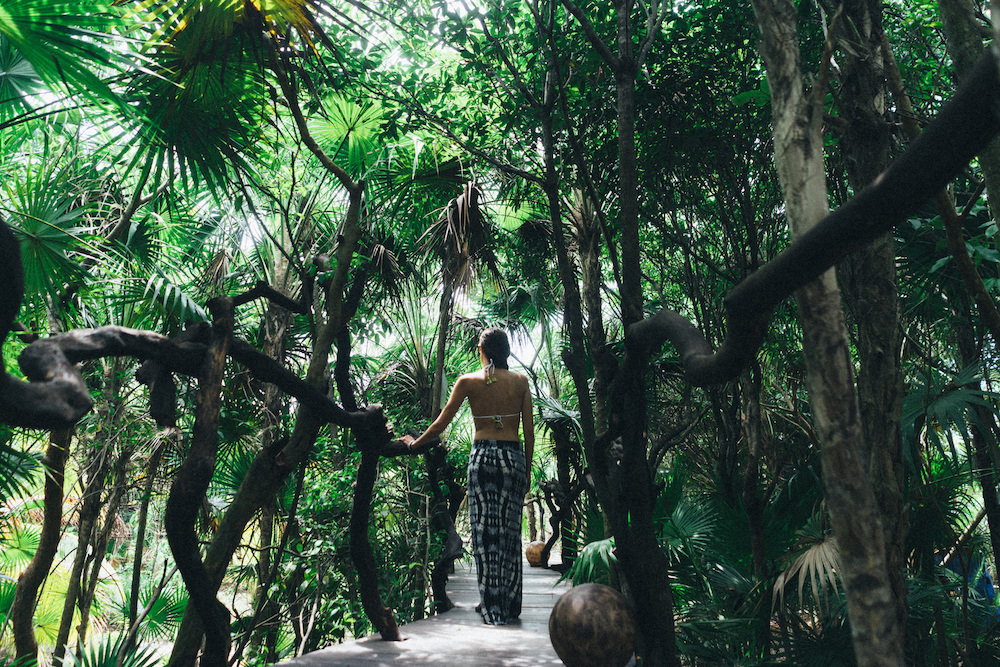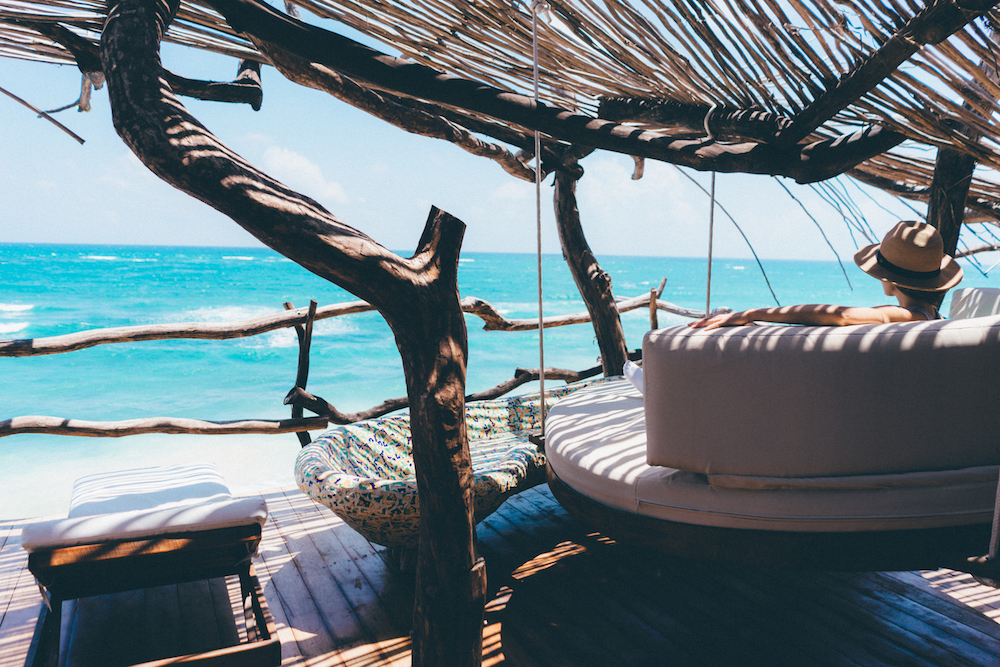 The room's wow factor is the private deck with large soaking tub, a "swing" day bed and sitting area that provides uninterrupted views of the remaining lush green jungle and the Caribbean Sea. A secluded, guest only "clothing optional" beach is accessed at the south end of the property and is perfect for sunbathing or swimming.
In the evenings, after we returned from our day of exploring, we returned to a dark, candlelit room. A few nights Anthony and I used the opportunity to take a warm bath and other nights I crawled into bed after changing and lulled myself to sleep reading a book under the light of my iPhone. I began to notice that my body had reconnected with its circadian rhythm – waking with the sun, and falling asleep around 9 or 10 – something that barely happens at home due to the constant stimulation of technology.
Azulik currently has a bar and café that offers a small organic menu for breakfast, lunch and dinner, but an onsite restaurant is scheduled to open in approximately three months. The beach bar has a fun vibe – seating comes in the form of swings, and fresh coconuts are readily available after a good swim or game of volleyball with some friendly locals. Alcohol is usually not my beverage of choice, but the cocktails seemed inventive, fusing fresh fruit, herbs and choice of libation.
During my stay, I unfortunately did not enjoy a spa treatment or use their tezmacal (sweat lodge), but I did visit some of the treatment rooms, which are lovely. Part of the spa is under construction, and from what I could see, small water channels are being dug throughout the area, which I'm assuming will add to the property's overall sense of peace and connection to the natural elements.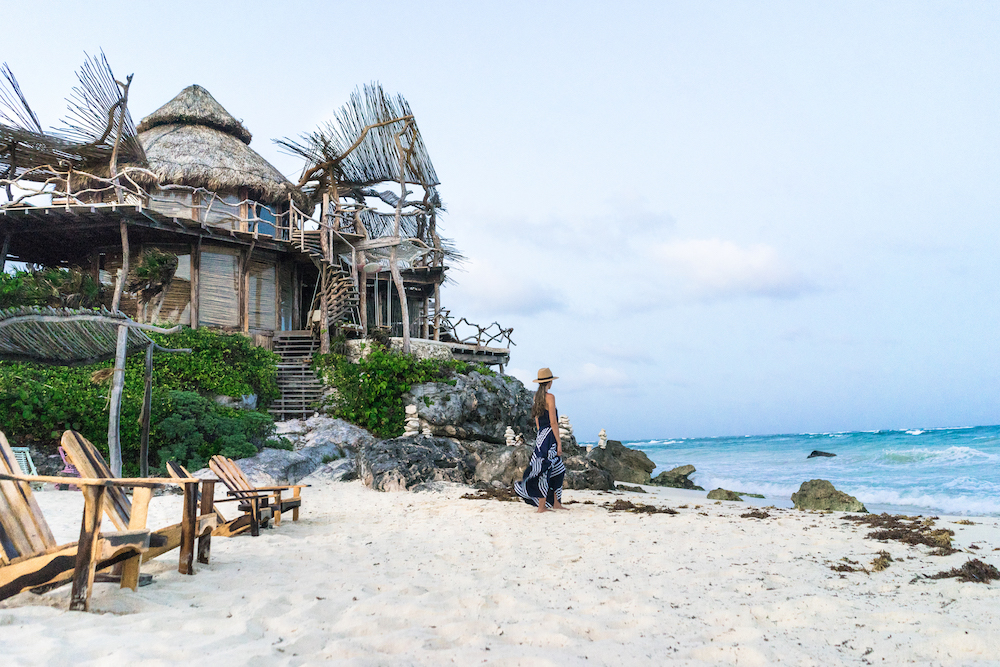 The most charming part of Azulik is the property itself. It mimics the experience of walking through a jungle village suspended on a network of wooden bridges. The stunning thatched huts blend seamlessly with nature and are elevated slightly above the trees (so not to disturb their growth), offering spectacular views of the sea.
Other things to know:
Rooms do not have AC or fans, so on nights when the air is still (and it does happen even being oceanfront) it becomes uncomfortably hot.
The current menu does not provide many vegan or vegetarian options (the staff was kind enough to make us vegetable tacos upon request), but we spoke with the manager who told us that they plan to incorporate medicinal plant-based ingredients in the dishes at the hotel's soon-to-open restaurant.
You cannot change dollars to pesos before 9am at the hotel.
The hotel is in walking distance of a few bars and restaurants, but you'll probably want to explore the many other fabulous restaurants in the area, which will require a taxi. Our advice is to agree on a price with the driver before entering the cab.
Photos by Anthony Russo, check him out on IG at @lifedezigned
Our stay at Azulik was sponsored by the hotel.  All opinions are our own.