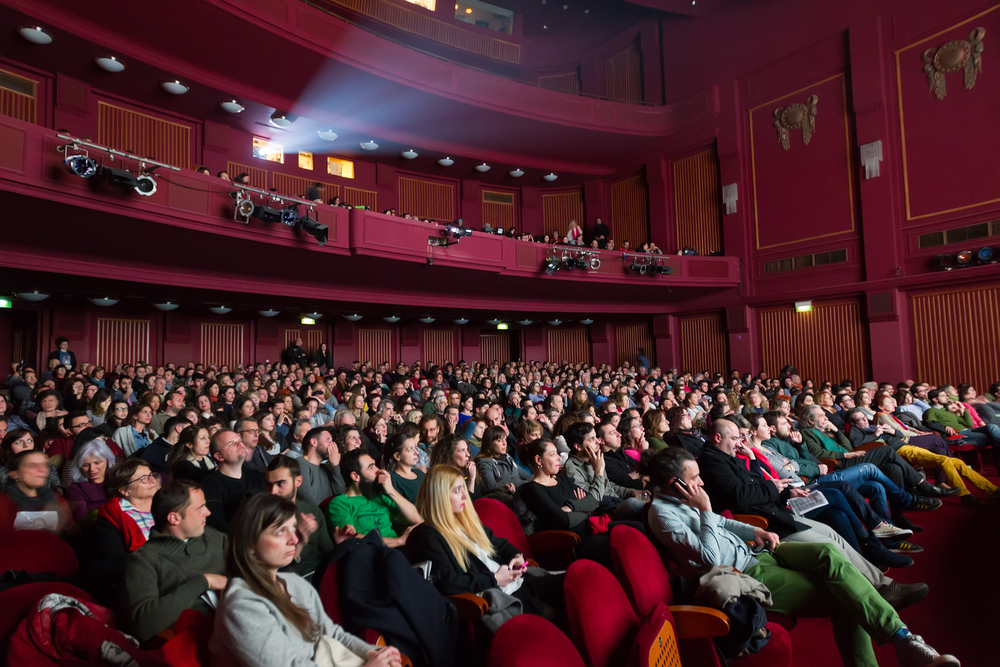 By Jason Savio
So, you want to go to a film festival, one that really captures the spark and creativity of indie cinema, but you don't know which one? Here's some help getting started. This is a list of film festivals you may have never heard of before, fests that have nothing to do with the Hollywood bigwigs and instead focus on the vibrant enthusiasm of do-it-yourself filmmaking. By no means is this a definitive rundown, but merely something to whet your appetite and get you on your way, whether you're a viewer or budding filmmaker. Note: These festivals appear in order of their starting date.
1. Boston Underground Film Festival
Boston / March 23-27, 2016
bostonunderground.org
Boston Underground Film Festival definitely has the indie spirit intact—just look at the bunny statues it gives out to winning recipients. If it takes a cool trophy to get your festival recognized, then so be it. But Boston Underground has a lot more going for it, too, most notably being a leading fest when it comes to alternative cinema and helping to get the obscure out to the masses.
2. Full Frame Documentary Film Festival
Durham, N.C. / April 7-10, 2016
Fullframefest.org
Just as its title suggests, the Full Frame Documentary Film Festival is where to go for the best in documentary filmmaking. Now in its 19th year, this fest is dedicated to showcasing documentaries.
3. Maryland Film Festival
Baltimore / May 4-8, 2016
md-filmfest.com
This five-day event offers a wide variety of both short and feature films, ranging from documentary to animation and everything in between. Other staples at this fest include a silent film showing with live music accompaniment and a classic 3D film. None other than the talented filmmaker and Maryland native John Waters is always in attendance to host a feature of his own choosing.
4. Nantucket Film Festival
Nantucket, Mass. / June 22-27, 2016
nantucketfilmfestival.org
Perhaps not the first place you would think of to host an annual film festival, this touristy summer retreat has become a favorite stop for many filmmakers.  This fest also has a heavy emphasis on the art of screenwriting, with Showtime's Tony Cox Screenplay Competition.
5. The Sidewalk Film Festival
Birmingham, Ala. / August 26-28, 2016
Sidewalkfest.com
Coined as a "celebration of new independent cinema," the Sidewalk Film Festival is in fact a unique mix of both old and new. It is located in the theater district of Alabama, home to the historic Alabama Theatre, where festival selections are shown.
6. Fantastic Fest
Austin, Texas / September 22-29, 2016
Fantasticfest.com
Taking place at the fan-favorite Alamo Drafthouse in Austin, Fantastic Fest is the biggest genre festival in the country. It has premiered popular films like "There Will Be Blood" and "Frankenweenie" and has had stars like Bill Murray and Kevin Smith visit as guests. Fantastic Fest is as Hollywood as this list gets, but it's Cool Hollywood.
7. Austin Film Festival
Austin, Texas / October 13-20, 2016
Austinfilmfestival.com
Originally focused only on screenwriting, the Austin Film Festival has since expanded to recognize all aspects of film over the course of its 23-year existence by showcasing different projects while still honoring its writing roots. Its Screenwriters Conference remains one of a kind with stellar panels and industry insight.
8. Cucalorus Film Festival
St. Wilmington, N.C. / November 2016 dates to be announced
Cucalorus.org
One of the biggest film festivals in the South, Cucalorus is now entering its 22nd year. It not only offers exceptional independent films, Cucalorus has a new program called CONNECT, a helpful series of events running the length of the festival that offer workshops and panels relating to entrepreneurship in the film industry.
9. Indie Memphis Film Festival
Memphis, Tenn. / November 2016 dates to be announced
Indiememphis.com
If music and film is your thing, then Indie Memphis is the film festival for you. Emanating from Overton Square in Midtown Memphis, Indie Memphis is the cornucopia of festival night life. It has shown a variety of work over its 18 years, including eventual Academy Award-winning documentary "Undefeated." Being set in the birthplace of rock 'n' roll, there is a strong music presence throughout the fest, as well.
10. Stanley Film Festival
Estes Park, Colo. / April 2017 dates to be announced (2016 hiatus)
What better place to hold a horror film festival than at one of the most notoriously haunted locations in the country? The inspiration behind Stephen King's "The Shining," the Stanley Hotel is a real-life scare central with a history of hauntings, making it the perfect location for hosting independent horror cinema. Just try not to get lost in the hedge maze when you visit.
ABOUT THE AUTHOR
Jason Savio is studying journalism in the graduate program at Emerson College in Boston. He enjoys writing about the arts and entertainment, and also contributes to Pulse Magazine, for which he has his own video game column and reviews music. Follow him @TheRealJSavio.

Photo of theater by Shutterstock