By Chelsea Stuart
For those living outside of Southeast Asia, the perils of palm oil production probably aren't something you talk or read about on a daily basis. While it may not be on our radars as frequently as those in Malaysia, Indonesia or Thailand, it's a conversation that needs to be held on a global level, not just by those in immediately affected countries. 
So let me back up and explain the problem with palm oil. Palm oil is an edible vegetable oil made from the fruit of the African oil palm and is most commonly used in cooking in Africa, Southeast Asia and Brazil. Outside of cooking purposes, the oil can also be found in common cleaning products, cosmetics and household items around the world. While the plant is native to Western Africa, it can grow in nearly any tropical setting as long as there is adequate heat and rain–making Malaysia and Indonesia perfect breeding grounds. The problem with palm oil is how rapidly forests are being cleared to make way for plantations and the harmful environmental processes that are involved in production. 
More than 85 percent of all palm oil is produced in Malaysia and Indonesia alone. With such an enormous yield being derived from two rather small countries, sustainability is a major issue that has yet to be solved. As a result of the industry's malpractices, Southeast Asia is facing irreparable environmental damage including deforestation, habitat degradation, soil and air pollution, adverse climate change and animal cruelty.
In the early 2000s, environmental activists began to petition palm oil production as its high demand led to the clearing out of vast expanses of rainforest in Southeast Asia and has left Bornean and Sumatran orangutan species critically endangered. Regardless, palm oil producers have yet to make any major changes to their processes and companies have even been accused of deliberately burning down trees and destroying animal habitats in order to make room to plant new palms.
Those suffering most at the hands of the palm oil industry are indigenous species like Bornean and Sumatran orangutans and tigers. Both species of orangutan are endangered. Records estimate that there are roughly 20,000-27,000 left in the wild, with the highest concentration in Borneo and the rest in Sumatra. Their dwindling numbers are a direct result of palm oil plantations; according to the World Wildlife Fund, more than 300 football sized fields of rainforest are cleared every hour to make room for new palms.
With such massive tracts of habitat being burned and stripped every single day, wildlife species are being pushed to the brink of extinction and right into the arms of poachers and smugglers who sell them as pets or kill them. The UN has called the sweeping deforestation a "conservation emergency" and found that 90 percent of the Bornean and Sumatran orangutans habitat has already been destroyed in the last 20 years.
Though the cons of palm oil plantations currently far outweigh the pros, the WWF believes the industry can successfully practice in an environmentally friendly and sustainable way. They say, "The palm oil industry can still flourish without destroying rainforests or harming communities and endangered wildlife. In fact, solutions exist for the palm oil industry to lessen its impact on natural forests, wildlife and communities, without affecting profitability."
In moving towards sustainability, the WWF is part of The Palm Oil Innovation Group and the Roundtable on Sustainable Palm Oil, two international groups that promote the use of certifiable palm oil. The groups are responsible for the Principles and Criteria on Sustainable Palm Oil Production, "A list of requirements to help ensure that palm oil production is economically viable, environmentally appropriate and socially beneficial." To learn more about how the POIG and RSPO are effectively working with producers, processors, buyers and environmental advocates to change the industry from the inside, watch the video below.
While the WWF, POIG and RSPO are hard at work trying to revamp palm oil production, also hard at work are Sarawak Forestry members. Luckily for the injured, displaced and ill-treated wildlife of Malaysia, there are programs dedicated to their rehabilitation.
In August I was able to visit Kuching, Malaysia and volunteer with Heart 2 Heart with Orangutans, a program hosted by Sarawak Forestry experts. The program includes a tour of two orangutan rehabilitation centers including the Matang Wildlife Centre and the Semenggoh Wildlife Centre, as well as a presentation on how they work to reintegrate their adopted orangutan populations. After an introduction with information about orangutan preservation and rehabilitation, volunteers are put to work cleaning cages, preparing meals and snacks, and feeding the orangutans. At the end of the day, all volunteers receive a certificate acknowledging their efforts in supporting Sarawak's orangutan conservation.  
Photo of young orangutans via Shutterstock
Though I initially had this grand vision of cradling a baby orangutan like a human child, I was one part saddened and one part relieved to find out that visitors and volunteers to the Matang Wildlife Centre and Semenggoh Wildlife Centre aren't allowed to make any physical contact with the orangutans. To anyone not all-consumed by the idea of holding a precious orangutan, it might seem obvious that this is to ensure that the animals aren't hindered in their ability to be fully rehabilitated and reintroduced to the wild. However, take it from someone standing in front of a number of insanely adorable baby monkeys– in the moment this isn't the first thought that crosses your mind.
The main difference between the two centers is that the Matang Centre works exclusively on training orphaned orangutans and those who were kept in captivity (most often illegally as pets) how to cope with being back in the wild. While they are taught how to survive in their natural habitat, they are kept in cages as they are not yet ready to live on their own. The rehabilitation process includes an initial medical assessment when the animal is brought to the center and then two to four years of learning to climb trees, build nests (did you know they create a nest everyday?), swing on branches and find their own food. Once they graduate from Matang's rehabilitation program, they are moved to the Semenggoh Centre, a semi-wild facility. This means that the orangutans live outdoors in a natural but secure environment.
At Semenggoh, orangutans are fed everyday between 9 am-10 am and 3-3:30 pm. Since they are semi-wild, it's their choice as to whether or not they show up at feeding time, and therefore, it's impossible to predict how many you'll see if you pay the center a visit (as the orangutans become more and more equipped in taking care of themselves, they show up less frequently). While I was there, I saw about eight different orangutans including an enormous alpha male and a tiny baby named Ruby. Visitors aren't separated from the animals in any way–orangutans simply descend from canopy branches near the center's headquarters–often showing off as they do so–and situate themselves near a keeper, waiting for them to toss fruit and vegetables.
Though orangutans are certainly the main draw of Matang and Semenggoh, there are also plenty of other species to be seen. You can catch a glimpse of sambar deer, crocodiles, sun bears, civets, hornbills, eagles and dozens of other animals native to Sarawak at both centers. To learn more about the rehabilitation work being done by the centers or to participate in the Heart 2 Heart with Orangutans Program, read on here.
To learn more about how you, as a consumer, can have a voice in palm oil production and orangutan conservation, check out Say No to Palm Oil.
About the Writer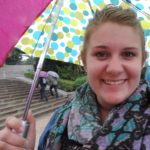 Chelsea Stuart is a recent graduate of Boston's Emerson College and a new Brooklyn resident. When she's not reeling from wanderlust (she lived on a ship for four months and visited 15 countries with the study abroad program Semester at Sea), she's planning her next trip, reading, writing, thrifting, drinking an absurd amount of coffee and Netflix bingeing like any good Millennial. Follow her on Twitter for more of her articles and occasional pop culture ramblings.
Feature photo of deforestation as a result of palm oil production via Shutterstock