Image of via Shutterstock
On a recent trip to Nashville, something caught my eye as I wandered through the city's airport with typical traveler's exhaustion. As I rushed to my gate, I looked up and saw an array of blue, hot pink, and lime green figures striking various poses above my head, appearing to dance. The forms were congregated in vertical lines along a wave.
I often think of an airport as a necessary intermediate space between two more desirable locales. Incorporating artwork into this setting, however, has the capacity to alter the way we perceive stagnant terminals and stressful baggage claim areas. The concept of introducing art into an airport—a traditionally hectic and mechanistic environment—has become popular in the U.S. and throughout the world. Today, there are even a number of programs that use art to soften these spaces and make them feel more accessible to weary travelers.
NASHVILLE INTERNATIONAL AIRPORT
The Metropolitan Nashville Airport Authority (MNAA) established Arts at the Airport in 1988. The program has temporary and permanent artwork that seeks to capture the creativity, artistry, and culture of Tennessee and its residents. Arts at the Airport features regional and national artists, and there is an expansive collection of pieces by modern Tennessee artists in the MNAA's offices.
The colorful airborne figures I saw on my recent trip to Nashville are part of a work by Amber Lelli, Sadie Monroe, and Whitney Proper, and is called "Dancing Sound Wave." Located on Concourse A, the art is one of five winners for this year's Bonnaroo exhibit of Skyline Installations. Nearby you can see shiny, sparkly guitars suspended above your head in an exhibit called "See the Music," another winner by Gail Christofferson. Some of the permanent public art displays include Jack Hastings' "Dancing on Air"— two mobiles spanning 15-feet each—and Sherri Warner Hunter's "Flights of Fancy"—which is a mosaic style structure with sparkling colors of orange, green, red, and white, featuring airplanes that smile and a magic carpet.
Nashville's program isn't just about visual art, however; after all, it is known as the "Music City." As part of the Arts at the Airport program, there are live performances—from country to jazz to pop to gospel—held on stages throughout the terminals.
PHILADELPHIA INTERNATIONAL AIRPORT
Philadelphia International Airport created their Art at the Airport program in 1998. Similar to Nashville, Philadelphia's program strives to make the airport's atmosphere more accessible and pleasurable, while also showcasing art that speaks to the city itself in some way. Currently, Eva Shelley's "Glass Bouquets"—breathtaking arrangements created by glass blowing—are on display at Terminal A-West, and Emily White's fascinating and socially minded "Constructing Nature" includes wildlife sculptures of the endangered American bison (which have been historically endangered) and the extinct passenger pigeons. Parts of the sculptures are realistic, while others are left barren and exposed to reveal the structural underpinnings of her creations. White hopes these works will call attention to the need to preserve nature.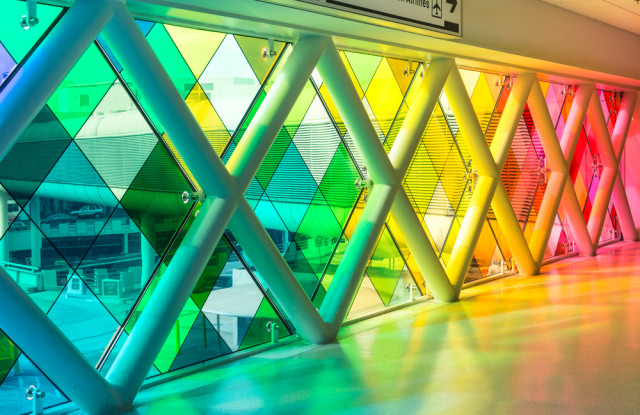 Christopher Janney's "Harmonic Convergence" at Miami International Airport via Shutterstock
MIAMI INTERNATIONAL AIRPORT
Miami International Airport (MIA) has site-specific projects as well as exhibit spaces known as the "Mia Galleries." The airport's Division of Fine Arts and Cultural Affairs is responsible for incorporating art into the traditionally frenetic atmosphere of the airport. The work is meant to enrich the travel experience while also drawing attention to pieces that are connected to the Southern Florida community.
Some of the installations include three sayings created from colorful flowers, "All We Need is Love," "Peace and Love," and "All Together Now" by R&R Studios,  which are located at various intervals. The vibrant letters and messages they impart are meant to evoke feelings of warmth and delight. Jen Stark's visually arresting "Meltdown" features a chaotic swirl of colors covering the ceiling and dripping down the walls. Perhaps the most significant installations are Brazilian artist Carybé's murals located in South Terminal H. Originally located at JFK's American Airline's terminal, and completed in 1960, the murals were moved to Miami International Airport when the terminal in JFK was demolished. The project at MIA was completed in 2009. Miami's location on the southern tip of Florida and its ethnic and cultural diversity seem to make MIA an ideal place for the colorful and inviting murals. A number of rotating exhibits and public art can also be viewed at the airport.
SAN FRANCISCO INTERNATIONAL AIRPORT
San Francisco's International Airport is especially unique in that it has its very own museum, SFO Museum, which has temporary and permanent works of art in terminal galleries.
The San Francisco Airport Commission and the Fine Arts Museums of San Francisco established an art program at the international airport in 1980. One year later they created a department dedicated to art exhibits that improved the look and feel of the airport, while also speaking to the region's dynamic culture. The SFO Museum became accredited by the American Alliance of Museums in 1999 and was the first airport museum to be recognized as such. There are over twenty galleries and travelers can visit the museum for free from Sunday through Friday.
A number of exhibits run throughout the year. "Catch Our Style: California Regional Airlines 1950s-1980s" runs through November of this year and contains uniforms, equipment, and other related materials to capture the era of commercial flying in California. There are a number of continuous exhibits, such as Edward Chavez' model aircrafts in Terminal 3.
Outside of the museum, there is public art. William T. Wiley's acrylic painting, "Void," is an impressionistic piece with cool colors (permanently located at Terminal 3), while two of Willard Dixon's regional oil landscape paintings can be found in Terminal 2 ("Death Valley II" and the sea scene in "Above Bolinas").
Leo Tanguma's "Children of the Word Dream of Peace" at Denver International Airport via Shutterstock
DENVER INTERNATIONAL AIRPORT
Denver International Airport's Art and Culture Program integrates public art into the airport environment—inside terminals, on concourses, on trains, and even outside. The airport has both rotating and permanent pieces that focus on the Rocky Mountain Front Range's culture. One of the airport's most well known works is the blue cast-fiberglass "Mustang" by Luis Jiménez. Located outside on Peña Boulevard, the mustang stands on its back legs at an imposing 32-feet. Leo Tanguma's "In Peace and Harmony with Nature," is a colorful mural with two opposing halves: one features melancholic children reacting to the devastation of land while the other shows people rejoicing in the natural world.
John Richter's photos, "Magnificent Colorado," capture the natural splendor of the state and will be on display until September. Movable murals by Sam Flores, David Choe, and Highraff will continue to overlay various construction project places until 2017.
INTERNATIONAL AIRPORTS
A number of international airports should also be mentioned. Both London and Amsterdam have museum airports. London Heathrow Airport's T5 Gallery has an exquisite array of various mediums, while Amsterdam Schiphol Airport boasts modern sculptures as well as Dutch painting masterworks from Rijksmuseum. Helsinki Airport also has a gallery with modern Finnish art, and Hamad International Airport in Qatar opened in 2014 and features public art to further its goals of being a cultural and welcoming stop for travelers.
ABOUT THE WRITER
Victoria Gaffney is currently pursuing an MA in Nonfiction Writing at Johns Hopkins in Washington D.C. She is a graduate of Haverford College where she majored in English and developed a passion for words and stories. She enjoys traveling and engaging with new people and perspectives, and relishes the thrill of late nights spent reading a new book or huddling in front of a computer screen to write. In her free time, she can be found drinking copious amounts of coffee, playing with dogs, practicing yoga and wandering around new streets without a plan. Victoria hopes to use writing to help impact positive change. Follow her on Twitter.