By Maria Russo
MONTEGO BAY, JAMAICA – The first Nexus Caribbean Youth Summit commenced on Thursday evening at the Half Moon Resort with a cocktail reception led by speeches from thought leaders and philanthropists such as Adam Stewart, CEO and Deputy Chairman of Sandals Resorts International; Doug Balfour, owner and CEO of Geneva Global; Richard Powell, Chairman of the RMP Foundation; Zachary Harding, President of the Phoenix Group; and Jamaican-born Gordon Swaby, CEO and founder of EduFocal Limited.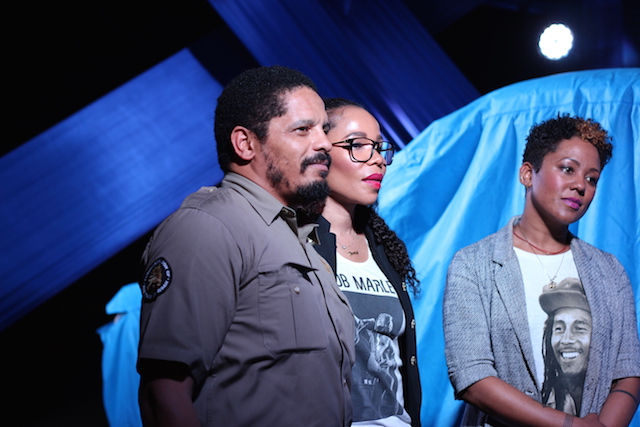 Rohan, Cedella and Karen Marley led a sneak peek of their father, Bob Marley's restored Land Rover, Defender. The presentation came just one day before the 70th anniversary of the birth of Bob Marley.
The purpose of the Summit, which brought together approximately 120 attendees, was to bridge the gap between philanthropists and social entrepreneurs in the Caribbean and the rest of the world. The forum highlighted the region as a hub for cultural diversity, innovation, intellectual talent and impact. More than 12 discussions and keynote speeches addressed topics ranging from investing in the next generation of women entrepreneurs, empowering youth in the Caribbean, and using social media platforms as a way of connecting with Millennial consumers.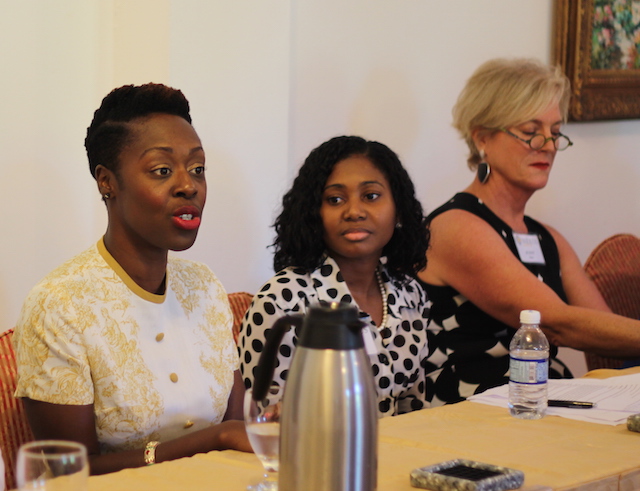 Leveraging Social Media to Build a Social Enterprise
Sunny Bates, Yve Car-Momperousse, Stephane Jean Baptiste, Eva Forde and Arthur Wylie, came together to discuss how social media can and should be used to leverage a social enterprise's consumer reach and financial growth. More than ever, social platforms, including crowdfunding websites, are portals to solving problems, building communities and raising capital for social startups.
Social media platforms have also been incredibly useful in reaching the global community at large, extending consumer reach exponentially. The panelists discussed the importance of telling compelling stories and sharing photos particularly through Instagram, a favorite social platform among Millennials. Twitter is commonly used as a way of connecting with industry leaders, journalists and PR firms. YouTube has been a viable social platform for social startups, particularly for the storytelling component of connecting consumers to the philanthropic initiatives on the ground and the people being affected by the enterprise's campaigns and initiatives.
Sunny Bates shared her experience in making enthusiasm contagious through the use of social tools. Bates pointed out how creating an infectiously positive and empowering campaign can spread a message or call to action among potential funders and donors like wildfire.
Stephane Jean Baptiste pointed out that Facebook and Instagram prove to be extremely useful in surveying consumer feedback on product prototypes before final development and sale.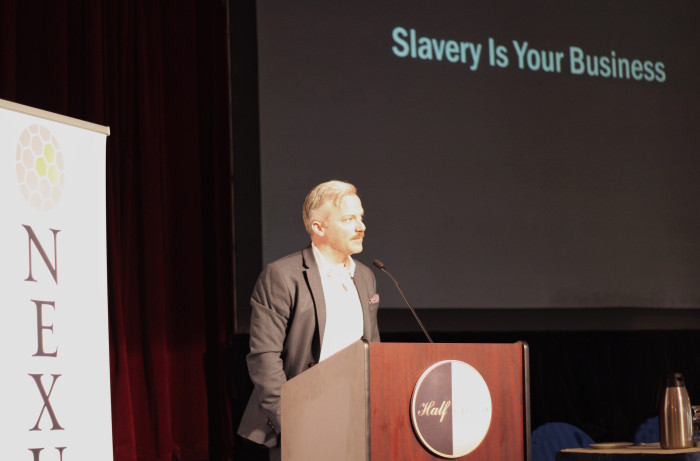 Human Trafficking and Modern Day Slavery
Ben Skinner, a leading expert and journalist on modern day slavery, and the Senior Vice President at Tau Investment Management, spoke on the biggest issues surrounding human trafficking and modern day slavery, a $150 billion industry that has taken approximately 32 million people worldwide. In the Caribbean and Latin American alone, approximately 230,000 people are victims of human trafficking.
Skinner discussed his experiences as a journalist in the field, covering stories in countries such as Haiti and Cambodia where commercial sexual exploitation is prevalent. He found that many children are kidnapped and used as both domestic and sex slaves and both men and women are tricked into leaving their families and homes for the promise of better work only to be thrown into forced labor and often used as sex commodities.
Skinner pointed out that some companies utilize  slavery to save millions of dollars on worker salaries. He urged consumers to do their due diligence by researching the methods of supply chains particularly those among the clothing industry. Skinner and his firm work with companies in the fashion industry to transform global supply chains. By upgrading and de-risking supply chains, TAU "uses capitalist solutions to solve capitalism's worst failure – the undervaluation of human and natural resources."

Disruptive Philanthropy
The Disruptive Philanthropy panel explored how collaborations between large brands and small social enterprises can create impactful change on a large scale.
Panelist Amanda Cole spoke of how her father, Kenneth Cole, became involved in giving back in Haiti after the 2010 earthquake through several initiatives and campaigns that enhance education programs and medical care systems, and support local artisans.
Later, Kenneth Cole Productions, Inc. collaborated with Julie Colombino, Founder and Visionary of REBUILD Globally and CEO of Deux Mains sandal workshop — a grassroots social enterprise in Haiti that uses upcycled tires and locally sourced leathers — to make one-of-a-kind sandals and provide sustainable income for its sandal makers. The fair wage of their workers empowers them to reunite their families, provide themselves with food and medical care, send their children to school, and accumulate savings for long-term stability.  In collaboration with their shoemakers, Kenneth designed "The Love-Haiti Sandals" to support the community.
Colombino spoke about the incredible obstacles she and Haitian artisans have faced, from fires to floods to burglaries — yet carried on regardless – to maintain the social and economic opportunities the collaboration has provided for the artisans and their families.
Energy and the Environment
The panel regarding the future of energy in Jamaica was among the most pressing topics discussed at the Summit. Jamaica's high-energy cost and power infrastructure ranked it next to Haiti, or 112th globally.  The country must begin to move away from its reliance on fossil fuels and make plans to implement innovative energy sources that are sustainable and renewable.
Fitzroy Vidal, Principal Director for Energy at Ministry of Science, Technology, Energy and Mining spoke about the government's seven major green energy initiatives for Jamaica:
Ensure energy conservation
Modernize infrastructure
Advance proliferation of renewable energy
Ensure energy security through energy diversification
Put into place a strong and robust governance framework
Implement sustainable energy practices in government institutions and government-owned infrastructures
Encourage equitable and efficient industries
Chris Lindstrom, fifth generation member of the Rockefeller Family and an investor, entrepreneur and educator with a specific focus on carbon negative energy production and holistic systems integrations, spoke about ReSource BioEnergy, a company he co-founded with Tom McGrath which works to transform "oil economies to soil economies." His company will be working on a project to convert 240 tons of waste from Kingston — using the organic component of waste — to biogas, which will supply 20 percent of all of Jamaica's energy. The project will create fertilizer (as an end product), jobs and clean energy. The goal of ReSource BioEnergy is to feed clean and affordable energy to all of Jamaica by 2015 using king grass, which grows up to 15 feet and can be harvested several times per year.
Education, Sports and Arts
Social enterprises — many led by Millennials — are popping up all throughout Jamaica to improve and enhance education.
Plant Jamaica, a local NGO based out of Kingston was founded by Andrew Bruce to promote sustainable livelihoods through community farms. Bruce is using urban farming programs at a macro level to introduce school children to sustainable farming, green architecture and artistic beautification programs. Plant Jamaica's 15 year vision is to properly educate children on sustainable agriculture practices so that they in turn can create their own farms and recycle and repurpose to create sustainable incomes for themselves and their families.
Randy McLaren, an award winning Dub/Reggae/Spoken Word poet is creating advocacy and activism through humanitarian campaigns led by young performers who spread awareness through school visits and forums. Many of the children affected by McLaren's programs come from vulnerable and abusive environments, so by introducing poetry and cultural creative expression, McLaren and his team have found ways to boost classroom engagement.
Jamaican producer and filmmaker Justine Henzell spoke about bringing the seventh annual Calabash International Literary Festival to Jamaica's Treasure beach in May of last year. Henzell shared that there is a sentiment among the population that "Jamaicans don't read," so when she and Jamaican novelist Colin Channer and Jamaican poet and playwright Kwame Dawes first thought to bring the festival to their country in 2001, many felt the festival would flop. Starting with approximately 300 attendees, the festival has grown immensely bringing more than 3,000 people from around the world in 2014. Calabash offers the Caribbean's most gifted authors, writers and poets, particularly young ones, the opportunity to network with and learn from some of the world's most established literary experts throughout three days of workshops, seminars and performances.
The Summit wrapped up on Saturday at the Good Hope Great House, a sugar estate founded in 1774 that grew into a village to support the workers after emancipation and is now a part of Chris Blackwell's Island Trading Group. Many attendees opted for a tour of the exquisite property via Land Rover before heading back home.
Jamaica was proud to be the first Caribbean country to host a Nexus Summit and hopes to do so again in the future. "Jamaica is the perfect host for this all important summit not only because it is the cultural capital of the Caribbean but also because Jamaica has been at the forefront of so many globally important causes; abolition of slavery, universal adult suffrage and the end of apartheid," said Jason Hall, Deputy Director of Tourism. "That it [Nexus Caribbean Youth Summit] was staged during the celebration of the 70th birthday of one of our greatest icons and global advocates for peace, equality and freedom, Bob Marley, made it even more poignant. Nexus seeks to change the dialogue on philanthropy and I have no doubt that, we as hosts were able to impart some of that indomitable Jamaican spirit to this effort in addressing the causes raised. The Jamaica Tourist Board recognizes the important role that tourism plays in poverty alleviation and national development and is extremely honored to have been a part of this initiative and looks forward to hosting many more summits of this nature."