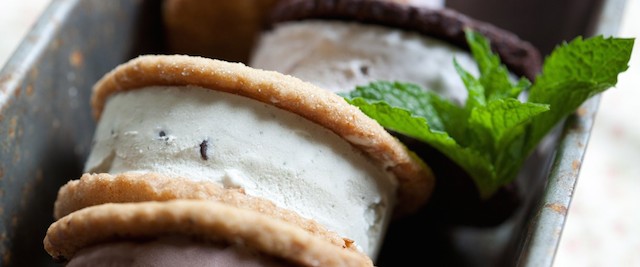 By: Amalissa Uytingco
It sounds like a complete paradox to put the words "health-conscious" and "ice cream" in the same sentence, but that is exactly what Green Girl Bakeshop brings to the table: handspun artisanal ice cream sandwiches that not only taste divine, but also nourish the body and soul with wholesome, good-for-you ingredients.
The brains and the brawn behind this operation is Lisa Stoy, who understands the importance of using high-quality ingredients to create high-quality foods. Having been born into an Italian family with a chef father, she was always surrounded by great-tasting foods made from scratch. It is no surprise then that from a young age she loved being in the kitchen, satisfying her sweet tooth and displaying her penchant for culinary creativity in numerous dessert experiments.
Unfortunately, when Lisa hit her 20's she was diagnosed with health issues and food allergies that forced her to suddenly change her diet—her entire lifestyle. This new path was difficult, as she realized that labels like "vegan," "vegetarian," or "gluten-free" do not guarantee nutritious ingredients . In fact, many vegan desserts are actually made with processed sugars and starches. Ultimately, this discovery was what pushed Lisa to take charge and create her own desserts that would combine phenomenal taste with good health.
From her ambitious drive came Green Girl Bakeshop, which offers organic, dairy-free, soy-free, AND gluten-free ice cream sandwiches made with no more than six simple, natural ingredients. Does this sound too good to be true? Well, it only gets better because all of the Bakeshop's products are made fresh, free of hydrogenated oils, trans fats, and preservatives.
The ice cream consists of a creamy base of cashews and coconut milk, sweetened with pure maple syrup. The cashews are ripe with heart-healthy fats, while the coconut milk is rich in saturated fat that, contrary to the negative reputation given to saturated fats, is easily digestible and therefore readily available for the body to use as energy. Maple syrup adds zinc and manganese to the ice cream—two essential minerals that boost the immune system.
The cookies start with gluten-free flour, such as brown rice flour that is high in protein and simultaneously low in saturated fat, cholesterol, and sodium. Combined with pure coconut palm sugar and cold-pressed virgin coconut oil, these cookies support healthy bone systems and blood sugar levels.
And true to her roots of culinary experimentation, Lisa is always on the lookout for imaginative flavors with an artisan touch. Some of her signatures include strawberry mint, earl grey, and cinnamon latte. Cookie flavors also vary from the classic chocolate chip to a rare breed of lemon lavender.
"I am constantly thinking of what non-traditional flavors I can turn into ice cream… I wanted to show that being a gluten-free and vegan product didn't mean you couldn't have fun with the flavors," she explains. "It seemed that the traditional non-dairy ice creams on the market lacked creativity and excitement."
Stoy expresses that her inspiration stems from the world around her—her garden, her travels, nature, and other desserts. (She tells me her favorite dessert is carrot cake, which, of course, is also a Green Girl signature flavor.)
You can find Green Girl Bakeshop products on Sundays, year-round at the Montclair Village Oakland market in Oakland, California and the Kensington market in Kensington, California. Sandwiches are also made-to-order for local delivery or market pick-up.
Visit http://greengirlbakeshop.com/ for more information.
Lisa herself is also open to customer conversation; beyond the ice cream sandwich, Green Girl Bakeshop is about creating and sustaining community.
ABOUT THE WRITER
Amalissa Uytingco is a student at New York University currently pursuing Media, Culture, and Communications. Her penchant for reading at a young age has fostered her current passion for writing, particularly writing with vivid imagery that captures her own experiences and resurrects them in the imagination of the readers. Beyond believing in the transformative power of a good story, she harbors a deep love for food, whether that means eating, cooking, or baking. Especially because of the ever-changing scope of foods sold in the Taiwanese night markets she visited every summer growing up, Amalissa enjoys being adventurous, constantly trying new dishes (unless seafood is involved). In the future she aspires to travel both locally and globally in the hopes of learning, through experience, the value in stepping outside one's comfort zone.