BY VERONICA LAVENIA
Italian Notebook is a window to Italy, live from Italy. Food recipes, practical advice on how to eat like a true Italian, destinations to discover the treasures of Italian food, and the inside scoop on selecting the best organic seasonal ingredients are all elements of Lavenia's vibrant column. Photos by Giuseppe Giustolisi, ©Veronica Lavenia
At one time, master chocolatiers did not always have access to raw cacao with the ease and speed of today. Nevertheless, the lack, in some cases, turned out to be fortuitous. It happened, for example, in the case of Gianduiotto, one of theoldest and most well-known Italian specialty chocolates.
The name Gianduiotto stems from the word Gianduja, the Piedmont character from the Commedia dell'Arte and a symbol of the fight for freedom and independence that took place in the Piedmont region in 1799. In the years following the fight, the region fell into great economic depression. As a result, the government decided to drastically cut importations of so-called luxury goods, which included cocoa, prompting the Caffarel family (owners of Gianduiotto) to improvise by mixing the cocoa with the locally prized PGI hazelnuts. This idea was also very practical from an economic point of view because it cut the high cost of transporting cocoa.
In the middleof the 17th  century, the Caffarel family created and introduced a revolutinary new product to the market. It was a special chocolate not only for its ingredients (Gianduja cream), but also for the original clove shape and coating; it was the first wrapped chocolate. Thus was born the Gianduiotto.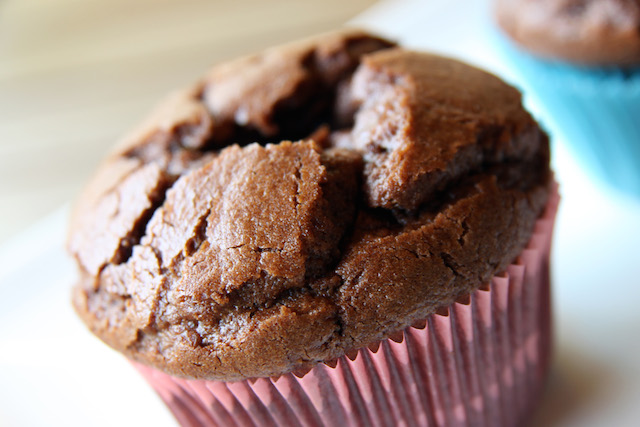 GIANDUJA CHOCOLATE CUPCAKES
These soft and moist small Gianduja cakes have a very special taste due to the presence of the Gianduja chocolate.
Made with unrefined ingredients, as all of my recipes are, these cakes, prepared with brown rice flour, are also gluten free. The fruity taste of the extra virgin olive (cholesterol-free and rich in various nutritional properties) makes these small cakes particularly soft, ideal for any occasion.
Ingredients
300 g (10½ oz) brown rice flour
1 tablespoon organic baking powder (organic means no dry chemical baking powder)
1 tablespoon cocoa powder
A pinch of salt
100 g (3½ oz) dark brown sugar
100 g (3½ oz) 70% dark chocolate
100 g (3½ oz) gianduja chocolate (or a high quality milk chocolate)
1 large beaten organic egg, room temperature
60 ml (2 fl oz- ¼ cup) rice milk (or organic milk)
60 ml (2 fl oz- ¼ cup) extra virgin olive oil fruity taste OR (80 ml- ¹/5 cup high quality cold-pressed sunflower oil)*
Directions:
Preheat oven at 180° (374°F).
In a bowl, sift together brown rice flour, organic baking powder, pinch of salt, cocoa powder and set aside.
Melt dark and Gianduja chocolate in a bain-marie. Once chocolate has cooled, add it to the beaten egg, milk, oil and stir. Combine the dry ingredients and stir quickly until the mixture is creamy.
Pour dough into cups and bake for 15 minutes.
*AUTHOR'S NOTE: Always try to use a high quality extra virgin olive oil (EVO). The original, high quality Italian extra virgin olive oil can be sold under the label "Made in Italy" only if the entire cycle of harvesting, production, processing and packaging took place in Italy. The best quality Italian extra virgin olive oil can be found in Italian specialty shops with a wide range of choice by region. Italian cuisine, especially in Southern Italy, is based on the use of extra virgin olive oil. For this, choosing a high quality EVO, is critical to the success and health of a dish (both sweet and savory). Rather than purchase a cheap oil of unquestionable provenance and processing, it is better to use a good organic cold-pressed sunflower oil.
ABOUT THE WRITER
I was born and still live in Italy. My mother and my father passed down their love for travel and passion for cooking organic sustainable food to me.
I have a University Degree in Spanish Languages and Literatures and a Phd in Iberian and Ibero-American Languages ​​and Literatures. While I was teaching Spanish at University (Faculty of Economics) and after writing Gianni Clerici's authorized biography (best Italian Tennis Journalist, Tennis Hall of Fame in 2006),  I began writing about my passion for cooking. My literary education is the essential ingredient for a methodological approach to professional food writing.
My first cookbook "Dolci Leggerezze", published in Italy, is about homemade dairy and gluten-free cakes and pies. Recipes born out of a personal experience that helped ​​me discover how useful is to share tasty and healthy alternatives, also suitable for those who do not suffer from allergies. Some of my recipes were also published in Italian food magazines.
I believe in the value of home cooking as an instrument of culture, knowledge and education. To cook in a simple, tasty and healthy way you don't need cooking classes. All you need is passion and curiosity. Knowing the ingredients, their seasonality and origin, means to cook in a conscious way. Knowledge makes all the difference.