By Aimee Millwood
When you think of food headed to the dump, the first thing that pops into your mind probably isn't disco music. Yet the Slow Food Youth Movement thinks it's the perfect pairing. Their global initiative Disco Soup brings local communities together to dance to disco while cooking up free food for the community using ingredients that would have otherwise been trashed. At the Disco Soup events, large quantities of food are sourced from local farms and markets and prepared and distributed for free to the public to raise community awareness of how much good food goes to waste each day.
On World Food Day, slow food partners collaborated with Disco Soup for a large-scale Disco Anti-Food Waste Day with events in Belgium, the Czech Republic, France, Greece, Germany, Japan, Macedonia and Bulgaria, among others.
From the Disco Xepa in Brazil to Disco Barsauk in Kazakhstan, people around the world are gathering with pots, pans, and disco beats to show the importance of global food waste.
Here is a recap of Disco Soups the world over: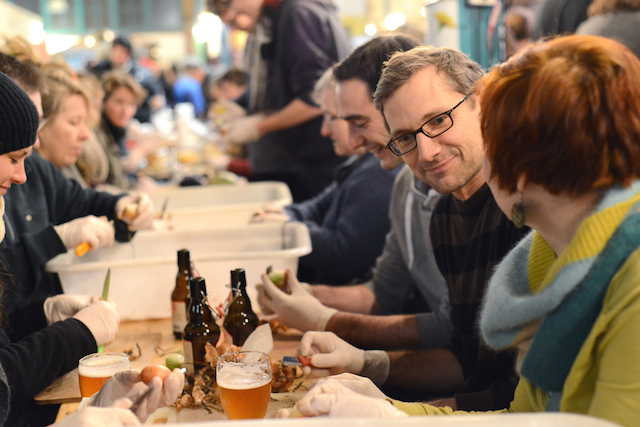 The Schnippeldisko in Berlin, Germany was the first of the Disco Soups and has grown into a carnival-
esque production staged near a circus tent:
The recent DiscoShuk in Tel Aviv, Israel, took place on a Mediterranean port. Sea views and free food for a good cause? We're in!
In France, the Disco Soup team gathered up strawberries trashed by luxury hotels, lychee nuts, mushrooms, bags of salad, zucchinis, mangos, pineapples, fava beans, grapes, basil, and more. Check out their Disco Salade:

In Amsterdam, more than 2,200 lbs. of vegetables that would have otherwise been wasted instead served 6,500 people — all to the beat of the music, of course.
DISCOSOEP AMSTERDAM from FOODWIRE Food & Film creatives on Vimeo.
ABOUT THE WRITER
Aimee Millwood is a writer with wanderlust who currently lives in Hanoi, Vietnam. She graduated from the University of California, Santa Barbara, where she received her BA in Literature with an emphasis in creative writing. She believes everyone has a story to tell and is interested in the use of personal narrative to give voice to people whose stories are not always heard. She credits growing up in both Hawaii and Georgia with her constant desire to explore the concept of home and how places shape who we become. Although she has spent the past two years traveling in South America, the Middle East, and Southeast Asia, she believes a physical trip is not the only means of travel – at times, just the wind on your face during a long drive or the scent of a campfire can rejuvenate the soul. You can check out more of her work on her blog,www.stopdroptravel.com.
Photos courtesy of The Slow  Food Youth Movement