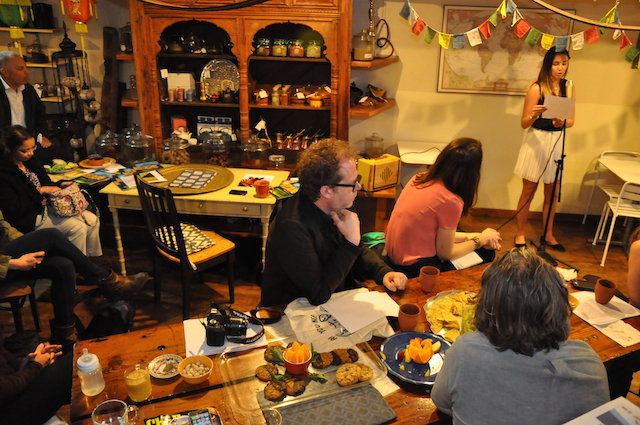 Photo by Matt Minucci
PRINCETON, New Jersey – Last Wednesday evening, The Culture-ist and Absolute Travel hosted "Tea and the Far East" a travel reading featuring stories from journalists Charu Suri, David Farley, and Tom Downey at Infini-T Cafe located in the center of town on Hulfish Street. The reading attracted residents from the greater Princeton area and a gathering of students from Princeton University.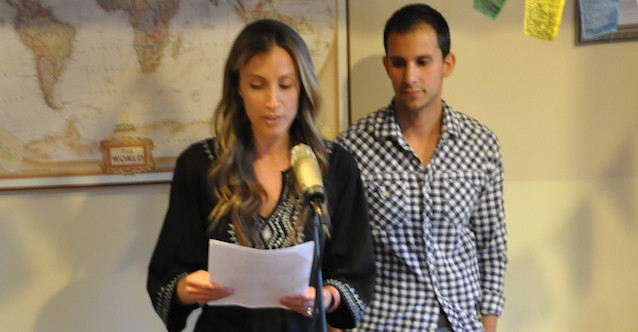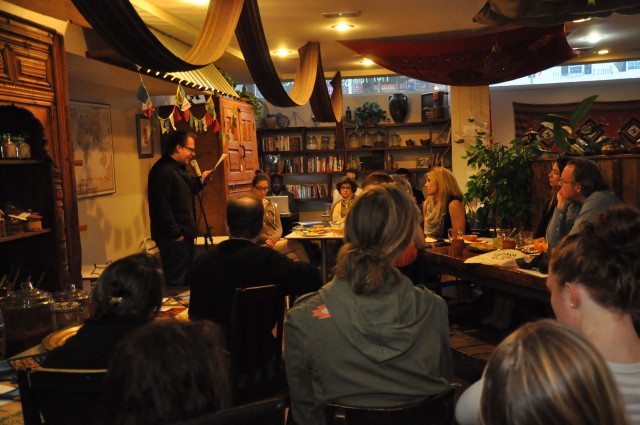 Photos by Matt Minucci
The evening's event commenced after a brief welcome by co-founders of The Culture-ist,  Anthony and Maria Russo followed by an introduction to Absolute Travel presented by Christa Russo one of AT's Sales Associates.
Author and travel journalist, David Farley was first to read, sharing his piece, "Ashes to Ashes," which is set for publication in the June issue of AFAR magazine.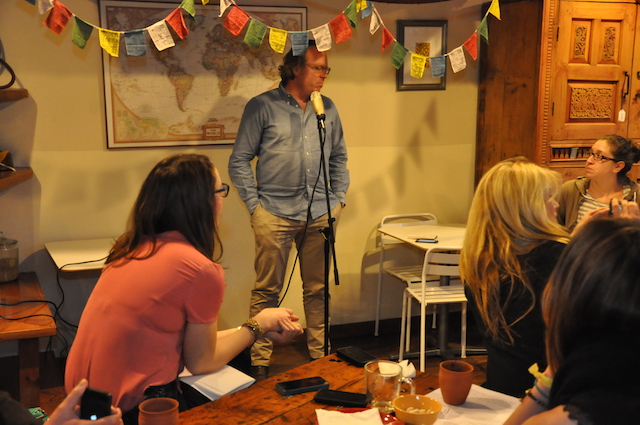 Photo by Matt Minucci
Tom Downey spoke about his experiences while researching a piece he recently wrote entitled "How Japan Copied American Culture and Made it Better" for Smithsonian Magazine. During his talk, Downey humorously insinuated that if people in the U.S. want the best of America's denim, bourbon and burgers they should head to Japan.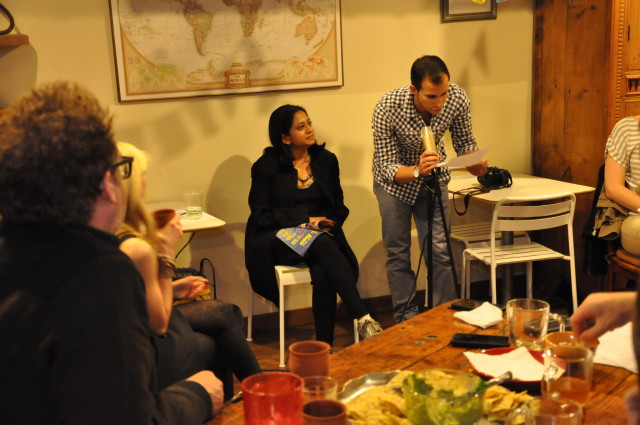 Photo by Matt Minucci
Travel journalist and founder of the website Butterfly Diary, Charu Suri, slipped behind the microphone to share the third and fourth readings of the evening. Her first piece entitled "You Ain't Gonna Believe This: An interview with Mel Tillis," discussed a personal encounter with Tills during Suri's early days as a travel writer.  Her second story, "For All the Tea in Macau" beautifully recounted a traditional tea ceremony where she was reminded by her host of the importance of showing reverence and appreciation towards the vessel —  the very core of the ancient tradition.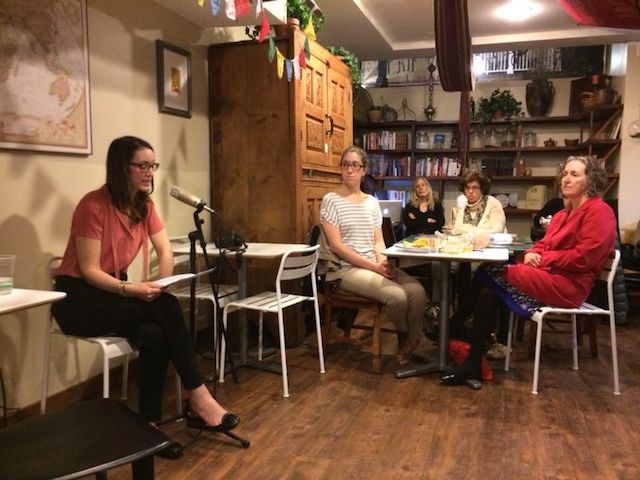 Photo by Christa Russo
Jessica Weeman, Strategic Alliance Manager for Absolute Travel, ended the evening with an inspiring story centered around the benefits of sustainable tourism. Weeman spoke for the author of the piece, Katie Losey, Director of Marketing for Absolute Travel, who was unable to attend the event. Losey's story, "Why What's in Your Mug Could Save the World" discussed her transformative experience while gorilla trekking in Uganda with Absolute Travel. During the trip, Losey learned of the delicate and intricate sustainable initiatives that play into conservation efforts in the region and how these projects are saving some of Uganda's most endangered species.
"The goal of the event was to bring people from the community together for some evocative storytelling over a cup of tea," said Anthony Russo. In a town that is brimming with academics, philosophers, travelers and a multicultural student population, you would expect events such as this to occur quite often, but they don't. We hope to shake things up a bit and host more culture-centric events at  Infini-T in the future."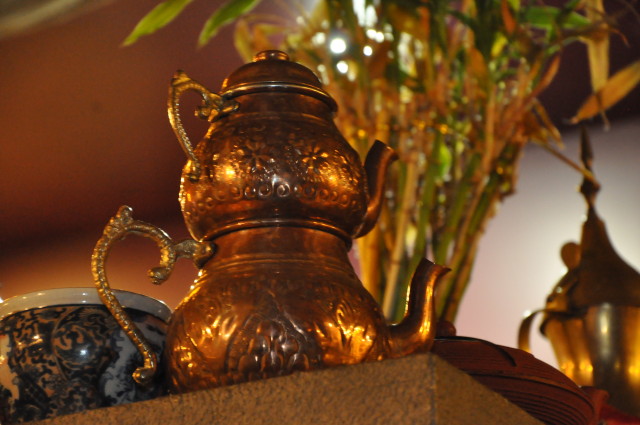 Photo by Matt Minucci
About the Sponsors
Absolute Travel
Voted as the "World's Best 2013" tour operator by Travel + Leisure, Absolute Travel is a company of trusted, passionate travel specialists who create customized luxury journeys to inspiring destinations. Our trips are completely based around your interests and schedule—they are one-of-a-kind experiences that are as unique as you are. We can have you traveling to the far-reaches of Oman's desert with Bedouins, cooking gourmet meals with a celebrity chef in Singapore, or sailing between the fabled islands of the Galapagos. Our expertise, knowledge, and personal relationships allow us to design journeys that are rugged and adventurous, urban and ultra-sophisticated, or the perfect blend of both. Whichever you prefer, you can be certain that your trip will be filled with exclusive opportunities that only we offer. Our clients have savored Chile's best wines and slept under the stars in Kenya. They have shopped Morocco's souks with experts, hiked the most remote parts of China's Great Wall, watched their kids learn to shred in South Africa alongside pro-surfers, and have perfected their crow pose with India's most esteemed yogis.
Whether you know exactly where you want to go or need some inspiration, Absolute Travel is here to guide you, and to create a journey that will surpass your expectations. We have over two decades of experience in the luxury travel industry, and we are constantly circling the globe in order to provide you with cutting-edge destination knowledge and personalized, well-planned itineraries that come complete with expert guides with on-the-ground spontaneity, and the perfect place to relax at the end of the day.
The Peacock Inn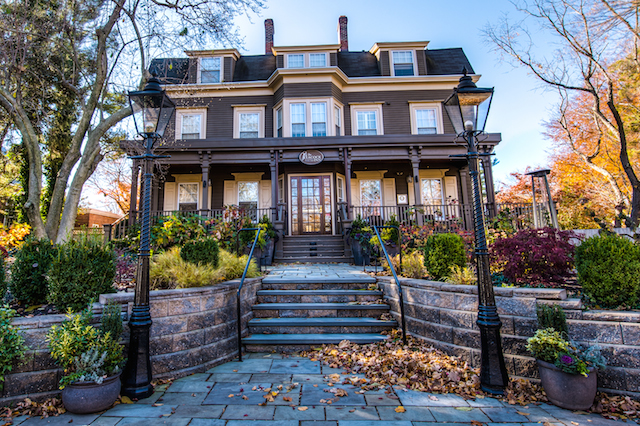 The Peacock Inn, an Ascend Hotel Collection Member® is a Princeton, NJ landmark and 18th century colonial mansion recently transformed into a luxury hotel with 16 individually-designed rooms, an intimate bar and lounge and the highest rated fine-dining restaurant in Princeton that's also featured as a top 25 restaurant in New Jersey, all set amid a leafy, tree-lined street in the heart of downtown Princeton within walking distance of Princeton University.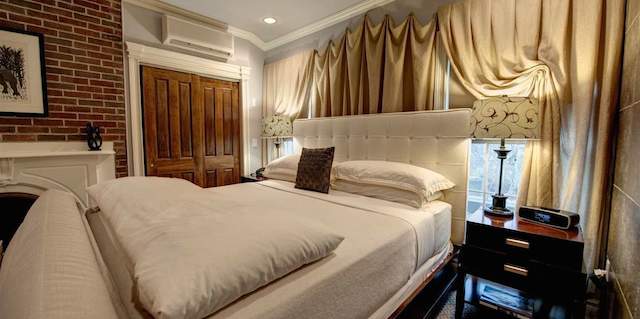 Some of the writers had the privilege of staying at the Inn, making their overall experience in Princeton much more enjoyable. Charu Suri, a graduate of Princeton University was happy to be back to the hometown of her alma mater. This time, she traveled with her husband and two-year-old daughter, so she couldn't have been happier to stay in the Inn's luxurious Junior Suite. "The rain shower was fabulous — so refreshing after a long day of travel and excitement."
The Peacock Inn was opened in 1911 by Joseph and Helen O'Connor, who purchased the property and named it after an inn in Midland England, using the peacock as a symbol of royalty, good food and good luck. The Inn has been in operation ever since. It often served as a local hangout for Princeton University students. According to Mrs. Evatt, who then purchased the Inn in 1954, the entire Princeton football team came to the Inn one day and happened to be standing outside on the porch. Due to the weight of the team, the porch collapsed, taking the football team down with it. A quick-thinking photographer snapped a shot of the incident and later that year the photograph won a prize and was featured in Sports Illustrated Magazine. It is believed that the basement area of The Peacock Inn was used as a Prohibition-era speakeasy.
In more recent days since the Inn's reopening, it has played host to professors and political dignitaries visiting Princeton University as well as a diplomat and a Broadway producer. The Peacock Inn is one of the best Princeton hotels as it is the only luxury boutique hotel and fine dining restaurant located in the heart of downtown Princeton.