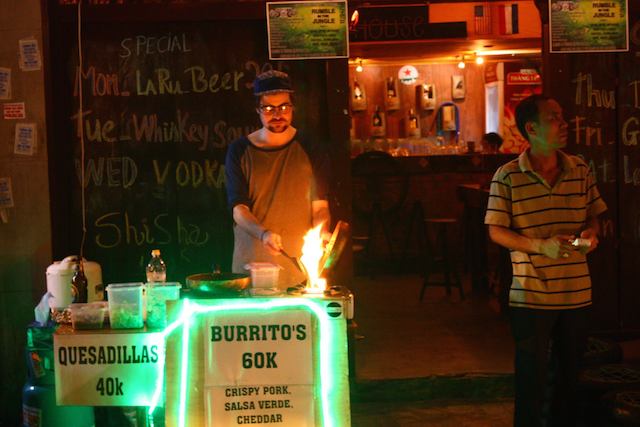 Photo by Alex Marrs
By Aimee Millwood
Oisin Barr speeds on a Honda Win motorbike, comes to a halt, parks, and begins setting up shop. Off comes his helmet and out come frying pans, flour, and containers of freshly made pico de gallo, Argentinean-style beef, and shredded cheese. He plugs in the portable gas tank, powers up the stove, and begins rolling tortillas. Within five minutes, a line has already begun to form in front of Mamacita's. Within fifteen minutes, the mobile burrito stall  is open for business.
"I call first burrito," Ricky Forester, a Mamacita's regular, shouts. Ricky is originally from the Tex-Mex border and says he's been on the hunt for good Mexican food since he came to Vietnam five years ago. "I used to miss it so much I would set up Mexican food nights at my house. Now I come here for a taste of home."
Mamacita's is the first South American pop-up stall to hit the Hanoi streets, and it's gained a hungry following of people who crave their gourmet street food, which include items such as crispy pork belly burritos served with turmeric and saffron rice, caramelized onion and wine jam, homemade garlic mayo, and salsa verde.
Founder Oisin Barr says his reason for starting the stall was simple: "Ever since living in Spain and traveling through South America, I've loved Latin cuisine. I couldn't find high-quality, affordable Mexican food in Hanoi," he explains. "So I figured I would make it myself."
However, obstacles abound when it comes to balancing quality and price.
"When you're selling street food, you have to sell at street food prices," Oisin says. When most street food is between one to two dollars, Mamacita's must play a constant balancing act between staying affordable and providing the quality food customers love.
Except for their imported cheese, the stall sources almost entirely from local farmers markets, but Oisin says, "Logistically, at times it can be a nightmare to get ingredients." In Hanoi, staple ingredients like avocados are only available seasonally and buying the freshest cuts of meat often requires a 4 a.m. trip to the night market near Long Bien Bridge.
Mamacita's began as a pop-up shop that catered events, private parties, and held semi-monthly events in front of Oisin's friend's motorbike shop. Word spread quickly that there was new Mexican food in town, and the street stall was born. In Vietnam, street food is a staple of local culinary culture, so nomadic merchants are nothing new. The streets are often crowded with women carrying fresh fruit baskets on their backs or peddlers cooking up sweet-scented bap xao tom bo (sautéed corn) and banh mi sandwiches from the backs of their bikes. Even pho was originally sold from carrying poles, one side holding the cauldron and stove, the other storing noodles, spices, and bowls.
"While a lot of Vietnamese, especially the younger generation, want to try foreign cuisine, visiting expensive Western restaurants isn't always an affordable option," Rau, a Hanoi native, says in between bites of a quesadilla. "Mamacita's bridges the gap, making food some wouldn't necessarily try accessible."
Mamacita's is currently housed outside of the Coach House Bar on Dao Duy Tan, just a few shops up from the motorbike shop where the popular pop-up events were originally held. Wedged between Ma May, a popular backpackers' haunt, and Old Quarter's most crowded bia hoi corner, Oisin says the street "seemed like the perfect location, given that its close to the tourist hub but not as overcrowded as other streets."
The consistent flow of tourists is good for passing business, but not necessarily for building a return customer base. However, Mamacita's has not had an issue building a dedicated following. Along with expats craving food from home, quite a few Vietnamese regulars have gained a taste for his burritos and tacos.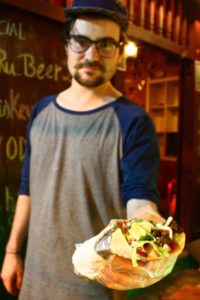 "It's weird to see a foreigner selling street food," Rau says while still eating his quesadilla. "The novelty definitely draws many curious customers."
As the night progresses, a group of Japanese tourists ask for a photo, posing with a thumbs-up as they take a bite of a burrito. A local man selling bap xao tom bo from his bicycle slows as he pedals past, sizing up his new competition. Right before midnight, when strict regulations requiring nightclubs to close ensue, hordes of tipsy tourists on the prowl for late-night food crowd the stand.
"The future looks bright," Oisin says. "I can see us moving into bike-stalls and more street stalls. I want to keep adding variety to the menu, and hopefully launch a delivery service."
When closing time hits, a van of police meanders up the street, reminding everyone of the curfew. Oisin packs his supplies with practiced efficiency, and within minutes, all traces of Mamacita's have disappeared.
Ricky finishes his beer and tips his hat to Oisin. "See you tomorrow," he says.
ABOUT THE WRITER
Aimee Millwood is a writer with wanderlust who currently lives in Hanoi, Vietnam. She graduated from the University of California, Santa Barbara, where she received her BA in Literature with an emphasis in creative writing. She believes everyone has a story to tell and is interested in the use of personal narrative to give voice to people whose stories are not always heard. She credits growing up in both Hawaii and Georgia with her constant desire to explore the concept of home and how places shape who we become. Although she has spent the past two years traveling in South America, the Middle East, and Southeast Asia, she believes a physical trip is not the only means of travel – at times, just the wind on your face during a long drive or the scent of a campfire can rejuvenate the soul. You can check out more of her work on her blog,www.stopdroptravel.com.