By Caroline King
While many of us are just starting to bask in the warmth, sunshine, and beauty of spring, there are some places in the world that experience a spring-like climate year-round. Medellín is Colombia's second-largest city and is known for its perfect weather, gorgeous scenery, vibrant nightlife, and some of the friendliest people on Earth. Check out these photos of Medellín to see what it's like to live in a place nicknamed the "City of Eternal Spring":
Medellín is located in Colombia's Antioquia department, in the Aburrá Valley. It's surrounded by mountain ranges, making the views from almost anywhere in the city pretty spectacular.
nidlemusic shows us a gorgeous cityscape of Medellín with the magnificent mountains in the background.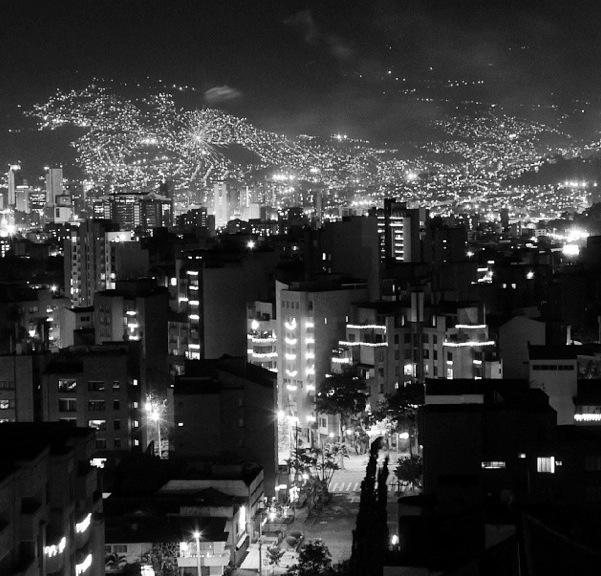 daragomz gives us a monochrome view of Medellín at night.
After taking in Medellín's fantastic skyline, visiting the Museo de Antioquia is a great place to view art collections of Colombian artists, including Fernando Botero, a native of Medellín and a world renowned artist.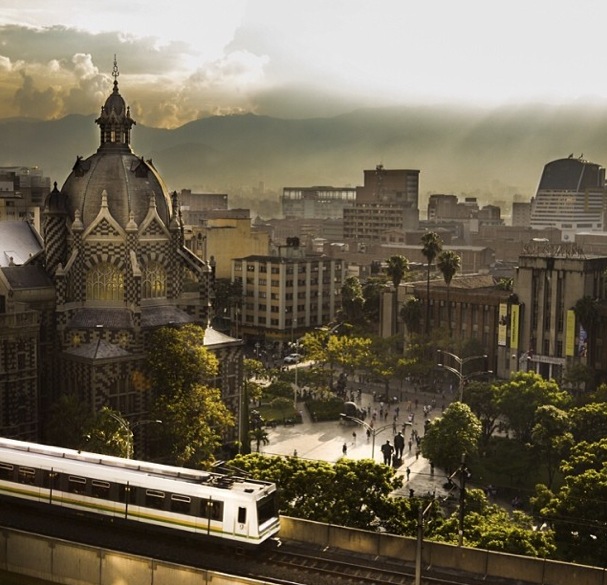 The museum is located in the center of the city, adjacent to Plaza Botero, which contains 23 sculptures by Botero, making it a lively destination. Photo by museodeantioquia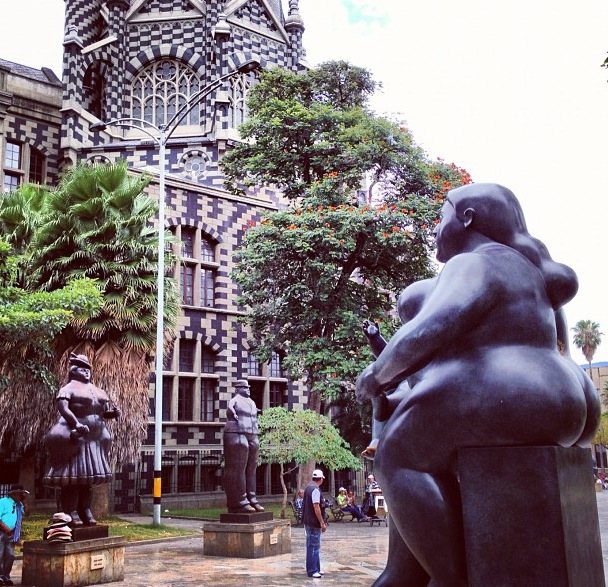 Botero's iconic sculptures in the foreground, with the museum in the background, taken by to_mas.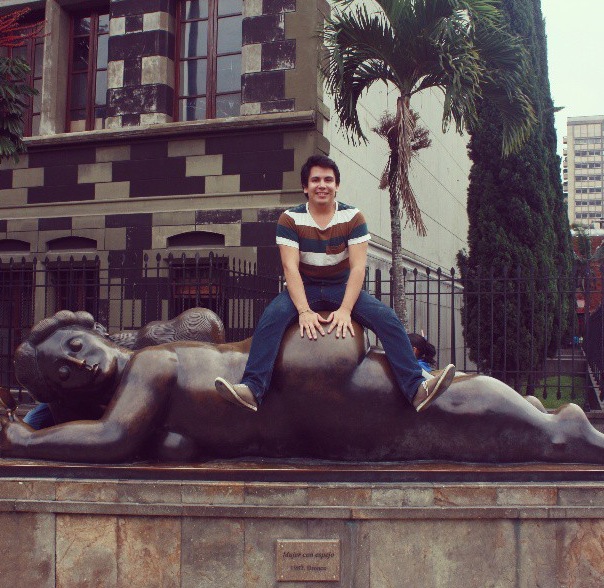 Botero is famous for painting and sculpting full-figured subjects, which makes things a bit more fun for rambunctious tourists looking to pose with the sculpture's more voluptuous assets, as seen here by juancrobles.
Medellín is also known for its efficient metro system; the first and only in Colombia. One of the most riveting parts of the metro system is the Metrocable, which uses multiple transportation lines via cable cars! This not only provides convenient transportation throughout the city, but it's a cheap and unique way to take in more of Medellín's gorgeous views.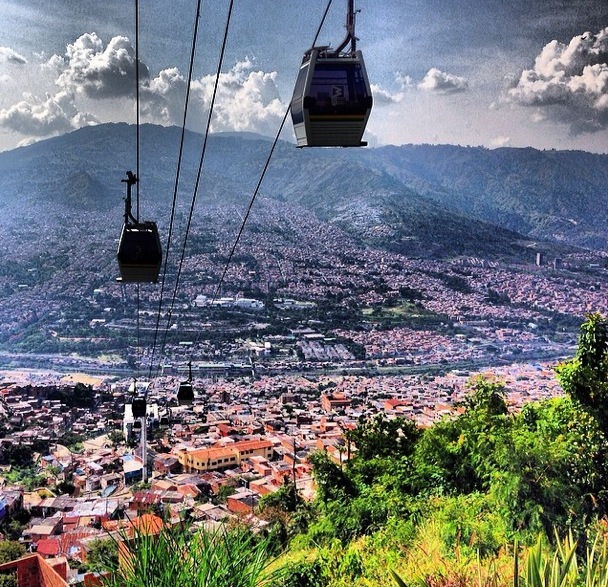 Here, moeasr gives us a view of what it's like to ride via air around this picturesque city.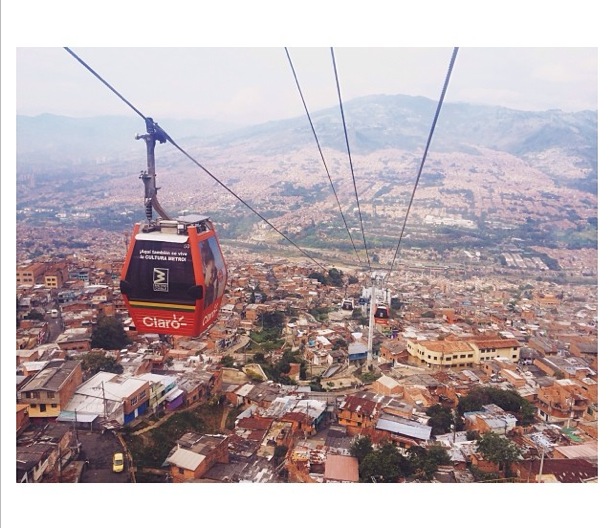 Another view from the Metrocable, courtsey of kristinalhamundsen.
Colombians love to celebrate, so  thankfully there's no shortage of festivals and events in Medellín. Its most famous festival is probably Feria de las Flores (festival of flowers), a weeklong event in August. The main attraction is the Desfile de Stilleteros, in which hundreds of campesinos (farmers) parade through the streets adorned with flowers on their backs. The festival is a major draw for locals and tourists alike, and helps solidify Medellín's moniker as the "City of Eternal Spring".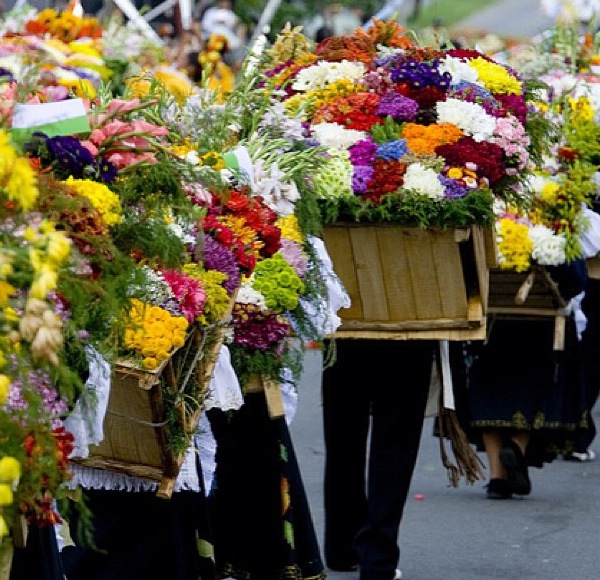 A closeup of campesinos during the Desfile de Stilleteros, taken by quehacerenmedellin.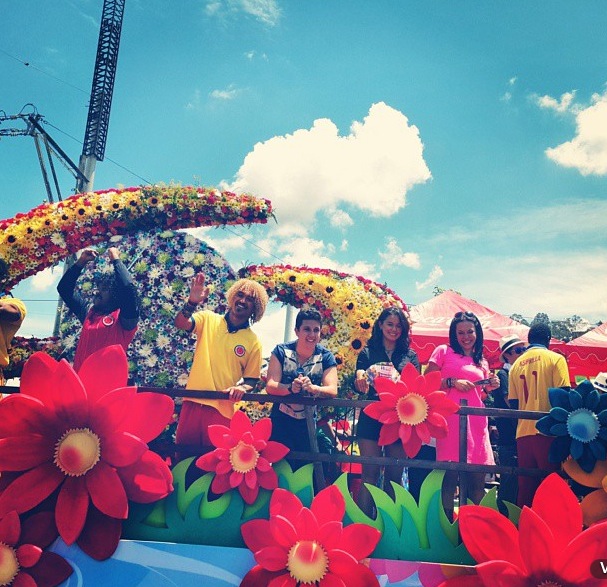 carloslealf shows us group of smiling parade goers atop a float during last year's festivities.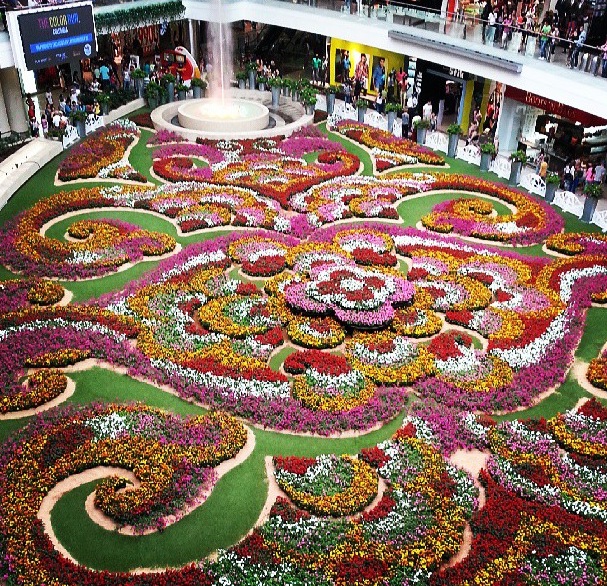 A stunning display of flowers during last year's festival, located in one of Medellín's shopping malls, taken by josca1985.As is the case with most metropolitan cities, it's not hard to find a range of delicious cuisines in Medellín, but it's also important to try the local fare!
Bandeja paisa, is a regional dish of Antioquia, and is known for its generous portions. A bandeja paisa usually consists of red beans, eggs, rice, ground meat, plantains, and an arepa, although items may vary depending on where you eat.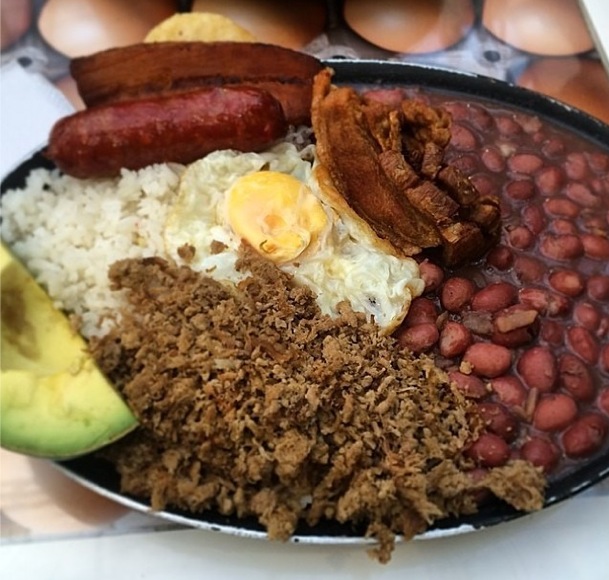 Que rico! prospecttman gives us a close up view of a bandeja paisa.
As mentioned above, an arepa is a staple in Colombian cuisine. It's a flatbread made of maize (corn) dough and can be served with various toppings, such as cheese or jams.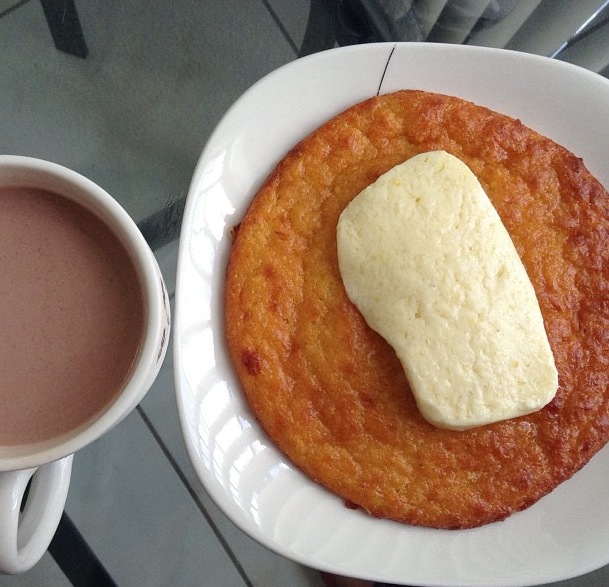 A simple but typical Colombian breakfast; an arepa con queso and coffee (or hot chocolate), taken by angie_vf1.
When visiting Medellín, it's worth it to travel to the smaller towns or pueblos located just outside of the city. Guatapé is a town filled with vibrantly painted buildings, a lake, and a massive rock (la piedra del Peñol) that offers gorgeous views from its summit.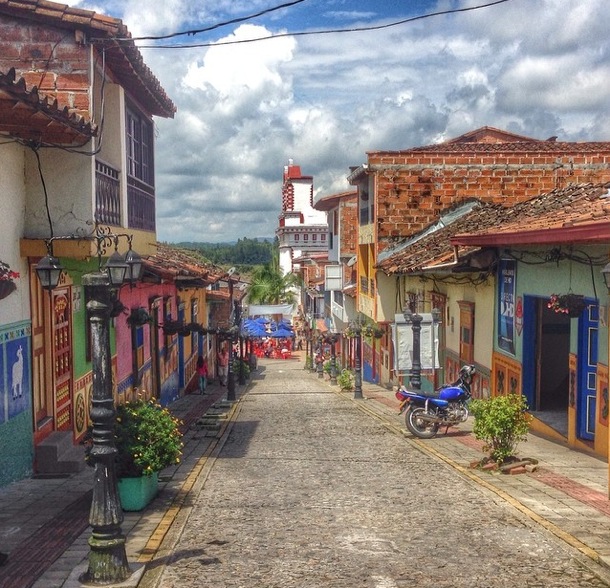 thurstontaylor gives us a lovely view of the quaint town on a sunny day.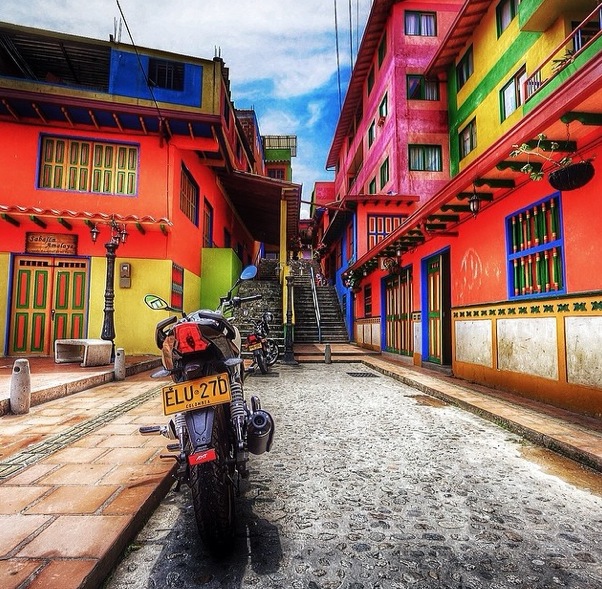 Another fantastic view of Guatapé, courtesy of ajwhites.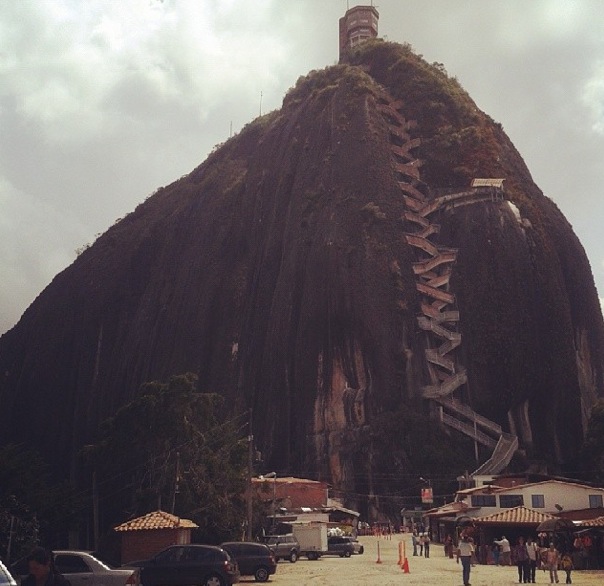 One of the biggest draws to Guatapé is climbing the 650 steps of La Piedra (the rock). Photo by camila0224.
Because the view is unforgettable!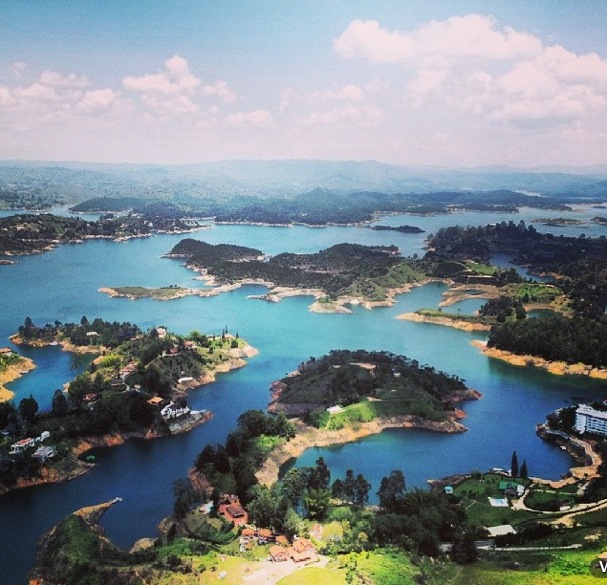 deanplabbett shows us that climbing those 650 steps is definitely worthwhile.
While not specific to Medellín, Easter is a very important time of the year for Colombians as the majority of the population is Catholic. Semana Santa, or Holy Week, comprises of various celebrations and rituals.
Many businesses are closed for a four-day weekend and people take to the streets holding palm leaves while watching reenactments of the Last Supper and Jesus Christ's crucifixion.
A young woman partakes in a religious procession during Semana Santa last year. Photo by grupojuveniljppss.
Whether it's to enjoy the perfect climate, art, scenery, festivals, food, or people, Medellín is a fascinating destination filled with cultural attractions!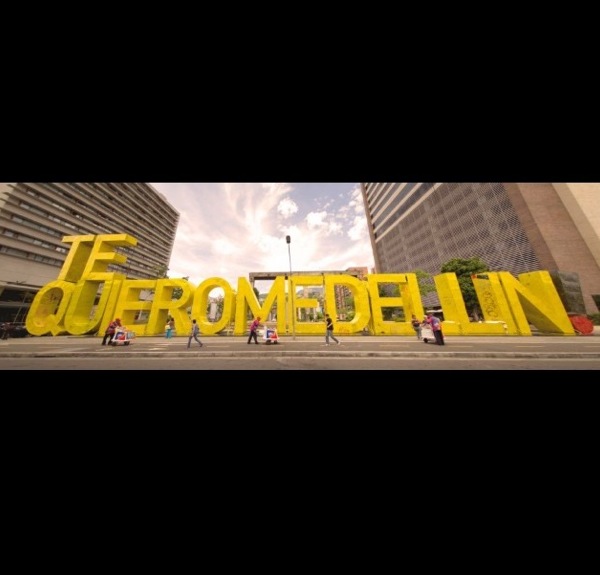 Photo by insta_medellin
Feature photo by Pedro Szekely
ABOUT THE WRITER
Caroline King is a writer based in Buffalo, NY and is always looking for her next adventure. She enjoys traveling the world and writing about her life experiences. She loves pursuing the web for inspirational and meaningful content, but often finds herself getting distracted by watching compilations of people falling on YouTube and planning dream trips on travel sites. When she's not writing or cruising the internet, she enjoys taking bike rides, reading, watching hockey, theatre, trying new food, and having good times with good people. Check out more of her writings on her blog, http://kingsreflections.wordpress.com