Madi Jahangir takes us on an armchair tour of Tehran, Iran's most culturally diverse, modernized city famed for its gardens, cafes and thriving art scene. 
On your first day here, seeing this is a must:
If you are interested in archeology and the ancient history of the country, you can satisfy your curiosity at the National Museum of Iran. The museum presents many old national antiques and art pieces, with the oldest dating back to the Lower Paleolithic period. It is not only a good place to understand the history and diversity of Iran, but the museum is also ideally located close to Tehran's vibrant grand bazaar, the beautiful Golestan palace and the dazzling Treasury of National Jewels – it also spares you from walking among the traffic and crowds as you acclimate to the city.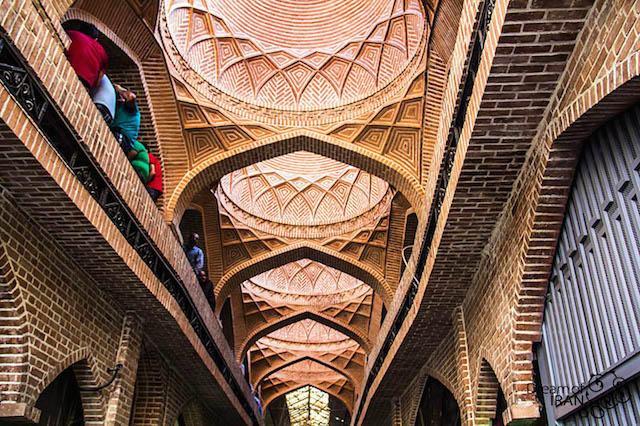 Most people don't know this, but to get a true taste of the local culture…
No doubt walking the pavements in Valiasr, the longest street in the Middle East. Valiasr's beautiful tree-lined exterior is the reason why Tehran was given the nickname "The City of Plane Trees". The three-lane, 18 kilometer road, which stretches from northern Tajrish Square to southern Rahahan (Railway) Square, is by far the most beautiful street in the capital and hosts a variety of shopping centers, public gardens, museums, hospitals and cultural centers. It also passes through several neighborhoods — from modern areas in the north to more humble areas in the south — offering a small glimpse of Tehran's cultural diversity, urban landscapes and dynamic lifestyle.
For a glimpse of daily life, I recommend this form of transportation:
Tehran Metro is the most comfortable, clean and convenient form of transportation in the capital. The metro, which is still under plans for expansion, carries more than 2 million passengers a day and the price of a one-way ticket can be as inexpensive as 10 cents. (Nothing in comparison to some other cities I've been.) Visitors also have the opportunity to admire sculptures, mosaics, scriptures and calligraphy installations, which decorate the corridors. The 700 artworks installed in different stations have transformed Tehran metro into an underground museum of Iranian art. So while traveling to different areas of Tehran, keep in mind that the metro stations can be destinations themselves.
I had my best night's sleep at:
I would recommend Sepehr apartment hotel, a boutique property located in Elahiyeh. The hotel is very close to Tajrish square and Tajrish metro station in north Tehran. It is perhaps the finest apartment hotel in the city with beautiful works of art inspired by ancient Iranian scripts. The hotel provides online reservations through Visa and Master card, which is rare in Iran due to Western sanctions.
Other options are Espinas hotel on Keshavarz Boulevard, Tehran's Grand hotel, Laleh hotel, Esteghlal hotel or Kowsar hotel. Espinas is part of an international hotel chain and is located near Valiasr square making it very easy to access many attractions from there.
The meal at this local eatery had me salivating for days:
Iranian food is fun. You don't believe it? Then try Divan restaurant, for delicious food and excellent service. The restaurant's interior is luxurious, but more in an Iranian contemporary way than outdated and ancient. For a traditional Iranian Chelo Kabab, I would definitely recommend Sharaf-ul-Eslam – the food is great (and cheap) and it's located in the heart of Tehran at the grand market. The restaurant is usually crowded, especially at lunchtime, and the service could fail to be perfect for the same reason, but it provides an opportunity to socialize with locals.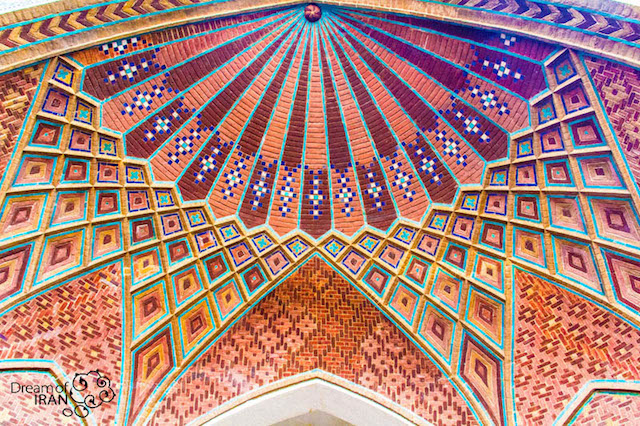 Best place to find artisan handicrafts:
Tehran's carpet market. The carpet market is a historic mall and a branch of Tehran's Grand bazaar. It is always an amazing experience to walk though the narrow streets of that area and haggle for the best price with sellers. Some of the shop owners speak English and some don't, but most of them are patient enough to pull out rugs one after the other until the colors and design satisfy you.
For other Iranian handicrafts, you can find several handicraft stores in Nejatullahi (Vila) street close to Karimkhan Bridge.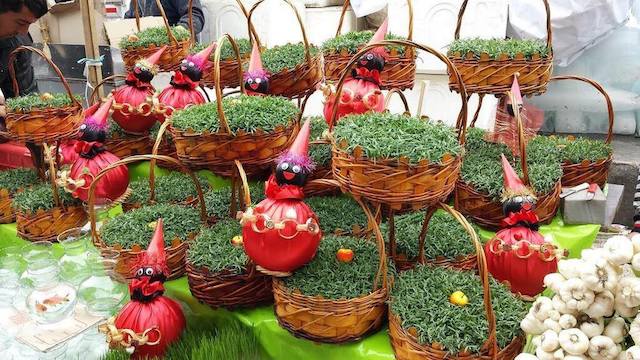 Photo by Sidewalklyrics
Local celebration not to be missed:
Nowruz (March 21 to April 3) might not be the best time to travel to Isfahan, Shiraz, Mashhad and northern Iran because of the crowds and expense of traveling during the New Year, however it is the best time to wander in Tehran and explore the beauty of the Iranian capital without having to endure packed streets and traffic jams. Blue sky shines again and the mountains are clearly visible from every part of the city. The streets are adorned with Nowruz decorations and markets and festivals are held in various parts of the city such as the popular festivals in Milad tower.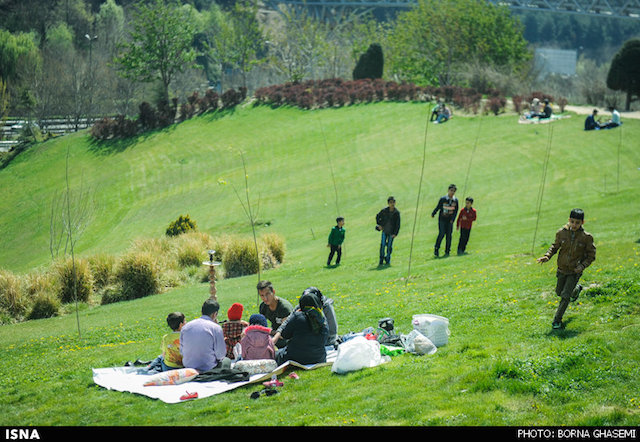 Favorite pastimes:
Tehran has always been famous for its gardens and water canals. Although the wild growth of the capital forced much the greenery to be replaced with skyscrapers, many gardens still exist throughout the city. Nowadays, one of the popular pastimes for locals is spending time in Tehran's Persian style gardens where flowers blossom throughout the year. There is no entry fee for most of the gardens and people can easily access the facilities for free. My favorites are the Water and Fire garden inspired by the story of Abraham the prophet; the Mellat garden, home to the first musical fountains in Tehran; the Laleh garden where Iran's National Rug Gallery and the Tehran Museum of Contemporary Art are located; and the Dialogue garden where a statue of the Virgin Mary is on display.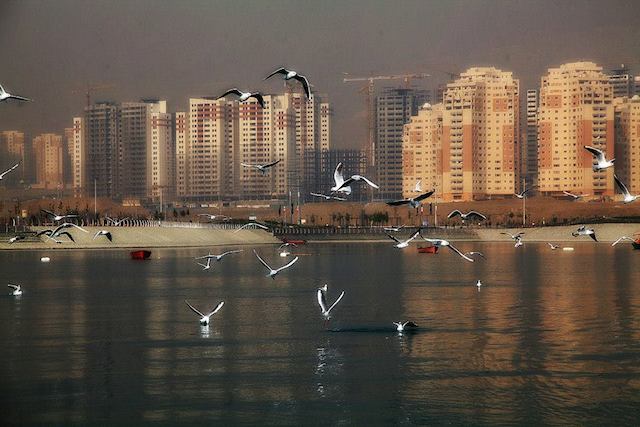 Photo by Amir Golipour
For a more bucolic/green setting I escape here:
One would never imagine that migrant birds would choose the crowded noisy streets of Tehran as their seasonal home, but last fall, I was surprised to find out that seabirds were the new inhabitants of Tehran's Persian Gulf Martyrs Lake, the largest artificial lake in the Middle East. Perhaps they could find the solace and comfort that I felt when I visited the place. The landscape surrounding the lake is indeed amazing and a rarity in this urban metropolis. I see it as Tehran's breathing lung.
Tehran's Lavizan Bird Garden is another great place to unwind. The Bird Garden is the largest of its kind in the country, housing approximately 250 types of birds. The design of the garden is very unique and offers many peaceful places to sit, listen and admire its inhabitants.
Other places to escape are Darakeh and Darband, beautiful hiking spots in the summer turn ski resorts in the winter. The base of the trails is flanked with teahouses and stalls that serve up traditional fare and offer breathtaking scenery of the mountains.
The art/music scene is alive and well here:
Tehran's City Theatre. The architecturally stunning complex is perfectly located inside the Daneshjoo garden at the Valiasr crossroad, which makes it easily accessible via metro.
Tehran's Museum of Contemporary Art is other option for viewing works from contemporary Iranian artists.
If you have more time, pay a visit to Iran's Artists Forum at Tehran's Artists Garden. From theatre, to photo exhibitions and concerts, there is always something going on in one of its seven galleries and halls. You can also enjoy a vegetarian dish in the garden's restaurant while spotting famous artists of Iranian cinema.
Local cafes not to be missed:
For a taste of the Iran of years ago, go to Cafe Naderi, one of the oldest cafes in Tehran located on Jomhoori Street. It was founded by an Iranian Armenian almost a hundred years ago as a rendezvous spot for poets, writers and artists. Nowadays, it is where many residents of Tehran go for a nostalgic experience.
If you are looking for cultural inspiration, go to Cafe Mania, a small cozy place located on Fatemi Street in the basement of a mini mall with lots of books and a friendly attitude. Other than serving as a café, exhibitions and activities are held regularly there branding it a modern cultural meeting place.
You can also find great traditional Iranian cafes in Darakeh.
If I had only 24 hours to explore Tehran I would:
Have Haleem (an Iranian wheat pudding) for breakfast at any local cafe in Tajrish. Then take the BRT (Bus Rapid Transportation) and head down to Valiasr Street to Valiasr Square. Spend some time wandering the pavements, stopping to browse the shops or have a cup of tea (this is one of the best ways to see daily life in Tehran). Then take the Valiasr metro to Tehran's Grand Bazaar for some carpet shopping while wandering what is possibly one of the oldest markets of its kind in the world. From there, explore the beautiful streets that lead to Golestan Palace, the Treasury of National Jewels and Iran's National Museum to learn more about Iran's cultural heritage and the country's historical role in shaping one of the world's first civilizations. Around lunchtime, treat yourself to a traditional Iranian Chelow-Kebab at Sharaful Eslam restaurant.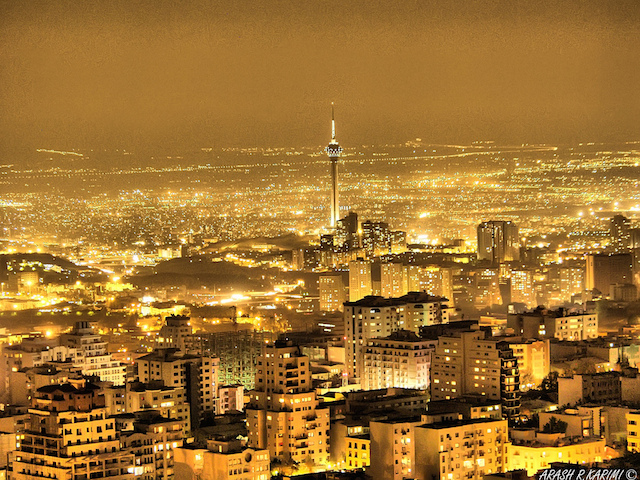 To really grasp the immensity and magnificence of Tehran, you do not always need to explore the city through its crowded streets and impressive palaces. Rather, soak in a magnificent panoramic view of the city at night from an open observation deck atop Iran's tallest skyscraper, Milad tower.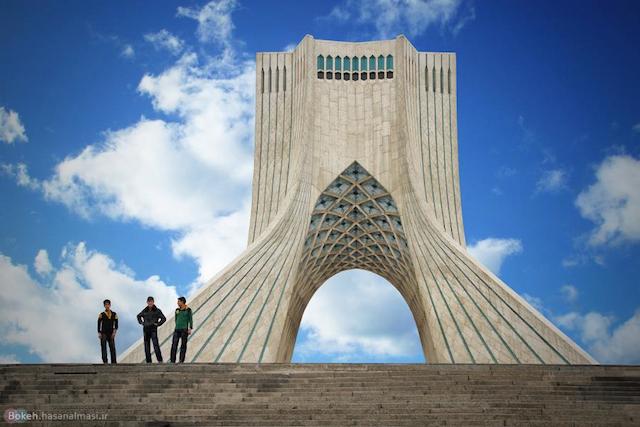 Photo by Hasan Almasi
And to add a bit of silliness and fun to your experience don't forget to take a picture of you and Tehran's most notable landmark, the Azadi Tower. It is perhaps the most popular touristic activity in Tehran. Just think of it as documented proof that you've been to Iran. Then you can show your photo in front of Azadi Tower to friends and say: "Look, I had such an amazing time in Tehran and I'm wishing to be back soon!"
 About the Writer
Madi Jahangir is an Iranian travel writer, photographer and MBA student. She writes about ancient history, breathtaking landscapes and the diverse culture of her beautiful country, Iran, at: www.DreamOfIran.com