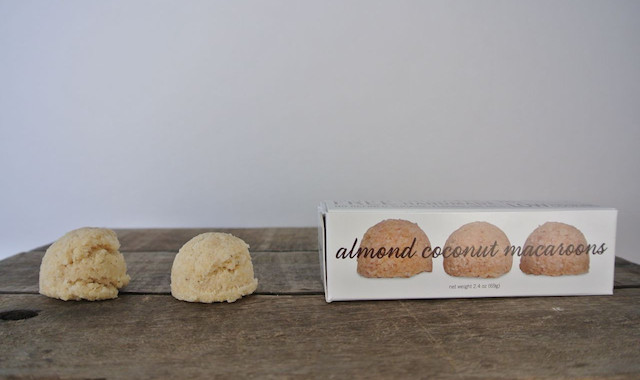 By Maria Russo
For my gluten-free people, or for my people who just love a deliciously healthful snack, I've got something for you.

How about some perfect little bites that combine rolled coconut layered with buttery almond meal and hints of ambrosial vanilla bean? "Um, yes please" (that was me answering for you — I got your back).

These fabulous little treats, made by
Sweet
., are  handmade and exclusively contain certified organic, nutrient-dense, virgin, and certified raw ingredients. You won't find any processed flours, processed sugars, gluten, animal or dairy products, or genetically modified additives in their products, and only low-temperature cooking methods are used. I told you I got your back.
WHERE TO GET THIS PRODUCT FOR A BETTER WORLD:
Sweet.'s Almond Coconut Macaroons can be purchased here
WHAT WE LOVE
This is clean, nutritious food at its best.
WHY YOU SHOULD SUPPORT THE LINE
Sweet. goes to great lengths to source the finest ingredients they can find from companies that support sustainable farming practices, fair and equitable trade systems, and profit sharing/cooperative business models.
OTHER PRODUCTS WE LOVE:

Mullein & Sparrow Detox Tea Blend 

Buddha Chocolate

THRIVE Coffee 

Long Miles Coffee
Photo: Gluten-free coconut macaroons via Farm to People