By Maghen Quadrini
Many will tell you that next to travel, chocolate is a girl's best friend (at least for most of us Culture-ists ;). Figuring out what chocolate sweets are worth indulging in can be an intimidating process. One aspect worth considering is that many chocolate brands come with a fair trade certification – ensuring that the chocolate is ethically sourced and crafted means farmers are paid fair wages and work in a safe environment. Some of the world's most luscious chocolate is grown sustainably and is likely more decadent and flavorful than your traditional favorites. The passion and care that is required by the producers and artisans who dedicate their lives to producing the highest quality, ethical chocolate gives you a chance to savor something extra sweet this year for all the right reasons.
For the staff at Theo, chocolate isn't just a product; the company's small batch production is truly an art form. Since 2006, Theo's been making the highest quality chocolate from some of the world's best cocoa beans, grown in the most sustainable ways possible. The company is the only organic, fair trade, Fair for Life certified bean-to-bar Chocolate factory in North America.
V-day Indulgence
The Big Daddy Marshmallow– Three colossal organic and fair trade confections that will have you moaning with each bite. Theo starts with a handmade graham cracker crust, adds a layer of buttery vanilla infused caramel, and floats a fluffy marshmallow cloud on top. Enrobed in dark chocolate, and decorated with an alderwood smoked milk chocolate flourish.
Marushka Chocolates is a pop-up shop and up-and-coming online resource about chocolate. Their high quality confections are wrapped in sustainable packaging and made with Chocolate Cordillera, a direct trade, single-origin chocolate from Columbia. There is a direct relationship between the farmers and purchasers where farmers are paid premium prices for their beans in return for producing a quality product. The relationship supports the whole community ensuring workers are paid fair wages, transforming land once used for growing cocaine into cacao forests, and even buying a fire truck for a village.
V-day Indulgence
Sweetheart Box – A gorgeous box of chocolates that includes a gift card with a Valentine's message in your own sweet words. Flavors such as Honey White Chocolate, Chocolate Almond Crunch, Coffee Cardamom, Cognac Caramel and Jasmine Pearl Tea are truly the perfect little present in itself.
For generations, family farms in Ghana have produced high quality cocoa through the process of Ghanaian farmers harvesting rip cocoa pods by hand, fermenting the beans between banana leaves right on the forest floor and then drying them in the warm African sun. Omanhene dark milk chocolate ingots contain more chocolate liquor — the non-alcoholic essence of the cocoa bean — than any other milk chocolate in the world. The word "Omanhene" (oh-mahn-hee-nee) comes from the Twi language and is the title of the traditional king or chief, the repository of ethical and moral authority in Ghana. These chocolates have attracted international sweet-toothed critics from The New York Times to NBC's Today Show.
V-day Indulgence
The Baker's Special– This melange of chocolate products includes four tins of natural cocoa powder, cocoa butter, cocoa liquor and extra dark baking chocolate – you'll have all your chocolate bases covered!
A gluten free chocolate option! Founded in 1999, Camino is owned by La Siembra co-operative in the Ottawa-Gatineau region of Canada. La siembra is the Spanish word for 'sowing' or 'planting time'– a symbol for the seeds of change in working with fair trade business models. Camino's 100g chocolate bars top the list of leading organic and free trade chocolate bars in Canada. With 16 flavors to choose from, Camino products are sourced and produced from organic ingredients and environmentally conscious family farmers.
V-day Indulgence
Cacao Beans – Dark chocolate (70% cacao) + cacao beans + a sprinkle of cocoa powder = a most divine chocolate treat. The crunchy goodness of whole cacao beans are combined with a velvety smooth coating of dark chocolate and a light coating of cocoa powder. This treat is certified organic, fair trade certified, certified kosher and gluten free. This delicious treat has enough chocolate to satisfy even the most serious chocoholic's sweet tooth craving.
Many experts consider Madagascar cocoa the best in the world due to its genetic variety and the island's rich soil, so the bars "" some of the world's finest chocolate "" can be sold at a high price. Madécasse generates four times more income than fair trade cocoa because all of the chocolate production takes place only a few hours away from where it is organically and sustainably harvested. Once hardened and wrapped, the bars are shipped off directly to the distribution locations. Workers are paid above the "fair" price and are provided job and skill training.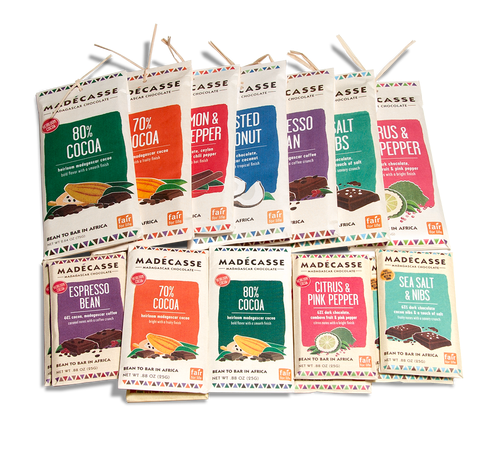 V-day Indulgence
Chocolate Lovers Gift Set– Reserved for only the most serious of chocoholics, the  includes nine full bar varieties of sea salt & nib, toasted coconut, 70% cocoa: pure dark chocolate, cinnamon + chili pepper, citrus and pink pepper and ten mini bars including dark chocolate varieties such as espresso bean.
Alter Ego is based on the premise that food is fundamental to life – and whole, healthy, delicious food can make life better for people all over the world. In addition to the ethical sale and production of chocolate, they work with small scale farmers who grow quinoa, rice, sugar and cacao through fair trade and organic practises. They pride themselves on fostering a livelihood that has created a system of improving quality of food and quality of life – therefore benefiting everyone involved. By working at all levels to produce ethically, Alter Ego contributes to a future that is fair, prosperous, healthy and delicious.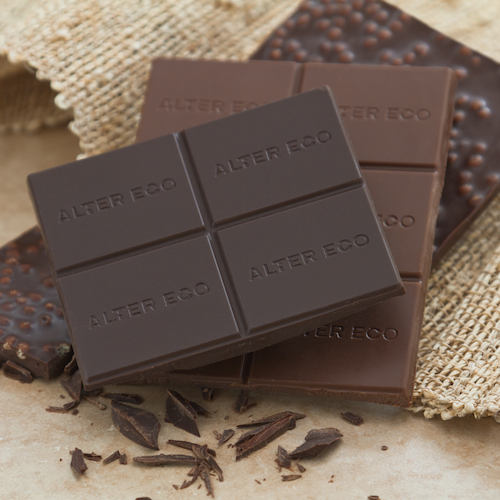 V-day Indulgence
Dark Velvet Truffles– Their newest creation – a rich, dark chocolate center nestled in a soft, creamy wonderland of Peruvian dark milk chocolate. Made with pure coconut oil and compostable wrappers, they've created a chocolate that has proven health benefits as well!

John & Kira's is a socially innovative chocolate company dedicated to both making and selling world class confections and promoting positive social change. Their products highlight ingredients from small family producers and urban gardens. Currently, their honey comes from Draper's Apiaries in Millerton, PA; the Organic lavender from Harm's Vineyards & Lavender Fields in Napa, CA; their fresh raspberries and strawberries from Farmer Glenn in Green Meadow Gap, PA; and their shade grown coffee from Mut Vitz, a worker-owned Fair Trade cooperative in Chiapas, Mexico — and these are only a FEW of their partners. The company's Urban Garden Program sources local ingredients from student farmers living in urban areas.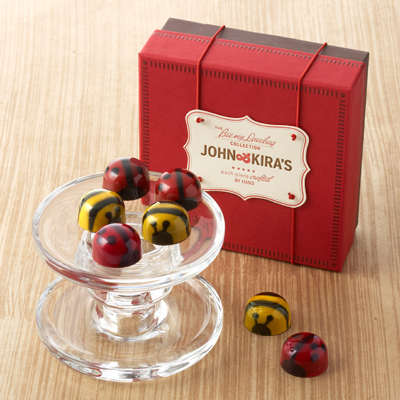 V-day Indulgence:
Bee my Lovebug– This almost-too-cute-to-eat 16 piece set of honey caramel bees is made from salted caramel drizzled with fragrant basswood honey. Valrhona 64% chocolate is melded with fresh cream and sugar to perfect the ganache that fills the Lovebug. The adorable treats are hand painted and beautifully packaged with a delicate letter pressed card.
Feature photo via Marushka Chocolates