By Aimee Millwood
Oriberry, a sustainable, single-origin coffee brand based in Vietnam, produces high-quality coffee with meaning. Through the local NGO Advancement of Community Empowerment and Partnership, CEP (ACEP), Oriberry increases opportunities for rural, indigenous farmers. Oriberry helps farmers who are often disadvantaged by geographic remoteness, language barriers, and lack of access to education and technology establish sustainable practices, increase production and profit, and improve coffee quality.
ACEP first got involved in coffee production while working in some of the poorest agricultural regions of Vietnam, such as the Huong Hoa district, the Quang Tri province, and communities in North Central Vietnam. They wondered why these areas were impoverished despite being rich with agricultural opportunity.
They found the problem began with the farmers' practices – because they only sold the cherries and had no responsibility for the final product, they did not care about the quality or sustainability of the coffee.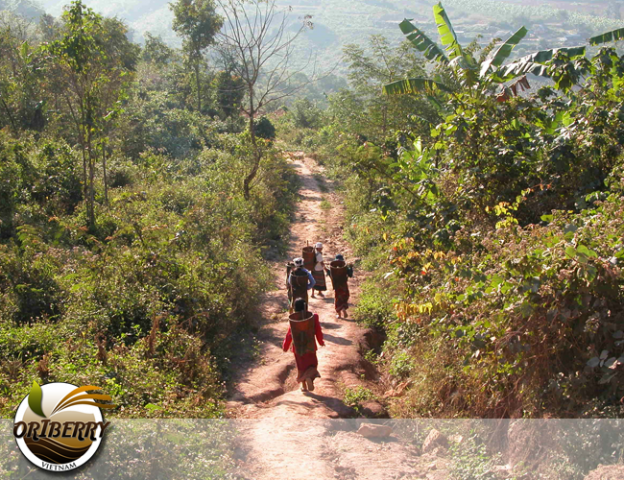 "It is important the farmers share the responsibility of the final product," Dao Tran Phuong, director of ACEP, said. ACEP educated farmers about good practices, and as a result, they saw the quality of coffee improve. They began roasting the single-origin coffee and packaging it under the brand Oriberry (or "Original Berry"). Oriberry products are currently sold in their two Hanoi, Vietnam, locations, Indigenous (36 Au Trieu Hoan Kiem, Old Quarter) and Oriberry (25 Xuan Dieu, Westlake).
"The brand provides quality certification; and naming the coffee packages after the region in which they were produced give farmers accountability," Phuong said.
Oriberry strives to build up farmers' pride in the coffee they are producing, and has also established a UTZ-certified farmers' co-operative to increase farmers' profit. Selling to the co-op always earns at least 15 percent more than selling to the local market, and last season farmers were able to earn 40 percent more. However, Phuong feels the most important change for the farmers is not more money, but more options.
"You are poor when you cannot say no to something; when you have no other options," Phuong said. "When we have more buyers to come to work with farmers, they have more opportunities to take."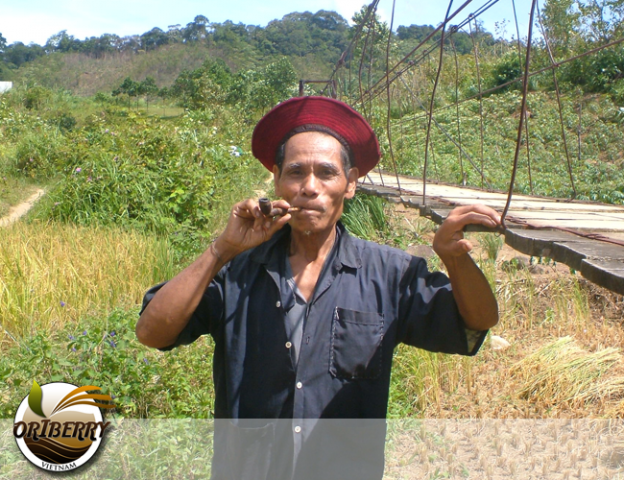 Before, farmers could only sell to the main three companies that monopolized the market. "Now, the farmers can produce a lot of coffee and sell all to one company or they can contract with different small roasters," Phuong said.
By establishing a parchment processing line, farmers can choose whether to sell the cherries or produce the parchment themselves.
"Before, the farmer just sold the cherries, and they didn't share a commitment to the coffee bean or the coffee roast. Because they didn't share that responsibility, they didn't care about good practices," Phuong said.
In addition to diversifying the market and improving practices and coffee quality, Oriberry has also implemented a variety of community development projects. They have improved transportation routes to ensure remote communities with extreme seasonal weather have safe, reliable access to city centers and they created a youth development program to improve the living conditions of children in impoverished coffee regions.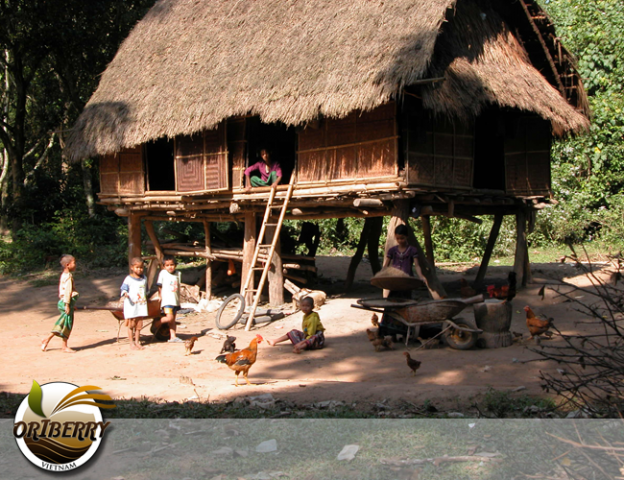 "These children often don't have a place like a kindergarten, so they go with their parents to the coffee fields," Phuong said. "The farms often use pesticides that could affect the children."
Oriberry has built kindergartens and trained teachers in the languages of the indigenous people. They have also set up play areas, brought toys to the children, and established a nutrition program for malnourished youth.
"It is a very simple system," Phuong said. "We weigh the children every month to identify who is in malnutrition and who is not. Two times a week, the malnourished children take cooking lessons and eat with the healthy boys and girls in the community."
The following month, when the children are weighed, the ones who recover leave, and those who don't stay in the program until they improve.
"In one year, the only malnutrition left is with children who have medical problems and need special treatment," Phuong said.
This year, Oriberry plans to partner with Australian grassroots charity Blue Dragon to set up a barista training program for street children.
About the Writer
Aimee Millwood is a writer with wanderlust who currently lives in Hanoi, Vietnam. She graduated from the University of California, Santa Barbara, where she received her BA in Literature with an emphasis in creative writing. She believes everyone has a story to tell and is interested in the use of personal narrative to give voice to people whose stories are not always heard. She credits growing up in both Hawaii and Georgia with her constant desire to explore the concept of home and how places shape who we become. Although she has spent the past two years traveling in South America, the Middle East, and Southeast Asia, she believes a physical trip is not the only means of travel – at times, just the wind on your face during a long drive or the scent of a campfire can rejuvenate the soul. You can check out more of her work on her blog, www.stopdroptravel.com.