By Jessica Festa
"Will you be joining us for breakfast?" asks Katja, a pleasant smile on her face.
As scents of Vermont maple syrup, sizzling bacon and fluffy pancakes fill my nostrils, I don't need to think about the answer.
Katja Matthews is the General Manager of Windham Hill Inn, a charming hotel wonderfully located in the middle of nowhere. My cell phone doesn't work for miles, and connecting to Wi-Fi is impossible. Being disconnected, however, only gives me more time to enjoy the wealth of onsite hiking trails, farm-to-table dining and a world class wine program.
Farm-to-Table
I sit down and a waitress pours me a steaming cup of green tea. While there is plenty to enjoy on the three-course breakfast menu — from pancakes to French toast to eggs anyway you'd like — my eyes are immediately drawn to the Windham Omelet. Stuffed with melted Vermont feta, plump mushrooms and fresh spinach and served with golden potatoes, thick slices of whole grain bread, various homemade chutneys and succulent sausages, the meal offers an array of flavors, while the homemade granola and Greek yogurt gives me a healthy dessert-like ending.
Slowly savoring each bite, I realize I've never really had spinach or potatoes before, not like this anyway. After asking Executive Chef Graham Gill about the ingredients on the menu, I learn I really am getting some local flavor. While the maple syrup I had dipped my toast in comes directly from a farmer in Townshend, the cheese in my omelet has come from the nearby Taylor Farm.
"Using local produce allows us to get the freshest products to use on our menu," explains Chef Gill. "We know from which farms the produce is coming from and they are mostly organic which is what our customer is looking for. We stay seasonal with the ingredients and can change the menu as needed."
Around noon each day, Chef Gill heads to the garden to pick out produce for dinner. I decide to go for a quick hike and get back in time to join him. Today a flavorful "Vegetable Wellington," the vegetarian version of the traditional beef fare, as well as a thick gazpacho soup are on the menu. We pick red peppers, tomatoes, basil, butternut squash and garlic cloves before heading into the kitchen, where I watch him work his culinary magic. As he washes, chops, slices and dices without taking a breath, I watch in amazement as he transforms an array of vegetables and spices into a hearty, country-inspired meal. It is farm-to-table at its finest.
Southern Vermont
While Windham Hill's approach to dining is commendable, it's also a representation of the larger area.
"Many local restaurants are doing this," explains Chef Gill. "Everyone tries to support one another and the local economy."
While it's rare to find inns with the flawless charm and moral ideology Windham Hill Inn lives by, "going local" is the unofficial slogan of southern Vermont. In fact, the abundance of artisanal chefs, winemakers, brewers, farmers, craftsman and artists often remind people of the American version of Tuscany, a region of old-world charm, fresh food and simplicity that enhances the locals' way of life. At any restaurant or cafe, it's almost guaranteed that you're eating ingredients from community farmers.
Heading from the inn to the nearest "bustling" town of Brattleboro — which is only 32.4 square miles in size —  I immediately know this is a town where people look out for their neighbors. Signs asking patrons to go local are posted on every storefront. Instead of quick production, the people here are concerned with health and quality, allowing you to immerse yourself in a world of small boutiques, artisanal cafes and colorful art galleries.
Businesses here don't outsource; if they need something they buy it from another company in southern Vermont. At Amy's Bakery Arts Cafe visitors can enjoy fine pastries and artisanal breads and coffees, while Whetstone Station Restaurant and Brewery  operates under a farm-to-table philosophy. Moreover, Altiplano sells eco-friendly and fair-trade clothing, gifts and accessories, Verde for Garden & Home  sells outdoor furniture made from recyclables and Borter's Jewelry Studio uses Vermont gemstones to create handmade pieces. Even the world-famous Grafton Village Cheese Company, in nearby Grafton, sources the dairy for their raw milk cheeses from small family farms.
Wine Pairing
Back at Winham Hill Inn for the evening, I decide to take advantage of their wine pairing dinner. With about 5,000 bottles of wine on hand for guests, Windham Hill takes the time to locally source quality wines, as well as a variety of international varietals. Some wines date back to the 1960s, and others are still being aged in their expansive cellar. Five times each year, the property works with winemakers and winery owners to organize tastings and educate its guests about wine.
Dan Pisarczyk, the inn's restaurant manager and wine director, pours me a Rhone Blend of Edmunds St. John "Rocks and Gravel" from California, 2005. I don't take a hasty swig as I normally would. Instead, I sip it slowly, letting it takeover my palate and senses.
I relax and reflect on how this trip has taught me to appreciate quality, carefully selected products. And as I eat the paired Vermont venison loin with herb spaetzle, I smile knowing I'm dining on something locally-sourced and thoughtfully prepared.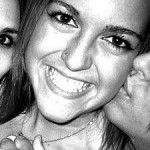 About Jessica Festa
Jessica Festa is a full-time travel writer who is always up for an adventure. She enjoys getting lost in new cities and finding places you don't see in guidebooks. You can follow her adventures on her travel website, Jessie on a Journey.
Featured photo:
pancake: by adactio/flickr
vegetable: by cheeseslave
jam: by _NVA_
cheese: by bert_m_b
All other photos by Jessica Festa