By Kimberly L Bryant
Uganda's vibrating capital city of Kampala has been my home for the past four months. With its all-hours nightlife, nearby natural landscapes, and up-and-coming contemporary art scene, the sweet roll of Kampala has kept me on my toes.
Some friends of mine say this place is a quintessential example of an African city because of its innate inclination to divulge its authentic chaotic nature. Whether it's the bustle of the hectic city streets, the whiz of motorcycles rolling by, or the constant swells of dirt and dust, Kampala lets it all hang out. And yet, also revealed in this mania is a vibrant, raw energy that keeps the city humming along at an addictive pace.
There's a buzz throughout the town that's no less evident in the booming nightclubs than in the hustle of the morning markets and street-stall vendors shilling merchandise for whatever your bargaining skills can muster.
Within this urban cityscape lies several Western-style shopping malls, including Nakumat and Garden City, where higher-priced fashions are available. But it's in the countless street markets where the majority of the locals find their clothes, food, and anything else their hearts' desire for a cheap price. The uncontested granddaddy of these markets is none other than the infamous mass of mayhem referred to, lovingly, as Owino.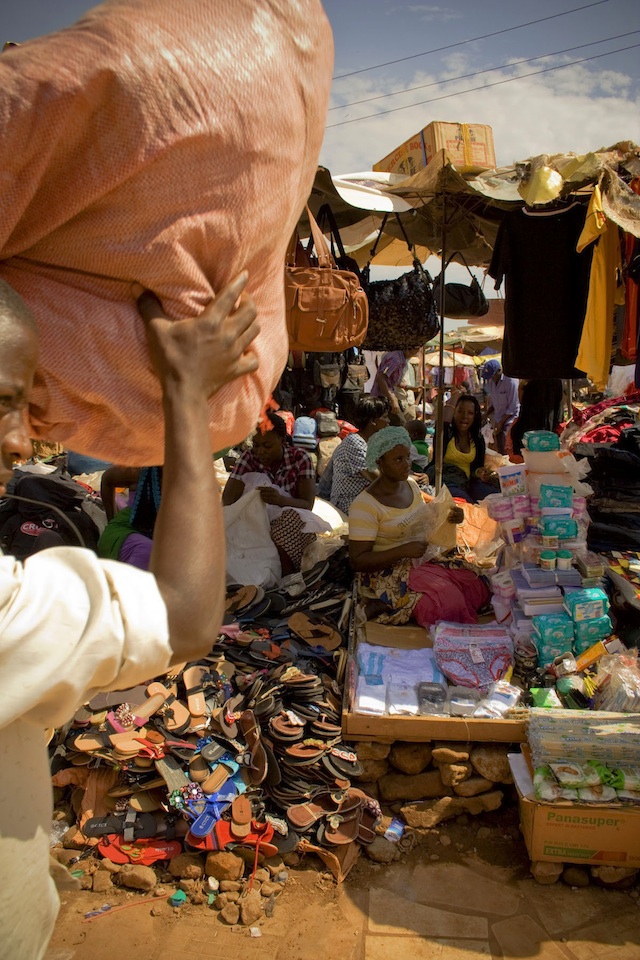 Fantastically immense in scale, this second-hand market is the largest of its kind in Africa "" on a daily basis, more than 100,000 people shuffle through its narrow, crowded alleyways, piled high with products of all sorts. Astoundingly, this number even doubles on holidays. With over 500,000 vendors "" the majority of whom are female "" the maze of Owino reeks with retail zeal, as pandemonium ensues from the yelling bodies, layers of merchandise, and the exchange of money happening hurriedly between hands.

The majority of items at Owino come second-hand from Europe, which creates an interesting dynamic, experienced differently by locals and foreigners. The latter often shops here to obtain brands with which they're familiar, for exceedingly low prices. On the other hand, many Ugandans who shop here cannot afford the cost of fashion sold in upscale shopping malls and, as such, have little choice in wearing the hand-me-down European clothes they find at Owino. It is, unfortunately, quite rare to see traditional African clothing worn in Kampala these days; even in the villages, many of the people wear second-hand European clothing simply because it is by far the cheapest option.
Owino also has its own dramatic past: in February, 2009, a section of this vast market was ravaged by a devastating fire that destroyed scores of merchandise, leaving many vendors jobless and defeated. Images taken during the aftermath provide a very different picture of the market than what I experienced on my sunny Saturday morning visit this past weekend.
Though foreigners do come here to acquire thrifty steals, I didn't witness any other muzungus (a term for "˜white person' in Uganda, and literally means "˜aimless wanderer') winding their way through the crowds as I gracelessly fought my way through. Almost instantly, I regretted going by myself; it's an overwhelming venue for one person to inhale alone "" within minutes I'd gotten lost. As I awkwardly rebuffed offers flying at me from all directions for shirts, beans, pots, and towels, my ears rang with the sweet noise of a place so loaded with drive.
On a bright day, and armed with a well-whittled shopping list, the natural push and shove of Owino's flow will put some worthwhile fire in your belly, and verve in your step. Compared with my myriad market experiences in Vietnam, Thailand, and India, Uganda's Owino takes the cake for the amount of hustle and havoc per square foot. Make no mistake; these different markets are all wild with life: inhabited by rich color, smells, sounds, and most of all people. And yet, and the powerful hustle contained within Owino's wavering walls, paired with its overall omnipresence, remain unmatched.
 ABOUT THE PHOTOGRAPHER
Kimberly Lauren Bryant is a documentary photographer and visual artist currently based in Africa. Originally from Canada, she holds a degree in Visual Arts from the University of British Columbia and is a photography graduate of The Compelling Image. Specializing in creating unique imagery with a focus on bold color and pattern, she finds inspiration in film, art, and everyday life. With interests in travel and visual anthropology, her passion for creative expression shapes who she is and how she interacts with the world. Whilst continuing her long-standing love affair with visual language, Kimberly enjoys soaking up the myriad colors, sounds, and sights on offer around the world.