The Catskill Are Calling
By: Madeline Weinfield

Just two hours north of New York City, the Catskills are a rural retreat both within reach of the concrete jungle and an entire world away. The past several years have seen the region explode with new and reimagined restaurants, shops, cideries and breweries and the pandemic continues to push city-dwellers to the region seeking weekend escapes and mid-week work remotely jaunts. With a hotel scene that seems to be growing each month, the Catskills are calling like never before. Here's our top five choices of where to stay.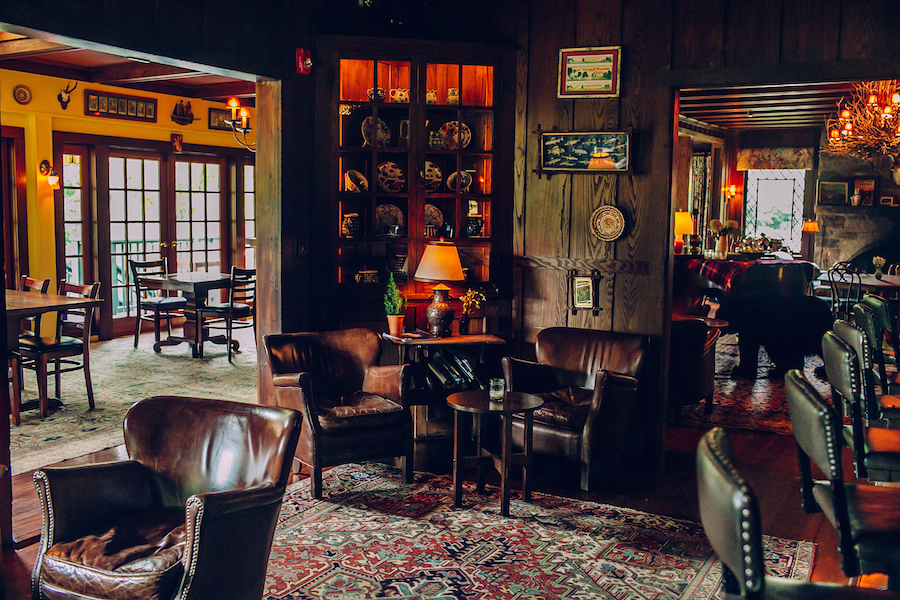 Deer Mountain Inn
Tannersville
This arts and crafts style 1880s hotel, reminiscent of an Adirondack Great Camp, is a handsome, heavily tapestried mountain lodge in the northern Catskills town of Tannersville. Originally a private home, and one of the 80 "cottages" of Onteora, a private club which once played host to American luminaries like Mark Twain, Maude Adams, and George Bellows, Deer Mountain Inn is set on nearly 200 sprawling acres of wooded trails, meadows, and lovingly tended gardens.
Popular throughout the year—in summer for hiking, in autumn for leaf peeping, and in the winter for its proximity to Hunter Mountain, Deer Mountain Inn is also infamous for its Halloween and New Year's Eve parties. The Inn has a romantic yet family-friendly vibe where days can be easily spent on the hammocks underneath the trees and evenings by one of the many outdoor or indoor fireplaces. It's a gilded age end-of-the-industrial-revolution gem stuffed with William Morris print sofas, leather club chairs and textiles on virtually every surface. Hudson River School paintings in gold frames topped with picture lights line the walls. It's painstakingly decorated in such a way that it looks like the original owner just stepped out to go back to Albany or New York City, leaving his home at the disposal of his dozen or so guest.
Although this is a mansion by most standards, the bedrooms at Deer Mountain Inn are on the small side, but the expansive dining and bar rooms and grounds make you look past that. The large third floor attic is a communal room stocked with books (a mix of Shakespeare's plays and "Modern Farmer" magazines), a beer and wine honor bar, tv and pool table. The restaurant is open Thursday through Sunday although daily breakfast is provided for guests. The Inn's six guest rooms fill up quickly. An annex four-bedroom house is available for a full buyout and plans for tree-house style cabins are in the works.
The town of Tannersville (about a five-minute drive) is pretty sleepy with a few shops and restaurants mostly catering to the weekend crowd. Worth exploring is The Mountain Top Arboretum which is aglow in local wildflowers and trails. There is also a trail network that begins on the Inn's property. You can connect the trails to make for short half hour stroll to a several hour-long excursions.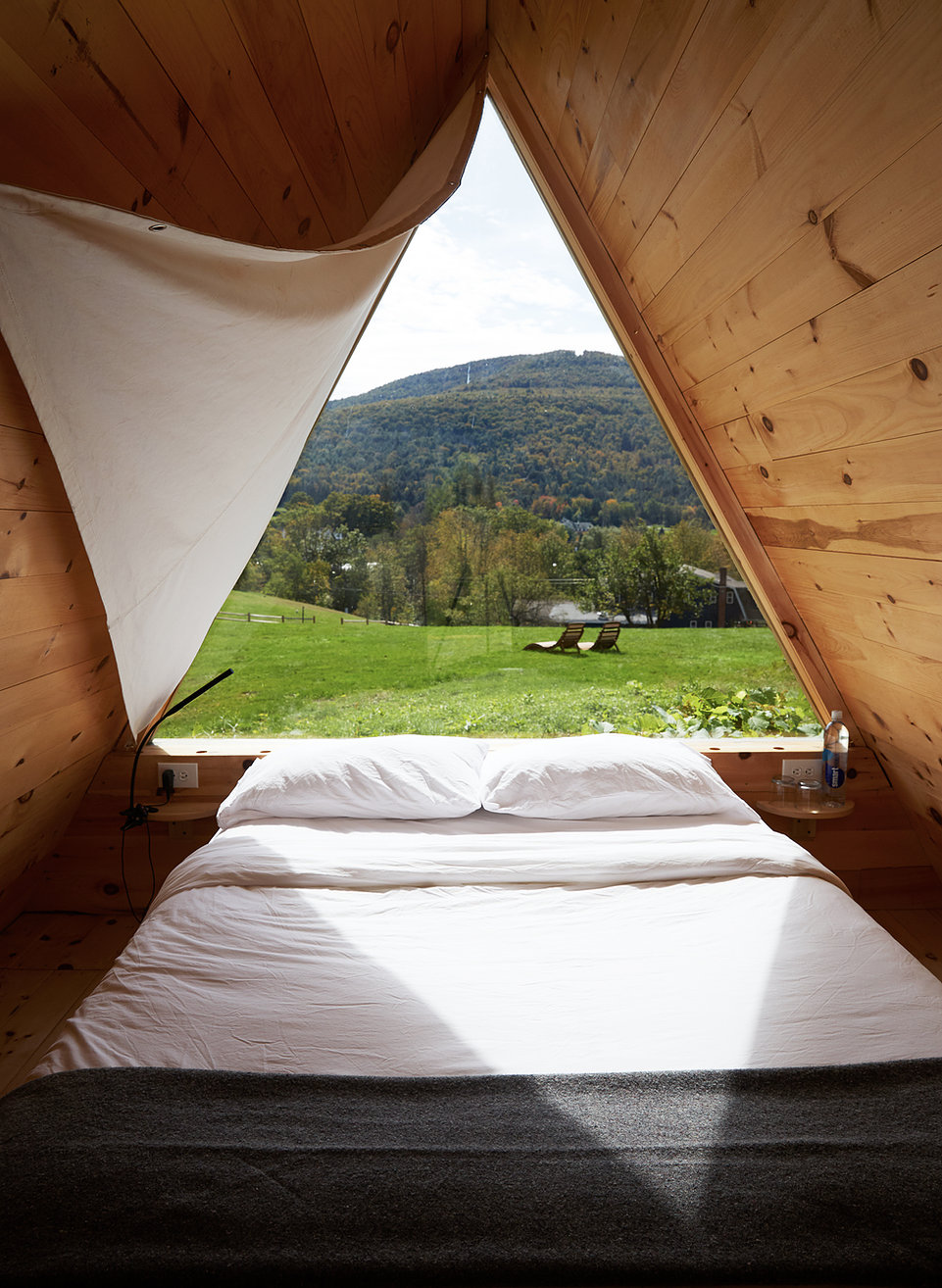 Eastwind Hotel and Bar
Windham
Eastwind Hotel and Bar, like many of the recently renovated and reopened properties in the Catskills, is a millennial-geared guesthouse meets glamping hotel in one of the more developed areas in the Kaaterskill region. What sets Eastwind apart from its contemporaries is its Lushnas, freestanding A-frame cabins set back from the road. Pass over one of the more traditional guest rooms for one of these, and enjoy a lofted bed, private firepit, and close proximity to the hotel's two saunas. 
Eastwind is a relatively new addition in the Catskills having opened in 2018. The design is a very Brooklyn take on Scandinavian country décor and the rooms are a mix of spartan and stylish. It's a popular spot for travelers in their 20s and 30s seeking a respite with a view of the mountains. The main Bunk House is home to a bar and common room that's strewn with some books, New Yorker magazines, and Hunter rainboots for guests whose suitcases didn't account for the terrain.
Appropriate for its millennial clientele, check-in instructions are sent via text and the innkeepers can be reached that way during stays. It's a convenient approach to check-in but does foster a certain level of detachment from learning more about what to do in the area. (An annotated map in the guest rooms helps make up for that.) Breakfast baskets for two can be ordered via text and are delivered to your door alongside a large thermos of coffee. Eastwind's lawn, with hammock-like cabanas and picnic tables is a great spot in which to enjoy it. In the evening you can take advantage of the communal barbeques and fire pits. In an act of persuasion, the cocktail menu is texted to you around 6pm.
Down the road in town is local favorite The Windham Local, which serves up delicious fresh breakfasts and lunches, and on the weekends hosts live music. The Windham Path, a mile and a half walking/biking trail is nearby and perfect for a mid-day stroll or cycle on one of Eastwind's cruiser bikes. For something nearby but further into nature, head to the hiking and biking trails in Elm Ridge Wild Forest.
The Boarding House
Callicoon
In the mountainside hamlet of Callicoon, where the Delaware River snakes through the Catskills and cuts a divide between New York State and Pennsylvania, is the very brand new (opened summer 2021) Boarding House at Seminary Hill.

The apartment-style hotel draws inspiration from boarding houses once ubiquitous in the region, while creating its own very modern concept that aces in comfort, design, and originality. A brainchild of Homstedt, the folks behind the eponymous shop in Livingston Manor and the much-instagrammed Livingston Manor Fly Fishing Lodge, the result is an aesthetic that marries Swedish cabin style with New English Shaker sensibilities—think pale, sanded wood floors, pallets of creams and stormy gray blues and greens meticulously curated to highlight the building's American construction and puritan architecture.
Home to seventeen bedrooms spread across eight apartments spanning the property's two adjacent buildings. The apartments are designed to host varying sizes of groups, from couples, to families, to pods of friends. It's an elevated and creative approach to a market that has been dominated by Airbnb and a thoughtful way to meet the evolving needs of travelers in our age of road trips and weekend escapes. The Upper House serves as a kind of lobby in that it's home to a comfortable communal living room filled with over-stuffed seating, vintage rugs, book-lined walls and small nooks and tables that make the space feel as suited for hanging out as it does for working remotely. Check-in is more in the vein of an Airbnb than a hotel: prior to arrival you're emailed a code to access the front door of the Upper House as well as the door of your apartment. An innkeeper's number and emergency contacts are provided, but there is no dialing down to a front desk. It's an appealing way to begin a stay that feels all the more personal for it.
The Boarding House was dreamt of as an addition to the also very recently opened Seminary Hill Cidery. Just up the road from the Boarding House, the cidery's acres of apple orchards (they grow around 60 varieties) overlook the Delaware and the valley below. The staff and cider makers are passionate about their craft, and are bottling cider with the care and precision often reserved for winemakers. You'll want to stay all day.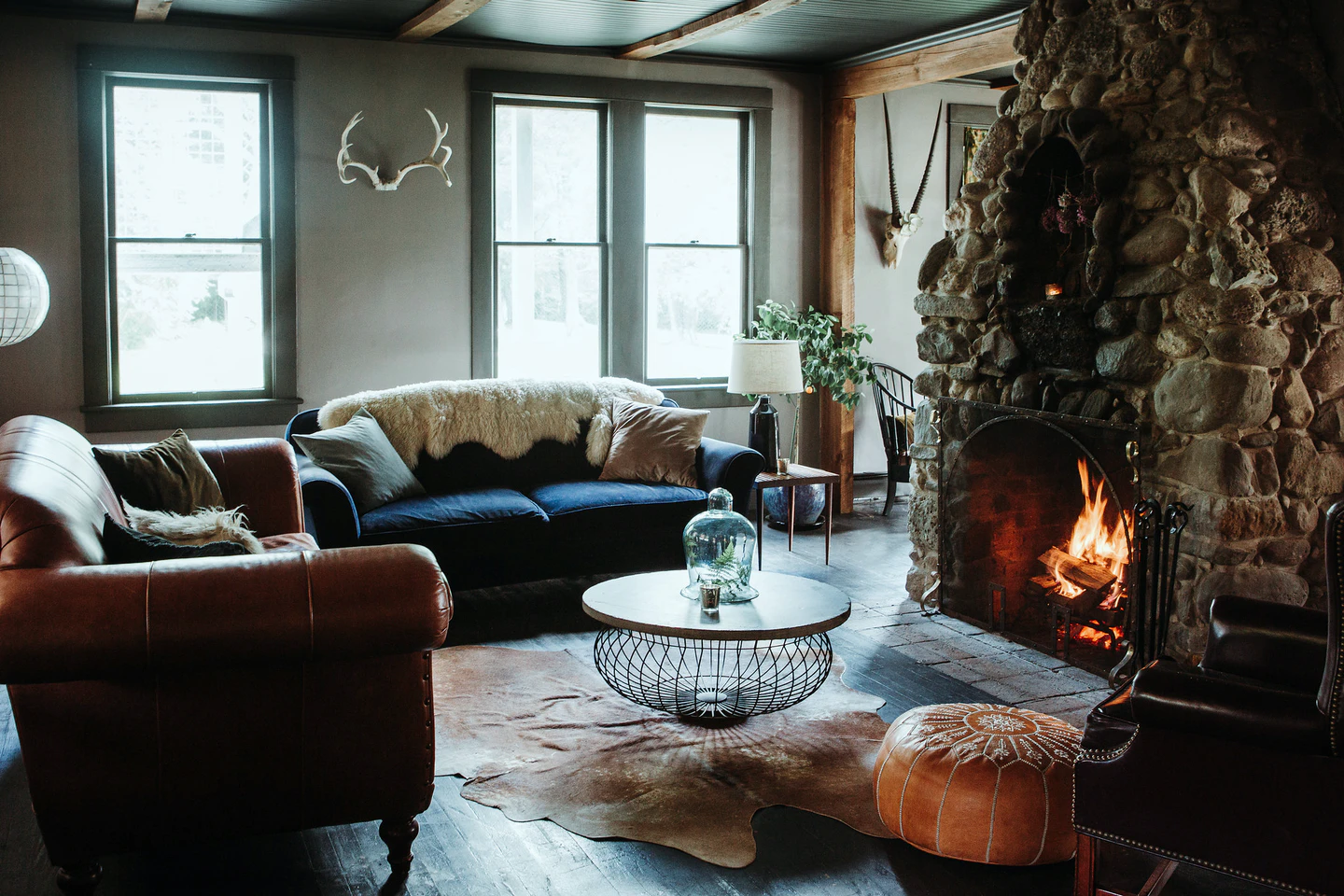 Foxfire Mountain House
Mt. Tremper
Foxfire Mountain House's husband and wife owners, Tim Trojian and Eliza Clark, purchased the century old—and then completely derelict inn—after growing inexorably tired of the pace of New York City. A several years long renovation overhauled the structure into an eclectic retreat that put this corner of the Catskills' Shandaken Valley on the map.
The three-story inn packs in eleven rooms which are split over two floors. The top floor is cozy and compact with six modestly sized rooms, communal sitting nooks, and several bathrooms, including one with an enormous soaking tub which is somewhat miraculously fitted in a tight corner under the roof's slanted eaves. The rooms are simple and stylish with a gorgeous, bohemian mix of African, Middle Eastern, and early American elements—think wooden floors painted white, leather poufs, and Malian textiles. A separate cottage, now aptly named Foxfire Cottage, is available to rent and has three full bedrooms, a working kitchen, and of course, a fireplace.
Foxfire's restaurant, Foxfire Bar Room, is popular with a crowd that extends beyond the overnight guests. The communal dining room, seasonal menu, and creative cocktail list make this one of the best spots in this part of the Catskills for dinner or just to hang out with a cocktail or two. The dinner menu is decidedly meat heavy and hearty. The drinks, while excellent, come with city prices (which seems to be increasingly common in the Catskills). Try the bourbon-based Old Mt. Tremper, which is not only delicious, but a portion of the proceeds from the sale of the drink (a hefty $18) is donated to the Catskill Center, which works to preserve local woodlands. Also worth noting when considering the prices: the Bar Room is a non-tipping restaurant as Foxfire pays its employees full living wages. Breakfast, which is included for guests, features an array of berries impervious to winter, homemade scones and a vegetable quiche, potatoes, with pickled tomatoes, and array of hard cheeses. Coffee, served with a variety of milks, including goat, remind guests Brooklyn is only so far away.
The Phoenicia Diner, well worth its hype from both locals and weekenders, is just down the road and a mandatory stop for any weekend in the Catskills. Antique shops, from the curated Scandinavian Grace which sells a mix of northern European food items and vintage pieces, to Birch Creek Mercantile, modern take on the classic general store with a cocktail bar thrown in, can be found along Route 28.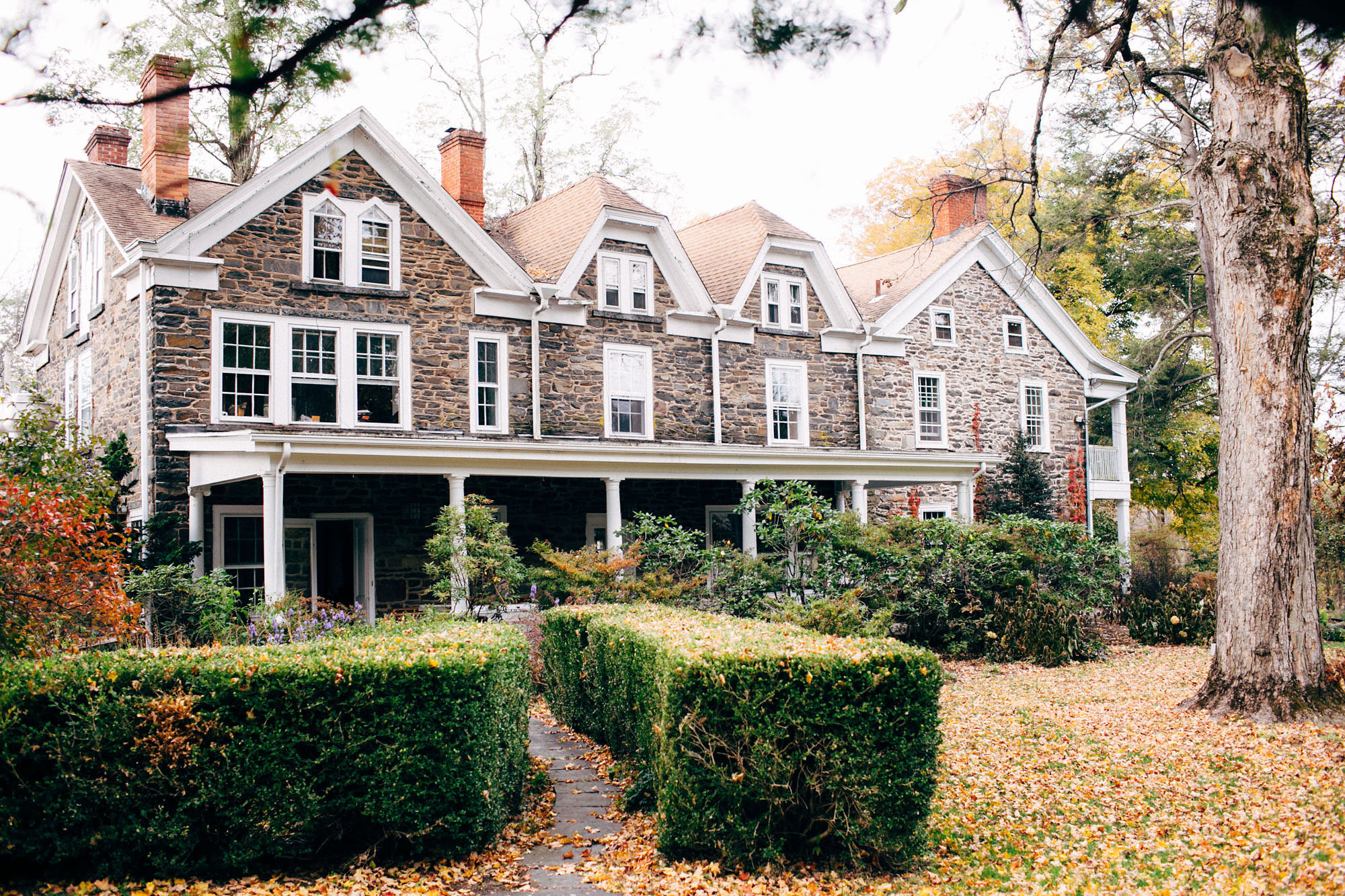 Hasbrouck House
Stone Ridge
At the quiet, tony juncture where the Catskills meets the Hudson Valley, lies Hasbrouck House, a 1757 Dutch colonial stone mansion and its 50-acre estate. The house itself—beautiful in its towering, old-fashioned glory—sits on the busy main road of Stone Ridge. Yet, when the traffic dims around dusk and Hasbrouck's Model A Ford is parked out in the drive, and the evening sun glistens off the property's century-old pool, it all feels very Gatsby-esque. If only there were nightly parties.
This being the time of Covid, you can make your own party on Hasbrouck's lovely lawn thanks to their bocce and shuffleboard courts, pond, nightly bonfires, and weekly outdoor films (in the summer and fall). Dinner is not to be missed at Hasbrouck's Butterfield, which serves memorable meals that pay homage to the local land and rivers—think Beaverkill trout, venison, and rabbit.
Renovated from the salvageable remains of an abandoned estate, Hasbrouck House opened in 2016 thanks to New York City-based developer Akiva Reich. Seventeen suites are spread out among the main stone house, a carriage house, stable house and a private cottage. Sophisticated and classic in its renovation and décor, Hasbrouck has a romantic, grown-up air (children under twelve are asked to stay home) that steers away from the Scandinavian minimalism so prevalent in the design hotels of the area. The craftsmanship of local artisans is showcased throughout the property, from room accessories by leather worker Jay Teske to signature room sprays by Upstate Stock to light fixtures by local Roll & Hill Lighting.
Hasbrouck guests are invited to complimentary yoga classes at Stone Ridge's Whole Sky Yoga, daily passes to hike in the Mohonk Preserve, and invited for beer tastings at Arrowood Farms in nearby Accord. An on-site wellness room is open for massages by appointment.
All photos courtesy of the hotels.