By : Alexis James
Towering a gold-laden 261 meters high over Macau's waterfront, the Grand Lisboa presents a garish first view of the Chinese special administrative region when arriving from the mainland.
Despite looking like a supersized version of the faded glamour one might expect to see at a British seaside resort, the 47-floor hotel and casino was only built in 2008 as an extension to the existing Casino Lisboa.
This hulking lotus is Hong Kong-born casino magnate Stanley Ho's lasting watermark over a region that he significantly shaped over nearly 60 years before his death in May 2020. From the moment his company, Sociedade de Turismo e Diversões de Macau, won the tender for the first ever casino gambling license in Macau in 1962, Ho oversaw a startling transformation of an area of China that had long been left unloved.
Despite having an area of just 32 square kilometers, Macau's embrace of the slot machine saw rapid population growth that means its 696,000 inhabitants cram into the most densely populated region in the world.
Nearly a third of those have arrived in the last two decades, after Ho's 40-year casino monopoly came to an end in 2001, when the government allowed Macau to flutter its eyelashes at the rest of the world.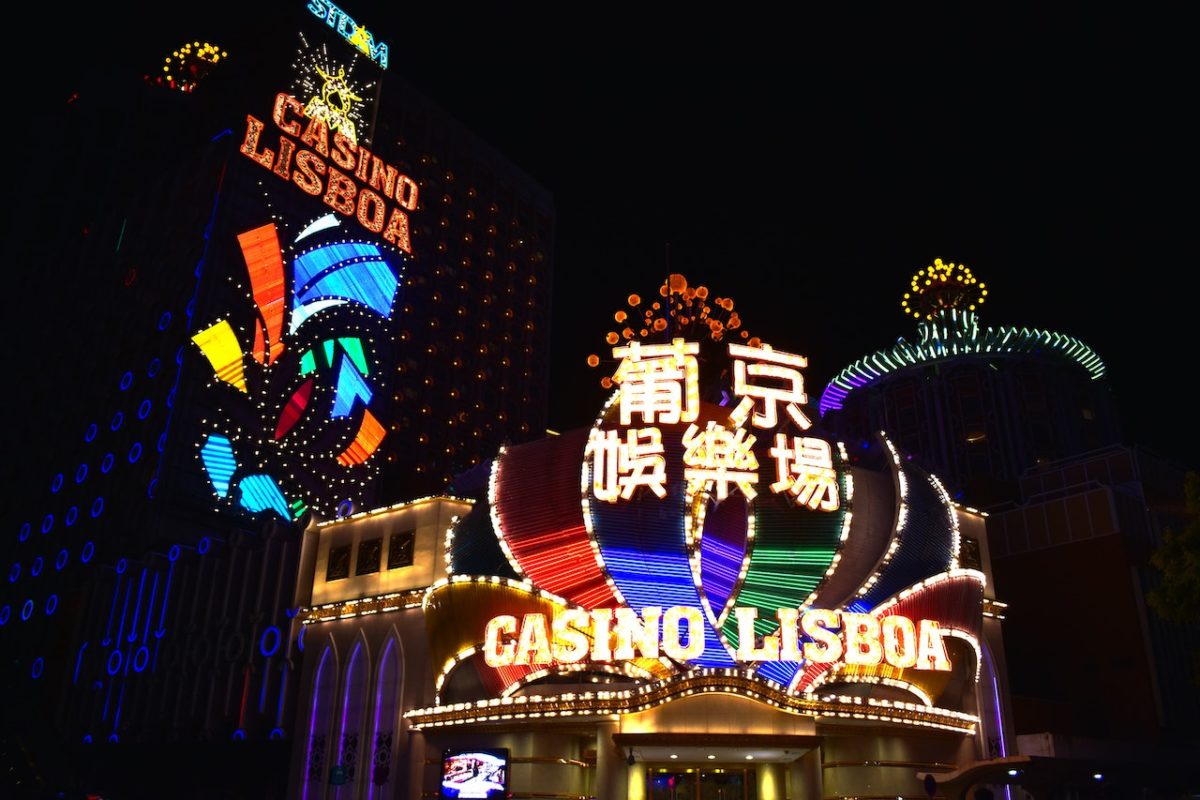 The planet's biggest casinos didn't take much wooing, racing for a prime slot of Macau real estate to compete with Ho's long-established brands. The area once labelled the Las Vegas of the East took just six years to overtake its American cousin in gambling revenue. In 2018, Macau pocketed $37.5 billion of casino income, now so established in top spot that the Vegas strip may soon be tempted to market itself as the Macau of the West.
To most of its visitors, and even some of its residents – of whom a quarter work in one of its 41 casinos – Macau is intrinsically linked to gambling. It is its economic lifeblood. Over 80% of its gamblers arrive from China, where a weekend in sin city is perfectly legal, even if casinos on the mainland are not.
It means the majority of Macau's tourists see very little of the region other than the decadent interiors of a Wynn, MGM or Venetian, helping themselves to free snacks and fizz designed to keep them right where they are. Regardless of how much they win or lose, this is a shame. Because behind the chandelier glitz and the roulette chips, lies an understated creative heart that belies Macau's reputation as merely a home for the high roller.
Unlike Vegas, Macau's gambling mecca isn't in the middle of a desert. Instead, it is surrounded by hundreds of years of history, a beguiling multicontinental clash that results in some of the most unique architecture, cuisine and culture seen on the planet.
Much of it – even the gambling – can be traced back to intrepid explorers from Europe. When Portuguese traders first visited the region in the 16th century, China's Ming rulers were so grateful at their ability to handle troublesome pirates in the South China Sea that they rewarded their visitors with a permanent trading base in Macau. It soon became the epicenter for Portuguese trade with China, Japan and Southeast Asia, and thrived until the mid-19th century, when the Opium Wars between China and Britain resulted in severe decline. In a desperate bid to boost the economy, the ruling Portuguese government legalized gambling.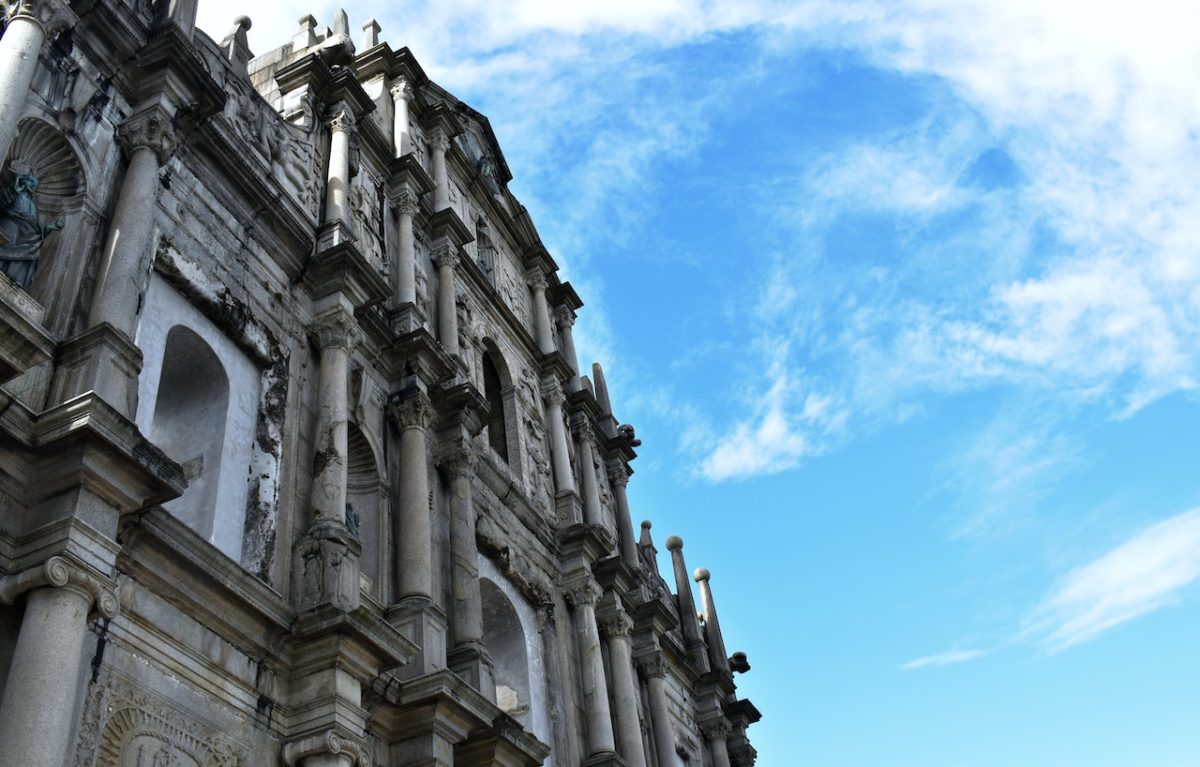 These days, with only 1% of Macanese speaking the lingo first brought to China by explorer Jorge Alvares, you're unlikely to hear Portuguese spoken on the street; even if it does remain the official language alongside Cantonese. But craps and blackjack aren't the only legacy that the Portuguese have left on Macau, now back once again under the jurisdiction of China. Street signs are still written in both Portuguese and Chinese, while Christian holidays are observed. And then, there's the food.
In the kitchens of Macau's cobbled back streets, East meets West in what is recognized by UNESCO as the world's first ever fusion cuisine. Thanks to Portugal's much-travelled galleons arriving with exotic spices and recipes from Africa, India and South East Asia, and Chinese wives' ambitious attempts to recreate familiar dishes for their seafaring husbands, Macanese food is a bold reimagining of both Portuguese and Chinese recipes.
Given its maritime heritage, there's no shortage of seafood on the menu, such as prawns with white wine, garlic and chili known as 'Gambas à Macao' or the Bacalhau, a traditional Portuguese salt cod. The chefs here favor slow-cooking methods, allowing spices and flavors like chili, turmeric, cinnamon and coconut to dominate.
Given the money on show in Macau, it's no surprise to find a number of high-end eateries boasting internationally renowned chefs keen to play in this gastronomic paradise. There are 18 Michelin-starred restaurants to choose from. But you don't need to have beaten the dealer to afford to eat, as a vibrant street food scene, like that found on Rua do Cunha in the narrow alleys of Old Taipa Village, includes pork chop buns, egg rolls and sweet pork jerky.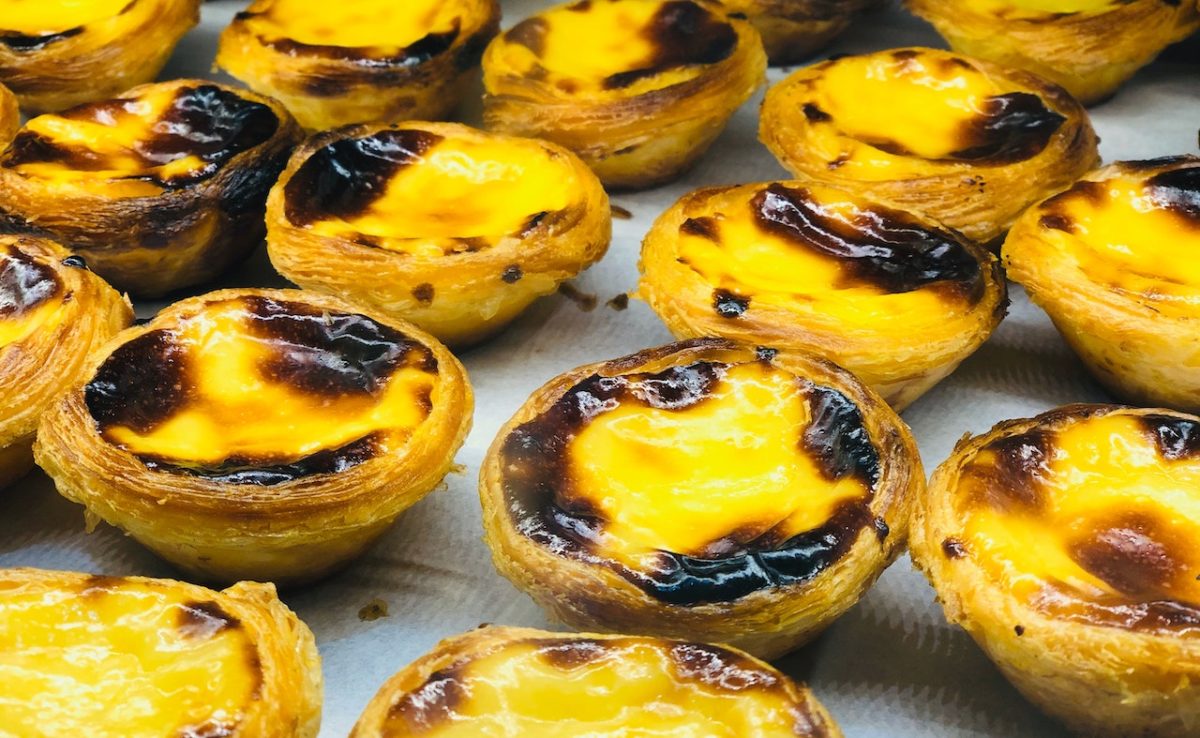 Those wanting something sweeter will find plenty to smile about. Baking may not be common in Chinese cooking, but in Macau it's not hard to find a pastelaria selling everything from almond cookies to Macau's most famous food; the pastel de nata, an egg custard tart. Adding yet more international influences into the mix, Englishman Andrew Stow opened Lord Stow's Bakery on Coloane Island in 1989. Now run by the next generation of Stows, it remains famous for the thousands of egg custard tarts produced there on a daily basis.
If the food seems like a mishmash that somehow works, the architecture can also be filed under elegantly scattergun. Added to the UNESCO World Heritage list in 2005, and within walking distance of the gaudy waterfront high-rises, is Macau's historic center. Linked by a maze of cobbled streets and scenic squares are over 30 buildings and monuments that showcase the centuries-old Sino-Portuguese heritage. The unlikely mélange sees Taoist temples, 17th century fortresses, 18th century baroque churches, traditional Chinese homes and colonial palaces all sat beside each other like the product of an eager architecture student playing Sim City.
The Ruins of the Church St Paul are the headline act, viewed as Asia's greatest monument to Christianity. Built by Japanese exiles in 1602, only the facade remains following a fire in 1835. Viewed from the bottom of the steps, you'd be forgiven for thinking you'd travelled back in time. But climb those steps and walk through the large stone doorway that leads to nowhere, and upon turning around you'll find a luminous 850-foot reminder of what century you're in. Over at the Fortaleza do Monte, the fortress found east of St Paul on Mount Hill, several of its 32 muzzle-loading cannons are even pointed at the Grand Lisboa. It may divide opinion among the present, but it seems Macau's past has made up its mind.
Near the pastel green, peach and rose neoclassical buildings on Senado Square, there's the Dom Pedro V Theatre in São Lourenço parish. Built in 1860 to commemorate Portugal's King Pedro, it is the first western theatre in China, and gives a glimpse of the unsung arts scene in Macau. Given the buildings they live in and the food they eat, it's hardly surprising that the Macanese have an eclectic taste in their leisure activities, dominated by creative expression and performance.
There are art studios abound, including the Art For All Society, a non-profit organization seeking to promote the development of contemporary art in Macau, with regular exhibitions for local contemporary artists. Comuna de Pedra stages dance theatre productions and have toured the world with their performances, while the Macau Museum of Art is a five-story collection of Chinese paintings, calligraphy and ceramics.
Variety is the name of the game when it comes to music too. Hidden in the shadows of the Ruins of St Paul, elegantly decked out in wood panels and colorful stained-glass windows giving a hint of Charles Rennie Macintosh, lies Macau Soul. Describing themselves as "an elegant and relaxing wine lounge featuring fine art and great music in the heart of historic Macau", each night the energetic sounds of live jazz, blues, old-time and country music emanates from its cozy basement where Portuguese red is the favored accompaniment.
Live Music Association, known to locals as LMA, is a small gig venue sandwiched between two Buddhist temples and Mong-Ha Fort. It's here that Macau's underground indie scene generates a lot of noise from both local and international bands, from the up-and-coming to the established. The LMA isn't against hosting cover bands either: anyone for the Faux Fighters?
Emerging from this scene is the annual HUSH festival, now one of Macau's most anticipated events that serves to champion modern-day Asian music and art. Hosted on Hac-Sa Beach over three days, along with live performances from artists, bands and DJs there are creative workshops and masterclasses on everything from beginner drumming to an introduction to traditional African instruments.
In fact, for an area five times smaller than Staten Island, Macau manages to cram in a lot of festivals. There's also The Script Road, a literary event that brings together the largest global gathering of literati from China and Portuguese-Speaking Countries, while its Festival da Lusofonia was originally held in 1998 to mark Portugal's National Day but is now an annual celebration of all the communities in the melting pot that is Macau.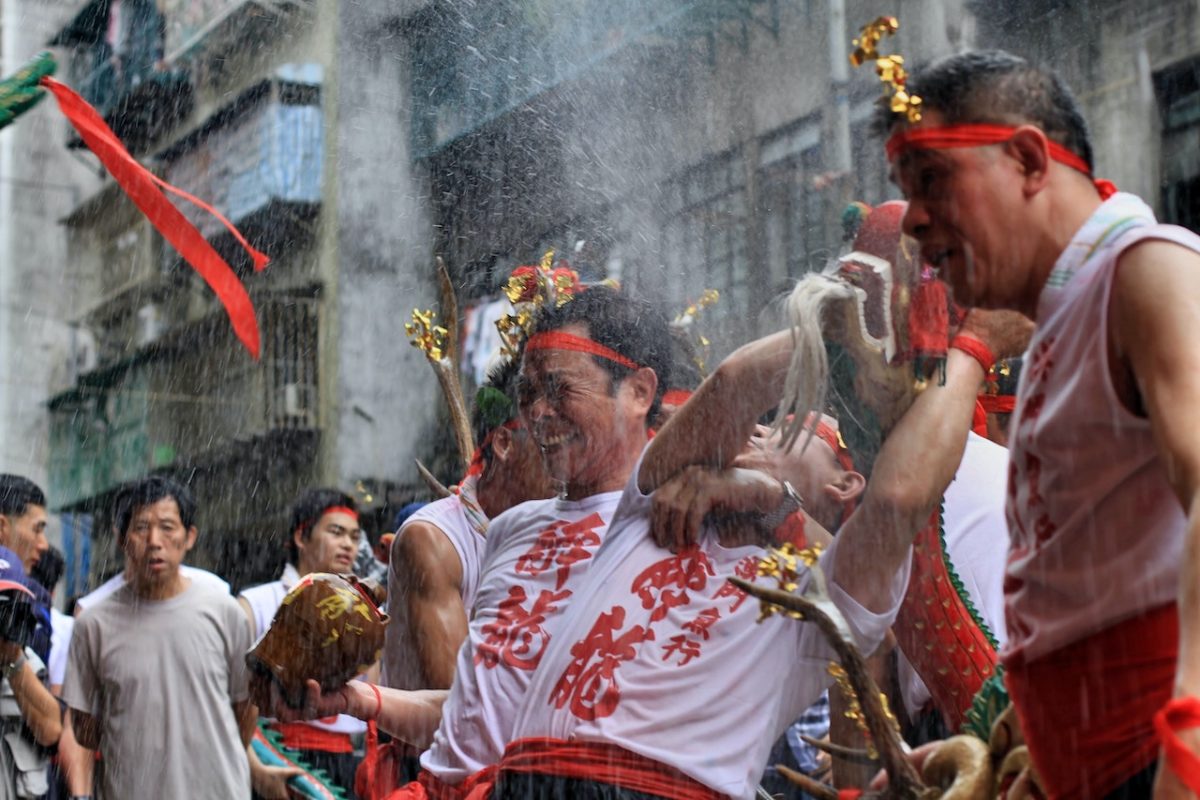 With all of this high art and culture, the Macanese are also careful not to be seen as taking life too seriously. The Festival of the Drunken Dragon is also held every year, a folk festival that brings the regions fishmongers together to enjoy copious amounts of 'longevity rice' before attempting the 'drunken dragon dance'. It's a procession that is as colorful, cheerful and wacky as it sounds.
On 20th December 2019, Macau marked its 20th anniversary of its return into Chinese hands. Back in 1999, much was made of the "one country, two systems" proposal of how Macau would be governed, and whether this special administrative region would be able to retain its own personality or instead be consumed by the mainland's gravitational pull.
The fact that Macau's inimitable food, fiestas and frivolities live on, featuring cultural influences from five continents, surely provides the answer. And those missing it all in favor of one last roll of the dice will probably agree.
About the author: Alexis James is a freelancer editor and writer from Northumberland, UK. Read more at alexisjames.co.uk.
This article originally appeared on Medium.