By : Antonios Yemenaris
Milano! The Italian city that people either love or hate. After a recent visit, I am still stuck somewhere in between. Yet, nobody can deny that there is something so special about this fast-paced metropolis, which brims with history, culture, creativity, and business. Milan is truly today's city of Italy.
Why to visit
Milan has been traditionally considered less charming than other Italian cities, mainly because of the city's industrial background and architecture. Indeed, Milan's beauty is not as apparent as that of Florence, Rome, or Venice. However, its grace is more esoteric, a secret well protected by locals, and highly craved to be discovered by tourists. But it takes only a stroll around the center to realize that Milan is all about elegance and sophistication.
Milan is Italy's financial hub and economic driver. Its privileged geographic position in the north of Italy, bordering with traditionally strong economies, has led the capital of the Lombardy region to flourish through the ages in the sectors of fashion, commerce, and finance. Rumors has it that for every church in Rome, there is one bank in Milan. Even nowadays, Milan keeps rebuilding itself, attracting a multinational crowd and foreign investments. The Isola and Porta Nuova districts are perfect examples of the economic development—futuristic skyscrapers and green residential buildings surrounded by parks are widespread in the area, evidencing that the city is continuously changing.
Milanese are the driving force of the city's success. They are hard-working, ambitious, and so stylish that Milan's streets look like an endless catwalk. Besides, people here don't follow fashion, they create it. Milan undoubtedly has a worldwide reputation as a fashion capital, with fashion being a lucrative industry injecting millions of Euros into the Italian economy.
What to see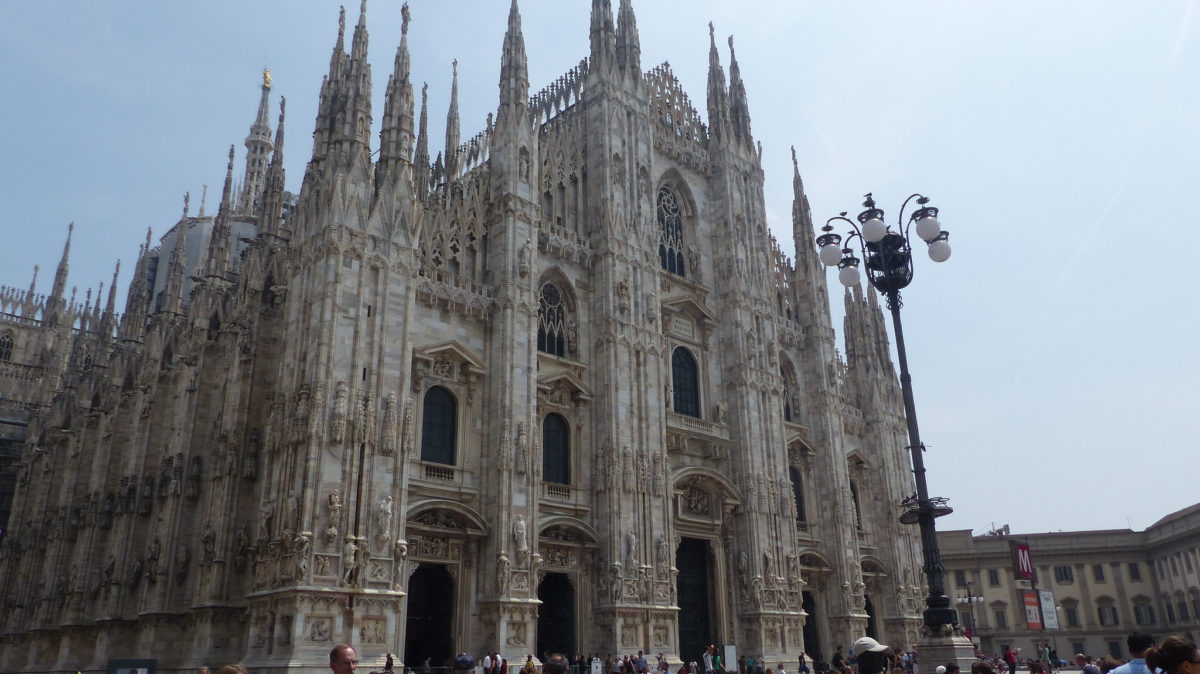 Duomo di Milano is the most popular attraction in the Lombardy region. It is even more impressive at night when the cathedral sparkles in splendor under the lights. The structure is purely made of Condoglian marble, transferred from Lake Maggiore through canals rumored to be designed by Da Vinci. The Duomo took over 600 years to finish, mainly because of the Italians' notoriously fickle temperament.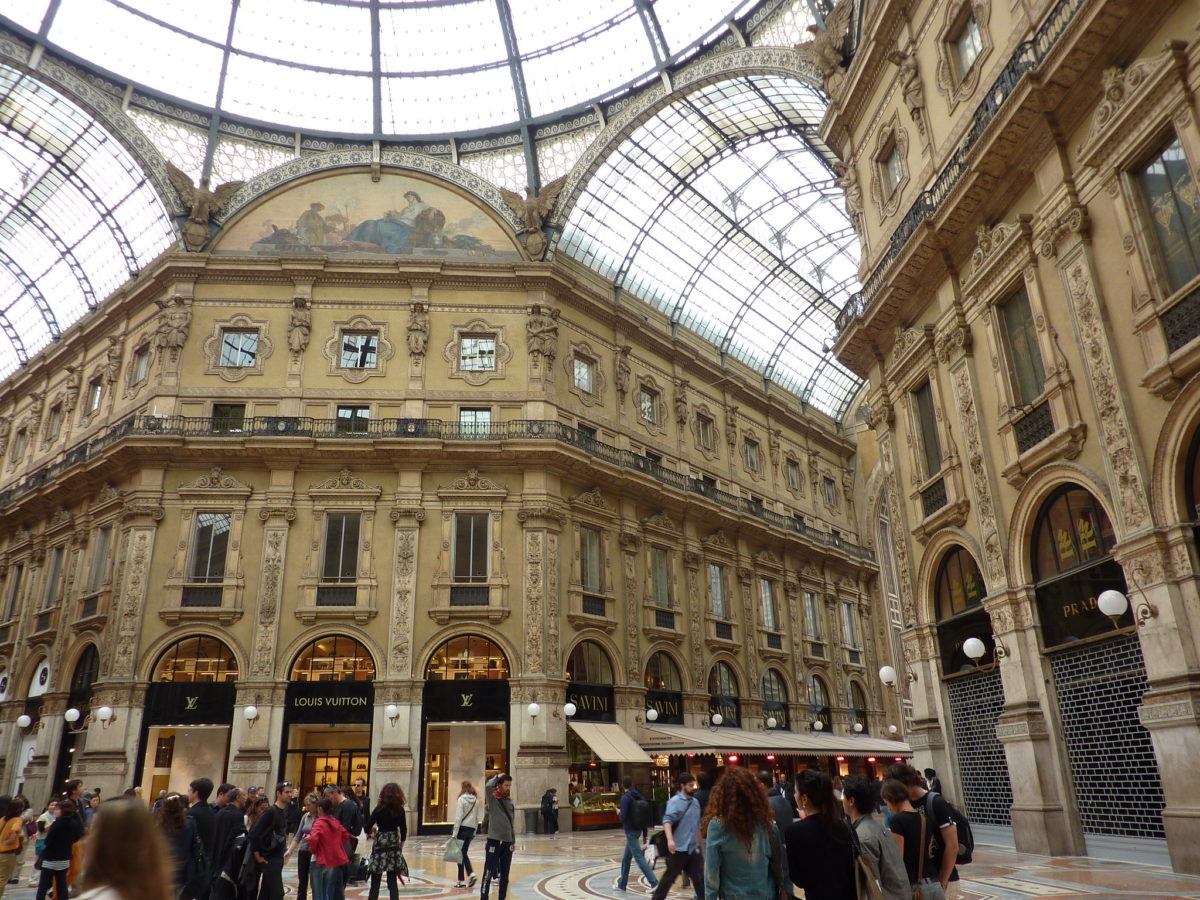 Galleria Vittorio Emanuele II is the oldest mall in Milan, housing the most luxurious clothing brands. Fashion-pilgrims from all over the world swell here to update their wardrobe with the latest trends. Architecture enthusiasts pay a visit to admire the unique engineering and design of the structure, and tourists pause to take a photo under the magnificent arcade, to keep their memories from Milan alive.
The Galleria connects the Duomo and the opera house, Teatro Alla Scala (La Scala), creating a glamorous atmosphere in the center of Milan. If you are a fan of ballet and opera, La Scala is the place to be, since it is regarded as the most prestigious opera house in the world. The theater has an impeccable acoustic and opulent interior. However, the theater's exterior is not as impressive; I almost passed by without noticing the building, but a group of Chinese tourists taking photos outside the opera eventually drew my attention to it.
A short walk from La Scala is the Quadrilatero d'Oro, a rectangle of streets packed with the most expensive Italian and international fashion houses. Quadrilatero d'Oro exemplifies Milan's reputation as a fashion capital, with Via Monte Napoleone, Via Sant'Andrea, Via Senato, and Via Manzoni being always busy with jetsetters, trendy big-spenders, models and beautiful faces. In case you cannot afford shopping here, the window-shopping and people-watching are definitely worth the visit. But do not be discouraged by the price tags at Quadrilatero. In Milan, you can find a variety of shopping alternatives with high street fashion brands, such as Zara, offering similar high-level standards of shopping experience. Their flagship stores look like luxurious boutiques, selling limited editions that you usually can't find back home.
After a hardcore shopping session, you can visit Sempione Park, a beautiful green area in the center where locals enjoy some relaxing time away from cosmopolitan Milan. Next to the park, you will come across the Sforzesco Castle, which once served as the fortress of the Visconti family and nowadays is home to one of the largest and most important art museums.
One of the most significant art attractions in Milan is Da Vinci's masterpiece, The Last Supper, a mural painting of the 15th century housed at the monastery of Santa Maria Delle Grazie. The Last Supper is one of the world's most famous paintings and to get a ticket you have to book a couple of months in advance.
Where to eat

Milan's culinary scene is vibrant offering options for quirky gastronomy and for lovers of traditional Milanese and Sicilian dishes to gourmet tastes from international cuisines. However, eating in Milan is not cheap and a dinner at an average restaurant costs around 30-45 Euros.
For the ultimate Italian food experience, have a long stop at Eataly Milan Smeraldo, a specialized three-floor store with the best Italian food and drinks. At Eataly, you will discover the freshest fruit and vegetable market, a great variety of cheeses, delicacies, fish and meat, but also a wide variety of wines from various Italian regions. The best part about this place is that you can enjoy all the above at one of the restaurants operating in the store.
If you crave smells and tastes from southern Italy, you should find your way to Pizza AM at Porta Romana and say yes to the complimentary glass of Prosecco while you are waiting to be seated at this popular pizzeria.
And for something completely different visit the minimalistic and modern Wonton, a Chinese restaurant at Porta Venezia where dumplings are stuffed with creativity and fresh ingredients. Here you can also order to go your preferred dish and watch the whole cooking procedure at the restaurant's open kitchen.
Where to stay

If you are on a budget but cleanliness, safety, and style are also important to you, book your stay at Alla Casa Di Gio, which is located just a three minute walk from the Porta Venezia metro station. Plus, the staff here is extremely helpful and accessible almost any time via WhatsApp.
Be Mate Via Tivoli apartments is definitely for you if you are looking for a modern fashionable complex in the heart of the artsy Brera area in the historic downtown. Here you will have on your doorstep the Brera Art Gallery, the Sforzesco Castle, the Sempione Park, and The Last Supper.
Starhotels E.c.ho. is a unique choice addressed to a cosmopolitan and eco-conscious clientele since it's based on the standards of an ecological and contemporary hotel, intentionally giving you the sense of an urban garden instead of another designer accommodation. E.c.ho.'s location is another plus for visitors who prefer to have easy access to Milano Centrale Train Station.
Antonios Yemenaris is travel blogger based in Cyprus. Follow his adventure at www.yemenaris.com.