By: Madeline Weinfield

Madrid—the Spanish city famed for its nightlife, heat and bullfights, that still echoes of Hemingway and wars past—magnetically draws tourists seeking culture, history, and the greatest ham on planet earth. A frenetic party-ready city with a sophisticated personality, Madrid is quieted only by the sleepy month of August when locals flee to the coasts, overpouring into Mediterranean Málaga and Marbella. Yet even in its relatively still summer its museums and restaurants, gems worth traveling the globe for, shine brightly in the blistering sun. With its central location and mild winter months, Madrid is the ideal base for an exploration of Spain, a jumping off point with flights to capitals throughout Europe and North Africa, as well as great metropolis fully worthy of several days of exploration.
As an antidote to the city that truly stays up all night, base yourself in the leafy neighborhood of Salamanca, Madrid's equivalent of New York's Upper East Side. It's a refined, quiet neighborhood with high end and high street fashion, legendary restaurants and jazz joints like Amazónico which springs to life around two in the morning, and hovers near the manicured perfection that is Parque de El Retiro. Graced with points on the remarkably trustworthy Metro, Salamanca is your slice of Madrid.
TÓTEM Madrid
This three-year-old spot with the most Instagramable staircase in the city attracts a young, stylish crowd with a discerning taste for where they lay their head. TÓTEM offers unpretentious luxury with rooms and common spaces designed in an Old Hollywood meets Mid-Century Modern style.
Like only the truly best designed city hotels, TÓTEM does a tremendous amount with their small space. The rooms, equipped with beds made for siestas, are little jewel boxes with polished deep cornflower blue walls adorned with black and white modern ink prints. Small balconies overlook dreamy Calle de Hermosilla and handsomely-tiled bathrooms serve as mini oases.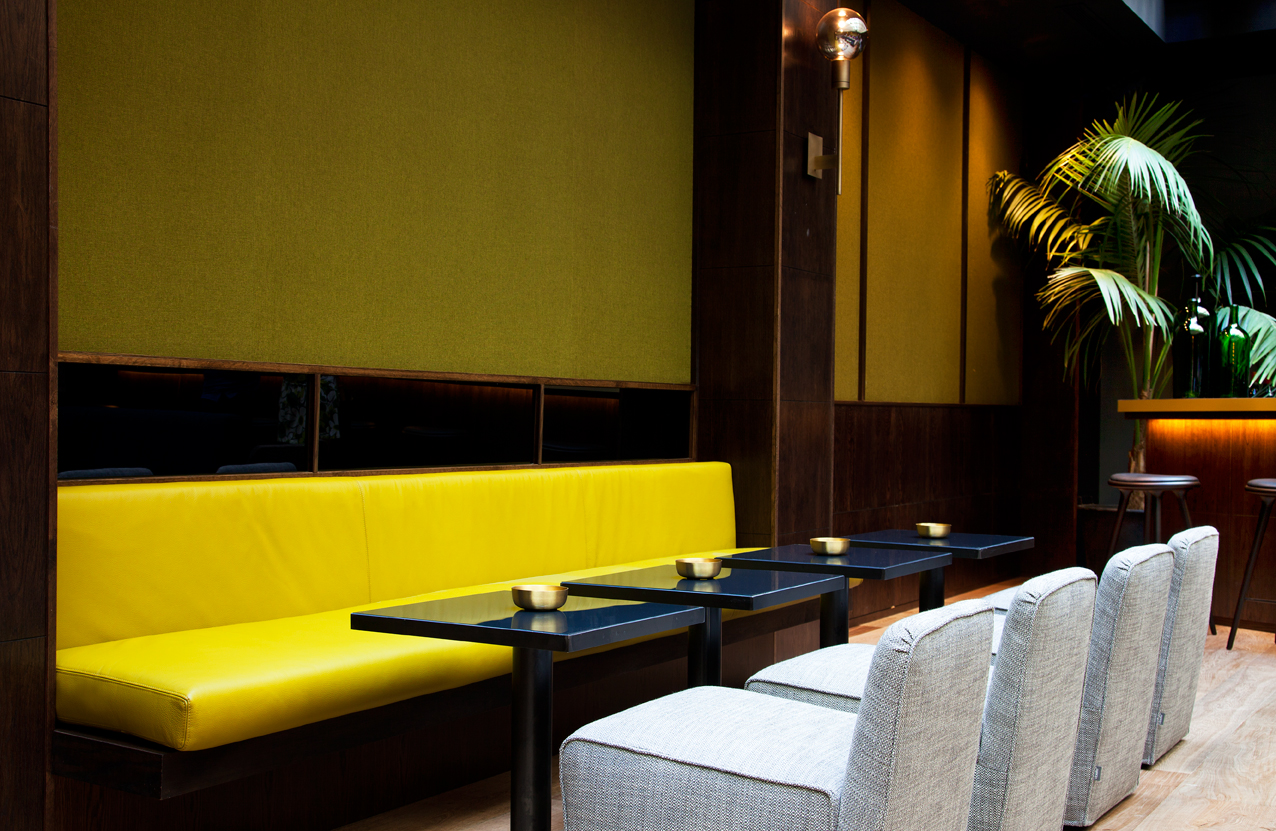 TÓTEM's restaurant, La Parilla del Pimiento Verde, offers the greatest introduction to Madrid with new Basque cuisine happily heavy on Iberian ham and manchego cheese. The lobby cocktail bar, with a distinct Art Deco vibe, serves delicious, inspired cocktails for which begin the long nights.
If you, as Hemingway advised, "kill the night" in Madrid, there is no place better to recover than TÓTEM.
Blocks away are the slightly more up-tempo neighborhoods of Chamberi and Chueca where hip eateries rub shoulders with the sumptuous Museo del Romanticismo. Here you're as likely to see elegant elderly couples strolling as you are to find hipster barbershops. Land here for a taste of the beauty and business of it all.
URSO Hotel and Spa
A small luxury hotel of the world, URSO Hotel & Spa takes itself rather seriously, and for good reason. URSO is a distinctly one of Europe's grand hotels, and its building is ornate and reminiscent of 20th century Spanish opulence. Yet inside the atmosphere is softened by a modern style that reads more Malibu than musty. The large lobby, comfortable, slightly beachy in feel and color palette, is a living room of coffee table books on Spanish art throughout the ages and newspapers from around the world.
Legendary for its spa, which like much of Spain is infused with Moroccan elements, its hammam, massage suite, and water circuit are certainly a draw. The latter—comprised of a raised pool of still and whirlpool waters for increasing circulation, easing muscle tension, and stilling the mind—is unique to the property and sets this hotel spa apart from others.
Come here for brunch alone, a smorgasbord of the best of Spain, offerings to rival the robust Mercado de San Miguel. Served in the bright Conservatory on the second floor, meals are best reached through the impressively restored antique elevator.
Rooms make a statement with their ample size, sumptuous turndown service, and can't-take-off robes. Between the meals, the spa, and the beds, it's best to come to URSO after you've had your fill of Madrid. Otherwise, you might never even make it out the door.
Getting Here

Madrid's Metro is known to be one of Europe's greatest public transport systems. Hop on at the airport for an easy ride to the center of the city. Both TÓTEM and URSO offer private transportation by car as well.

Madeline Weinfield is a contributing editor for The Culture-ist. Read more of her writing at maddyweinfield.journoportfolio.com and follow her adventures at @madolionw.