By : Justin Fenech
No matter how globalized a city becomes, no matter how many Starbucks and vegan restaurants line its old quarters, its sounds can never be duplicated.
I learned this in the Spanish city of Seville, the capital of the region of Andalucia. I spent a week in Seville, I visited its main sights, its Alcazars, Cathedrals, bullrings and museums. They are all worth visiting and memorable. But nothing left more of an impression on me than its sounds.
I had never perked my ears up so much in a city before. A lot of the times traveling is an exercise that requires multitasking. We focus on street names, maps, while thinking of and composing itineraries. It is an un-poetic labor. But not in Seville.
Spain's greatest ever Andalucian, Federico Garcia Lorca, once wrote of Seville in a poem: "Seville is a tower full of fine archers. Under the arch of the sky, across the clear plain, she shoots the constant arrow of her river."
Seville is a constellation of sound, and its finest archers are musicians, dancers and the long-dead dancing on a stage without curtains.
When I say dancers in Seville, your mind instantly shoots to flamenco. And you wouldn't be wrong. I can't remember having spent a day in Seville when I didn't hear flamenco somewhere, anywhere – sometimes everywhere.
It follows you like a beatified stalker. On the streets it is as common as the smell of orange blossoms. On the Avenida Constitutucion, under the shadow of its mammoth cathedral, street dancers regularly pour their hearts out, tapping away on wooden boards, singers competing with the wail of the Spanish guitar.
You get used to seeing the same few performers in their fixed spot. You become familiar with them. They are as much a part of the cityscape as the Moorish-style facades.
Of course, sometimes, it's good to chase after flamenco yourself. You will be rewarded. My best night in Seville came at Casa Anselma. This old tavern, a pantheon of flamenco deities, was open and (still) run by its namesake; a goddess among gods, the larger-than-life, deep-voiced, utilitarian Anselma.
Casa Anselma doesn't open until at least after midnight. Straight away, it is packed. The place is small and filled with old photographs of famous visitors posing Anselma herself. The performers sit on old wooden chairs at the far end of the one-room taverna. All around them, set in a semi-circular arc, is the audience.
Unlike many generic, ubiquitous, tourist-leeching tavernas, Casa Anselma has no amplification, no stage for its performers, and the music is more folkloristic than pure flamenco. It is a no-frills taverna where passion is king. Or should I say queen.
I stayed until the end of the show at two in the morning, drinking massive jugs of gin and tonic. At two, the last song was played. The lights were turned off. We were all sat in darkness. Except for the solitary light emanating on a small niche; a niche dedicated to the Virgen de la Macarena.
She was surrounded by softly flickering candles. In the darkness it felt as though the spotlight was on her. The musicians turned their back to the audience and sang directly to the Virgin. Their song was a novena, a lyrical prayer. The entire audience sang along. It felt like being in a solemn religious procession.
Then the song ended. The lights came back on. And Anselma was kicking everyone out. Show was over. The senora wanted to go home.
It was the most wonderful performance I had ever experienced. The goosebumps it left on my skin are still with me today; more scars than souvenirs.
Un-choreographed murmurations seemed to be a recurring theme in Seville. Away from the agonising groan of flamenco, tapas bars provide an equally overwhelming and skin-slapping din.
The best places to eat in Seville are loud. Eating out in Seville is not a romantic, intimate affair. It is a mosh-pit. And yet the food is surprisingly refined and worth your time.
In Casa Moreno, a corner away from the cathedral, you will eat surrounded by large old vermouth barrels like sunken Roman amphorae. The place, packed day and night, is mostly standing dining. The large bar is surrounded by people standing like Moais drinking beer and vermouth, casually enjoying some of the most refined tapas I have ever tried.
Your table will be crammed next to five others, and above you people will stand, casting their shadow over your meal. But you won't mind. You'll love it. The noise and the din make you feel like you belong. You're part of a community. You're welcome. Isn't that how every traveller wants to be made to feel in a foreign land?
El Rinconcillo, Seville's oldest eatery – founded in the 17th century and still going – is similar yet somehow more dignified. The noise reminds you there are a hundred stimulating conversations taking place simultaneously all around you. Conversations are only momentarily paused when people take a bit of fried whitebait or cheek stew and sip at their miniature beers. This isn't a place for reflection – it's a place for living.
Most bars, restaurants and tavernas are like this. You'll grow to love it. And you'll miss it when you return home to your sedate, proper dinner.
The white-washed, elegant, Moorish and well-kept streets of Seville also have a sound all their own. It is helped by the fact that Seville is not an overcrowded city. It is popular with tourists but not controlled by them. Its restaurants and infrastructure still belong to the locals first and foremost.
So the relevant silence of Seville's streets really make listening easy. The sound of trams gliding across their doomed tracks beside busy restaurants and shops. At dusk you hear the bat-like squeals of the swifts that dart through the azure skies of the city. These are birds that never stop flying for hours on end. The sky is their addiction. And they are as much a part of the skyline as Moorish domes and mustard crowns.
During the day you will also hear the occasional parrot squawking like a sore-throated child. Seville is a verdant city. Especially the Parque de Maria Luisa, home to the breathtaking Plaza de España.
Here, in this 1920's plaza, one of the largest in Europe, there is a Baroque symmetry of sounds that just scream Seville! In the evening, as the lazy sun reluctantly sets, a group of flamenco dancers and singers perform in the shaded arcades of the plaza. At the heart of the plaza a large, whooshing fountain sprays hot passersby. Orbiting it like an equine moon, horses trot along, their carriages full of travellers, going round in circles as if they are taking part in a make-belief chariot race.
From the nearby gardens, parrots and swifts produce an incessant, unbroken, ghostly chorus of sound. You're in the heart of a bustling city and yet nature's voice stamps its boots on the urban landscape. It's imposing and unignorable.
But the sound that surprised me most in Seville, and perhaps the most challenging to hear, was the silence that pervaded me like another presence inside the Alcazar.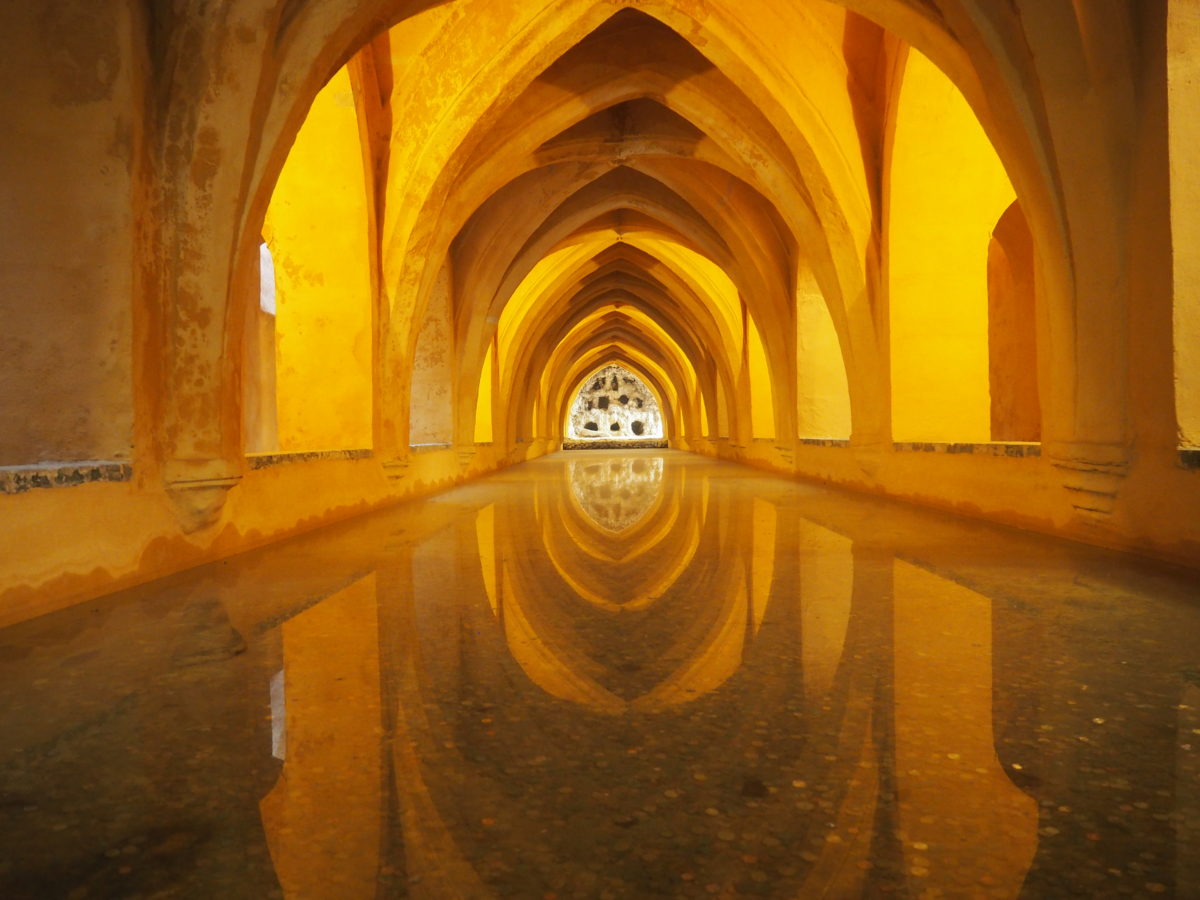 The Alcazar – Seville's own version of Granada's Alhambra – is the city's crown jewel. It draws in tourists the way a brothel draws in sailors. And for good reason. The old Moorish fortress, transformed into a Mudejar, cosmopolitan palace for the new Christian kings of the city in the later years of the Reconquista, is a masterpiece of almost feng-shui architecture.
The Alcazar is busy. Very busy. People not only visit to see the pristine water reflecting the ornate Moorish columns, the palatial, Baroque upper floors and the room where Queen Isabella sanctioned Christopher Columbus' fateful expedition; these days they also crowd the gardens to see the sights where important, elegant and brutal scenes from Game of Thrones were filmed. And it is very hard to find silence amidst all this lustful chaos.
In Seville I loved the noise and the silence in equal measure. It is a city where life and its shadow co-mingle happily. Deep down, we are all an ambivalent cocktail of nesters and adventurers. Travel elicits both sensations with equal power. When we travel we look for a home in the land of elsewhere. We imagine ourselves living alternate lives, free from the shackles of our accidental birthplace. Yet at the same time, we seek to destroy each and every new thing we fall in love with. When I was in Seville I was thinking of my next trip to Florence. In Florence I thought of Lisbon. An unrelenting waterfall of wanderlust. And we love it. Just as we love the cosier side of travel. When you travel it is easy to love.
And in Seville, give yourself a moment to stop and listen; and you will fall in love with the Spanish character as well as the sweet chirping of swifts.
About the author: Justin Fenech was born and raised in the island of Malta, where he spends most of his time writing novels, short stories and travel prose. He is an educator and has had several short stories published on the international stage. A keen traveler, epicurean and reader, his novels and travel writing try to answer the unanswerable question: what makes people happy. His own idea of happiness is travel, good food, good drink and literature.