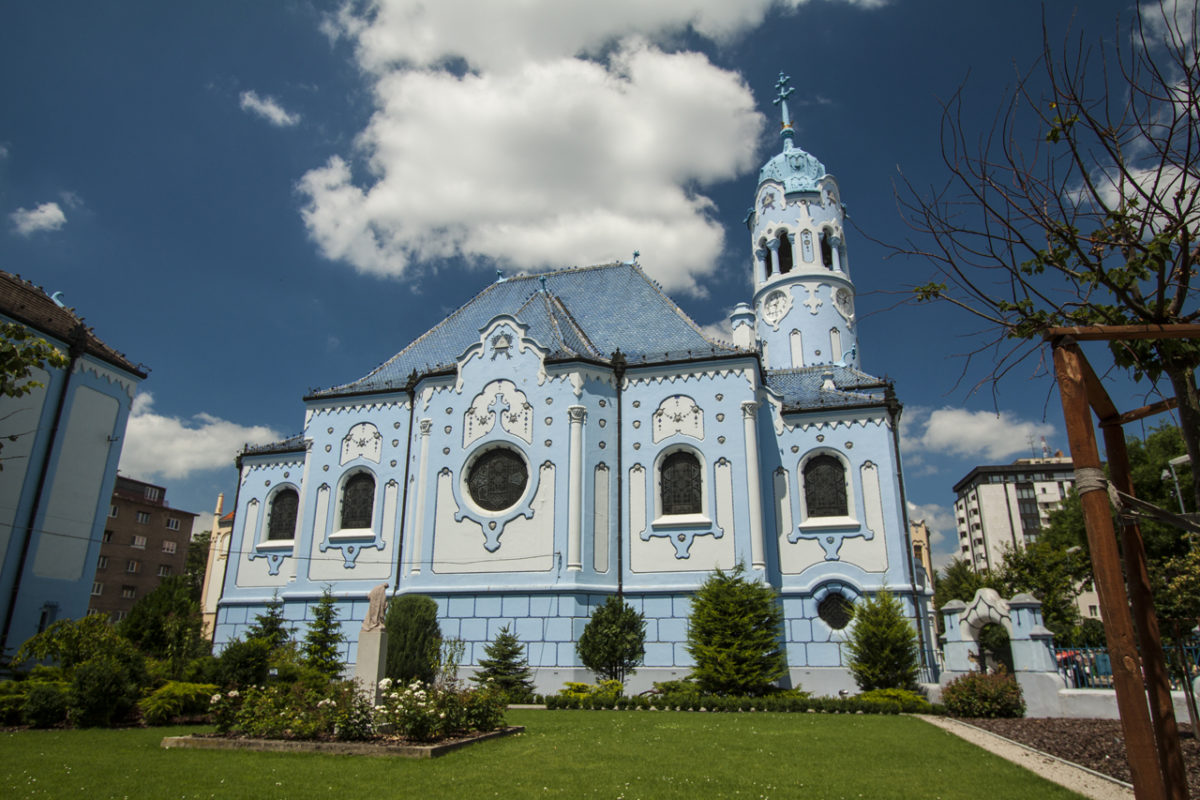 photo via flickr
By : Sarah Donnan
Imagine, just for a minute, that you are a member of the Slovakian ice-hockey team. The nation watches you play in hope and excitement: ice hockey is the national sport and, as of 2017, your team are ranked tenth in the world. Also in 2017, you travel to the World Ice Hockey Championships in Cologne, skating to a tense final win in extra time against Italy. Elated, you line up to sing your national anthem… but, instead, are regaled with the national anthem of Slovenia. Loyal Slovakian fans drown out the anthem in full voice as best they can, but safe to say that your elation is, understandably, fairly dampened. Slovenia aren't even playing.
Slovakia has had a history of mix-ups and misrepresentation such as this, much to the frustration of its citizens. One particularly ill-informed example of this that has stayed in the collective consciousness is the 2005 horror film Hostel, depicting three American backpackers brutally tortured and murdered in Slovakia, portrayed as an undeveloped, war-torn place where foreigners are hassled by wild-eyed and lawless citizens. Director Eli Roth's insistence that the film be seen as a "comedy" to Slovaks, "based on American stereotypes," come as little consolation when you consider that tourism to Slovakia fell by an enormous 75% on the back of its release. Even more galling to Slovaks is that it wasn't even filmed in Slovakia, but in the Czech Republic.
While this view is from a place of particular cultural ignorance, it is true that Slovakia has suffered from its fair share of poor social and cultural representation since its separation from the Czech Republic in 1993. Known as "the velvet divorce" due to the peaceful nature in which it was achieved, this in itself goes some way to debunking Roth's violent "Slovaks" of Hostel. These representations crumble further on even a slight scratching of the surface of the country's history since 1993: it is now one of the most successful economies of the former Eastern bloc. This is largely due to its car manufacturing, to having joined the EU in 2004 and to adopting the Euro in 2009, benefiting from strong world links ever since. Slovakia has seven listed World Heritage sites–more than countries such as New Zealand (three) and Cambodia (two). Furthermore, it is the world's leading honey provider, having won the title in 2017. There is so much more to this understated country.
Still in its relative infancy, the country and capital's vibrancy, youth and energy (like all true children of the '90s) are finally being seen for its own unique appeal, and not as part of a misunderstood narrative. Bratislava, the capital, is a 'little big city' that offers as much as the other European capitals sitting against the Danube, Vienna and Budapest–perhaps experience as a tourist there is even better because of it.
Bratislava serves as a microcosm of all that has gone before in Slovakia and all that its future holds. Alongside some stunning baroque architecture in the form of pastel colored buildings are modern cafes, such as Urban House, serving blue lattes, and eateries such as Orbis serving street food from all over the world. Its Old Town feels as charming as you can expect from a central European capital. The Blue Church is one example, otherwise known as "the cake" or "the marshmallow" due to its art nouveau bubblegum exterior and curved edges. Another unique sight is the famous statue Man at Work, a grinning gentleman of bronze emerging casually from a manhole. Some Slovaks joke that it is a nod to the communist-era worker, working a little and resting a lot, or that he is perhaps a casual observer of passing women in summer dresses. The fact that he's lost his head a few times may suggest the latter though most say it is more from speeding cars and drunken tourists trying to liberate him from his concrete, rather than affronted female tourists.
Bratislava's main squares have an almost Mediterranean feel about them, particularly in the sunshine. Celebration of history is everywhere: the Town Hall has a cannonball embedded into the wall to mark Napoleon's month-long Siege of Bratislava in 1809, a battle he ultimately lost. Along the golden paving stones of the Old Town are small, gilded crowns that guide pedestrians along the route of travel of many Kings and Queens towards their coronations at the castle. Bratislava's castle, rebuilt in Renaissance style and known as "the upturned table" among locals, offers gorgeous Carpathian views from its baroque gardens that you could spend a whole afternoon in. The Old Town is stunning – understated, unspoilt and, perhaps its crowning glory for a capital city: uncrowded.
In March 2019, Slovakians elected their first female President, Zuzana Caputova, after a strong anti-corruption campaign saw voters look past her lack of experience in office. The country is looking for change: there is a strong buzz of hope in the air that the new president can deliver her manifesto of growing from the corruption and dark days of past political leaders. Slovakia's progressive values seem to be shining a light in a new direction, following a different fork in what many see as a dark tunnel of world politics. Her liberal, peaceful campaign resonated with the young, well-educated demographic of Bratislava even more remarkable a choice given that, across central Europe, liberals have struggled to counter the rightwing messages from many governments. In this instance, perhaps we should all be looking for what Slovakia can show and teach us far beyond the beauty of its World Heritage sites and capital city.
Don't be like Eli Roth, who was offered an all-expenses trip to Slovakia to see the reality of the country he did not show in Hostel, and who declined. Now is as important a time as ever to get to know the real Slovakia.
About the author: Sarah Donnan is a writer originally from South West London, currently living and working in Istanbul. The lesser-known corners of the world are the focus of her travelling and of her writing, and she loves every bit of it. Follow her writing on her blog, oursforthereading.com.