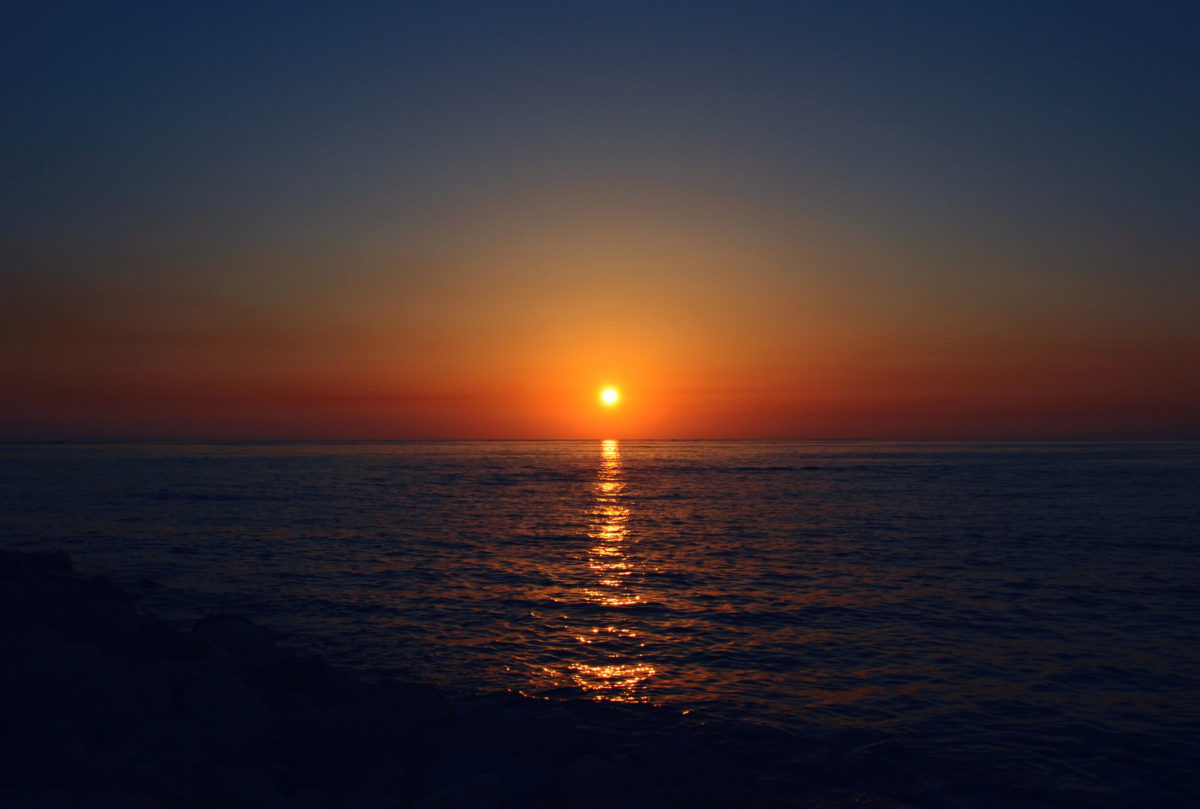 By : Catarina Bernardes
Face west and drop all of your sticky thought patterns out onto the South China sea, whispers my gut, stealing the microphone from my rational mind. The same mind that bashes me for dreading a city job in an office cubicle and preferring to garden in small villages and keep buying one-way tickets. Yet, as always, my heart is torn between the longings of my gut and the logic of my mind.
I look out at the hypnotic horizon as dusk reaches a crescendo. You were born in a place called Belo Horizonte, my gut reminds me, and you will experience many beautiful horizons throughout your vida. Though Belo Horizonte is one of Brazil's biggest cities, it is still a city surrounded by mountains.
In the last seven months I've traveled across the globe and experienced many sunrises and sunsets. Waking for the sunrise and pausing for the sunset have become rituals over time. Now, I'm in the Philippines, in a small surf town nestled on the coast of Zambales. The island's blazing horizonte dissolves my loud thoughts like the waves that roar, only to break at my feet.
Down the other end of the beach a Filipino familia is barbecuing pork and finishing that bottle of brandy at 11 this morning. They find it strange that I want privacy and alone time. They live for karaoke and family bonding, but I've been yearning for silence and solitude ever since I arrived.
It seems silly to crave alone time just days after completing a ten-day silent meditation course famously known as Vipassana. One would think I'd want to splurge on human interaction, cellphone access, and lively music after a long detox from it all. But somehow I crave more alone time, and the best way to experience solitude is in nature.
Before my travels, my mind enslaved my gut. It was my mind that convinced me to spend two years in a concrete jungle for a bachelor's degree. But I can't say it was a waste. Although my soul nearly starved from a winter in a windowless bedroom, enduring the piss stench in subways, and never seeing the full panorama of dusk, only teasing glimpses between skyscrapers, it was a hidden blessing to live nature lover's confinement: Brooklyn.
Its rich culture saved the bits and pieces of my soul that craved snow-capped mountains and a clear vista of the stars. I discovered small splashes of enlightenment in many corners of New York City. Like the Senegalese man's musica outside the L train, arousing the spirit of commuters with his West African harp. The young Muslim women in my college, who wore tight jeans, large hoop earrings, and purple lipstick, while flaunting their hijab. The group of Hasidic men I passed one midnight on my chilly walk home from work, gathered in a circle in Eastern Parkway, jumping and chanting in Hebrew. The Nepalese woman working at that hippie clothing shop near the Indian consulate, sharing her wisdom on the energia of Om Mani Padme Hum. The forever blooming creative consciousness of the Nuyarican Poets Café.
And let me not forget my lioness yoga mama, Jyll, one of the most inspiring women I know. Jyll is an African American yoga teacher who doesn't preach Lululemon corporate consumerism, speeding your way into a difficult pose, or being feliz twenty-four seven. She preaches honoring the shadow kind of authenticity that has healed many, including myself.
So maybe I should credit my mind for its pursuit of time in a cultural utopia like New York, in spite of sacrificing pure oxygen, jaw-dropping mountains, and sunsets like the one in front of me. Sunsets.
Por do sol, my mama always said.
Meanwhile my poor malnourished gut yearned to live a more simple vida, with roosters as my alarm clock and crashing waves my lullaby. You came to this place to digest the last seven months, it says, as the last speck of sunlight melts along the horizonte. I listen to my breath as it synchronizes with the rhythm of the waves. I guess breath and gut are interrelated. Yoga and meditation breathe into the lungs and the gut. It is the breath that gives the gut a voice.
My mind has always been addicted to worry. It justifies the life of skyscrapers, cappuccinos, boring lectures, and small talk as bland as unseasoned arroz. It justifies this vida because it worries about being enough. Enough equates to paying rent on time, weekends with friends at some rustic bar with Malbec-stained teeth, braiding my hair while it's wet to tame my wild curls, or safety as the number one objective in my waking hours, for my parents swore that every part of the world was as dangerous and corrupt as many major cities in Brazil.
Along with that belief, fear dwells in the dusty crevasses of my mind, the hidden layers that greet me only in my sleep. Mama and Dad had a habit of drilling, and sewing, and weaving fear into my consciousness. While their intentions were to caution and protect me against the harsh world, they instilled the same acute paranoia that mainstream media projects do so well to taint our psyche. Risks became forbidden territory, but obsessing over what was dangerous made me wonder if I should ever leave my apartment.
My mind also became addicted to fear—along with vintage jewelry, organic chocolates, and weekend daydreaming. When the weekends arrived enough was somehow never enough. When I wasn't experiencing one of New York's corners of enlightenment, I often found myself stuck in tomorrow or yesterday.
Nothing dissolves worry and fear like a nascer do sol or por do sol. Sunrises and sunsets are elixirs for the soul. Watching them has replenished my heart—a heart that once suffered a drought I wasn't aware existed.
It's the second to last day of my travels and solitude has finally caught up to me. My heart sighs at my gut in gratitude for its intimacy with nature. This por do sol has assured me that nature is one of the wisest teachers. That I'm meant to see many pores do sol in numerous corners of the world. For the first time, my mind falls into harmony with my gut.
I walk down from the more remote end of the beach, back towards the warmhearted Filipinos, who live in beach huts and cure people's sorrows with their laughter. The wind caresses my salty curls as I watch faraway surfers catching the most promising waves before the echoing debris of sunlight vanishes from the horizonte.
Nothing is ever yours to keep, says my gut. Even though I feel an overwhelming sense of grief with every fading twilight, I'm constantly reminded of the law of impermanence. Both Vipassana and nature have taught me that nothing lasts.
Near the huts, I grab my belongings and pitch my tent farther away from the familia. They tell me to be careful with my stuff, that I'd be much safer with them. I look up at the waning light, expecting the arrival of stars.
"The stars will keep me safe," I smile.
My mind gathers memories of paranoia about the world outside my apartment—the kind of world the news paints a diluted canvas of. Then my heart and my gut show my mind a canvas of the por do sol I just experienced, and the many pores do sol and nasceres do sol I have yet to watch and learn from.
No news. No cars. No sirens. You're safer than ever, my gut assures me. Just keep listening to the rhythmic tides that waltz with the breath. They are a compass guiding you to the heart.
About the author: I am a Brazilian/American certified yoga instructor, writer, earth lover, and rock climber who has been traveling around the globe for nearly two years. With a bachelor's degree in Creative Writing I aspire to write about my travels, and how it has made a profound impact on me emotionally, culturally, and spiritually. I am deeply inspired by nature, and aspire to share all the wisdom it gifts me—namely through my writing and yoga teaching. I have been living in Golden Bay New Zealand, teaching at the Bay Yoga Shala since October.