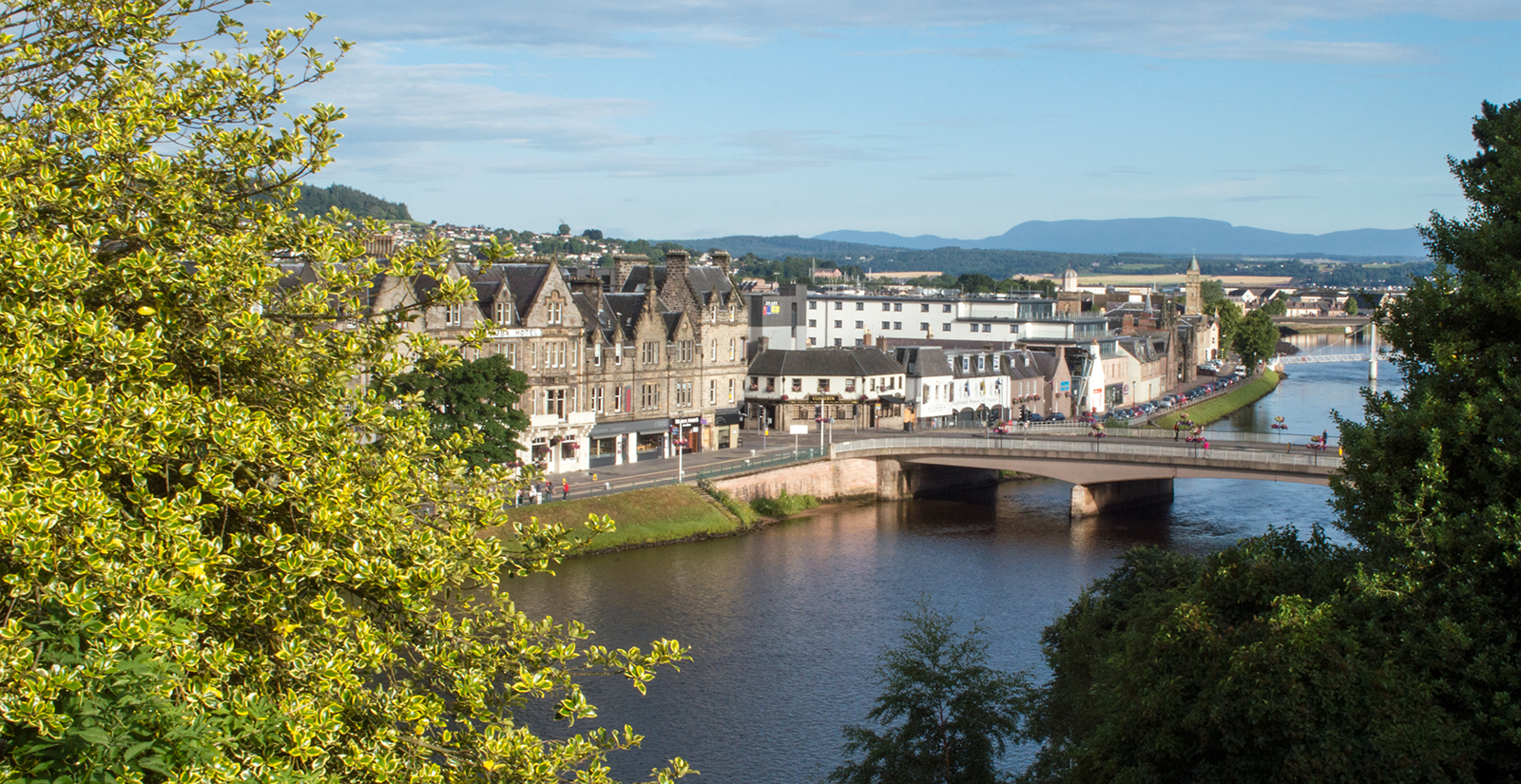 By : Martha Johns
There may be a worse tourist hotel in Inverness than the Culloden Inn, but my husband and I were not willing to take the time away from our sightseeing to look for it. The online photographs had portrayed simple but elegant room furnishings, tartan bedspreads, plentiful bedside lamps, and a continental breakfast including boiled eggs, extremely important to me with my limited diet. None of it was true.
I first began to suspect that something was amiss when we could not unlock the door of room 22, despite the best efforts of two experienced travelers with four advanced degrees between them. Jeanne, the helpful front desk clerk, told us cheerfully as we were checking in, "The woman who was last in room 22 said that the door sticks. There's something wrong with every room in this place." Naïve fools that we were, we thought she exaggerated.
Hearing us rattle the key and jiggle the door in frustration, Jeanne came down the hall and opened the door for us. She had mastered the technique. We never did. Dropping our luggage, we left to see the town. The door would not lock, despite gentle closing, turning the key clockwise, hard slamming, turning the key counterclockwise, chanting of spells, and cursing. Once again, Jeanne trotted down the hall to our rescue. For our late evening outing to hear a local band play Scottish traditional music, we took passports, money, and iPads. I slammed the door and rattled the key in the lock. Charles boomed, "Have you locked up, Martha?"
"Yes, I've got the key right here." I used my outdoor voice. We thought it unlikely that anyone would come from the street, up the stairs past the Indian restaurant, through the front lounge, and along the hall to room 22 to rifle through our luggage. And we were right.
The next morning, we arranged for a transfer to room 10, whose lock was silky smooth. The room was also sunny and much larger, with an armchair and enough free floor space for Charles' yoga mat. We were thrilled. We left the windows open that unseasonably warm evening and drifted into sleep as the northern spring twilight lingered past ten pm. A few hours later we were awakened by loud, angry ranting and cursing in the street below; softer voices finally succeeded in subduing the drunken man. Towards morning, but well before we intended to rise, the sounds of clanking metal and breaking glass woke us again; Inverness Waste and Recycling was hard at work. After five long minutes, we began to fall back to sleep when the roaring, clanking, and crashing started all over again. How much trash, how many bottles could two bars generate?
The shower was new; snug in the corner with semi-circular, clear-glass doors. Without benefit of adjustment, the water temperature ricocheted between hot enough to brew my tea to roughly that of a Rocky Mountain stream in March. You will not be surprised to hear that there was no light above the bathroom sink, the bedside lampshade was broken, and on the second day of our four-day stay, the toilet seat broke. I swear I had not flopped down on it too hard.
Jeanne, cheerful and hardworking, sighed. "It's no use reporting it to the boss. She's involved in getting another new hotel ready, and the maintenance person [only one?] is busy there. I work 24/7 already, but I can't do maintenance." Indeed, we had discovered over the four days, that besides assisting guests to enter their own rooms, Jeanne supervised housekeeping staff, took telephone reservations, laid out and cleared breakfast, and (having lived in Inverness all her life) provided concierge services.
When, if ever, we return to Inverness, my plan is to research and reserve accommodations well in advance. But knowing how life is, we will probably end up in room 10 at the Culloden Inn. Perhaps by that time, a maintenance person will have fixed the toilet seat and provided a light above the bathroom sink. In any case, it will be lovely to reunite with the exceedingly competent and long-suffering Jeanne, whom I am certain will still be helping guests break into their own rooms at the Culloden Inn.
NOTE: Names and identifying details have been changed to protect everyone involved.
About the author: Martha Johns is a family physician and writer living in Denver, Colorado. She first fell in love with Scotland during her high school choir tour back in 1966. Scotland is still her favorite country.