After traveling to more than 35 countries the world over, the region of Southeast Asia continues to lure us time and again. The rich cultures deeply rooted in spirituality, age-old traditions and food one can argue is that of an art form, makes this area of the planet a fascinating place to visit.
In keeping with our affinity for Southeast Asia, we've partnered with ASEAN (Association of Southeast Asian Nations) Tourism to help celebrate their 50th anniversary. As part of the celebration, ASEAN Tourism will be sending a lucky traveler to two countries in Southeast Asia!  To learn how to enter, read the contest details below.
To get the excitement rolling, we've include a guide to Singapore and Thailand to whet your appetite and help manifest dreams of meandering lush rice paddies, eating soupy noodles and curry dishes until your heart's content, and drifting among the most beautiful islands you've ever seen.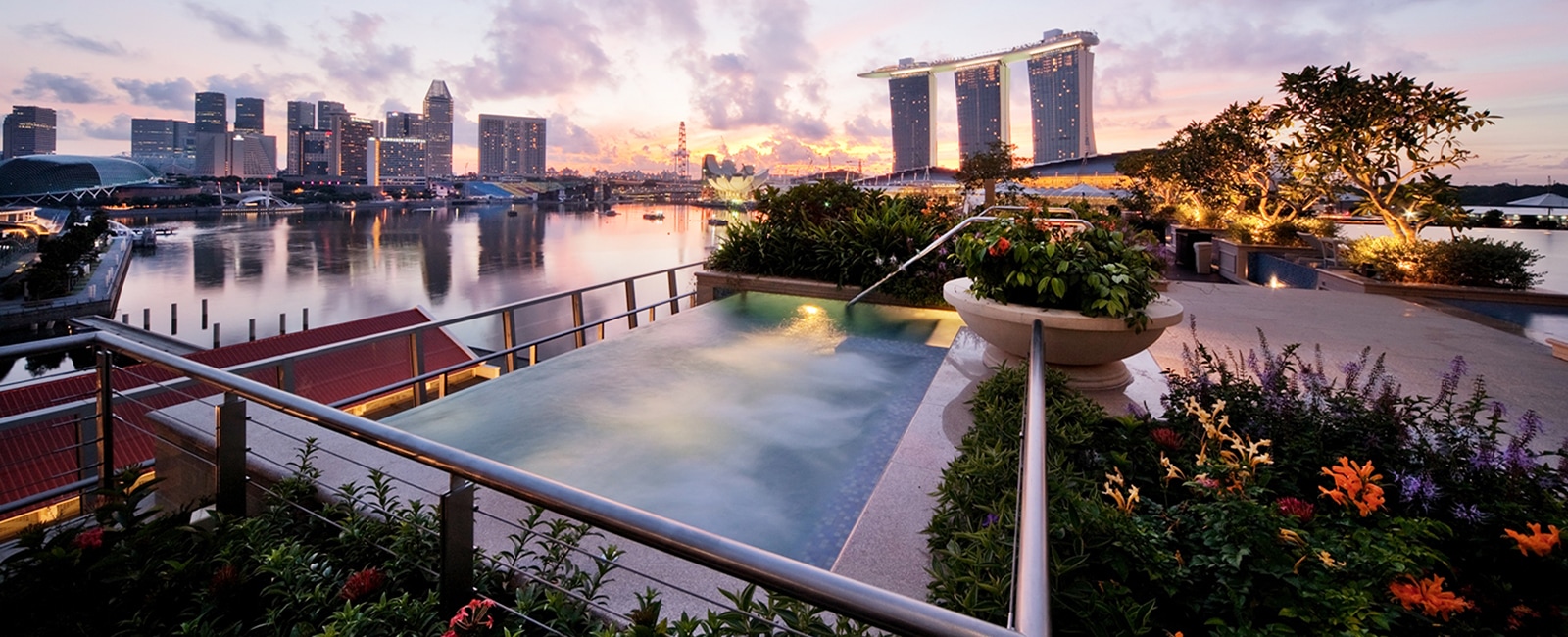 Rooftop Fullerton Bay Hotel
Singapore
Food: Singapore is known for its hawker stalls and coffee shops and for good reason. Both gather community, offer stimulation of the senses and show off in the best of ways Singapore's perfectionist culture. We recommend trying hawker stalls by neighborhood. Wherever you travel throughout the island, you'll find hawker stalls and the food will be a delectable reflection of the mix of cultures and ethnicities unique to the area. These tastings foster an appreciation and understanding of the fusion of Indian, Chinese and Malaysian fare.
Some of our favorite cafe spots include Jewel Coffee, Oriole Coffee and Real Food Cafe
Cultural Attractions: At the Chinatown Heritage Center, three restored shophouses beautifully showcase the struggle of sinkhehs (Chinese migrants) who first settled on Singapore's shores. The lifelike exhibits recount the seedy underground practices of gambling dens, secret societies, brothels and the destitute living conditions many endured as Singapore's earliest settlers.
Amidst the chaos of Little India & Kampong Glam's spice trade, eateries and trendy shops, you'll find beautiful temples and mosques that offer the story of Singapore's past. This area is an interesting clash of modern Singapore and the gritty Singapore of years ago. It's one of the best spots on the island for an immersive cultural experience.
Natural Attractions: 
Just 12 km from Singapore's city center lies Bukit Timah Nature Reserve, a pristine swath of rainforest that has one of the richest and most diverse ecological systems due to it's location on the equatorial belt. The 163 hectare reserve includes Singapore's highest hill, Bukit Timah Hill, which stands at 163 meters high and retains one of the few areas of primary rainforest in the country. According to the National Parks Department, the forest on the hill "has been a botanical collection ground for more than a century, and the first known specimens of many species of Malayan plants have been obtained here." 
Nightlife: As the sun begins to sink along the horizon, consider a visit to the  Fullerton Bay Hotel to enjoy the rooftop bar and pool area. Here you can admire one of the most stunning views of the Singapore skyline and river. Order a Singapore Sling or a cup of lavender tea while admiring the vistas from a plush cabana chair.
Later head over to Clarke Quay for some live blues and rock music at The Crazy Elephant. This happening bar hosts some of Southeast Asia's best guitarists and international greats like Rick Derringer, Eric Burdon, and Walter Trout. Laze the night away swaying to the blues at a table with a riverside view.
Where we stayed: 
The Fullerton Bay Hotel
80 Collyer Quay Singapore 049326
T: +65 6333 8388
Night Market Chiang Mai
Thailand: Bankok, Chiang Mai and Krabi
Food: During our trip to Thailand, we traveled to Bangkok, Chiang Mai and Krabi. Like Singapore, we spent most of our time eating at various food stalls.
Bangkok: Venture to Chinatown, which is known to have the best street food or to Charoen Krung Road another delicious spot with seemingly endless choices. Talat Phlu is like the James Beard row (not officially) of Bangkok with many vendors displaying their awards for excellent dish preparations. For an amazing yet pricey brunch experience, venture over to the Le Méridien Bangkok and gorge yourself on the endless selection of noodle dishes (soupy noodles included), curries and Thai desserts.
Chiang Mai:  We stayed at the Anantara Chiang Mai, another quite pricey property by Thailand standards, but the food, serenity and ambiance here are so worth the experience. Curries were outstanding and the staff was very kind. Wherever your daily explorations take you, you'll find a food stall that will satiate the moment's craving. We religiously ate at the night market as the array of vendors and their dishes on offer felt endless. There is also a dreaminess to the night market – perhaps its the droplets of humidity caught in all the colored lights – that had us mesmerized as we chomped on noodles and more noodles.
Krabi: Krabi province is much less populated than its city counterparts, so you won't find the same food stall culture here as in Bangkok or Chiang Mai. We did more of the restaurant thing during our stay and opted for a boxed lunch from Sandwich Me while exploring local islands. Sunset Bar has a great location on the beach and offers delicious fish curries. For a chill cafe experience and a go-to breakfast spot, we headed to Lion and Shark and noshed on amazing smoothie bowls washed down with some smooth java.
Cultural Attractions: Thailand has no shortage of fascinating cultural attractions. During our stay we were drawn to exploring several of the country's sacred temples.
Bangkok: Having only two days in Bangkok we decided to visit Wat Phra Kaew or 'The Temple of the Emerald Buddha' (located on the grounds of  the Grand Palace), Wat Pho and Wat Arun.  Wat Phra Kaew is the most important and most visited temple in Bangkok because it holds the Emerald Buddha, carved into a 66 cm tall block of Jade. The temple holds detailed mural paintings depicting 178 scenes of the epic story of Ramayana and beautiful tall chedis throughout. Neighboring Wat Pho or 'The Temple of the Reclining Buddha' houses a 15 meter high, 43 meter long Buddha (quite a beautiful relic) and is home to the first Thai massage school where Thai massage is taught at the Traditional Medical Practitioners Association Center, located in an open air hall outside the temple. Our last stop was Wat Arun, which is located on the opposite side of The Grand Palace and Wat Pho. Otherwise known as 'The Temple of the Dawn' this sacred house's main tower balcony is known to have one of the most beautiful views in Bangkok. The steps are steep, but the walk up is well worth the extra bit of sweat.
View from top of Tiger Cave Temple
View from top of Tiger Cave Temple
Chiang Mai: Our time spent in Chiang Mai was mainly used for eating and exploring the countryside, but we did put aside several hours to visit Wat Phra That Doi Suthep, which quickly became our favorite temple. Perched on Doi Suthep mountain, this sacred space holds the energy of a deeply spiritual place. The misty cloud cover, chimes ringing in the wind and incense permeating through the open air, called me to light a few candles and sit in silence for several moments to take it all in. To get to the top of the temple you must walk up 309 steps to reach the 600-year-old golden chedi.
Krabi: One of the highlights of our trip was climbing 1,260 steps to the top of Tiger Cave Temple. The temple is located in a forest and designed as a small village. The view from the very top of the temple left us awe-struck. We spent quite a bit of time circling the platform taking in the vista from each vantage point admiring the beauty of the enormous golden Buddha and the surrounding verdant hills and plateaus that unfold into the Andaman Sea. The temple is actually a meditation center founded in the late 1970s, by Abbot Luang Por Chamnean Srilasatheto who came to meditate in a cave here. Legend has it that a tiger entered the cave (at the time the area was covered in thick jungle) but did not harm him, so the temple was built on this mystical spot to commemorate the miracle.
Natural Attractions: We found the best natural attractions to be in Chiang Mai's countryside and within and around the islands surrounding Krabi Province.
Chiang Mai: As animal lovers and advocates of conservation initiatives we recommend visiting the Elephant Nature Park, a sanctuary, rescue and rehabilitation center. The elephants here have been rescued from logging camps and tourist shows. Families are allowed to roam freely together and form herds just as they would in the wild. Visitors can spend the day learning more about elephant behavior and their high level of intelligence through close interactions such as feeding and washing these gentle giants.
Krabi: Krabi Province is a stunning home base to head out to Thailand's most sought out islands including Koh Lanta, Koh Phi Phi and Railay Beach (not technically an island, but worth a visit). It's easy and affordable to get to the islands from Krabi town or Ao Nang; you can do a group tour or opt for a longtailboat for you and your travel partners. Our favorite spot was not any of the aforementioned, but instead the less-visited Hong Islands. We spent an entire day exploring this cluster of majestic limestone karsts, enjoying a picnic in-between while sitting on the sand gazing out at aqua waters. You can also take a walk through a small patch of forest on Koh Hong where we found the skeletons of boats left from the tsunami.
Nightlife: Our trip was jam packed so most nights we got a bite to eat and roamed through night markets before heading to bed around 9 p.m. We're not the club-going type, so if we were planning to stay out late in Bangkok, we'd check out some of these unique recommendations. Lonely Planet has some interesting tips for Chiang Mai and in Krabi we'd suggest strolling around Krabi Town and popping in to places that meet the vibe you're searching for.
Where we stayed: 
Bangkok:
The Le Méridien Bangkok
40/5 Surawong Road, Silom, Bangkok, 10500, Thailand 
T: 1-800-543-4300
Chiang Mai:
The Anantara Chiang Mai
123-123/1 Charoen Prathet Road, Changklan, Muang, Chiang Mai 50100
T: +66 53 253 333
Krabi:
The Amari Vogue
Tubkaak Beach, Krabi 81180 
T: +66 (0) 7560 7777
Contest Details:
Submit photos of your best travel experience (i.e. photo of you riding a motorcycle in San Diego, sitting by the beach in Thailand, or simply enjoying really good coffee at a local spot in your city) via Twitter or Instagram. Your photo should show your passion for travel and why you're the best person to explore Southeast Asia (ASEAN).
Include the hashtag #ASEAN50Ambassador and tag @AseanTourismOnline via Twitter or Instagram.
Here's a few example entries:
• Photo of you drinking coffee in a café in Singapore. 
Text: "I deserve to be the #ASEAN50Ambassador because I know how to find the best cafes."
• Photo of you riding a bike in Thailand. 
Text: "I am always looking for an adventure #ASEAN50Ambassador."
Winner will be selected based on his/her creativity.
Winner will be required to document their travels, so the content can also later be featured on the ASEAN website and its social channels.
Winner must confirm their preferred travel dates no earlier than 8 weeks in advance.
Prize includes a roundtrip airfare ticket to two countries along with hotel covered by ASEAN. All other expenses will be on the winner.
All entries must include #ASEAN50Ambassador and their respective username should be tagged as well.
Winner will be chosen on October 20, 2017