by ERIN L.K. LARSON
Erin Larson shares a magical guide to the "Painted Village" of Zalipie, Poland
Over a century ago, prior to modern cooking and improved ventilation technology, smoke from wood-burning kitchen stoves would escape through a mere hole in the ceiling of the common villager's humble abode. The smoke would leave behind distasteful smudges of soot that whitewash did little to conceal, leaving much to be desired in the interior design department.
In a quaint Polish village located 60 miles east of Krakow, the womenfolk found inspiration in the vibrant hues of their flowerbeds and began to effectively obscure the smudges on their walls and ceilings with hand-painted floral murals. The lack of professional painting equipment did not deter them – they constructed brushes using cow-tail hair and concocted paint using cooking fat. Each year on the Feast of Corpus Christi, when new soot built up and the women weren't preoccupied with farm work, they would repaint their murals. The practice spread quickly; even after the turn of the century saw the old world stoves replaced with chimneys and cleaner ventilation, the tradition carried on and grew even more elaborate.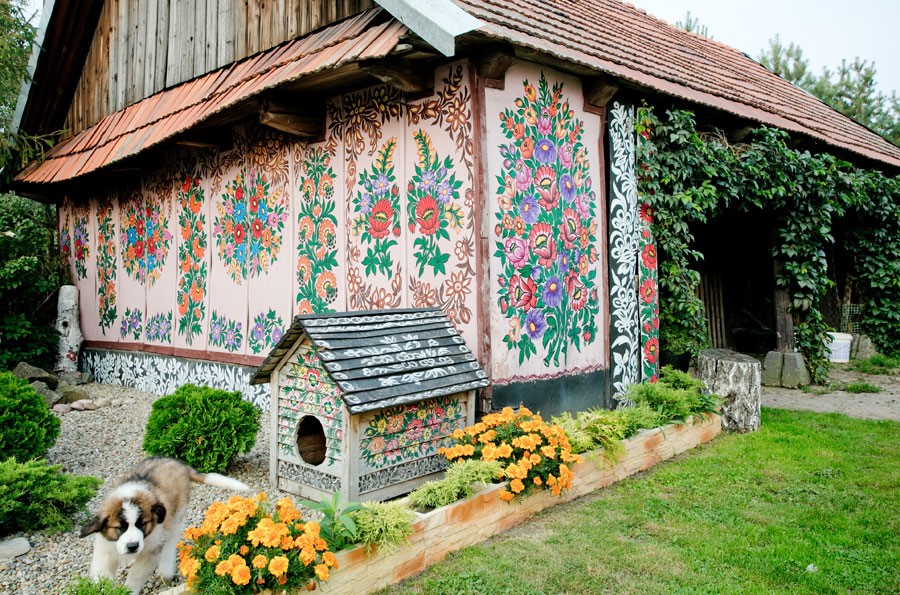 Photo by House of Painters in Zalipie
The "Painted Village" of Zalipie is something of a sight for sore eyes. At some point, the paintings spread from the walls of personal homes out onto any and all blank surfaces: houses, doghouses, barns, chicken coops, fences, and bridges alike – all transformed into unique, intricate masterpieces swathed in every color of the rainbow. As the paintings increased in size and began to reflect pieces of local folklore, the painted flowers became an integral part of Zalipie's identity.
In 1948, the annual tradition of repainting on the Feast of Corpus Christi became the annual Painted Village competition – Malowana Chata. The villagers would create new designs and touch up the previous year's artwork. Its introduction as a contest was part of a movement to help the town recover from the damage caused by the Second World War, in which over 17 percent of its population perished.
Felicja Curylowa, a local Zalipie woman, is generally credited for the development of the flower fad. An enthusiastic painter since a young age, Curylowa supported the trend to such heights that she embellished nearly every square inch of her own home in a colorful farrago of floral motifs. Following her death, the three-bedroomed cottage was turned into a beautifully adorned farmstead museum.
Photo by House of Painters in Zalipie
Continuing to pass its charming tradition from one generation to the next, Zalipie is a picturesque village in which every blossom-saturated surface is a brilliant expression of joy. Though it is not a place of five-star hotels and restaurants, it is a place of beauty where even the garbage bins boast stunningly ornate artwork.
Feature Photo by Adam Markowski