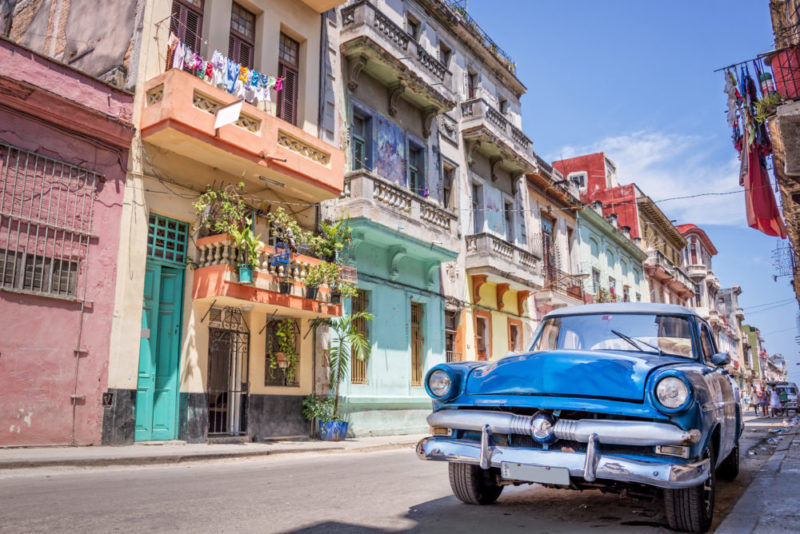 by Cat Trudell
For the first time in over 50 years, commercial flights from the U.S. to Havana are taking off. In just 57 minutes, travelers are transported from Miami to a Caribbean island untouched by modern influences. But during this time of momentous change, and even after the recent death of Fidel Castro, some are still holding their breath. Could President-elect Donald Trump reverse the thawing relationship?
"Though the tragedies, deaths and pain caused by Fidel Castro cannot be erased, our administration will do all it can to ensure the Cuban people can finally begin their journey toward prosperity and liberty," said Trump in a statement in November, on the day Castro died.
In the past two years, President Barack Obama slowly re-established diplomatic ties. It is now legal for Americans to travel to Cuba as long as the reason for the trip fits into one of the U.S. government's approved categories, such as education. And many American companies have started to invest in the island.

Because Obama made the changes through executive order, Trump is able to reverse them when he takes office in January. The new administration has not specified how it will work with Cuba, but Trump tweeted in late November that he will change the relationship "if Cuba is unwilling to make a better deal for the Cuban people, the Cuban/American people and the U.S. as a whole."
"I believe he'll do it," said Modesto Casas, a Cuban-born American living in New York City. "I believe he will overturn the executive order, and then make another deal."
Casas says that when he looks at Trump's appointments so far, it's not hard to imagine that his administration will undo what Obama has worked toward in the last two years.
"Trump is a businessman, just like I am, and there's nothing for him to lose," said Casas. "The people of Cuba will lose if it shuts down, and the American people will lose, but if I read him right, he will make another deal, which will open up Cuba for investment."
Casas isn't the only person attempting to guess Trump's next move. Dan Soleau, a project manager for a Boston-based company, is in charge of planning a race for about 1,000 Americans in Cuba in March 2017. Soleau says his company will lose everything it has invested in the event if Trump decides to ban American travel.
"The only thing that gives me solace is the amount of U.S. business that has already opened up," said Soleau. "The volume of flights from the U.S. to Cuba that are slated for March are much more than what's going in now. The American investments that have been made already would suffer greatly, so my hope is that Trump has his eyes on that bigger picture."
The implications of closing the doors on Cuba could affect a lot more than tourism. Erika Ritcher, director of communications for the American Society of Travel Agents, told the Boston Globe this December that it's much more complicated.
"The changes under the Obama administration have led to new business licensing, commercial flights, along with the corresponding regulatory improvements led by various government agencies. The repercussions are simply much bigger than preventing tourism," said Ritcher.
The death of Fidel Castro further calls the U.S. relationship with Cuba into question, despite the fact that the 90-year-old communist leader had officially transitioned power to his brother, Raul, in February 2008.
"It's the end of one era and the beginning of another," said Enrique López Oliva, a retired church historian in Cuba, in an interview with The New York Times. "The death itself, we were waiting for that to happen at any moment. But now it feels like a new phase is about to begin."
Casas believes that the U.S. may have better luck negotiating with Raul Castro now that Fidel is gone.
"Raul, although being Fidel's brother, is more pragmatic. The deals made between Obama and Raul could never have been made through Fidel," said Casas. "I think if there's something for [Cuba] to gain, they'll still do it. The challenge is going to be making sure that the [Cuban] government gets their cut with whatever deal someone will make. And I'm sure Trump knows how to do that better than me."
Amanda Neilan, a 26-year-old nurse from New York City, traveled to Cuba with her boyfriend in January 2016.
"I think it is likely that [Trump] could restrict access to Cuba, which would be a pity, especially with the passing of Castro," said Neilan. "Cubans are desperate to rejoin the modern world, and restricting U.S. travel and trade with Cuba really hurts the Cubans more than it hurts us."
Neilan, an avid traveler, gushed over her trip to Cuba saying that it had been on her bucket list for a while. "We would spend about 10 hours a day just walking around and taking pictures of the city and its people," said Neilan. "The architecture is kind of beautiful in its run-down way."
Although Neilan knew there would be no internet access while on the island, it still surprised her. "I'm so used to having Google Maps and everything else at my fingertips every day," she said.
Lucky for her, getting lost was one of Neilan's favorite parts of the trip.
"We struck up conversation with our waiter at lunch, and much later that evening we ran into him on the street. He remembered us and we all got a drink together and talked for about an hour, even exchanged information."
Although she's excited about the warming relationship between Cuba and the U.S., Neilan is glad she visited the Caribbean island when she did. "I'm glad that I visited Cuba before the hordes of Americans did. I'm sure it will drastically change in the next five to 10 years, become more commercialized and modernized. I would like to travel back and see how it changes in the future."
Let's hope she'll have the opportunity to.
ABOUT THE AUTHOR
Cat Trudell is pursuing her M.A. in journalism at Emerson College. She has worked as an associate producer for WVNY/WFFF in northern Vermont, where she grew up taking shots of maple syrup on her family's farm. Her goal in life is to recognize every city skyline. Follow her @Cattrudell, @Cattrudell.

Lead photo of vintage car in Cuba/Licensed Adobe Stock