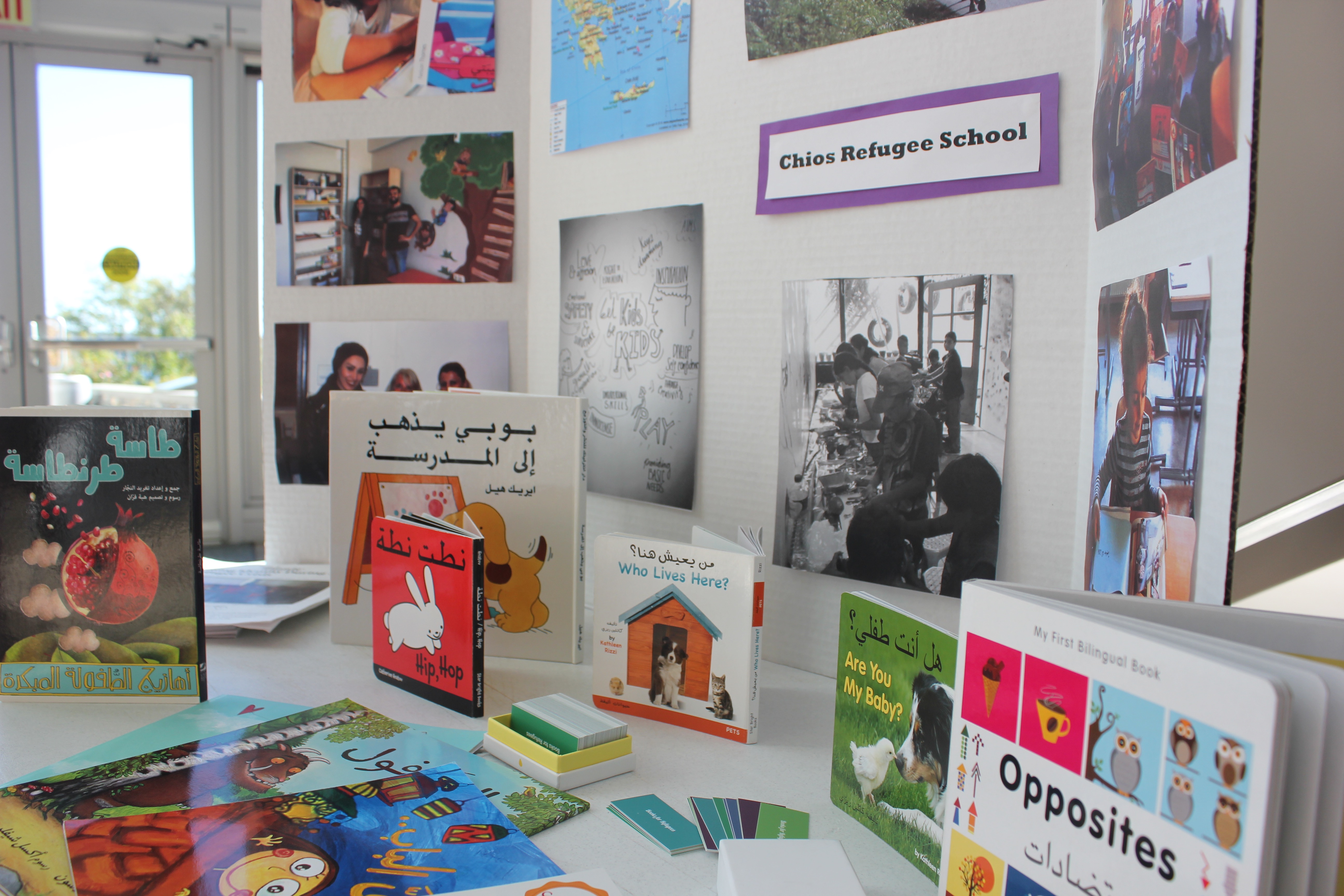 By Maureen Kellett
In September 2015, the photo of a drowned Syrian boy on a Turkish beach went viral around the world and put the Syrian refugee crisis in the international spotlight.
The photo—which sparked discussion about the West's response to refugees—also points to those who are some of the most vulnerable during times of political instability: children.
The conflict in Syria has displaced millions of people from their homes. According to the United Nations High Commissioner for Refugees, there are 4.8 million Syrian refugees, and even more people are displaced within Syria. Children account for about half of Syrian refugees, losing years of schooling and spending defining moments of their young lives in foreign countries or amid danger in their home country.
Rachel McCormack, a literacy education professor at Roger Williams University, saw a way that she could help when she visited Europe on sabbatical in the fall of 2015. McCormack didn't come to Europe with the intent of studying the refugee crisis, but after being exposed to the news coverage in Europe and later visiting refugee camps in Holland, she quickly got involved.
Beyond basic needs such as food and shelter, one of the crucial hardships facing Syrian children is education. According to UNICEF USA, 700,000 Syrian refugee children living abroad are not attending school. A further 2.1 million children are not in school within war-struck Syria, where education has become an increasingly dangerous endeavor as airstrikes target schools.
McCormack took it upon herself to get Arabic-language books to refugee children, both in an effort to help educate the children and to encourage them to read and speak in their native language. The Books for Refugees project, a one-person operation that she launched earlier this year, furthers her personal mission of putting "books into the hands of children who need it the most."
A child with a new Arabic picture book/Photo provided by Rachel McCormack
By building contacts using social media platforms like Facebook, she has provided books to refugee sites in Holland, Greece and Turkey. (Turkey has welcomed the most Syrian refugees of any country—2.7 million.) McCormack collects monetary donations and then uses the money to order books online that are shipped to the refugee locations. The project certainly faces logistical hurdles—migrants are always on the move, camps close and deliveries don't always show—but that doesn't stop McCormack from spending every penny that is donated on books for the children. She estimates that she has sent close to 1,000 books since she began the project.
In addition to providing children with books, her efforts have supported volunteers opening schools or libraries for refugees as well as mental health centers in schools. McCormack noted that she has spent a large portion of her time helping a school outside of Amsterdam called Syrische Vrouwen. The school, started by a Syrian woman, is open only on Sundays and is dedicated to teaching refugee children in Arabic.
"This is the pure of what I want, because she understands that they have to be educated in their mother tongue so when they go back home they're not illiterate in Arabic. So I try to send her as much as I can," McCormack said. "No one else is doing what she's doing."
McCormack's mission to bring native-language books to refugee children promotes an integration to society that embraces—not erases—their culture. Integrating, not assimilating, is essential, according to McCormack. "They have been given a temporary status. They get three to five years, and then if the war ends, they're supposed to go home and rebuild their country," McCormack said.
A class of children at an Arabic language school run by Syrische Vrouwen in Sassenheim, Netherlands/Photo provided by Rachel McCormack
The conflict in Syria emerged during the Arab Spring uprisings in 2011 as a revolt against the regime of President Bashar al-Assad. It quickly morphed into a civil war, a sectarian war and a proxy war. The refugee situation has brought with it the narrative of a threat—of disruption and terrorism—that has framed the West's response to refugees.
Yasser Munif, a sociology professor at Emerson College, echoed the importance of Syrian people preserving their culture when displaced abroad. The majority of Syrian refugees have fled to nearby countries in the Middle East, but about 10 percent have traveled outside their region to Europe.
"Oftentimes when they come to Europe, people look at them as a problem to solve, and oftentimes they are dispersed throughout the European territory because they are perceived as a potential threat," said Munif, noting that he does not find this approach productive. He believes that refugees need to be considered in the political, cultural, and historical context. "We shouldn't look at those people as individuals. They are communities," Munif said.
Munif is critical of a strictly humanitarian approach to the refugee crisis. "The traumatic experience is not simply about needing food or shelter," he said. "Obviously that's important and no one can really live without it, but it's not simply that. It's extremely important to contextualize the [refugee] question in that larger framework."
For McCormack, helping preserve the Syrian culture is embedded in her work. Once she saw the crisis head-on, there was never a question of whether she would get involved. "I say to people all the time, you don't go to a refugee camp and then leave and say, 'That was so sad.' You leave and say, 'What can I do?'"
ABOUT THE AUTHOR
Maureen Kellett is pursuing her M.A. in publishing and writing at Emerson College and has several years of editing experience. An avid runner and hiker, she enjoys traveling to new places, especially where she can enjoy the outdoors. Follow her @MoKellett.

Lead photo of books donated through Books for Refugees project provided by Rachel McCormack.