by Jessica Weber
All that came to mind when I initially thought of New Zealand was hobbits and sheep. After studying abroad in the small island country for six months, I discovered that while New Zealand's landscape is fantasy-worthy and, yes, full of sheep, the country also offers an array of adventures for both nature lovers and adrenaline junkies. From breathtaking hikes, to every imaginable iteration of things to jump off or out of, to activities you may have never known existed, the possibilities are endless. These are a few of the most memorable activities I experienced.
1. The Nevis Swing and Bungy in Queenstown
My first real foray into doing anything remotely more exciting than riding Indiana Jones at Disneyland was deciding to throw myself off of a cliff on the world's largest swing. (Go big or go home, I guess.) The platform at the Nevis Swing juts out over a river at 160 meters (525 feet) above a wide canyon. Since I've no fortitude against peer pressure, I took my friend's suggestion to go upside down. After securely strapping me in, the amicable guides told me to count to three. I barely got past one when I was hit with a disorienting rush of wind followed by a spectacular birds-eye view of the lush greens and blues of the canyon, albeit upside down.
"The Nevis arc was one of the funnest and most thrilling adventure activities I have done," said Allie Walter, a fellow study abroad participant. "It is not to be missed if you have the pleasure of visiting New Zealand. I would do it again in a heartbeat if given the opportunity." Her advice for making the most of the experience? "If you do have the chance, try the arc with a friend—the added weight makes you go much faster!" she said.
Queenstown is also home to the Nevis Bungy, which at 134 meters (440 feet) is the third highest in the world. As nerve-wracking as I found the swing, the bungee was the most simultaneously terrifying and thrilling experience I had in New Zealand. It too is situated above a wide canyon. A short gondola ride and a toe-shoed guide helped a nervous me to the platform with a soft, "Come along, tiny dancer."
To get strapped in, I had to sit in what looked like a more-evil-than-normal dentist chair. With my feet bound, I hobbled to the edge, waited for the countdown, then swan dived headfirst off the edge while letting out a very elongated expletive that thankfully no one heard. The first few seconds were met with that pit-in-your-stomach feeling you get from dreams about falling—except I really was. But once the initial shock passed, I was able to take in the scene below, and I felt exhilarated. I'd worried that the recoil would be aggressive, but it was surprisingly smooth, and the experience overall was incredibly fun. Given the chance, I would definitely do it again.
2. Skydiving in Taupo
In the same jumping-from-unreasonable-heights vein, skydiving is another popular activity you can check off of your bucket list while in New Zealand. A group of us headed to Waikato for our jump. We chose Skydive Taupo as our operators, partly due to pricing and partly because of its distinctive pink planes. I went with six others, and after watching a brief safety video and suiting up in an unflattering jumpsuit, we boarded the plane.
It was a short, noisy ride up followed by the muffled shouting of "Go! Go!" as we were shuffled down the benches and rolled out the open door like a group of confused lemmings. As we passed through clouds, the surreal experience felt like ice against my shaking hands. You don't get that roller coaster feeling from falling from so high without a distinct point of reference, so it felt more like a peaceful floating.
The journey down from 4,572 meters (15,000 feet) ended with a surprisingly gentle landing—so much so that I didn't immediately realize I'd hit the ground and kept my knees raised for several seconds after. Consequently, I was left with the world's most awkward photo of myself looking like a giant infant strapped to my instructor in a Babybjörn. Embarrassing photos aside, this is an experience I would recommend to any visitors. If bungee jumping seems too much, skydiving is a surprisingly less-terrifying option.
3. Tongariro Alpine Crossing
If you would rather leave your feet firmly planted on the ground, you can still enjoy amazing views from above by scaling active volcanoes on the Tongariro Alpine Crossing. The 19.4-kilometer (12-mile) trek ascends to a height of 1,886 meters (6,188 feet) up the Red Crater, past the Emerald Lakes and along the edge of Mount Ngauruhoe. The volcano is prominent in Maori tradition but also easily recognizable to Lord of the Rings fans as Mount Doom.
When I made the trek to the top of the snow-capped mountain, I was less than fully prepared. I threw together a mismatch of clothes borrowed from friends, from a worn university sweater to multicolored thermal tights. Although I looked like Rainbow Brite on laundry day, the layers provided decent protection from the elements. My old running shoes were less than ideal, though—the trek up can get pretty steep and is slippery when snow covered, so be sure to pack your hiking shoes.
Although I heaved the whole way up, reaching the top of the Red Crater was well worth the effort. The crimson walls contrasted sharply with the white snow and blue sky and led down to the Emerald Lakes, which were small pools of a brilliant turquoise. The surrounding view was dreamlike, with swirling mists and a sea of clouds blanketing the world below the summit. In a country filled with beautiful landscapes, the view from the top of Mount Tongariro is still my favorite. If you've ever wanted to climb to the top of a volcano—or even if you haven't—you will not be disappointed by this hike.
4. Black Water Rafting in the Waitomo Caves
For a truly unique experience, consider black water rafting in the Waitomo Caves. The name may sound intimidating, but this was actually one of the least-daunting activities I tried. After suiting up in wet suits, my friends and I were led to the edge of a river at the mouth of Ruakuri Cave. Instead of a raft and paddles, we were given individual inner tubes and then rather ungracefully plopped backward into the water.
We floated gently into the pitch-black cave (hence the name) and were soon greeted by a twinkling blue glow on the ceiling. The caves are home to thousands of New Zealand glowworms, which hang from above and provide a cosmic landscape of otherworldly constellations. Floating in the dark with only the glowworms to illuminate the surroundings felt like gliding through space in zero gravity—definitely an unparalleled experience.
If you'd prefer to stay dry, walking tours are also available. Or, for even more excitement, packages including abseiling are offered in addition to rafting.
5. Hot Water Beach in the Coromandel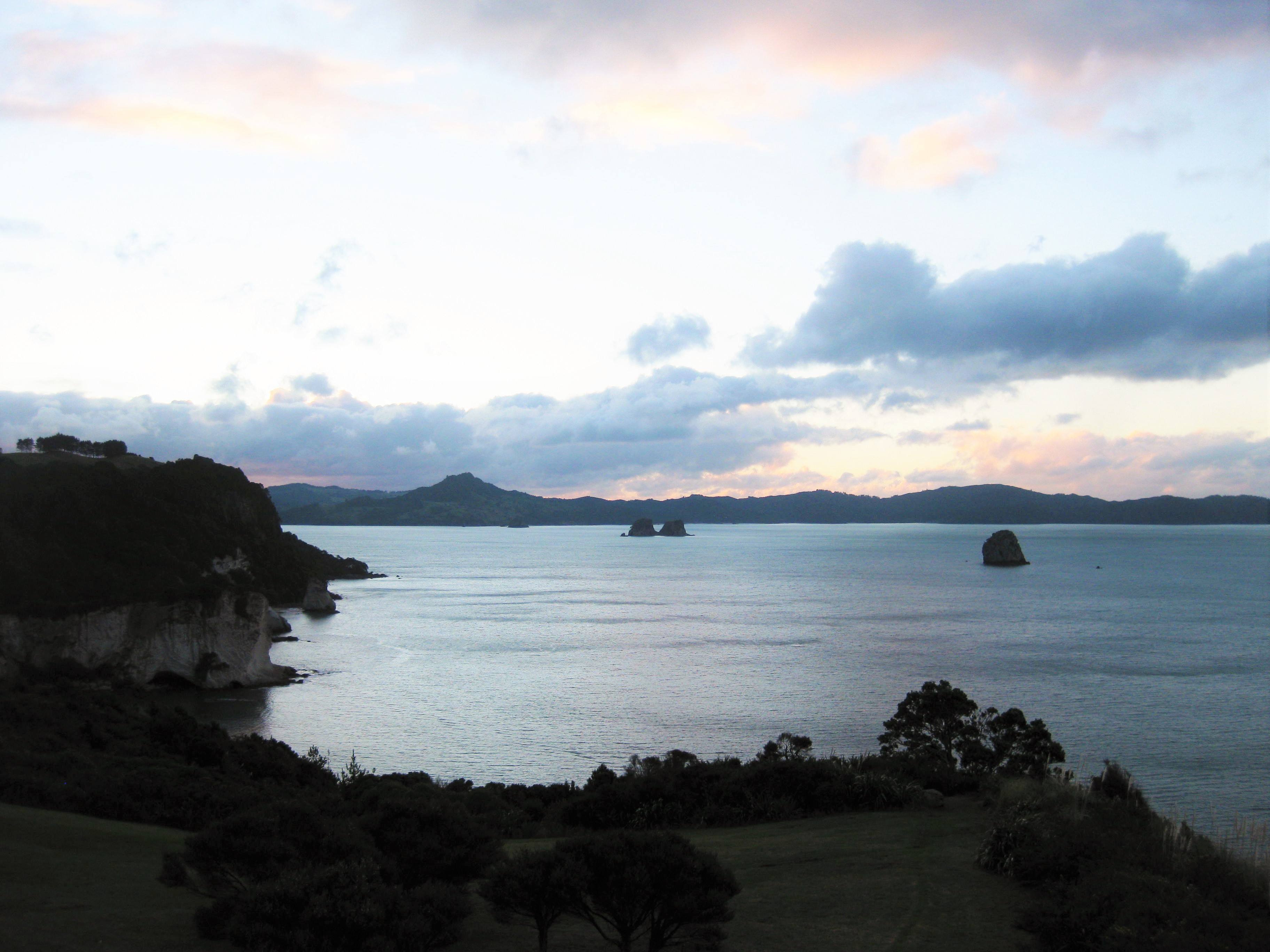 If you're looking for a more relaxing option, try Hot Water Beach in the Coromandel. Thanks to New Zealand's wealth of geothermal activity, visitors can dig their own hot water spas in the sand next to the crashing waves. The natural springs below seep through the sand allowing for this one-of-a-kind experience. With its pristine landscape and natural springs, the Coromandel is a popular destination for both tourists and residents. Its beauty stands out even among a uniquely beautiful country.
"One of my favorite memories from New Zealand was going to the Coromandel," said Melissa Allen, a student also in my study abroad program. "I recall my breath actually catching in my chest because I hadn't seen any pictures of this place before and I didn't know this beautiful place existed."
The surrounding areas are also fun to explore. My friends and I hiked around cliffs and discovered waterfalls, caves and jutting rock formations at Cathedral Cove. Surprisingly, this was the only excursion where I actually managed to injure myself—by unceremoniously slipping off a wet rock—a testament to how safe New Zealand and its many activities truly are.
Despite New Zealand's small size, the huge variety of adventures available to visitors is worth the journey. Gorgeous landscapes, amicable residents and virtually no dangerous animals make it that much easier to explore and dive into all the crazy activities you may be hesitant to try. The sense of security and ease I felt while there provided me all the encouragement I needed to fully enjoy things I may have never done otherwise. If you ever find yourself in this lovely country, don't pass up the opportunities of a lifetime.
ABOUT THE AUTHOR
Jessica Weber is a graduate student at Emerson College pursuing her M.A. in publishing. She currently works as co-production editor for Redivider and as the circulation and publicity intern for Harvard Education Press. She is also a freelance artist. Prior to moving to Boston, she interned at Red Hen Press and has worked as a newspaper stringer, movie review writer and painting instructor. Follow her @webicajesser.

Photos by Jessica Weber